2022 Games of the Year
The ultimate celebration of 2022's best video games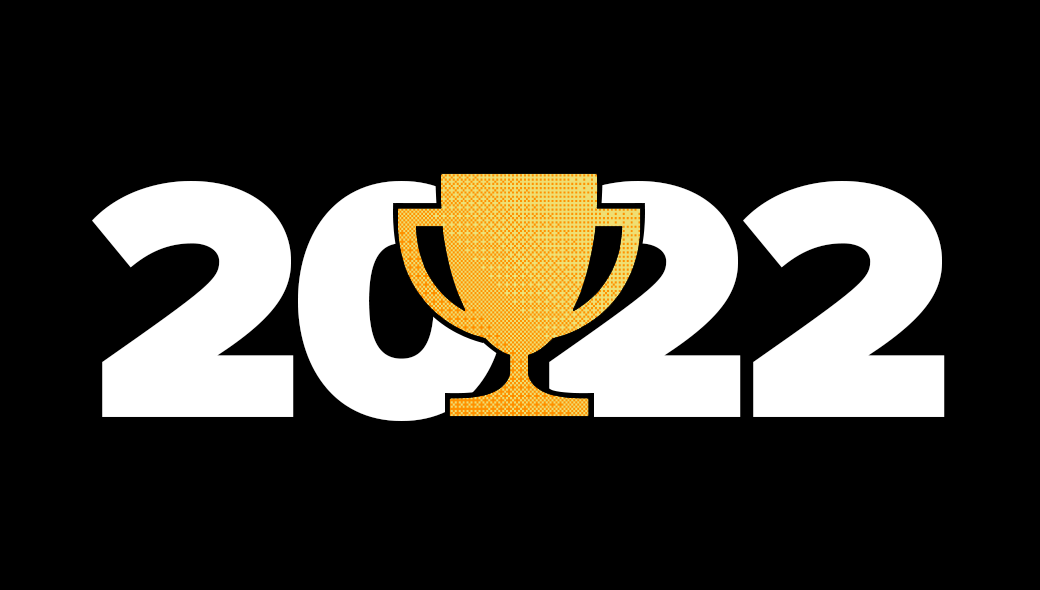 Greetings, and welcome to another epic Games of the Year celebration. One of the themes I referenced last year was gratitude. As I sit down to write this introduction, I'm conscious that I have many things to be grateful for. 2022 was perhaps the most challenging year in SUPERJUMP's history so far. We left Medium, built our own site, and only recently launched a paid subscription (in the form of a "Backer" tier). So many things could have gone wrong for us. The large number of contributors who worked with us on Medium might not have wanted to follow us over the edge into new - and completely uncharted - waters. We could have struggled to find an audience of our own, away from Medium's enormous gravitational pull.

But here we are, folks. It's 2023 and we're still alive: more alive than we've ever been, in fact. Though we have published an extraordinary number of beautiful stories since becoming independent in April 2022 (over 552 stories in that period), I think our 2022 Games of the Year celebration is SUPERJUMP at its best. This is an opportunity for us to come together – joined by folks we admire from across the industry – to craft an epic love letter to all the developers who enriched our lives in the last year thanks to their stunning creations.
I hope you enjoy our largest production of the year. Thank you to all of our wonderful contributors, whose words I am deeply honoured to feature here. To our readers: thank you, as always, for your continued love and support.
James Burns
Founder and Editor in Chief
2022 GAMES OF THE YEAR
We have very deliberately titled this feature 2022 Games of the Year. The plural matters. As per our tradition, SUPERJUMP does not award an overall "Game of the Year" trophy to any single game.
Rather, each contributor can select up to three of their favourite games released in 2022 to discuss. Naturally, some games have more contributions than others (so, if you like, you could deduce a "winner" on that basis).
In order for a game to be considered for this piece, it must have been released in 2022. This is a slightly rubbery criterion that also includes:
Games as a service experiences that have seen substantial updates in 2022 (e.g. The Delicious Last Course DLC for Cuphead or the Witch Queen expansion for Destiny 2).
Games that originally released in a previous year but were ported to a new platform this year or saw some form of new release (e.g. The Witcher 3: Complete Edition).
SPECIAL GUESTS
This is our third Games of the Year feature, and as has become tradition, we've invited several special guests to join us. As always, our guests are people we love and admire from around the games industry. We're honoured that they took the time to join us in celebrating the best games of 2022.

Andrew Dickinson is Operations Director at Lost In Cult, and Editor-in-Chief for the gorgeous print gaming journal Lock On. He is also a SUPERJUMP contributor.
Audi Sorlie works on business development at Limited Run Games, and is a contributor at Digital Foundry (where he is also the Producer of the brilliant DFRetro).
Gemma Driscoll is co-host of ABC TV's Good Game Spawn Point, a Twitch Affiliate, and a YouTube creator.
James O'Connor is Project Narrative Lead at Mighty Kingdom. He has also contributed to GameSpot, Hyper Magazine, and many others (including SUPERJUMP).
Jamie Galea works on social media and production for Channel 31 Melbourne's New Game Plus TV and Couch Warriors.
Jini Maxwell is Curator at the Australian Centre for the Moving Image. Their latest project is Out of Bounds: Exploring the Limits of Videogames, which is open until 23 April 2023.
Peer Schneider is a co-founder of IGN and currently serves as its Chief Content Officer.
THE GAMES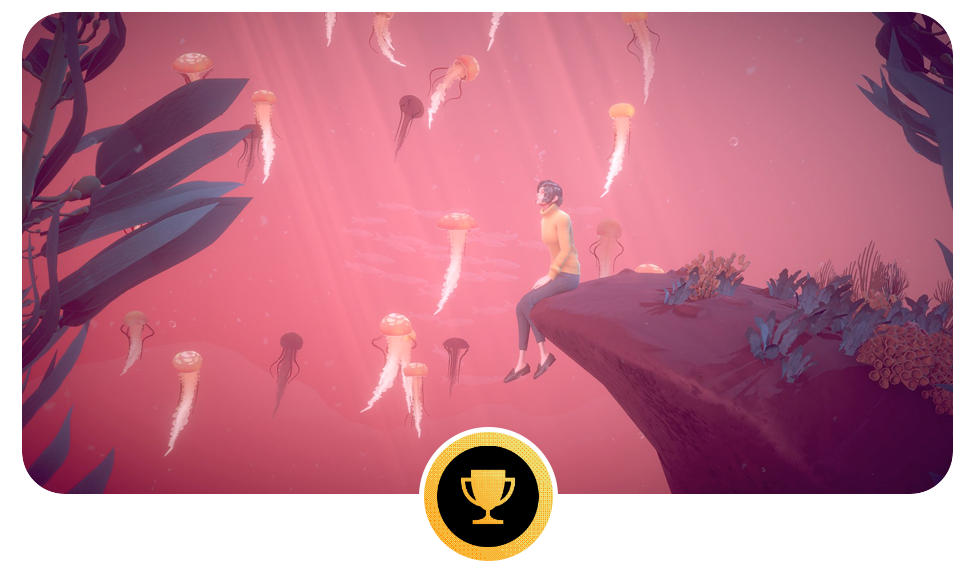 A Memoir Blue
Priya Sridhar
A Memoir Blue was definitely a game that hearkens to the past. We wonder who we leave behind when we grow up and when our love will turn into hurt and sadness. So we avoid phone calls and grapple with the disappointing realization that our parents are not perfect. The game features beautiful animation to go with the various puzzles; they provide the irresistible urge to click around and interact with these fragmented memories.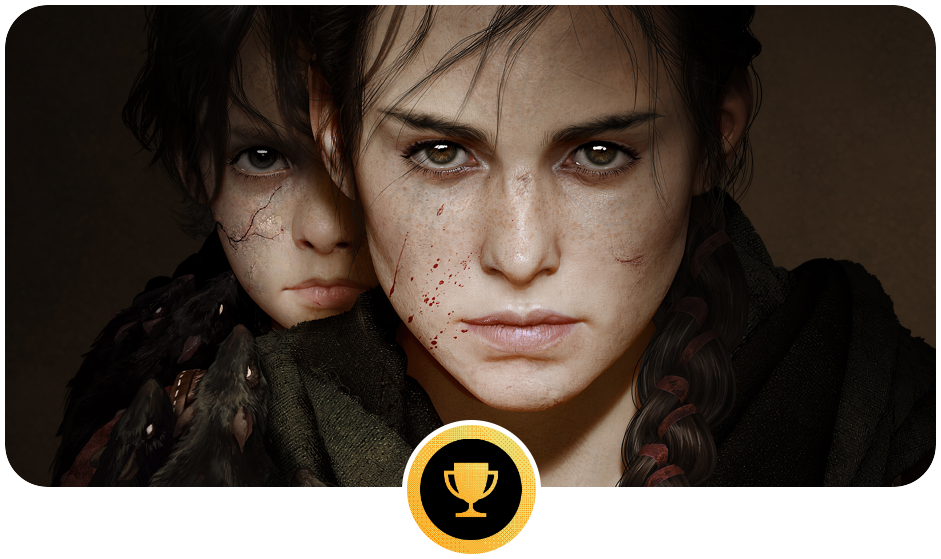 A Plague Tale: Requiem
By Asobo Studio
Alex Anyfantis
This game came from out of nowhere for me. Having spotted a few (gorgeous) trailers, I decided to give it a go, not knowing what it was all about since I skipped the first entry. What I encountered rocked me to my core. Apart from its stunning visuals that could easily be compared to those from God of War or the Horizon franchise, what hit me the hardest was the tale itself. The game focuses on two siblings: an older sister fighting against all odds to bring some sense of normality to her little brother's life and a younger brother who, while not understanding everything about the world around him, is willing to crush those who would bring harm to his sister.
It is this heavily emotional story that shines through all the carnage, destruction, and loss featured in this game. Although not everything works out as planned in the end, this title attempts to pass the message that life goes on for those left behind and there is always hope if you are willing to search for it. Admittedly, I may be a little bias here since this game really struck a chord with me. When I was younger, I also suffered from a strange disease (albeit not a man-consuming rat summoning one) and my older sister acted in a similar way to main character Amicia as she tried to save her brother Hugo. So you can see why I was so touched by it.
Regardless, A Plague Tale Requiem is truly a magnificent title, much more than just a game but a wholesome experience which, to me, is the quintessential ingredient to be featured in this year's Games of the Year celebration.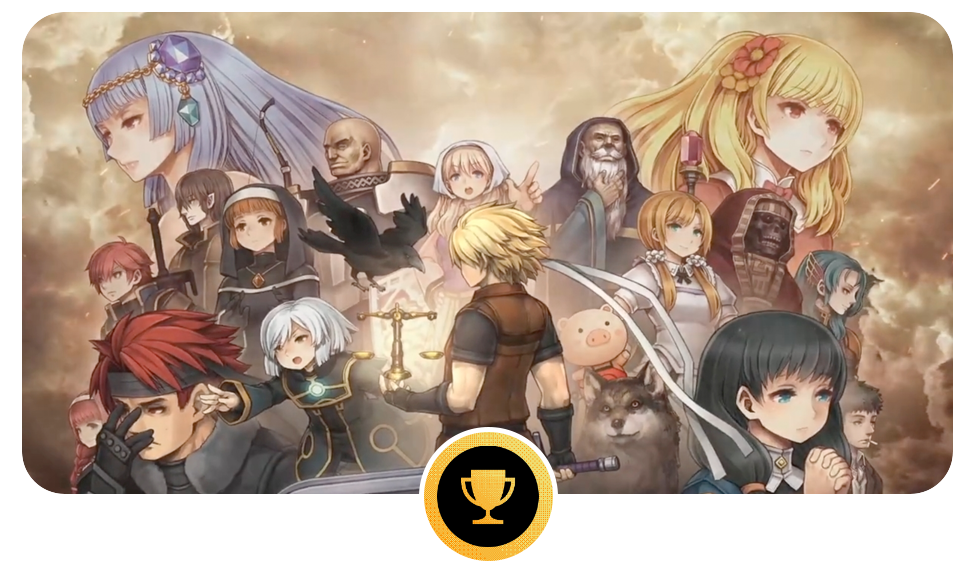 Astlibra Revision
By KEIZO
Josh Bycer
What happens when you combine a passion project, 15 years of development, and every possible system for an action RPG? You get Astlibra Revision. This massive experience of a game plays like a 16-bit action RPG but goes further than possibly any other game before.
The game is full of multiple systems of progression, a soundtrack as random as it is awesome, and it just... keeps... going. It makes my list because it is a passionate ode to action RPG design, and yet another example of a game that could not come from anywhere but an indie developer. All the systems, in their own different ways, push you to learn and master the game's combat. There is just so much to this game that is worthy of praise.
Despite its size, it doesn't feel like the developer was just putting stuff in to pad out the game's length. Every story beat and chapter matters, the game pulling it all together for its massive conclusion. In my review, you are going to play this for 20 minutes or over 30 hours to see everything it offers.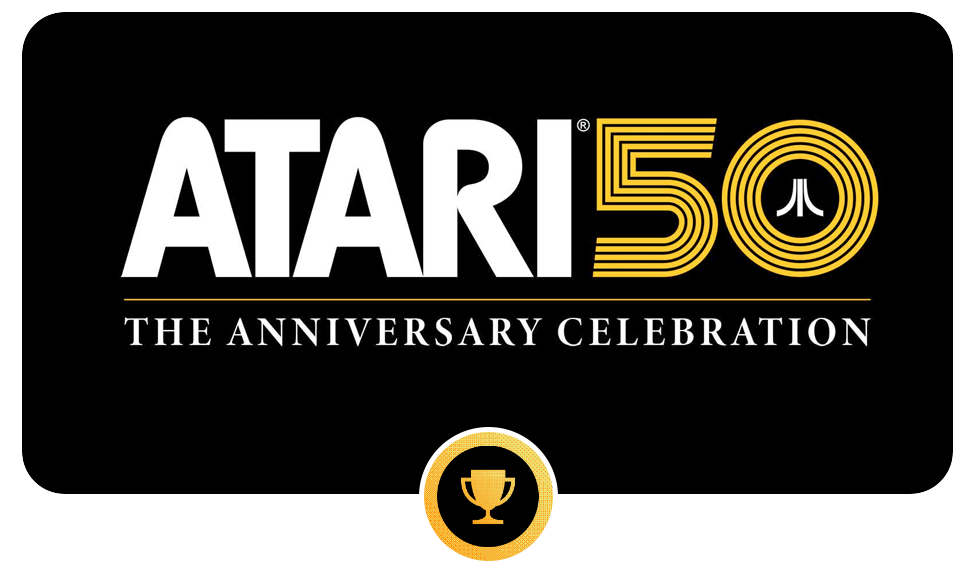 Atari 50: The Anniversary Collection
Audi Sorlie
Throughout my career, the subject of preservation has always been a dominant force of cause and inspiration. I started in video game music, a severely undervalued part of game development and the general gaming milieu, despite setting the literal soundscape to our memories and nostalgia. It was here that I also began speaking with the composers from yesteryear. Hearing their stories gave context to the melodies that had already spoken to me in so many ways, now given all new meaning by those who created them.
Atari 50, to me, is a true new benchmark in how we approach the subject of preservation within the gaming community, both as consumers and developers. For nearly a decade, gaming compilations have grown in size. Now they are vast lists of names that sound familiar, but often have no context provided as to what those games meant to us, to the industry, and to the creators. With Atari 50's incredible production values and interactive documentary setting, each game now becomes a showpiece, a virtual museum artifact upon which you can gaze, interact with and hear the stories of its creation and cultural significance.
As someone who never really grew up with Atari systems (Europe was firmly in the Commodore 64 trenches at the time), the idea of this compilation was never too alluring to me. Thanks to the context provided by the excellent documentation, research, and video interviews provided by Digital Eclipse and the original staff at Atari, these retro games become more than names on a list, more than interesting footnotes in an article; they are actual living pieces of art in the proper context. I held no nostalgia for Atari games prior to this collection, but because of this incredible product, I now have brand new memories of them I will cherish forever.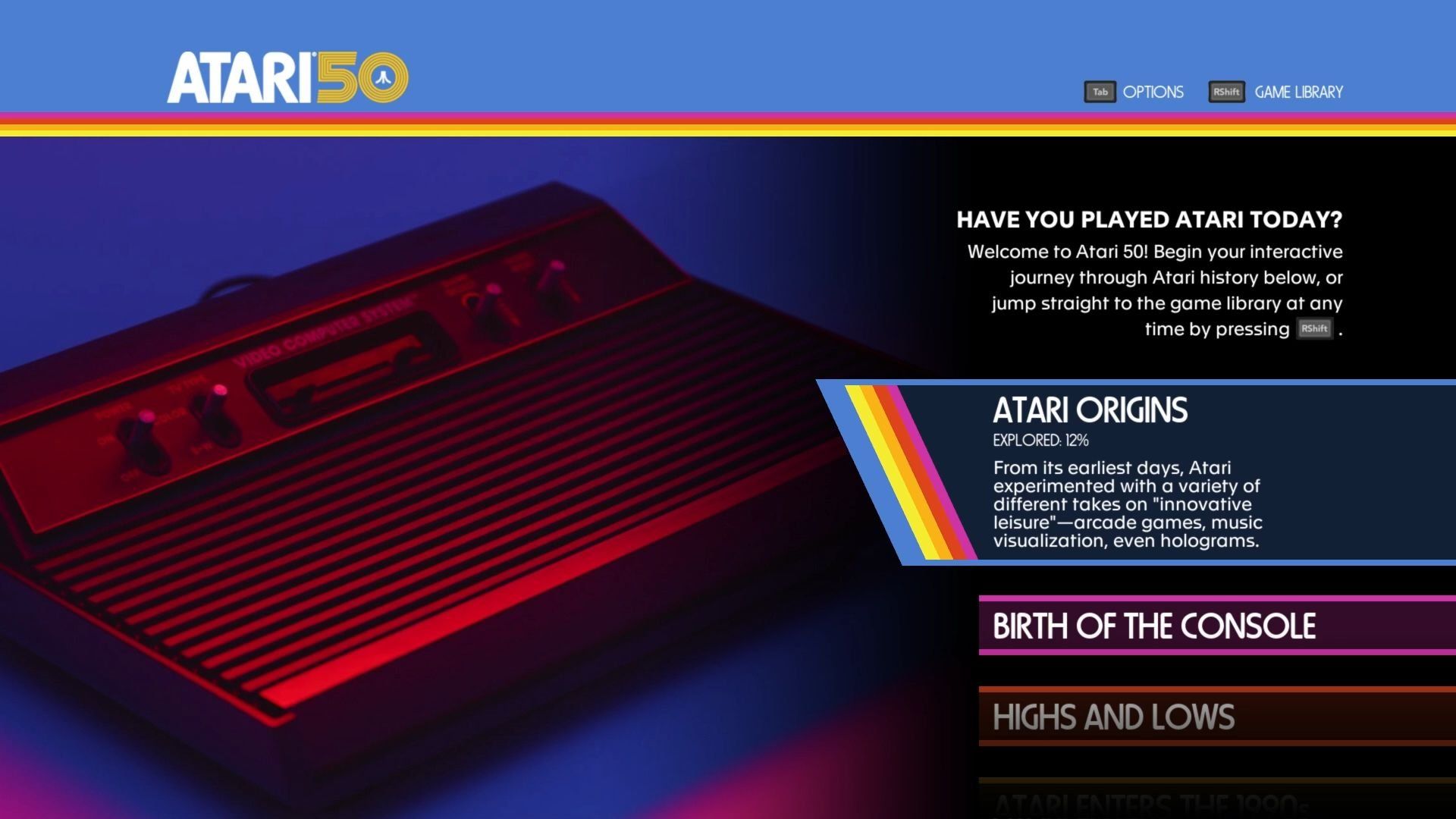 Atari 50 must become the precedent for how to compile game collections.
Jessica Mullane
Atari 50 must become the precedent for how to compile game collections. Digital Eclipse's love letter to Atari teaches us how to approach game preservation in an elegant, playable way. The collection includes over 100 games, extensive video interviews with Atari developers like Nolan Bushnell and Howard Scott Warshaw, promotional images, high-quality pictures of long-forgotten arcade cabinets, and even system schematics.
As people primarily remember the Atari 2600, this is the most accessible way to try out games developed for the Jaguar and Lynx that couldn't compete with their contemporaries at Nintendo and Sega. Atari 50 shows the good, bad, and ugly, highlighting the ways developers advocated for themselves. Despite the method of making reactionary shirts to a statement by former Atari executive Ray Kassar calling them "high-strung divas," it is refreshing to see the foibles all these decades later.
It's clear how invested the people who made the games really were, from the amount of work put into the collection and listening to how passionately those key Atari personnel speak in these interviews. You even hurt for them when you see the failure of later home consoles, and the Lynx being no match for the portable Game Boy, despite introducing color graphics to the handheld space. Ultimately, players leave with a sense of hope from the interview by Pong creator and Atari figurehead Bushnell, and among the game reproductions are six updated "Reimagined" games, with Yars' Revenge being a highlight.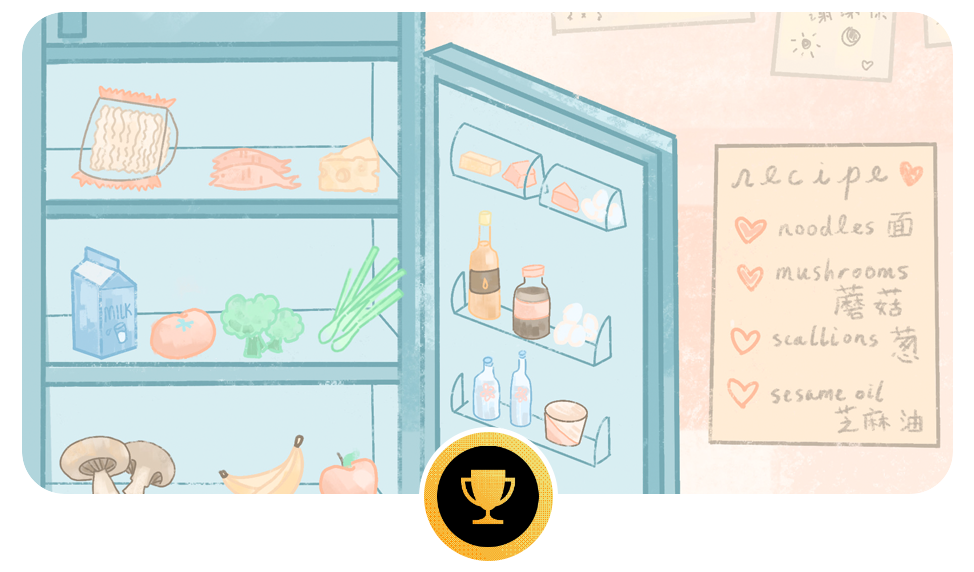 A Taste of the Past
Priya Sridhar
A Taste of the Past was my favorite game this year. After losing her mother, a girl ends up on a train filled with the ghosts of her ancestors. She navigates it to find her mother on the train with her, along with the recipes they used to make together. It's a very emotional and beautifully animated experience. To top it all off, the game is free, letting gamers play it in a day. You can take a few moments to think of who raised you, and maybe even wonder what occurs when loss happens.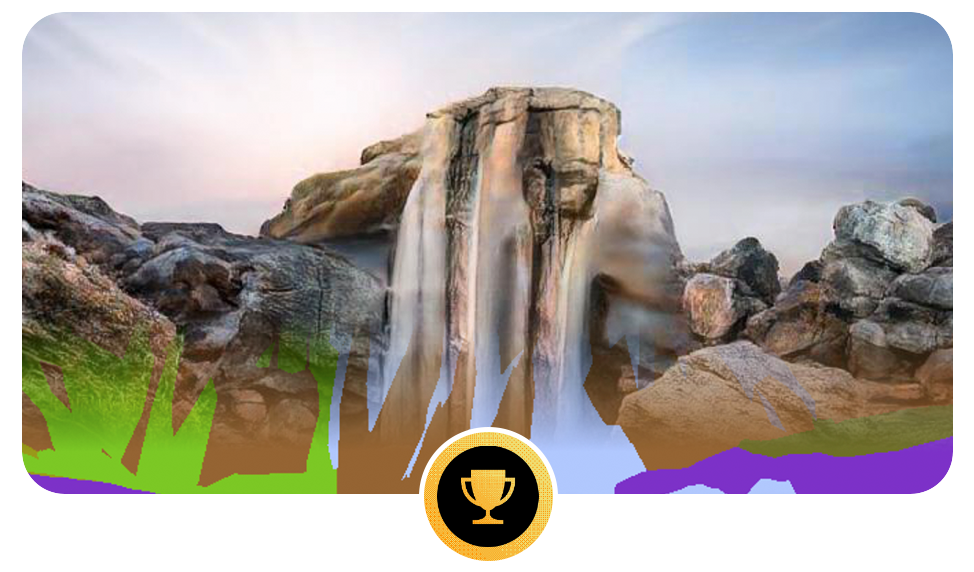 Beyond the Lens
By Ben Koder
Jini Maxwell
I work as a curator, with a specialisation in digital and interactive art. Consequently, I've been following the emergence of AI art into the mainstream with professional and personal interest. Something that has consistently struck me about the increasing proliferation of AI art is the vanishing rarity of genuinely curiosity-provoking, engaging, and thoughtful work being made with these tools. The work I have seen plastered across social media — and in galleries — has felt less like a movement spurred by innovation with access to new tools, and more like a content machine. At the heel of 2022, there are few examples of AI art that indicate how this tech might offer novel forms and new modes, and many that show its proliferation is screwing over working digital artists.
Ben Koder's Beyond the Lens, a remarkable photography game, is the glowing exception to this trend. The game offers players the opportunity to explore a surreal low-poly environment with a camera. As the photos develop, however, the game generates similarly surreal yet photorealistic images based on your capture of the environment. In its installation format (as I first saw it at ACMI X WIP night), you can print these generated images onto InstaX film — a permanent, physical reminder of the corner of a digital world that you might never find again. I found myself engrossed in anticipating how the game would interpret the environment I was exploring, and the tension between what I saw and what the AI saw. A simple geometric shape that might have been a rocky outcrop became a village in the photo that developed — and each new discovery only deepened my curiosity and sense of wonder. It's just brilliant.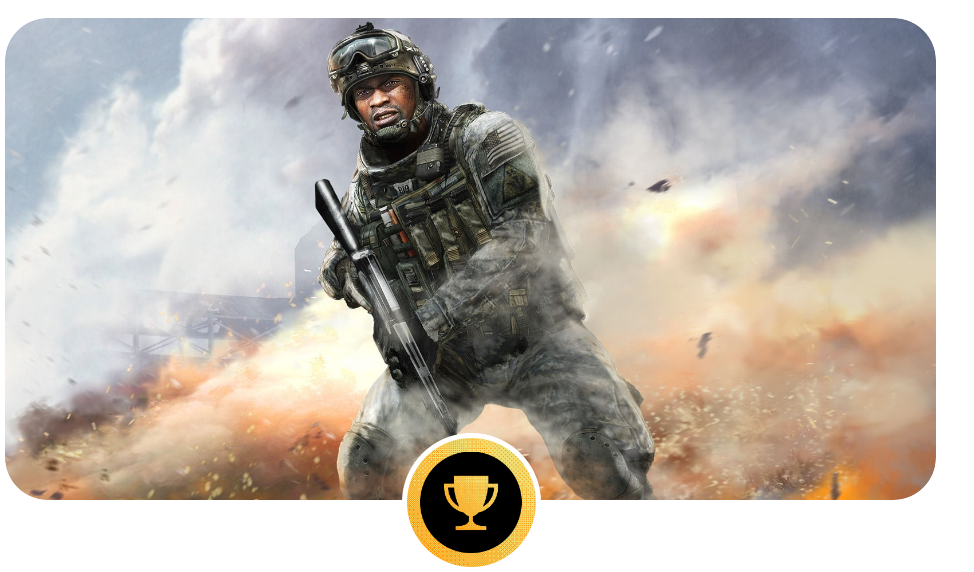 Call of Duty: Modern Warfare II
Charlotte Huston
It feels a little odd to talk about Call of Duty in a piece like this, if I'm honest. I've never considered Call of Duty to be among the great games of the year (at least not since Black Ops II), until now.
I am something of a casual Call of Duty player, at least compared to the circles I associate with. I enjoy these games, but ever since Black Ops II, they have never really been a huge spectacle. Black Ops III in particular was a diamond in the rough with how spectacular its Zombies mode was, but that was a rare exception.
Modern Warfare II feels like a true return to form in the series. Between Warzone and Multiplayer, more people are playing and actually enjoying Call of Duty than they have in years. Although Modern Warfare (2019) and Black Ops: Cold War were both solid games (let's not talk about Vanguard right now), Modern Warfare II managed to grab people. I think that's a testament to the outstanding work Infinity Ward put into this game.
Multiplayer — arcadey as ever — is genuinely fun, and doesn't have any major frustrations like some of the other games of late. Warzone is fantastic as well, taking a good step forward with its new map and minor tweaks to the moment-to-moment gameplay are a welcomed improvement. I do wish I could speak to Modern Warfare II's campaign with more glowing praise, but the campaign ended up being just fine. It lacked the high stakes, and despite the game's title, this campaign felt more like a retelling of Call of Duty 4: Modern Warfare (2008) as opposed to the original Modern Warfare 2 (2009) — which is not necessarily a bad thing. The campaign's gameplay is fun and enjoyable, I just wish they didn't play it so safe. It feels like nothing progressed story-wise by the end beside the character arc of Soap himself.
Regardless, don't overlook this just because it's Call of Duty. The (in)famous series is definitely back, and we should respect it for being good enough to draw so much positive attention in a year when Elden Ring and God of War Ragnarök were also released.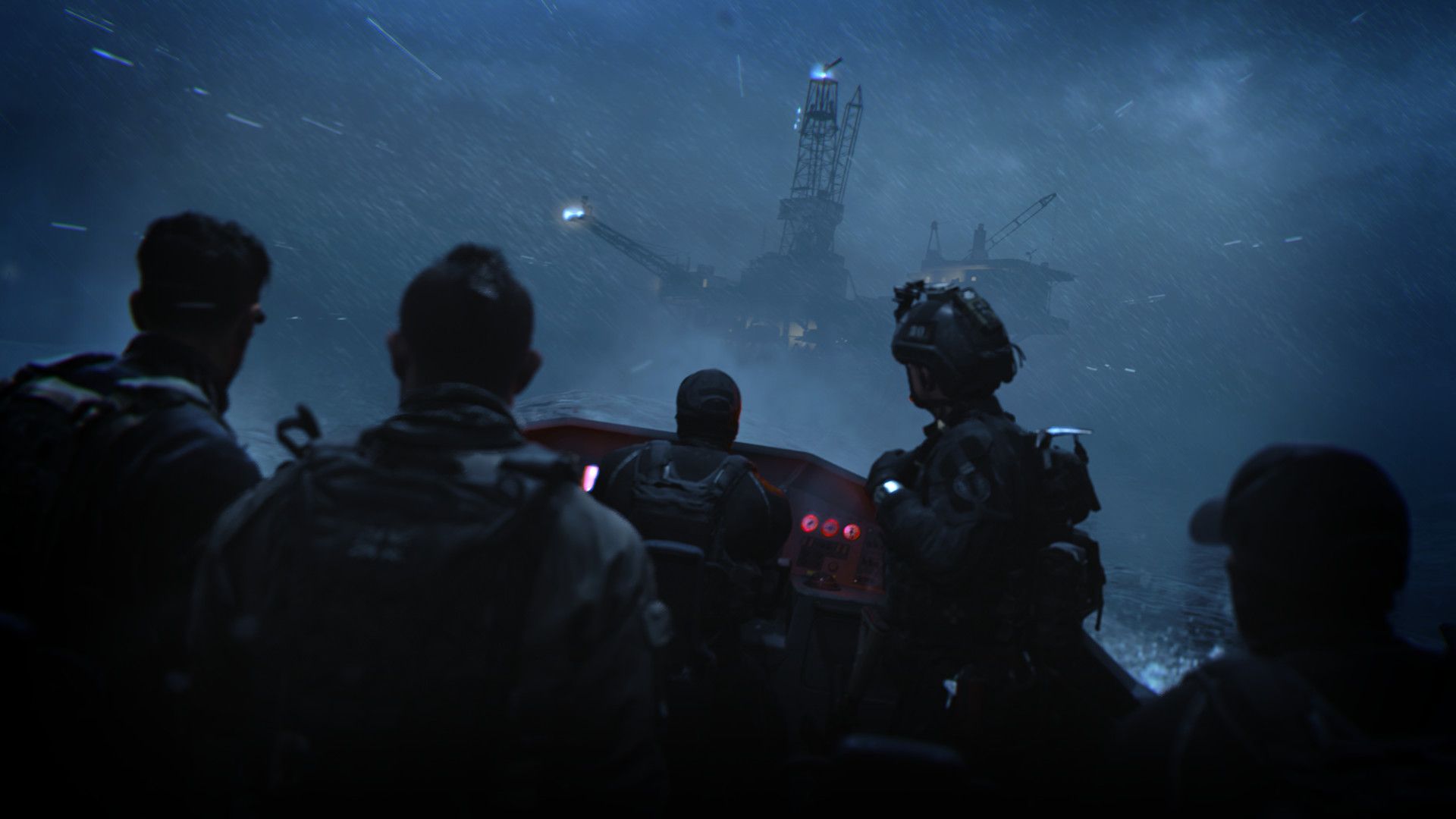 Modern Warfare II has come together to be one of the most fun and addicting multiplayer experiences I've had in years.
Jared McCarty
Honesty being the best policy here, I haven't bought a game within the Call of Duty franchise since the original Modern Warfare 2 back in 2009. While there have definitely been some excellent Call of Duty releases in the subsequent decade, I've experienced nothing but mild disappointment in the landmark shooter. At its best, the series felt like a cookie-cutter FPS trying its darndest to reclaim the glory days of the original Modern Warfare run of games, re-releasing the same experience year after year in the vain hope of recapturing that irreplaceable snapshot of gaming from 2007 to 2010. At its worst, it was a microtransaction-riddled, toxic hellscape filled to the brim with angry gamers and rampant cheaters. It catered to the burgeoning streaming market and casual audiences with little energy devoted to balancing or fixing the games' many issues.
Needless to say, I went into Modern Warfare II with a pretty critical eye.
That's what surprised me most about how different 2022's Modern Warfare II felt when compared to all the CoD games I had played over the last decade. When I jumped into the beta for the sequel, I immediately noticed the increased focus on gameplay. For the first time in years, I felt the need to be tactical in my approaches to enemy encounters. Running in with guns blazing was, for once, a death sentence. I could try to take the high ground, but the level design is such that anyone else with the same idea would take pot-shots at me. I could try to round the building and flank the enemy, but their prolonged entrenchment means a high chance of booby-trapped entrances.
I looked at the repertoire of gadgets at my disposal and felt empowered rather than overwhelmed by the idea of approaching my skirmishes with forethought. The lead-up to those interactions is tense and interesting. Along with the buttery smooth controls and excellent gunsmith selections that allow you to customize your weaponry, it comes together to be a lot of fun. Warzone 2.0 is largely more of the same, but the new DMZ mode (basically Escape from Tarkov-lite) adds much-needed variety and some great interactions with the proximity chat. The whole multiplayer experience is a vast improvement over previous iterations, and I think about playing it more than I'd like to admit.
Modern Warfare II is far from perfect. There is still an immense problem with cheaters, poor sportsmanship, and the spawn locations. Even the overall map design sometimes leave a lot to be desired. There are also lawsuits outlining how Activision irresponsibly used real-life private locations without the express consent of the owners, exposing some of the less-than-reputable actions that are sometimes taken in the games industry. Despite these issues, Modern Warfare II has come together to be one of the most fun and addicting multiplayer experiences I've had in years. I will always give credit where credit is due, and Infinity Ward outdid itself with Modern Warfare II.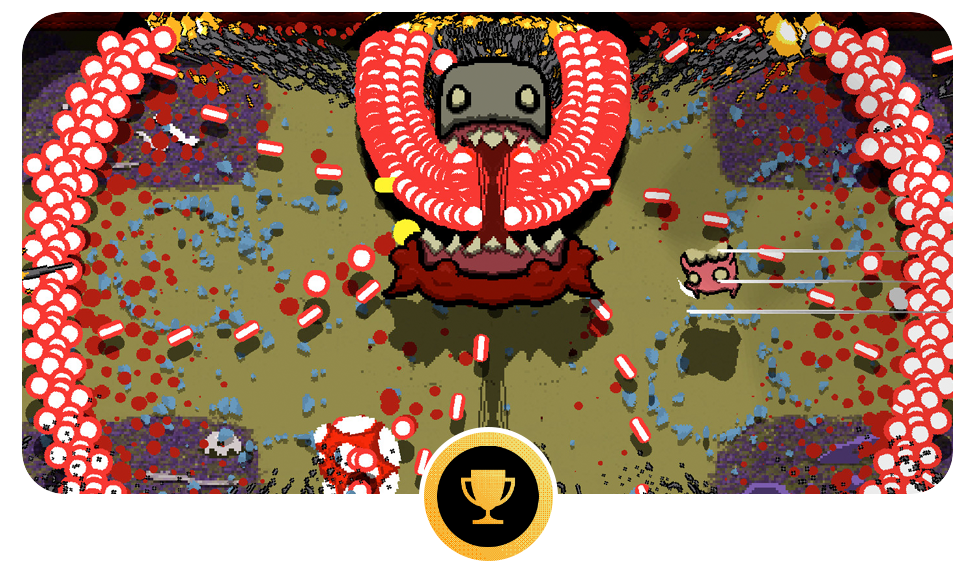 Cavity Busters
Josh Bycer
Cavity Busters, from the outside, looks like another game attempting the "gross out" humor of The Binding of Isaac.
Here, we play as a tooth that is trying to save the body from a host of diseases and weird questions. Each floor is procedurally generated, full of secrets and mini-bosses to fight. Where the game separates itself from the pack is with a lot more technical play than you would expect from the genre. You can dodge and run along walls, shoot your "shotgum" at enemies, and stun them by flinging your molar at them. Stunned enemies allow you to bounce on them to deliver fire from above and get out of the range of all their bullets.
Keeping with the body theme, you have a random chance to find diseases after a room. Leave the room, and the disease infects the body, making the game harder. Take the disease, and it infects you and changes how you play for the rest of the run. These diseases run the gamut from being annoying to just plain run-enders if you get the wrong one. To add further choice, taking a disease can give you the option to cure it in one of the cure rooms within the game. When a disease is cured, you lose the negative side effect, but all enemies will still suffer from the effect of the disease.
This is not an easy roguelike to learn. The greater reflex-driven gameplay makes it harder for people to play compared to The Binding of Isaac. However, if you're looking for a new roguelike to sink your teeth into (pun intended), then Cavity Busters is a great hidden gem and solid roguelike.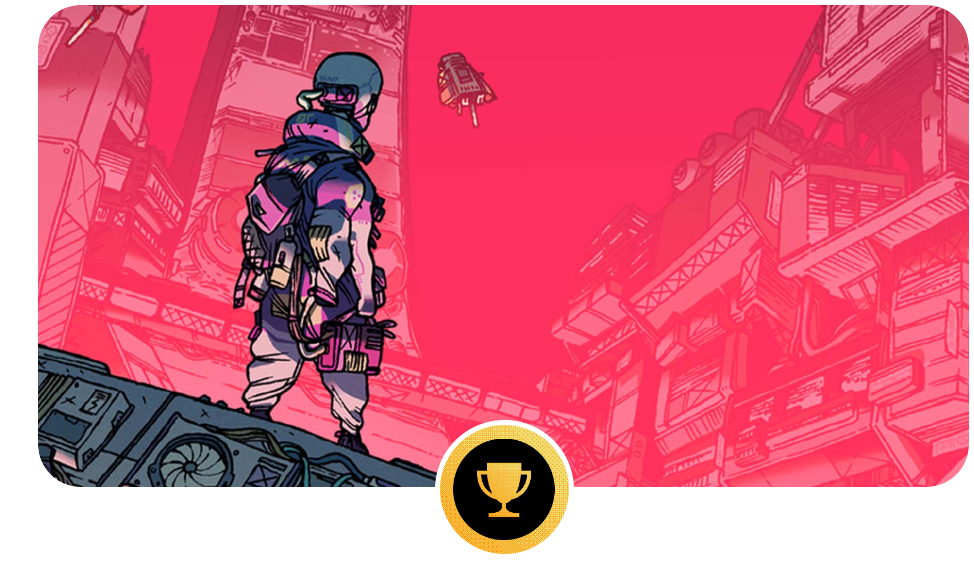 Citizen Sleeper
Antony Terence
I played Gareth Damian Martin's Citizen Sleeper right after the bleak revelations of the survival-horror title Signalis. Fortunately, Citizen Sleeper is an optimist's take on a dystopian sci-fi prison. This time, the prison is your android Sleeper body, connected to your conscience and not so much to your memory. Owned by a corporation, your regular body was sold off, leaving you in a hollow Sleeper shell that comes with disjointed flashbacks and "planned obsolescence", making a subscription to drugs a literal lifesaver.
In a desperate dash to freedom, you flee and end up at a beat-up space station, unaware of what sort of people lurk within. You're rescued from near death by an odd man who offers you a job to "repay your debt." I know this doesn't sound like a cheery start, but it gets better for our mortally challenged Sleeper.
Each day, or cycle as Citizen Sleeper calls it, starts with rolling up to five d6 dice that let you interact with the station and its activities. Doze off on taking your meds and you'll weaken, lowering the dice you can roll per cycle. It's effectively a single-player TTRPG experience that quickly hooked me into its sea of stories and side quests, both backed up by solid writing.
Complete story segments called "drives" and you get upgrade points that can develop skills. These skills determine how low or high your dice rolls need to be to complete a particular action, from hacking terminals and collecting scraps to pivotal narrative moments that you can fail if your luck fails you.
The people of Citizen Sleeper all come with their baggage and hope for a better future. While underground trade deals, capitalist scheming, and space-grade botany are here and accounted for, your urgency to get meds initially forces you to make each cycle count. Things get better, however, and you'll soon have the agency you need to make the choices that suit your temperament.
Citizen Sleeper sows seeds of hope across your encounters, making former threats slowly lose their bite and turning foes into reliable friends. I began picking up chores based on my beliefs instead of gambling for the quickest coin. Citizen Sleeper taught me of the blindness that buries one in misery and the clarity one gains when all base needs are fulfilled. I found Maslow's Hierarchy of Needs leaping from my classroom board and spinning alongside my dice.
I'm beyond glad that Citizen Sleeper doesn't reset your resources by random occurrences. That would turn it into a different game entirely, one where reactions to scarcity would triumph over mindful reason. I needed Citizen Sleeper more than I thought I did. It reminded me it is not wrong to hope and that you are not alone in working toward a better future.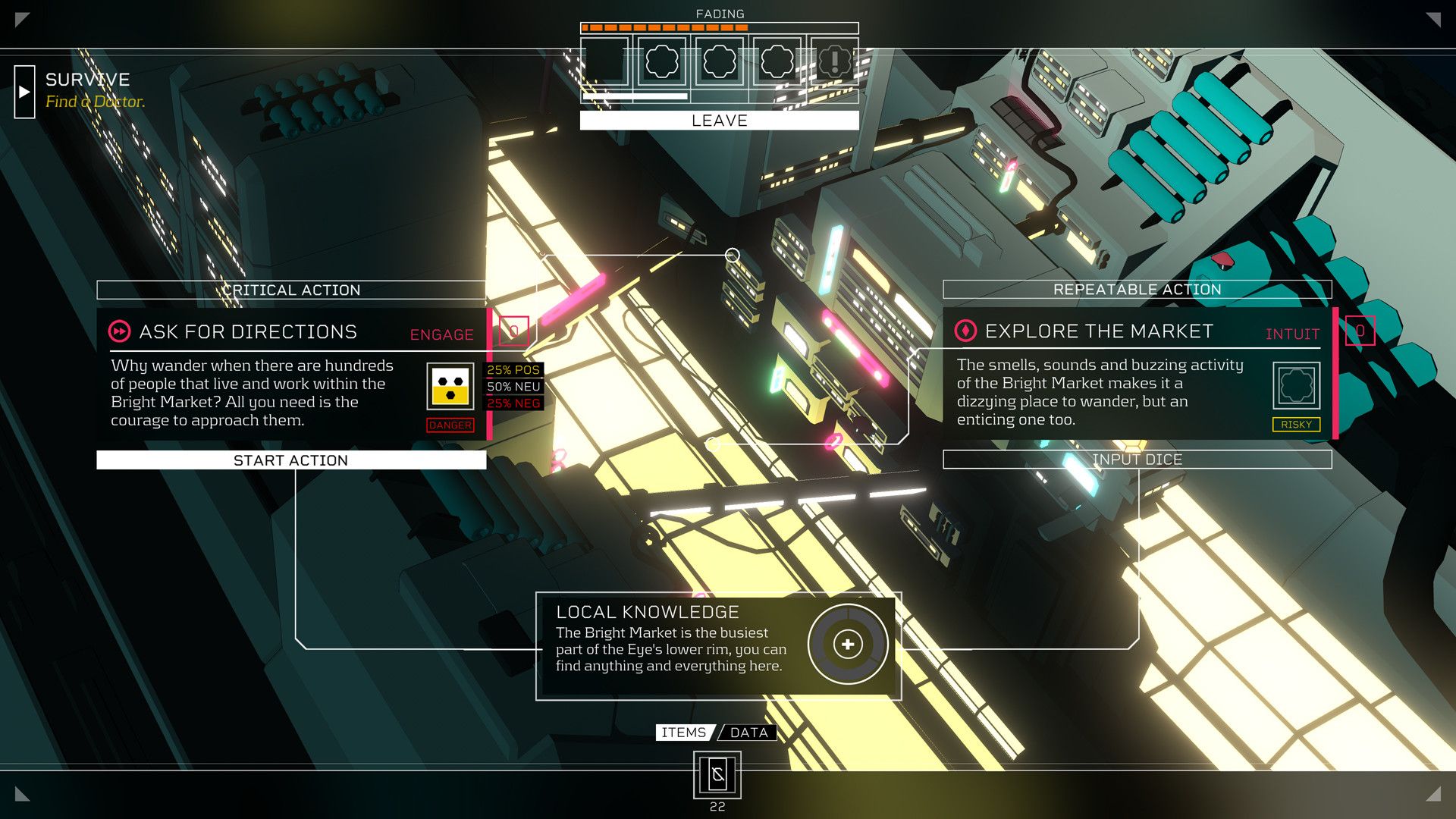 It's futurism and cyberpunk, critical of what the working class is experiencing right now.
Brandon R. Chinn
I've realized that much of my desire when it comes to unparalleled gaming experiences is to just have a novel that I can play in. I want a fantastic story that doesn't trip over itself trying to force some aspect of gameplay that doesn't work.
Citizen Sleeper sidesteps all of this with its minimalist but addictive approach to gameplay that's inspired by TTRPGs, but completely reinforces the gravitas of its story. It also does not overstay its welcome, and with such a short length and so few tasks to accomplish across a single playthrough it's possible to play it over and over again in hopes of finding the perfect ending.
It's futurism and cyberpunk, critical of what the working class is experiencing right now. It's also utterly beautiful, as both the game's visuals and its soundtrack take a no-fuss approach that strikes true to the very core of your soul.
Vítor M. Costa
My favorite game of 2022 is Citizen Sleeper, especially for how deep and thought-provoking its text is. The latest game from Jump Over the Age is a soft science fiction that stars an android who lives on a space station in an endless cycle of precarious work.
The plot addresses the exploitation of labor in late capitalism and post-humanism issues about mind, artificial intelligence, and robotic ethics. All this with a coherent and intuitive gameplay of an adventure tabletop RPG and routine simulation, very well-written dialogue, characters illustrated by Guillaume Singelin with their luxurious and beautiful coats, and a relaxing synthwave soundtrack composed by Amos Roddy.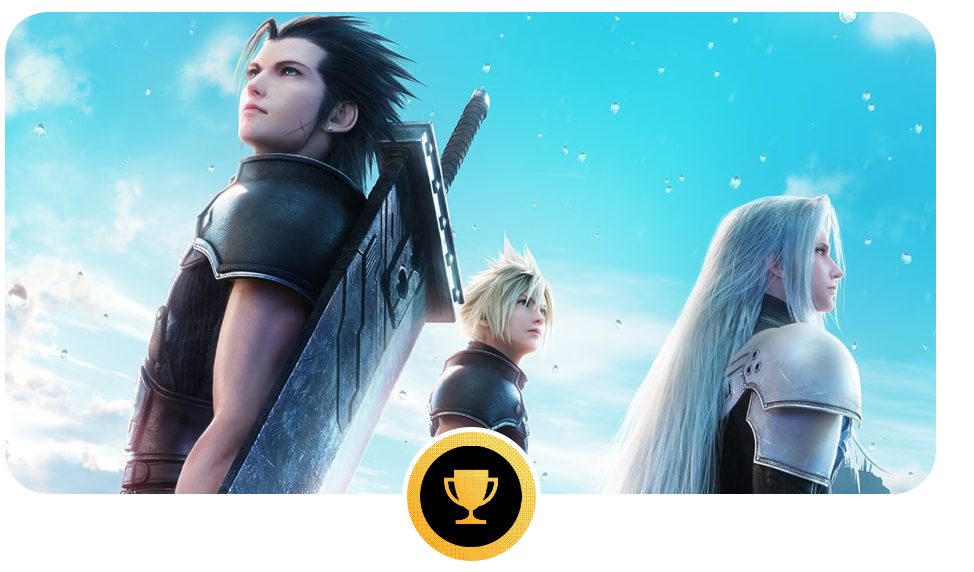 Crisis Core: Final Fantasy VII Reunion
By Square Enix and Tose
Alex Anyfantis
I can only characterise Crisis Core as a perfect camping trip right in the middle of the work week. You love it, you're having so much fun with your great mate you brought along with you and who you haven't seen for a while, but in the meantime you're also trying to fight off the sad reality that before you know it, it'll all be over. You'll be back at work.
That's what Crisis Core is. An almost perfect game which, even if you've never played it before, you know how it will end, when it will end, and what that ending will mean. Yet you still go along for the ride anyway because it's just too good to say 'no' to. Arguably the greatest Square Enix title to be released on a handheld device, only now it has a fresh coat of paint and a more user-friendly battle system. I mean, really, what more could you ask for?
I know I won't be asking for much else when I dive back into it shortly, ready to get my heart broken once again, as if one time wasn't already enough!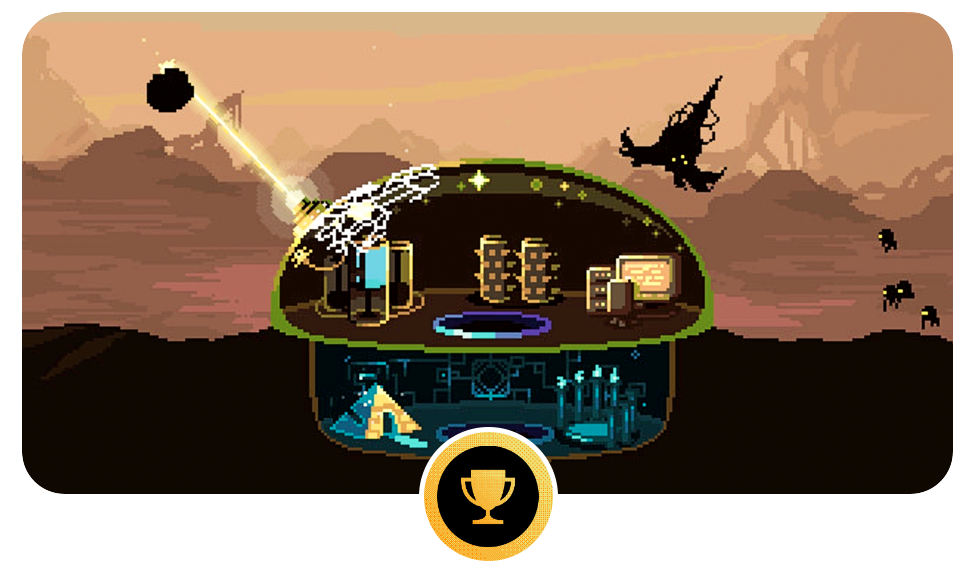 Dome Keeper
By Bippinbits
Josh Bycer
Dome Keeper is a deceptively simple game to play. Your mission: find a relic hidden deep within the ground on an alien planet while monsters try to crush your only haven. The gameplay loop is about you digging through the ground to find and transport resources back to your base, use said resources to unlock and upgrade your abilities, and defend wave after wave of escalating threats.
The longer you play and the further you dig, the harder it will be to make progress while protecting your base. Despite all this, the aesthetics and music present a very zen atmosphere. The loop of getting deeper while progressively getting stronger works really well. Each one of the game's unlocks that provide you with a new weapon dome, a new defensive measure, miner, and bonus device, can completely change your strategy and playstyle.
Since the game's release, there have been upgrades to add more enemies and activities. While the game is a bit light in terms of variance, I hope the developer continues to grow it as this is a fantastic game.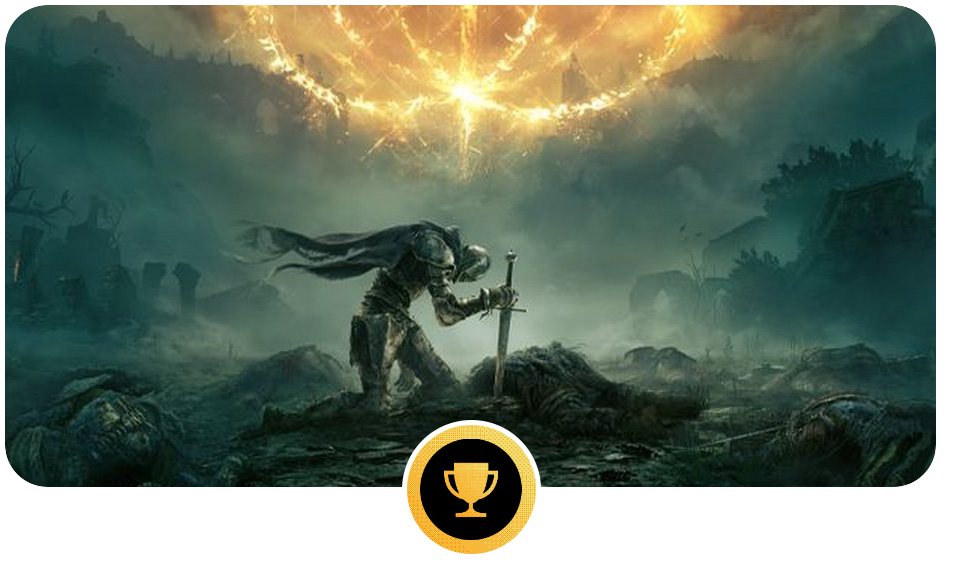 Elden Ring
By FromSoftware
Andrew Dickinson
I've never really gotten into Soulsborne games prior to Elden Ring. The difficulty level was often off-putting, even though I appreciated the worlds and gameplay mechanics FromSoft crafted. The implementation of Elden Ring's multiplayer and its sprawling open world gave me the impetus I needed to give these experiences another shot, this time accompanied by my Soulsborne-loving friend who could explain every system, fill me in on some of the lore, and assist me as I got up to speed.
Yes, Elden Ring is a challenging game, but it's also a rewarding one. Navigating combat requires both patience and practice, but every death increases your knowledge of how a particular enemy works, or how your equipment is working for you. Navigating the world itself is pure joy. It has been some time since an open world setting has reeled me in as much as The Lands Between. You're not bombarded with countless quests and tasks that cover the map in an overwhelming overlay of icons — this isn't a Ubisoft Original. You won't have your hand held either. After a brief introduction and combat tutorial, you're thrust into the world and left to your own devices.
To the uninitiated this can be overwhelming. Where do you go? What do you do? Do you need to defeat the Tree Sentinel? I feel bad for players who headed straight to Caelid from The First Step, because that place is utterly terrifying even as a seasoned player. However, herein lies the beauty of Elden Ring. You're thrown into a mysterious world with very little information to go off apart from a vague mission. Every shred of progress is something you have to fight for. Each morsel of lore fuels the fire to discover even more. Each new cave or catacomb is a potentially terrifying trip into the unknown, but with its own tantalising reward hidden within. Every boss, of which there are many, is a new combat puzzle to solve.
All of this is complemented by a refinement of FromSoft's lauded asynchronous multiplayer, alongside cooperative options that allow Elden Ring to be a shared experience, if you so wish. It has become one of the fastest selling games of all time, and it's easy to see why. With free updates and DLC on the horizon, there's more reason than ever to jump into The Lands Between if you haven't already.
Elden Ring really is a genre-defining experience.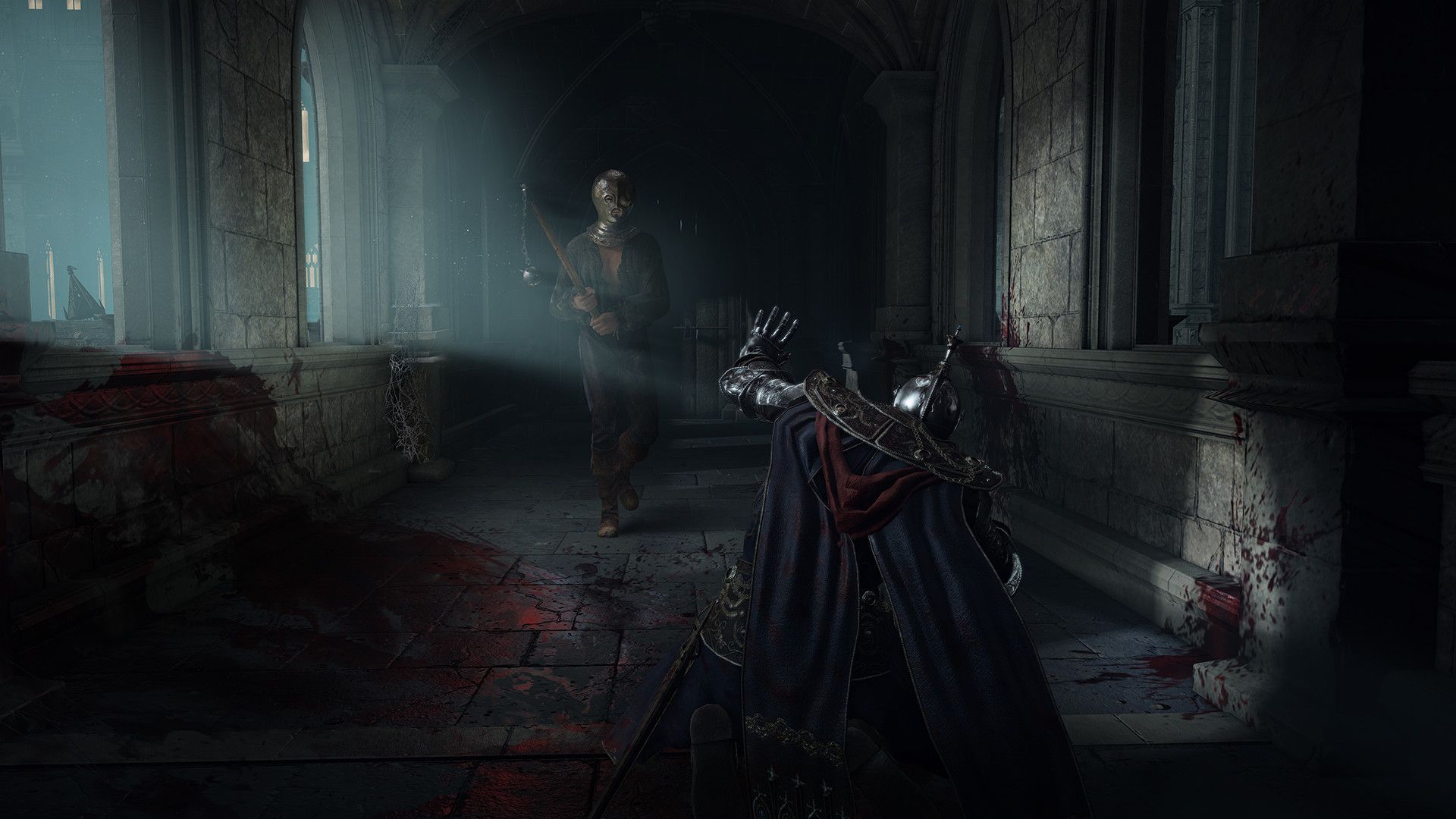 The Lands Between has been a surprisingly social place for me this year, and I couldn't be more grateful for it.
James O'Connor
I am probably not the right person to unpack Elden Ring, a game I came nowhere close to finishing. Last time I played, I got my butt handed to me comprehensively by a boss at the academy, which reminded me a little too much of my time in academia. The idea of going back and relearning any systems I have forgotten is intimidating.
Despite it all, Elden Ring is such a towering, astonishing game that the 25-odd hours I put into scratching its surface eclipsed almost every other thing I played this year. I've never been able to make headway on a FromSoftware game until now, but I feel like I "get it" now more than I ever have before. Everyone was right all along. I guess I should give Bloodborne another shot.
Jini Maxwell
So much has been written about how great Elden Ring is already, including by me, in a review for The Saturday Paper, so I won't go on too long. Elden Ring is the first FromSoftware game I've played to completion - a process that was not without its struggles. I found the game's many interdependent systems overwhelming at first - weapon scaling, ashes of war, weapon upgrades, all swam around in my brain, and I struggled to switch between the game's challenging gauntlet-style combat encounters and singular boss fights.
I have spent about 250 hours in Elden Ring now and adored it, but I doubt I would have gotten past the game's initial sense of overwhelm without a little help from my friends.
The best thing about Elden Ring is playing it with other people, and I experienced this in so many ways! I beat Margit by sitting on the coach with Kalonica, a box of pastries between us, passing the controller back and forth with each death. My housemate Sam patiently (and repeatedly) explained weapon scaling, and directed me to the meteor staff – a lifesaver.
I can honestly say that beating Radahn on co-op with my teenage brother was the highlight of my year. We made several attempts, and my brother got taken out just seconds before I landed the fatal blow on the demigod at last. He watched Radahn fall through his death screen, and called me from a shed full of his cheering friends, who unbeknownst to me had been our eager audience all evening, to whoop and holler his congratulations.
I recently started dating someone new, and watching them take their first, cautious-then-overly-confident-then-frustrated-but-ever-more-strategic steps through Limgrave for the first time has been totally thrilling. The Lands Between has been a surprisingly social place for me this year, and I couldn't be more grateful for it.
Lucas Di Quinzio
I rented Elden Ring from my local library (shout out to Melbourne City Libraries for having an impressive collection of games to rent). I was intrigued, but sceptical. Then I started playing, and when the game's giant map opened up to me, Elden Ring got its hooks into me. The huge, sprawling open world gives you seemingly endless spaces to explore. And with each area explored comes new weapons, gear, spells, and abilities to try out. Importantly, if you are not prepared for the tough enemies in an area, you can turn around and hightail it out of there. It's a glorious world to explore.
Elden Ring is a great RPG with a wealth of great options for builds, so you can play anyway you like. Of course, it's a great action game – a far more accessible and less frustrating action game. If you're still apprehensive about Souls games, trust me when I say it's worth diving into Elden Ring.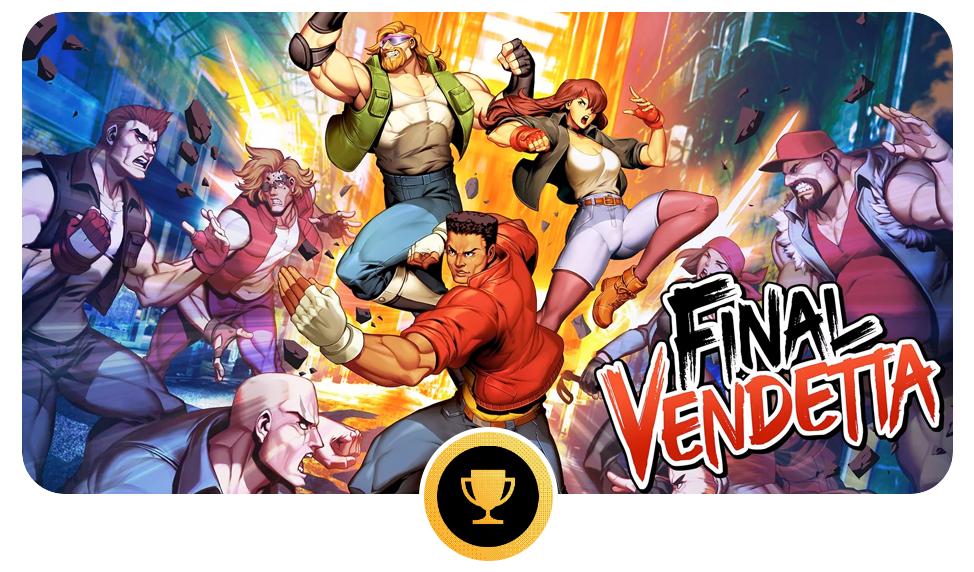 Final Vendetta
Audi Sorlie
The brawler genre is one that never truly survived the jump to 3D. While there have been excellent character driven action games in the likes of Devil May Cry, Bayonetta, Batman Arkham series and many more, none truly brought back that simple "belt scrolling" satisfaction of taking on a leather clad crime syndicate all by yourself and pummelling fools into the concrete. With the indie scene blossoming into its own unique beast throughout the 2010s, 2D gaming has seen a renaissance in which the games which enjoyed in the past sees great innovation and exploration within its traditional 2D roots, rather than a forceful transition to 3D. DotEmu's Streets of Rage 4 truly signalled the return to the true brawler for a mainstream audience, and ever since, we have been blessed by some of the best beat 'em ups of all time. Final Vendetta is certainly among those.
The developer (Bitmap Bureau from the UK) is no stranger to evolving arcade game premises into something new and powerful. Their previous efforts, Xeno Crisis and Battle Axe, are both steeped in NeoGeo nostalgia, providing loud sound samples, huge sprites and immediate action, much like the days of the arcade did. With Final Vendetta, Bitmap Bureau set out to create what would essentially be a "what if" scenario of SNK's arcade hardware, having not just a decent brawler, but a great one, something it sorely lacks from its active years.
The result is a weighty, dark shaded, gloriously detailed brawler that graphically stands toe-to-toe with some of the finest NeoGeo offerings while providing its own sense of style with clear inspiration from both 80s action films, Japanese anime, and real life English locations. The gameplay is, also, deeply satisfying. Enemies can route the player wonderfully, leading to a proper challenge rather than a barrage of difficulty. The impact of each punch and kick is visually perfected, a detail that so often goes overlooked in creating a brawler in order to create the right amount of OOMPH with the proper stun and weight to the offense.
Final Vendetta is more than just a throwback in that it properly modernizes controls and responses overall in its mechanics, adding a nice layer of depth to its melee combat and just a tad bit complexity to enemy and boss routing patterns to keep the challenge going. It's a genuine love letter to a genre that pushes the envelope to greater heights for the future.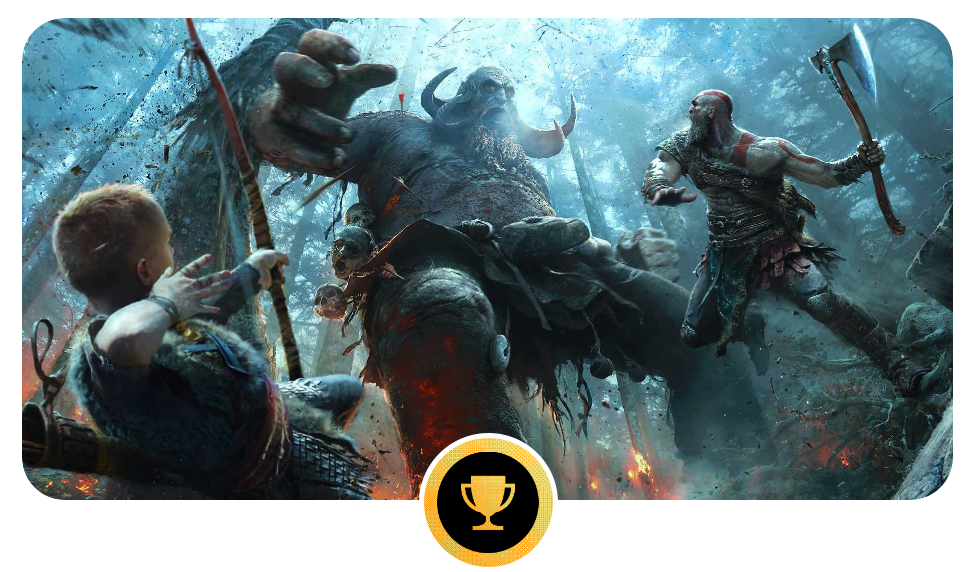 God of War Ragnarök
Anthony Wright
It's an incredibly rare occurrence for a game to get me so emotionally invested, and throughout my life so far, there has only been a handful to do so. Ragnarök, however, shoved its way through and made me melt into a teary-eyed mess within the first 10 minutes of playing it.
God of War (2018) planted so many seeds in its narrative that it felt more like a prologue for what was to come. After reaching the credits, I couldn't help but be concerned over just how on earth they were even going to reach the heights they had teased us throughout its story. After all, sequels tend to disappoint.
The biggest twist with Ragnarök is that it doesn't bother trying to reach the heights set by its predecessor. In such an astronomically large universe full of realms, gods and monsters, Ragnarök keeps itself grounded and at its centre continues to tell the intimate story of the bond between a father and son caught in-between inevitable warfare. It is a game that is so epic in scale that it would be easy to get lost within its harsh world, but by forcing the player to see through the eyes of Kratos and Atreus, you realise they're just as lost in the chaos as you are, and it's a beautiful dynamic to spectate.
From beginning to end, Ragnarök threw me back and forth through countless twists and turns, and I loved every second. It's a game that somehow juggles so much whilst also tying up every loose end left in its narrative. It features an incredible cast of complex characters, all with their own flaws and ambitions, and its themes of fate and loss and the answers it provides are sure to cut deep amongst players.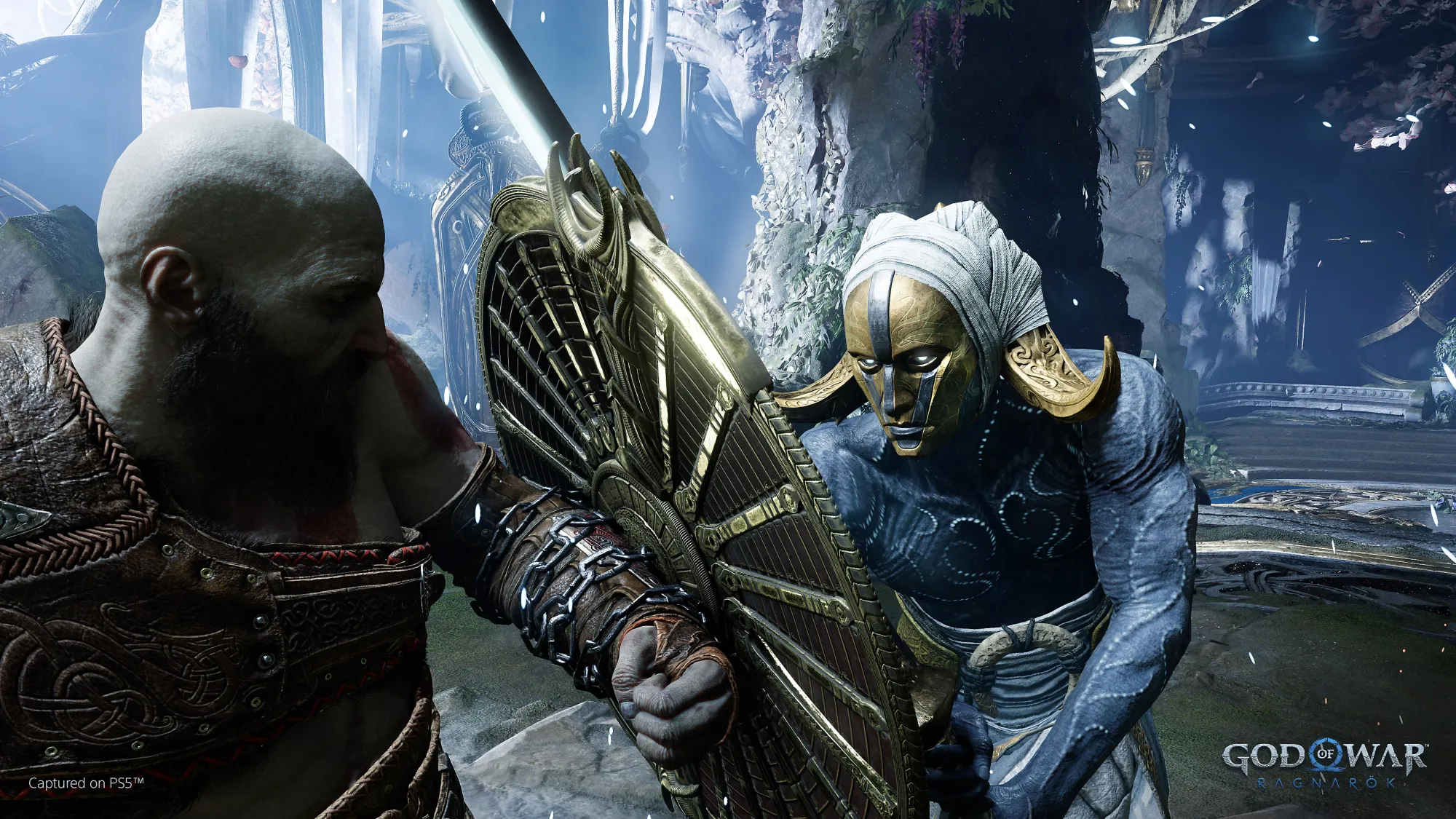 Santa Monica Studio continue their powerful legacy of strong storytelling, dialogue, and character development.
Briana Gonzalez
I played Ragnarök in a constant state of awe and on the brink of tears. I was back in the Nine Realms, but it carried with it the sprouting seeds of the apocalypse. Fimbulwinter has stretched across the realms, casting its environment and inhabitants into a fresh crisis. Despite the end of days fast approaching, the realms we could traverse and the World Tree itself were breathtaking. The gnawing emptiness and chill of Midgard. Both father and son watching in appreciative silence two hafgufas — giant jellyfish — sing and float across Alfheim. The lush wildness and ygros of Vanaheim. The game is a visual feast.

As someone who loves Norse mythology, the game continues to introduce more notable characters. With Asgard and its inhabitants front-and-center, we'll see new faces emerge, such as Sif (Thor's wife), Heimdall, Fenrir, and more. Each has their unique personality, problems, and motives, adding onto the gorgeous tapestry that makes up the game's universe.

Santa Monica Studio continues their powerful legacy of strong storytelling, dialogue, and character development. Ragnarök grapples with numerous of themes effectively, but the one that I gravitated to the most was the impact of a crisis on familial relations. At its core, this is Atreus' coming-of-age story where he seeks out his identity — who he is, his purpose, and his abilities. His desire has him pursuing Ragnarök while Kratos grapples with trying to keep his son far from it, yet giving him space to make his own decisions. The authentic dialogue and delivery by Sunny Suljic (Atreus) and Christopher Judge (Kratos) kept me invested in their developing relationship. It's what made and continues to make this game absolutely difficult to put down even after the credits rolled.
CJ Wilson
With Ragnarök, I have experienced one of the best video game sequels ever made. Ragnarök improved upon the combat in various ways while also fleshing out the characters and backstories, leading to some interesting twists and turns along the way.
Kratos has certainly become a complex character. He went from a rage-filled, vengeful killer of gods to a loving and protective father who cares for his son, wanting to leave a lasting legacy for him and to be known as a brave protector of the Nine Realms. There were moments in the story where I felt a personal connection to Kratos by sympathizing with his actions, remembering moments that I had with my dad, and the lessons that he wanted to teach me in order to be a better person.
The world has been expanded with new realms to explore like Swartalfheim, the dwarves' homeland, and traveling through the lush jungles of Vanaheim. Santa Monica even gives a nod to their Sony family with side missions to find collectibles like poems with references to other popular PlayStation titles like Uncharted and Ghost of Tsushima, among others.
There are even parts of the story where you get to play as Atreus for a bit. Without going into spoilers, Atreus provides a free-flowing and acrobatic feel to the combat that adds a greater sense of variety to the gameplay. You get to use his assortment of arrows and spirit animal summons along with his bow for close-quarter encounters.
God of War Ragnarök is easily my Game of the Year for 2022. I'm glad that it earned all of the recognition at the Game Awards like winning Best Narrative, Best Score/Music, and Best Performance for Christopher Judge as Kratos. I'm excited to see where the franchise goes in the future; maybe we can get to play as Atreus for his own solo title.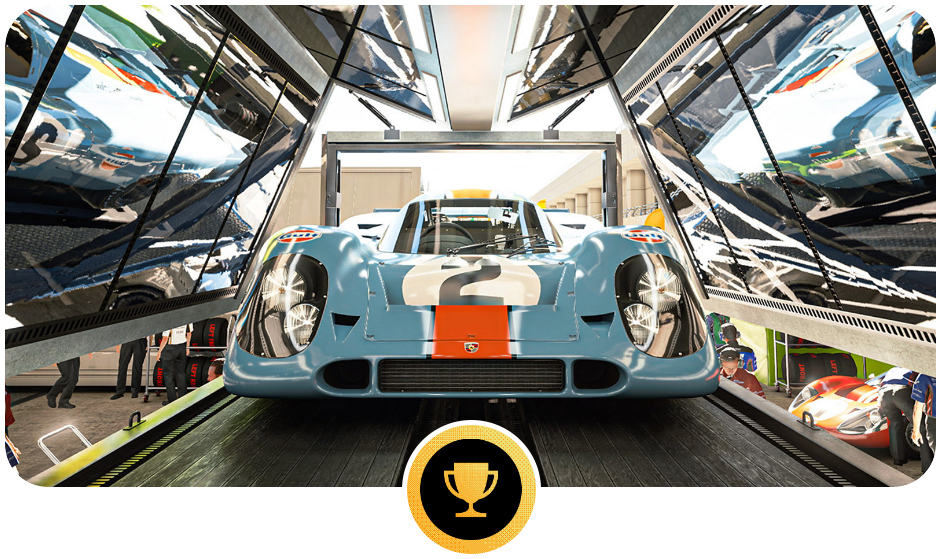 Gran Turismo 7
Jamie Galea
Gran Turismo 7 is a bizarre game. The racing is good, but the AI often feels too rigid and loves sticking to the racing line. It pitches itself as a live service game, but it doesn't make you want to come back daily or even weekly. It's also a game that requires an internet connection, so even if you want to play single player; if the servers go down (and they have), there's very little to do in this game.
Yet, there's really nothing else quite like Gran Turismo 7. Polyphony Digital's latest is a love letter to car culture, excelling in making you care about cars. I could've easily looked up the significance of Alfa Romeo's Quadrifoglio, the four-leaf clover that's widely associated with the manufacturer, but having the game explain what it was while providing some context was very novel.
It's also a real anomaly for PlayStation Studios. For a publisher that's defined itself in recent years by creating new IPs as cinematic action adventure games, going back to a well-established franchise that's not an action game is refreshing. Though much like every big PlayStation game, it's a great technical showcase of what their hardware is capable of. So far, Gran Turismo 7 might have my favourite implementation of the DualSense's haptics and triggers.
If Gran Turismo Sport was any indication, there's going to be a long life in Gran Turismo 7. There's plenty to do right now, so if you're looking to go racing now and want to see what your DualSense can bring to racing games, Gran Turismo 7 is worth your time.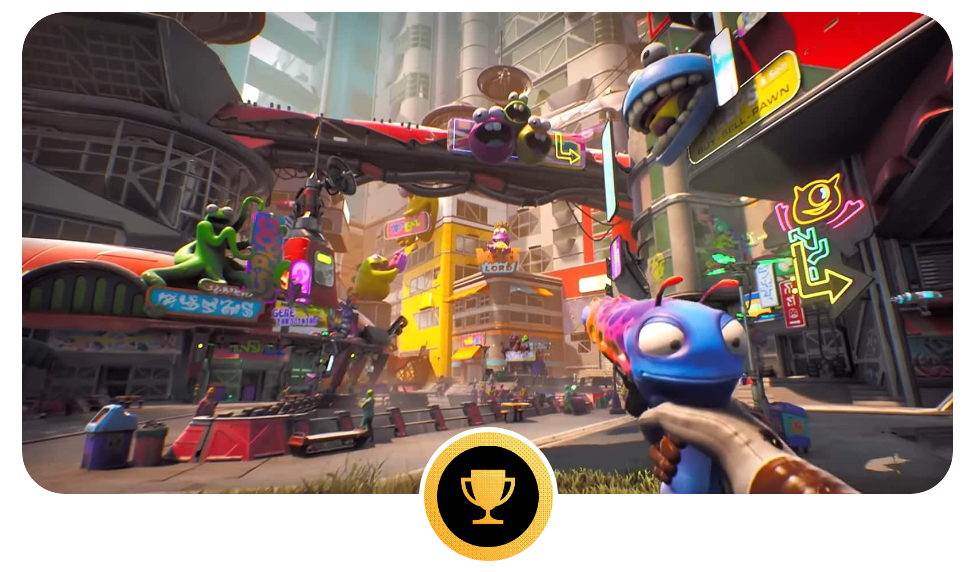 High On Life
CJ Wilson
I played quite a handful of games in 2022, but not a single one that showcases its inspirations to a comedic effect like High On Life.
Where the fourth effort by Squanch Games succeeds is having a quirky, engaging cast of characters combined with gameplay that features shooting and traversal abilities with cooldowns attached to them like using a jetpack and dashing. Each gun you acquire has its own unique personality - you hear their specific banter with other NPCs as you progress through the story while also upgrading said guns to gain an advantage in combat.
While I have little experience with Justin Roiland's body of work, Rick and Morty being its most famous example, I understand his style of humor draws a specific type of audience that loves it.
I didn't burst out laughing at some of the jokes the game provides, but there were certain moments that made me chuckle a bit. There were specific moments garnered from talking with some of the NPCs that threw me off in a good way, expanding the world-building that the game establishes throughout.
The player travels to different planets with their own unique biomes, trying to clear out bounties by killing the high-ranking members of the G3 cartel in their quest to confront their leader Garmantuous. Each world has collectibles like alien treasure chests that contain Pesos, the in-game currency. Some of these chests could even have trading cards that players can collect, with humorous descriptions on them.
High On Life is a colorful and vibrant game that doesn't hold back on the dark comedy and violence that it presents. If you are looking for a light-hearted tale with responsive controls and precise first-person shooting with an eclectic cast of alien characters, then this is the game for you.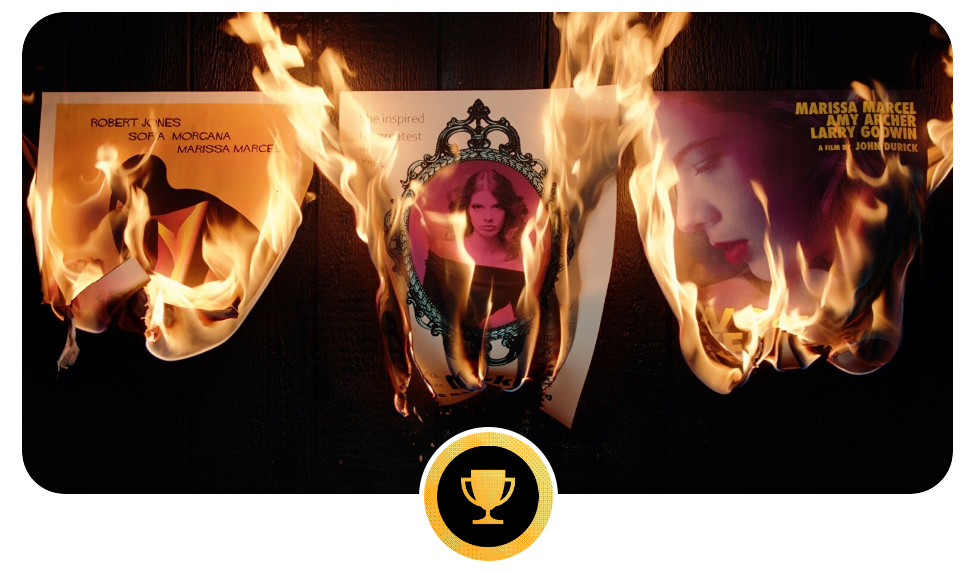 Immortality
By Sam Barlow
Maris Crane
Immortality is a difficult game to talk about. This is because it's best experienced going in as blind as possible, and the idea of spoiling it for anyone is upsetting. It doesn't help that this is a game told in a fragmented, non-linear fashion, so it's difficult to know where to start. Immortality is a dense, quite-literally layered game with themes that echo and resonate across these layers.
Spoiling nothing, I can say this: Immortality is a clever, well-made game. The FMV clips that the game is primarily composed of have excellent production value. The acting is uniformly brilliant, and will regularly move you, even if you don't quite know the full context of the scene yet. If, as a gamer, you are even slightly driven by curiosity, Immortality will suck you in from the get-go. That's what happened to me, and I'm not sure that the game has released me yet.
Now for what we might consider a mild spoiler: Immortality is a terrifying game. I think it counts as a spoiler because I wasn't expecting it to be as terrifying as it was. It doesn't have "jump scares" in the traditional Five Nights At Freddy's sense, but it has a series of unsettling moments that only become more impactful as you piece more of the story together. It completely wore down my nerves. I was in high spirits when I first started, clicking on objects willy-nilly to transition between scenes, eager to uncover more information. 15 hours of playtime later, I would interact with the game with slightly shaky hands, and if I was jumping between clips, I would watch the transition through my fingers.
Immortality is the video game equivalent of Mark Z. Danielewski's novel House of Leaves in several ways. Both are about strange movies that don't exist. Both play with their respective mediums in creative ways that really enhance the spookiness. But above all, both have unsettled me to such an extent that I don't think I will forget them for a long while. Immortality is a part of me now.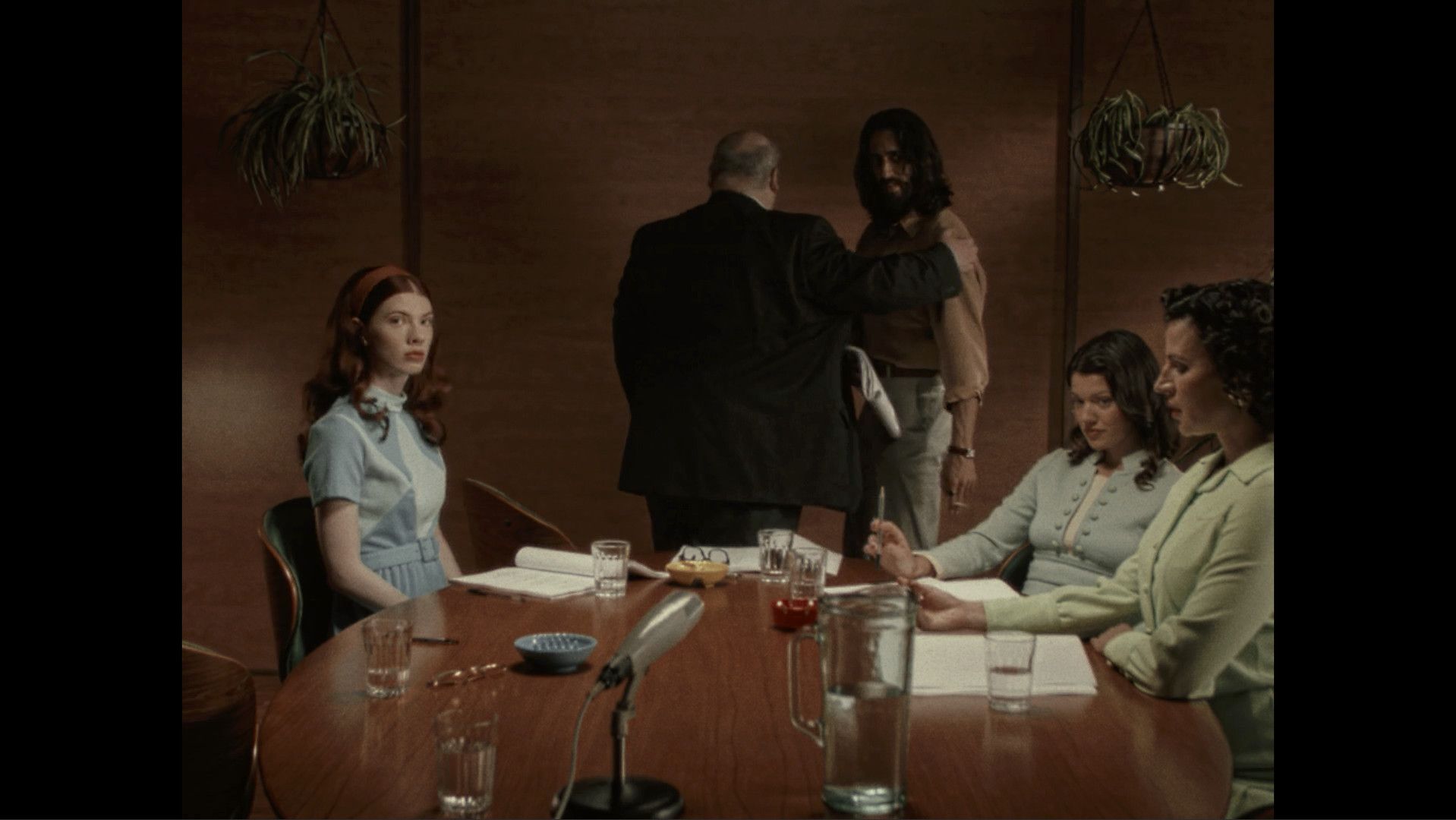 I will carry this game with me forever more.
James O'Connor
Far and away my personal game of the year, for all the reasons I mentioned in my review on this very website. Immortality is one of those games that will not resonate with everyone equally, which is true of every game ever made, but it's especially true here.
Perhaps you're like me — you studied film at university, and you sometimes feel you've strayed a bit from the person you thought you might be, and you lie awake some nights trying to reconcile your past and your present. Perhaps you're living a completely different life from mine, though, with different goals and aspirations and regrets, and there's another angle this thing will come at you from.
All I know for sure is that if Immortality hits you, it hits hard. I will carry this game with me forever more.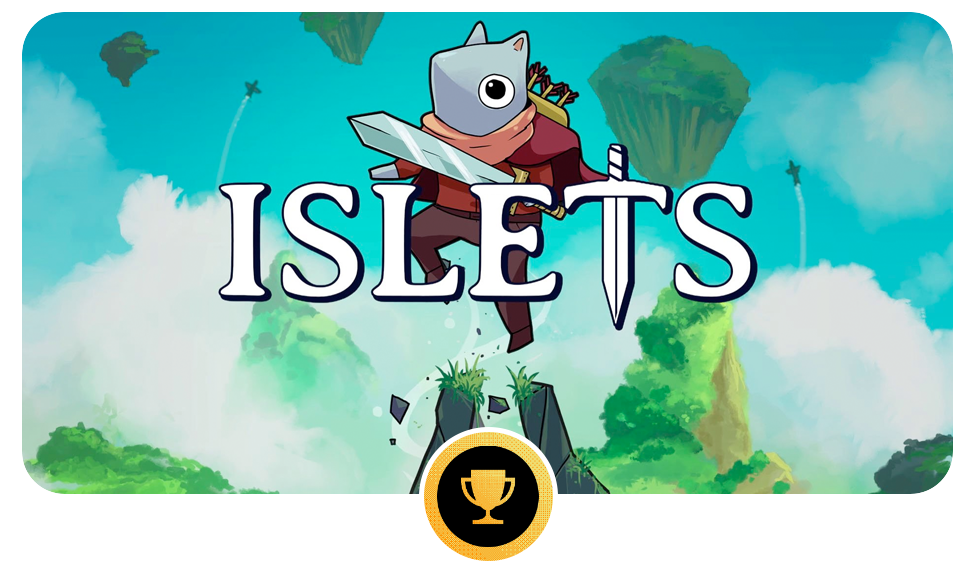 Islets
Bobby Jack
Islets is the kind of game that pops up, reminds you how strong the Metroidvania field still is, then quietly fades away, a job well done. This has an element of tragedy, for far fewer people will play this game than should. It simply hasn't had the visibility or push that other indie hits have in 2022. But, mark my words, Islets deserves to be right up there alongside the best of them.
Set against a gorgeous background of rich blues and greens, Islets' opening will immediately put you in mind of Studio Ghibli. This is a strong opening move, since it's far from original, but the welcoming scenery is a perfect introduction to a world that might otherwise seem too hostile. Playing as Iko, you'll be battling a series of weird bugs and aliens using your diminutive sword. Gaining upgrades, seeking hidden rooms, and taking on many diverse platforming challenges, the core gameplay is very much par for the course.
What's special about Islets is just how well it uses the core blueprint to create a game that's enjoyable without being too difficult or complicated. Islets could very well act as the dictionary definition of "Metroidvania", for it balances all the competing concerns so well, you'll instantly take to its gameplay whether you're familiar with the genre or a complete beginner. There are only really one or two minor concessions to innovation here, but that's mainly because the game doesn't need to show off; everything here serves a purpose and Islets feels like just the right size.
The main gimmick here is the map, comprising separate islands you must visit using a rather rickety old airship. Within each island, you'll have the opportunity of activating a sort of subterranean magnet which then pulls these landmasses together, everything reunifying the entire map. The device serves to bring out the best in both worlds — linearity plus open-world exploration — and succeeds very well, drawing attention to new paths at points where the islands join.
Above all, they pitched Islets at a scale which is overlooked in Metroidvanias. Many similar games are sprawling behemoths (hello, Hollow Knight) or take the extreme opposite approach: mini-Metroidvanias, which are on the easy side and offer little outside the main linear path. Sheepo, this game's predecessor, suffered from that problem somewhat, but they pitched Islets at a difficulty level that's achievable without being a walk in the park, with a runtime that's meaty but doesn't overstay its welcome. By absolutely nailing the core Metroidvania experience, and sprinkling a handful of tasty treats on top, Islets may not totally break the mould, but it sure provides an enjoyable and exhilarating journey.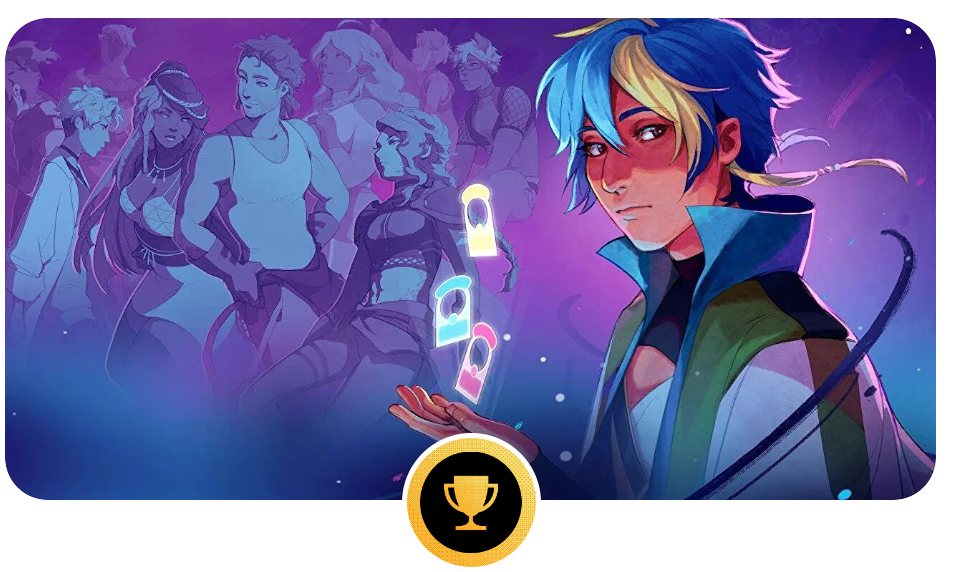 I Was a Teenage Exocolonist
Nathaniel Kelly
When I saw I Was A Teenage Exocolonist on the Steam store, the soft pastel art style and the promise of engaging narrative depth drew me to it. Northway Games delivers on both these fronts by presenting a game that is aesthetically unique and emotionally gripping.
This is a game where you make pivotal decisions to shape the story. Time management and skill checks using a suit-based poker system — in tandem with an altered role playing three-by-four attribute system — are also central to gameplay.
I Was a Teenage Exocolonist is a nuanced experience in part because the main protagonist's emotions play such a significant role; you're encouraged to not only spend your life maximizing your stats each day but also to slow down and say "I need a break". It's rare that a video game provides satisfaction both through a sense of productivity and deliberately taking the time to recharge.
One element I loved most about this game was how you work your way through your teenage years, deciding who and what you want to be (and who will be important in your life). Importantly, romance plays a role in the story, but you don't get the sense that romanceable characters are purely there for you to chase. Instead, many of them will live their own full lives that you'll have to deliberately interrupt if you want to become important to them. I Was a Teenage Exocolonist creates a believable world that you happen to exist within, as opposed to you being at the center of all events.
Northway Games has crafted my top game of the year by developing an experience that builds on time management sims, narrative role-playing games, and visual novels all at once. The final result is something truly special that will see me revisiting its fascinating world over and over again.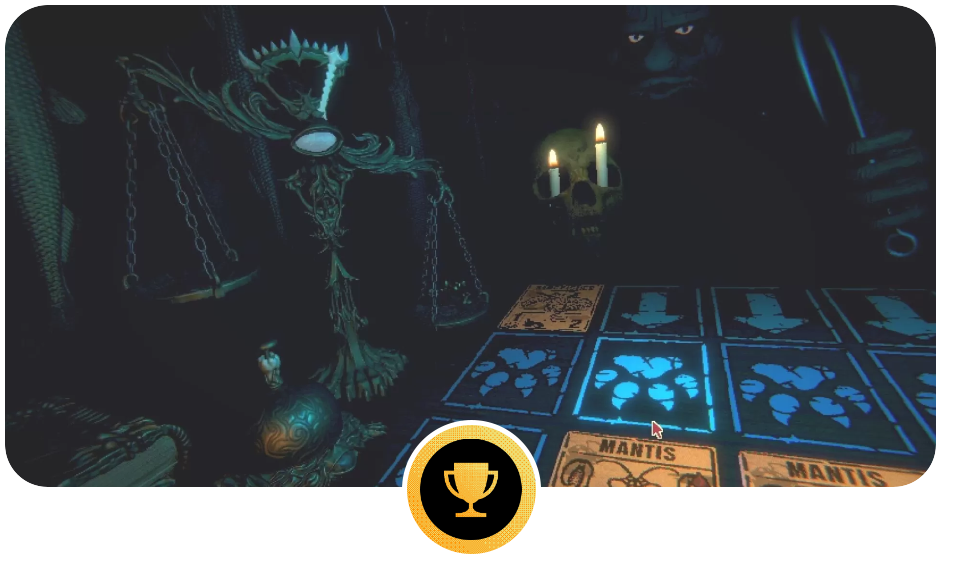 Kaycee's Mod for Inscryption
Andrew Johnston
Kaycee's Mod is an expansion on Inscryption's Act I, a horror deck-building game riddled with psychological horror and secrets.
I was on the fence about Kaycee's Mod before I sank 60 hours into it. On the surface, it looks more restrictive than a lot of deckbuilders, but there's a lot of depth there that isn't immediately obvious. The simplicity of the individual elements means that there are a lot of viable ways to build a deck. It takes a while to figure out how to break the game with those elements, but finishing a challenge-laden run with a grossly overpowered deck is always going to be satisfying.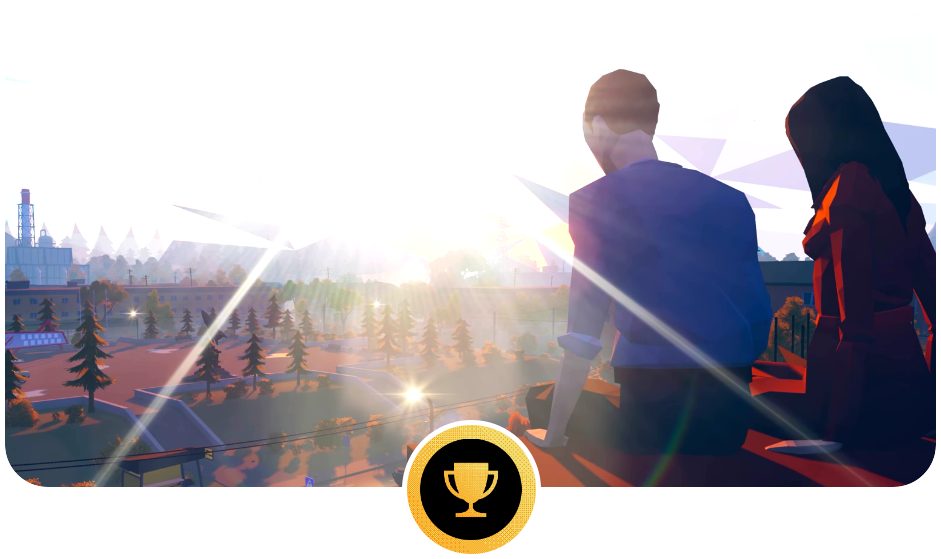 Know By Heart
Maris Crane
Know By Heart is a deeply sad game. It's about a group of childhood friends who have grown so far apart that the only meaningful thing they have in common anymore are their shared childhood memories. However, even memories don't last forever, and Know By Heart illustrates just how important shared memories are by depicting a world without them.
It's a bleak game, something that I wouldn't normally enjoy, but Know By Heart eases the player into the sadness and pain with a cozy, autumnal, wistful atmosphere. The protagonist has spent all his life in the little town they set the game in, which gives the setting a huge amount of depth and a sense of safety.
Despite the sadness, the experience of moment-to-moment gameplay is gentle. I played Know By Heart in February this year and it affected me. I could unfortunately relate only too well to the grief that comes from growing apart from people that, at one point, you spent time with every single day. It also drove home for me just how precious these shared memories are. Just last month, I met with my childhood friends. We had the same conversations as we always do during these infrequent meetups, and yet I came away feeling happier than I did before. I suspect Know By Heart is the reason for this change.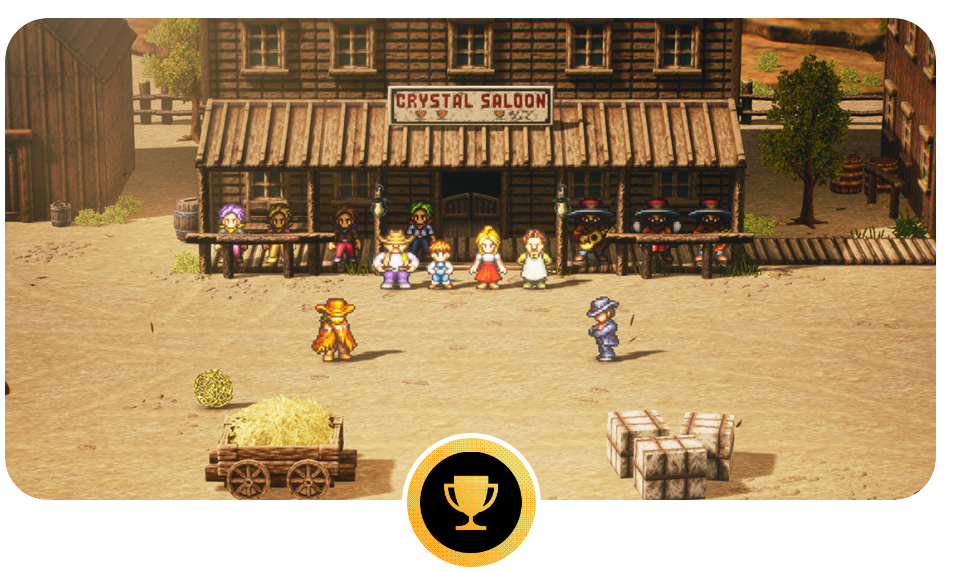 Live A Live
By Square Enix
James O'Connor
Live A Live is an RPG through a short story collection, or a series of novellas, including a weird ending with an Avengers-style team up between all the heroes of the previous stories. It's a remake of a Japanese SNES game that failed to sell well back in the early '90s; now, in 2022, the world is finally ready for Live A Live, a game that would have changed the whole genre if it had been successful back then.
This is such a brilliant concept, taking a sprawling genre and boiling it down to the absolute bare essentials, and the jumps between aesthetic genre and characters are a lot of fun. Being able to break down a big game like this into small parts is wonderful for the part of my brain that rebels against committing to these longer experiences; I hope it'll inspire new weird experimentations with genre form.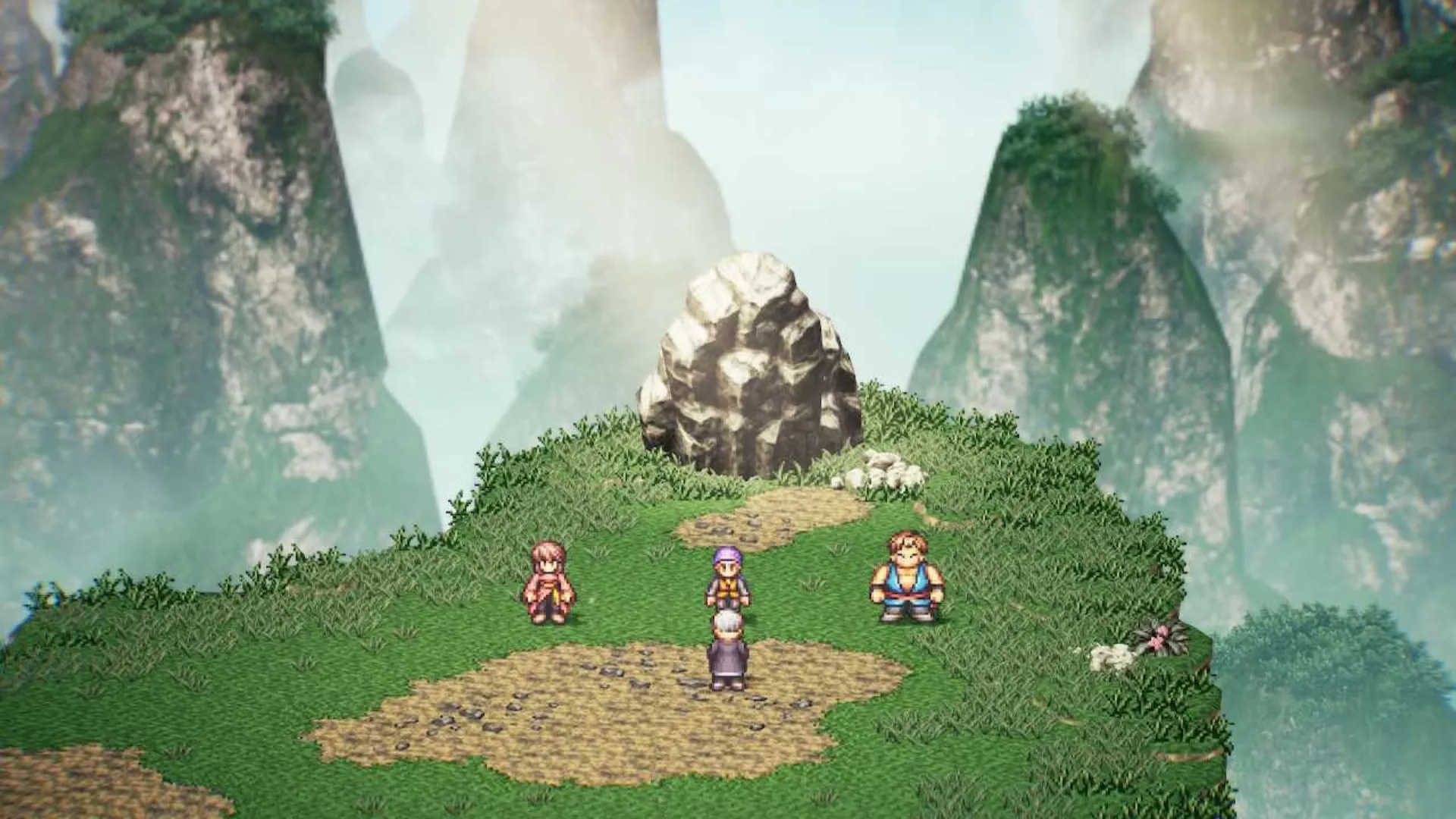 Live a Live is very much a classic 16-bit RPG at heart, but it's also an amalgamation of different ideas, a katamari made of different little games by very different creators.
Peer Schneider
My third pick for 2022 isn't a sprawling open world action adventure, although I had plenty of fun with God of War: Ragnarök, Xenoblade Chronicles 3, and Horizon: Forbidden West. Yet there's just nothing like an unexpected delight.
May I introduce you to Live A Live? At least, that's what I've said to people many times over the last two decades. Today, I might actually get a glint of recognition or passionate affirmation that they've finished and love it.
It was during my college days in Tokyo in the '90s that I saw a preview of a new RPG from Square in Famitsu magazine. It looked like Final Fantasy, but it featured a sci-fi setting, scenes ripped out of a Sergio Leone western, cavemen, a kung-fu master…it seemed like an homage to everything I love and care about, wrapped in some Dark Tower-esque framework that brings it all together. I was all in. On launch day, I stood in line, got my copy, and played until the credits rolled. I loved it. But when I moved to the US a few years later, it surprised me to hear that the game was completely unknown over here.
It's been my mission ever since to preach the gospel of Live A Live. How it's pronounced, how the name and logo design are an absolutely brilliant hint at the story that unfolds. How it results from a legendary ensemble of creative forces — people who worked on FFIV and Chrono Trigger, artists behind shows like Detective Conan, the composer of Kingdom Hearts and Street Fighter II. I thought the game was gone and forgotten until it made a surprise return with a new art style and some much-needed tweaks. Live a Live is very much a classic 16-bit RPG at heart, but it's also an amalgamation of different ideas, a katamari made of different little games by very different creators. It wears its inspirations on its sleeve and occasionally falls flat, but then it gets up again and surprises you with twists and turns not found in modern RPGs. I'm glad it's back! Play it. Let's keep it A Live.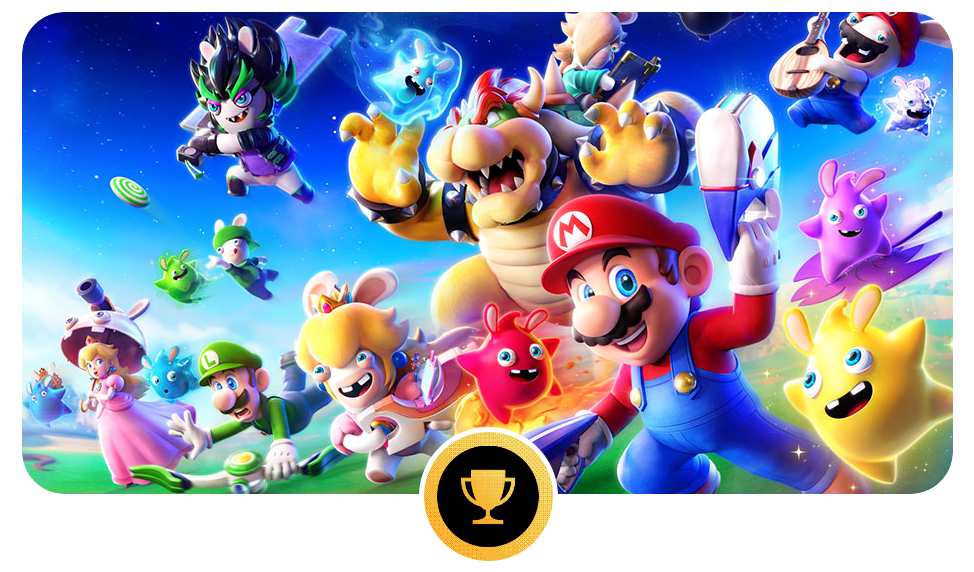 Mario + Rabbids: Sparks of Hope
By Ubisoft Milan and Ubisoft Paris
Peer Schneider
There's a strategy game revolution happening under our noses, and nobody's talking about it. We got a way too quiet re-release of Tactics Ogre. Square keeps octopathing around with turn-based strategy, and somehow Fire Emblem has become a mainstream hit franchise in the US, after once being "too Japanese" to even be considered for localization. I'm still pretty early in Midnight Suns, but I'm already loving what I'm seeing here — and it reminds me of one other great game I've played this year, in all the good ways.
Mario + Rabbids: Sparks of Hope has the benefit of being the second part of a grand genre experiment at Ubisoft. The first Mario + Rabbids didn't just ask players to tolerate the Rabbids (does anyone actually genuinely "love" them?), it figured out whether Mario fans would be okay with turn-based strategy. The answer is a resounding yes. Not that we should be surprised, as there isn't really a genre left Mario hasn't dabbled in. Paper Mario (and, before it, Mario RPG) already cleared the path for turn-based Mario. But Mario X-Com? With…guns?
The second Mario + Rabbids game is a joy to play because you can feel the creative team's adoration for the world and creatures Nintendo built in every pixel and chime. I was a fan of the original, but the overworld felt confusing and limited. Sparks of Hope unlocks a sense of exploration and discovery, but also better game systems that add variety, and, most crucially, a free flowing character move system that makes it easy to forget that you're still playing a turn-based game. It's dynamic, it's quick, and — simply put — fun. Like Fire Emblem: Awakening before it, Mario + Rabbids: Sparks of Hope reaches across the aisle to get people to try out a genre they might have otherwise ignored. It's a bummer we don't have the next evolution of Advance Wars to follow it up with, but I'll gladly take the remake for now.
Wait, where is it? I could've sworn…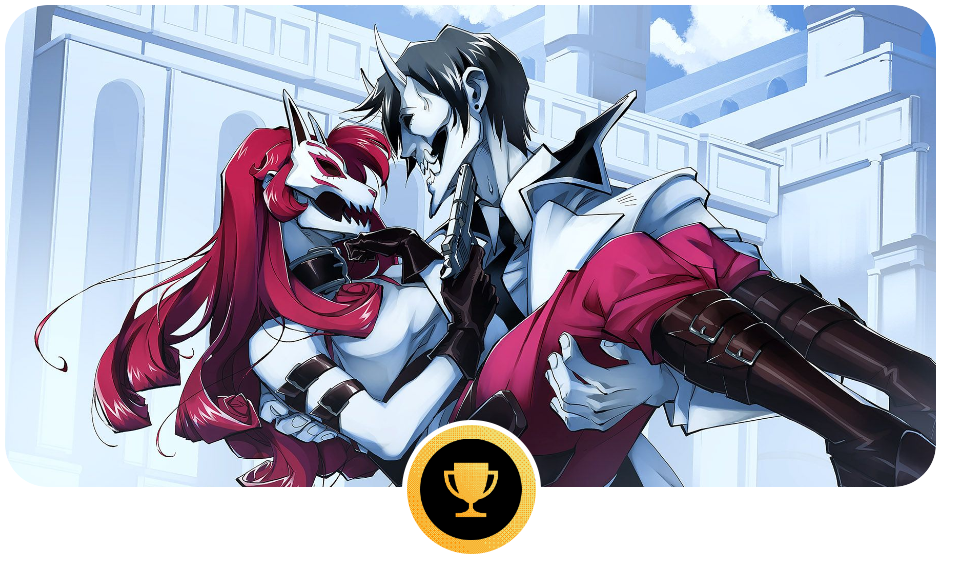 Neon White
By Angel Matrix
Maris Crane
Neon White is a game about momentum. Everything in this game increases, develops, builds, and moves faster, forward, forward, faster. In the vein of Portal, Neon White is a puzzle game at its core, in which the objective is to traverse a level within a certain amount of time. But, like Portal, it's also so much more. It has 'Soul Cards' that function as weapons or a single-use mobility ability. Using these cards the right way will make you feel like an unstoppable speed running genius. It has dating sim elements. It's also a game about heaven, death and forgiveness. Admittedly, the story left me cold, but everything else just works to such an extent that it doesn't matter. The writing and especially the characters, both of which I initially found cliché, unnecessary and in its worst moments, flat-out cringe ("You were my Sasuke, man!" anyone?) gradually but surely endeared themselves to me. I love every single one of the characters.
Neon White is the most fun I've had playing a video game this year, by a long shot. And yes, I have played Elden Ring. Even though it has nothing to do with the gameplay, though, I think an integral part of Neon White is its soundtrack, composed by electronica act Machine Girl. I don't think I can do justice to how good this soundtrack is and how well it complements the game. It's energetic and propulsive during the levels. It's breezy with a hint of enigma outside the levels. Each of the characters has a theme that serves as a better introduction to them than the writing. Above all, each track is unfailingly distinctive, strange, and stylish — just like the game. The soundtrack made my experience with Neon White what it was. It made me linger on certain screens or dialogue boxes much longer than strictly necessary ("Dispatch" and "Bloody Sneakers" being the standout reasons for this), I had no problem spending extra time on levels to get an Ace Medal, not strictly needed for progression, just to enjoy "Vainglorious Chorus", "Cloud 9" and "Hellion" in their natural habitats. Related to this, one of the cleverest things Neon White does is to have the music continue, even if you restart a level or move to the next one. It really adds to the sense of momentum.
I was genuinely sad when the credits rolled. As with all good puzzle games, I know I'm never going to experience playing this game for the first time again. But thanks to the soundtrack, I know I won't lose the memories of my time with Neon White in a hurry.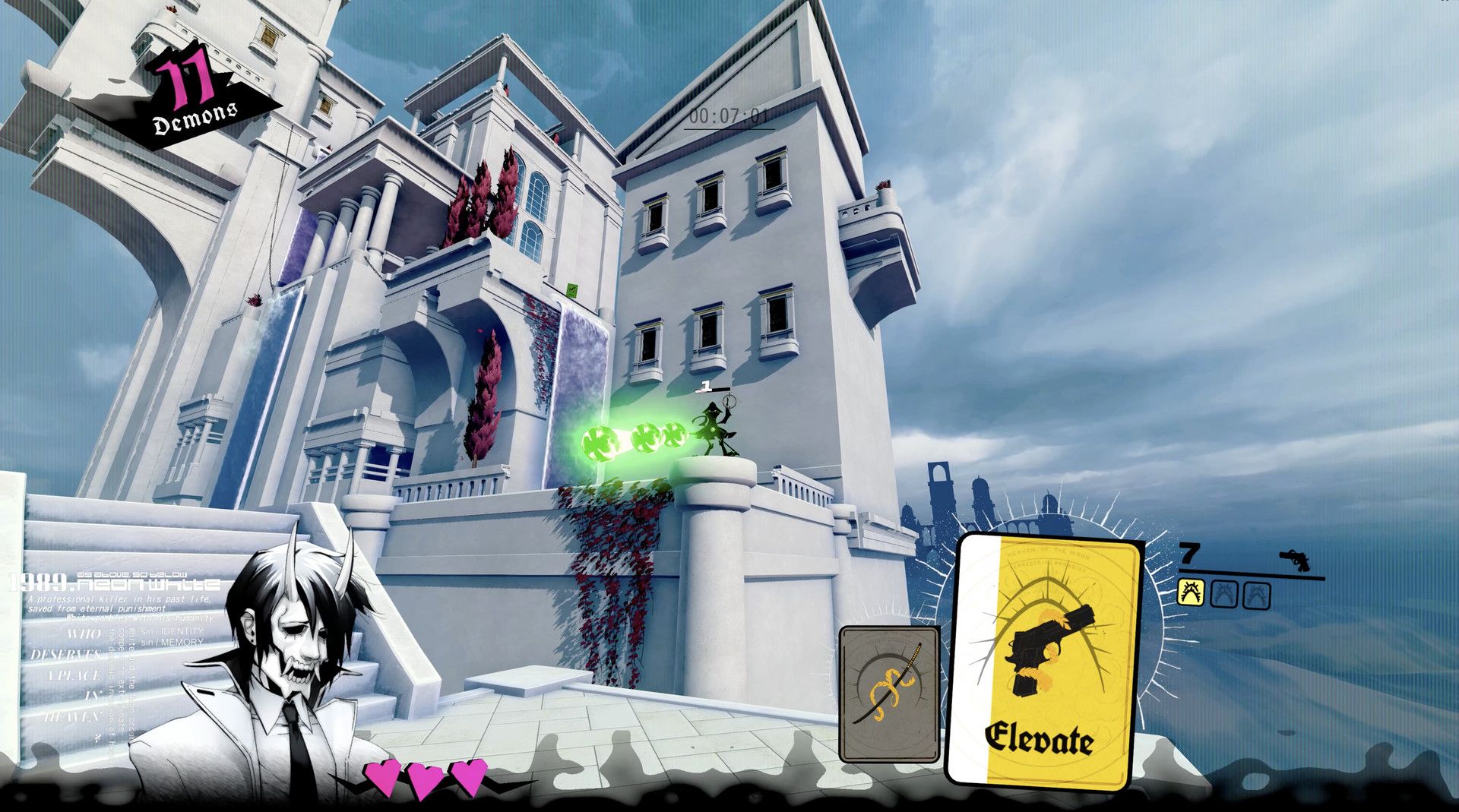 A 2022 indie game of the year that I can't recommend enough.
Paul Lombardo
Traverse the pearly white gates of Heaven and dash into Neon White, one of 2022's hidden hits. Neon White feels like Doom Eternal, but plays almost like a Counter-Strike knife-surfing mini-game.
There isn't a vibe that quite matches running through a minimalistic, biblically-themed stage with MachineGirl blasting in the background, and I doubt Neon White would be as fun as it is if it didn't hit those notes perfectly. On top of having a ridiculously enjoyable atmosphere, Neon White's gameplay is exceptionally addicting. Upon completion of a level, you'll see where you rank among others around the world, ushering you back in to see if you can beat your friends or even break a world record. I spent a few hours trying to get the world record for one of those levels (yes, I finally did, although by now I'm sure it's long since been bested).
Neon White isn't just atmosphere and gameplay; the story is actually intriguing, with a mystery surrounding the "Neons" and their true purpose in Heaven. Each Neon was a sinner in their past life and, in order to earn a second chance at life, they have to take part in a contest to slay as many demons as they can. Neon White, the protagonist, can engage in some light social sim by collecting gifts around the levels and giving them to some of the other Neons and administrators in Heaven.
Befriending your fellow Neons (especially Neon Red, who has my heart) unlocks new backstories and bonus levels, making the system itself rewarding. The stories themselves are interesting enough as they fill in the blanks for White's relationship with the other Neons, which is complex and plot-heavy. Top all of this with amazing voice acting, like Steve Blum as Neon White, and you've got a 2022 indie game of the year that I can't recommend enough.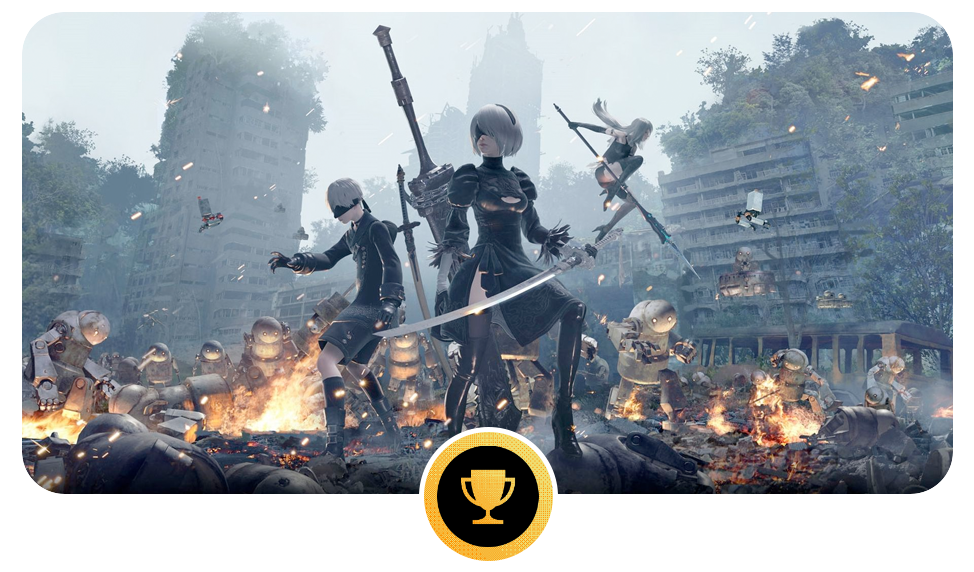 NieR Automata: End of YoRHa Edition
Jared McCarty
Unfortunately, I missed NieR:Automata when it first released back in 2017. Despite hearing nothing but rave reviews and praise for the title, I didn't know much about it other than the fact that it was huge and really, really good.
It turns out that everything I had heard about NieR: Automata was correct. The story, atmosphere, gameplay, characters, and accessibility options are all top-notch. It nabbed numerous Game of the Year awards when it was released in 2017, and those accolades were well earned. The most interesting thing about NieR: Automata's gameplay is the genuine mystery of what the next gameplay segment will look like. At its core, NieR: Automata is an action-adventure JRPG, filled to the brim with story, lore, interesting characters, multiple playable characters, disturbing and bizarre storylines, and smooth gameplay. Above its core, however, is a holy, unique experience that defines genre. The game moves fluidly from third person over-the-shoulder action adventure, to side scrolling bullet hell, to top-down twin-stick shooter, all within fifteen minutes. The seamless transition between genres keeps the gameplay interesting and will keep you on your toes for how to approach the next set of challenges.
My favorite thing about the YorHa addition of NieR: Automata is the portability of the Nintendo Switch.
NieR: Automata is a long game, requiring multiple runs to witness the experience in its entirety. This is where the beauty of accessibility comes into play. My original run took me around 40 hours to complete, and when I started my second, multiple other games had released that demanded my attention, despite the fact that I really did not feel finished with NieR: Automata. As such, I cranked the difficulty to easy, put the fighting into auto-mode, and blasted through the story of the second and third runs. I didn't have to do this if I didn't want to, but being allowed the option means that I got to play the game how I wanted to, which is a truly liberating feeling.
If you've been on the fence about giving this 2017 masterpiece a try, the YorHa Addition definitely has some of that old Switch charm (less-than-savory rendering distances and a few rare but significant frame drops) but overall it's a very solid way to see what the hype was all about five years ago. That it isn't a full priced title, for dozens of hours of unique and interesting gameplay, makes NieR: Automata the end of YorHa Addition a must-have for your Switch library.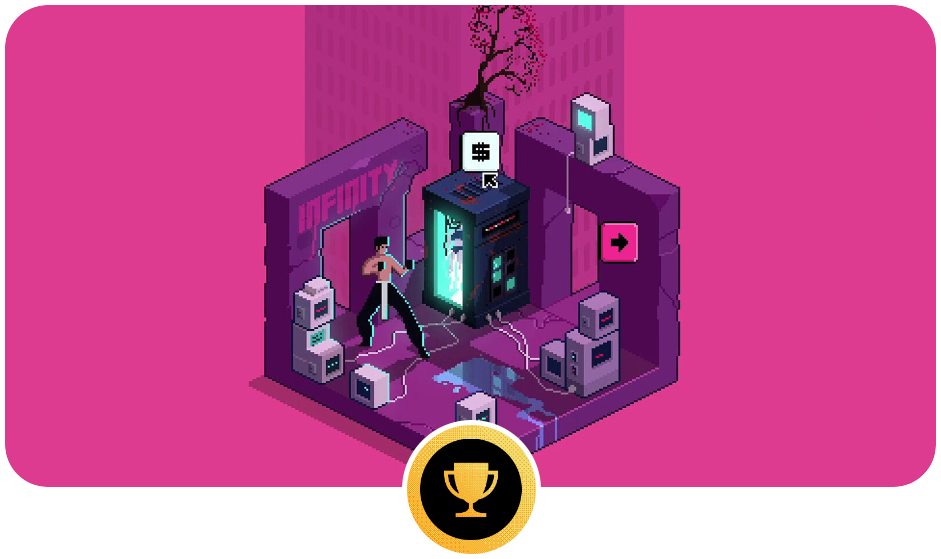 Nitro Kid
Andrew Johnston
It's probably tempting fate to suggest that a game has surpassed Slay the Spire, but Nitro Kid made a very strong challenge for the crown. The addition of strategy elements really helps mitigate the frustrating RNG dependency that can make other similar games a lot harder to get locked into. The combat system is nicely balanced to boot, such that it's well-suited to beginners while being just complex enough to be satisfying to anyone more experienced with TRPGs.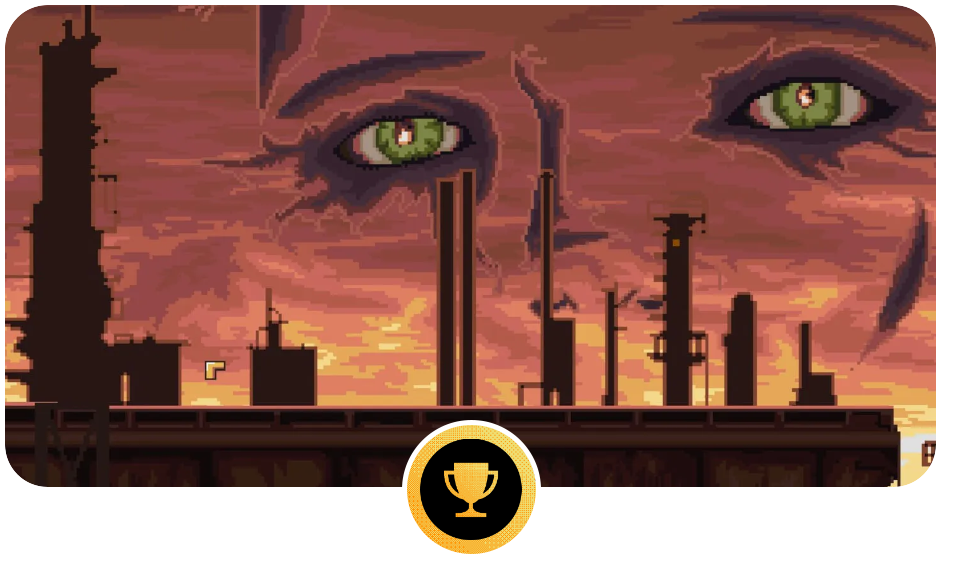 NORCO
Brandon R. Chinn
There are certain aspects of longstanding Americana that I am perversely infatuated with, and one of those is the industrial decay that's ripped through the heart of the country for the last 70 years. There's a darkness to these locations that's backlit by the suffering of a working class that's been completely abandoned by its government, and often used in fiction like True Detective or Night in the Woods as a backdrop.
NORCO takes a storytelling approach similar to Kentucky Route Zero, putting normal people and their complexities ahead of the narrative, and tells a futurist story that's both melancholy and familiar. It's a point-and-click that returns to yesteryear, but like so many excellent indie titles in 2022 is absolutely filled with incredible modernization that keeps the player consistently engaged.
NORCO is so filled with variety and strangeness that by the time it ended I was certain I had missed out on something. It's a celebration of America's brutalized lower class and a stern condemnation of a country that's rapidly falling to pieces.
Jessica Mullane
NORCO is a point-and-click indie game that arguably has some of the best writing to grace a game in my recent memory; it deserves a look even if you wouldn't typically be into this genre. The leading developer, who goes by the pen name Yuts, grew up in Norco, Louisiana, and does a fantastic job of making an aesthetically pleasing 2D version of the place he has called home during periods in childhood and adulthood.
Perhaps the Geography of Robots team's original intention around NORCO being part of a mixed media documentary is why the dialogue and writing feel natural, despite this version being a noir that takes place in a dystopian sci-fi hellscape.
NORCO isn't here to provide escapism like a traditional game; you will encounter a bleak reality filled with the effects of gentrification, climate problems, classism, and destruction by corporations. When you are switching between playing Kay and Catherine, you will meet a bevy of locals who, with incredibly well-written dialogue, feel as authentic as seeing humans in unscripted conversation in real life. I may make this game sound dry or very depressing, which is why I should note that it also has some of the funniest character dialogue, and there is a dark comedy aspect. Nothing I could write could do this game justice, and one of the best ways to play is to go in as I did and experience it.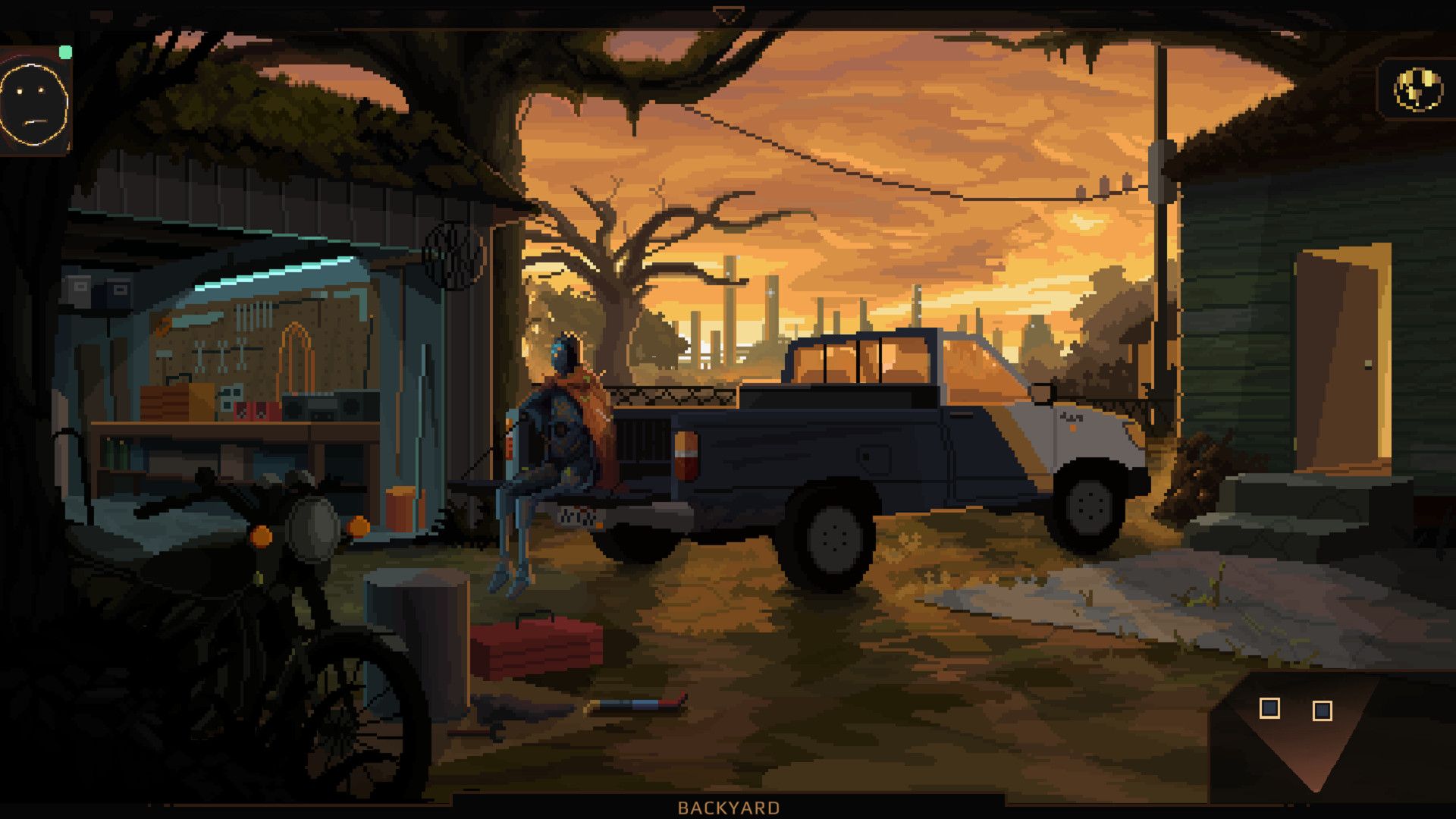 NORCO is a funny, bitter, sad, strange, loving portrait of the victims of capitalism and the banality of societal collapse that keenly reflects the present moment.
Jini Maxwell
I have also written about my love of NORCO before, but I want to reiterate what a remarkable narrative work it is. NORCO is a dark science fiction point-and-click adventure game set in the small Louisiana town where several of the developers were born. I tend to be very critical of narrative video games. They often feel, to me, less like experimental or literary works (which my heart cries out they can be!) and much more like works of commercial fiction - written with a predetermined genre in mind, one that has been chosen to suit a market, rather than one that could evolve with the needs and contours of the narrative itself. So hear me when I say: NORCO is incredibly well written. On top of its beautiful art style and soundtrack, it holds its own as a work of literary fiction, pairing hyperlocal detail with a streak of the absurd. NORCO has stuck in my heart in a way that games rarely do - six months on and I still think about Kay and Million regularly.
NORCO is a funny, bitter, sad, strange, loving portrait of the victims of capitalism and the banality of societal collapse that keenly reflects the present moment.
It manages to articulate a kind of pessimistic hopefulness that sees the violence of the present so clearly, without letting the pain swallow everything. NORCO's pessimistic hopefulness has offered the kind of company I need as I work through my own feelings about being alive in 2022, and the forms of responsibility and helplessness that entails.
You should play it, and then you should recommend it to your snobby friends who think books are better than video games. I'm very grateful that Nick Kennedy's excellent review convinced me.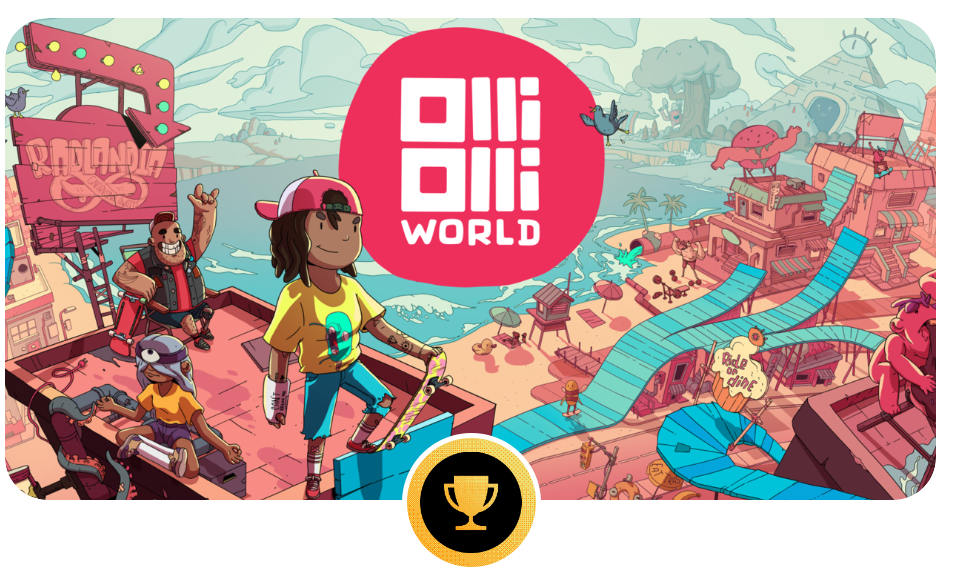 OllieOllie World
By Roll7
Paul K. Barnes
After learning of Session and Skater XL, and concluding they were a little plain for me, I was glad the same person who was telling me about those also told me about OlliOlli World. This game has such a cool look and feel. All the aspects complement one another: the lo-fi music, the color palette, the humorous dialogue, the customization. It's a skateboarding game that's fully dedicated to its arcade style and trades in a focus on a sim experience for fun stylization and visuals.
OllieOllie World sets itself apart by being a side-scrolling platformer along with its beautifully detailed backgrounds. One of my favorite aspects of it is how the sounds your character's board makes come through the DualSense controller's speakers. It's a small sense of immersion that works well. This was the first game I have bought a season pass for ahead of time because I was confident the DLC would not disappoint me and it didn't. It expanded upon its already winning, immersive qualities while pushing the story forward, introducing new mechanics that made the game even more fun and challenging in the best way. My only complaint is the game has so many customization options, but does not allow you to save multiple outfits.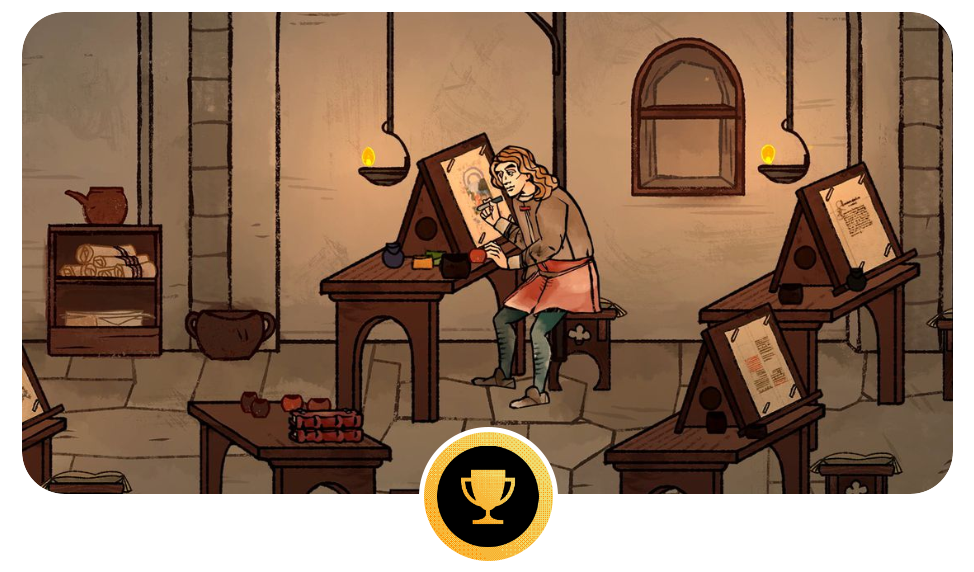 Pentiment
Charlotte Huston
Pentiment is an acquired taste, that's for sure. The consensus I saw going around when Pentiment released was "Hey, this isn't for me, but if it clicks for you, you're going to love it." That's exactly what happened to me. I'm a big fan of Josh Sawyer and his writing (Fallout: New Vegas is one of my favorite games of all time). As a history buff and someone who holds a degree in the subject, Pentiment felt like a love letter to me. I loved that some of my choices in Pentiment held weight — even miniscule and meager dialogue choices resulted in whether a character will give me information. Unique dialogue complimented my own studies and expertise within history. Although Pentiment gives you a set protagonist through its story, Obsidian Entertainment gives you the opportunity to mold and shape them however you please in order to create the playthrough you desire.
What I want to highlight the most is the protagonist of Pentiment, Andreas Maler. Andreas is possibly one of the most interesting protagonists we've seen in 2022, with all of his mental health struggles. Although he's a budding artist early in the game, we see his internal conflicts with different aspects of his own personality, written in a unique sort of way. Later on, Andreas shows signs of depression and anhedonia regarding his career as an artist. Here we see the hardships of the 1500s life showing their wear on him. Personally, I played Andreas as an intellectual man with a history in law, but Pentiment allows us to mold Andreas into however we want. Andreas's story feels significant regardless of the path you choose for him. For a game that's so entwined in its historical setting, Pentiment is relatable and memorable by the end of the game.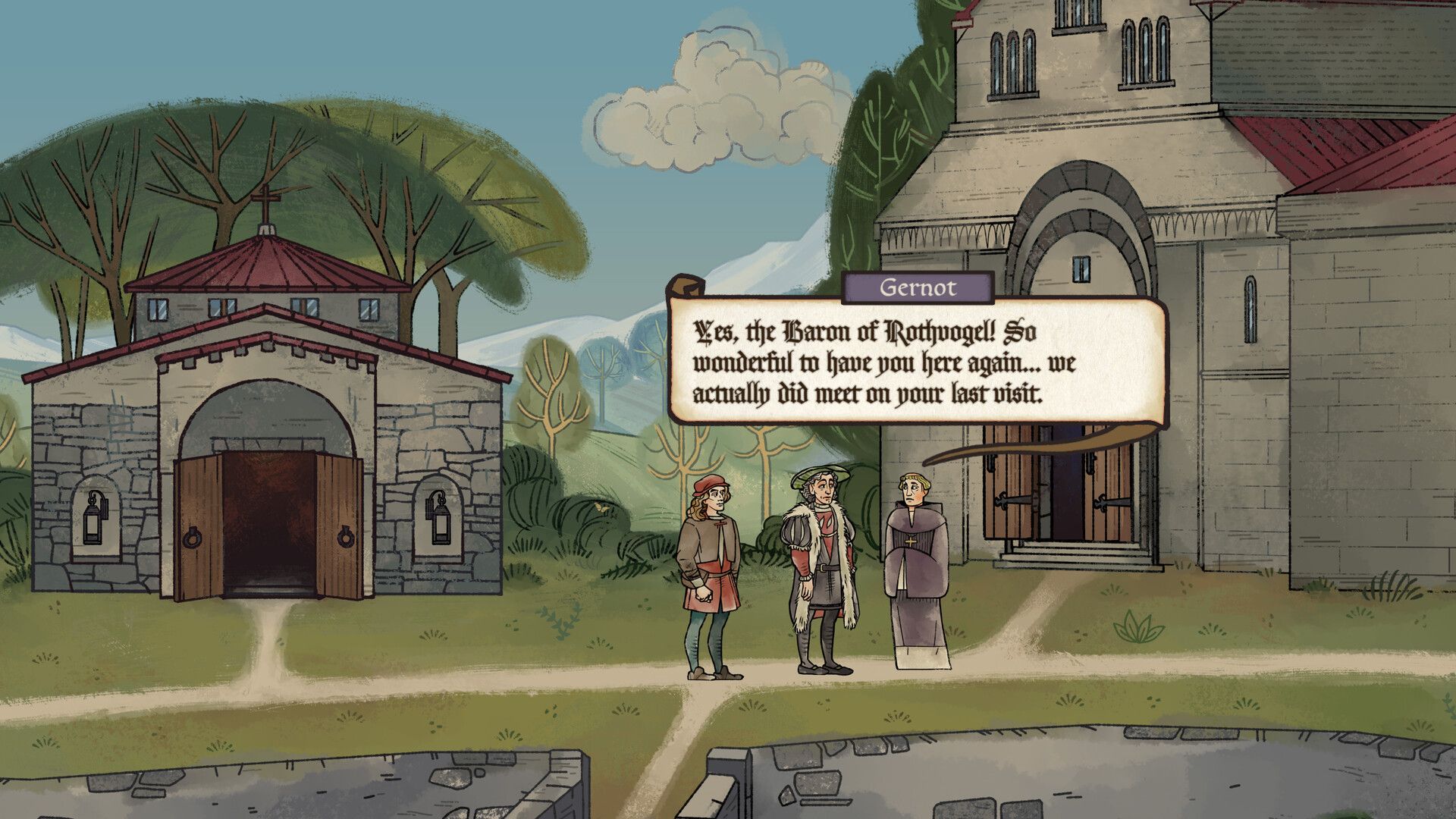 Fortunately, Pentiment manages - like very few other games - to create exemplary interactive historical fiction.
Vítor M. Costa
Video games have incredible potential as historical fiction experiences, but unfortunately, this aspect is often underdeveloped, either by excessive current popular clichés that subvert historical immersion or by poor historiographical research to support the plot and audio visual design. Fortunately, Pentiment manages - like very few other games - to create exemplary interactive historical fiction.
Written and directed by Josh Sawyer, this latest release from Obsidian Entertainment has RPG elements in the narrative design, but is unlike anything they've done before, with a straightforward point-and-click adventure exploration. Besides discussing numerous historical issues such as the Protestant Reformation, social rights, philosophy, the Renaissance, and the discovery of the printing press, what I find most fascinating is how it makes the reading experience immersive, using different calligraphy from the 16th century, graphics in the style of illuminations and music with medieval instruments and plainchant singing.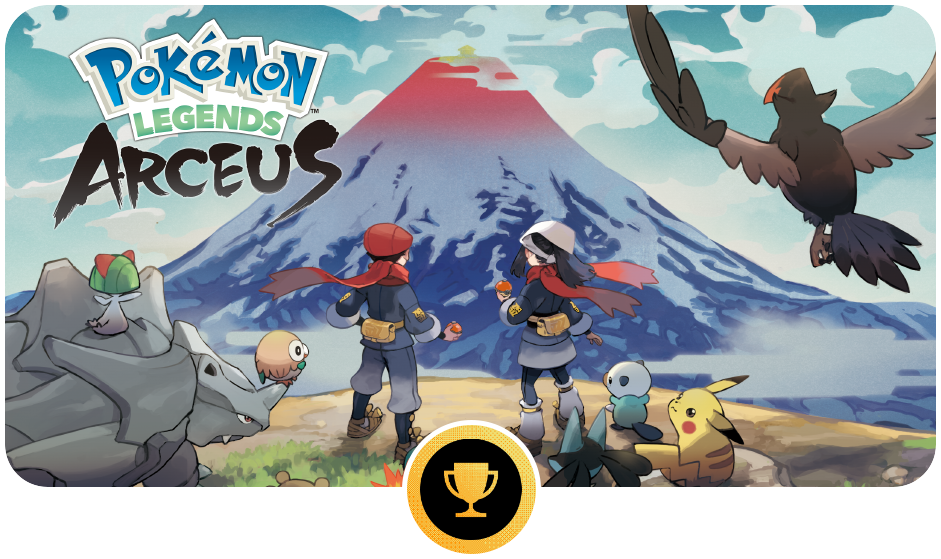 Pokémon Legends: Arceus
By Game Freak
Charlotte Huston
In considering games that were released in 2022, I often forget that Pokémon Legends: Arceus hit the shelves at the start of the year. Pokémon is my favorite franchise, so I may be biased here, but I think many can agree that this was a great step forward for the series.
One reason the game escaped my mind later in the year is due to it being the first that didn't emphasize interconnectivity at all. Pokémon Legends: Arceus respects your time. It tells a linear story that you can advance at your own pace. I often tell people that Pokémon Legends: Arceus is as easy as you want it to be. If you spend time exploring an area and grinding your Pokédex, you'll over-level easily. However, if you focus on the main storyline, you'll find that the game can be fairly difficult.
Pokémon Legends: Arceus arguably features one of the hardest final bosses in the series and features the first instance of a multi-phase boss as well. This is the first time I've played a Pokémon game where I could compare it to other JRPGs. I played an enjoyable single-player experience, and there was nothing more to it. There's no multiplayer, always-online features; nothing of the sort. It felt like a bubble within the Pokémon universe. Beyond some call-backs and references via ancestors of familiar characters or mentions of future plot details from the Generation 4 games, this game really feels disconnected from the rest of the franchise. I argue that's a good thing as a diehard Pokémon fan. Sometimes a franchise needs some spice to keep it fresh, and Pokémon Legends: Arceus deserves all the credit for doing that.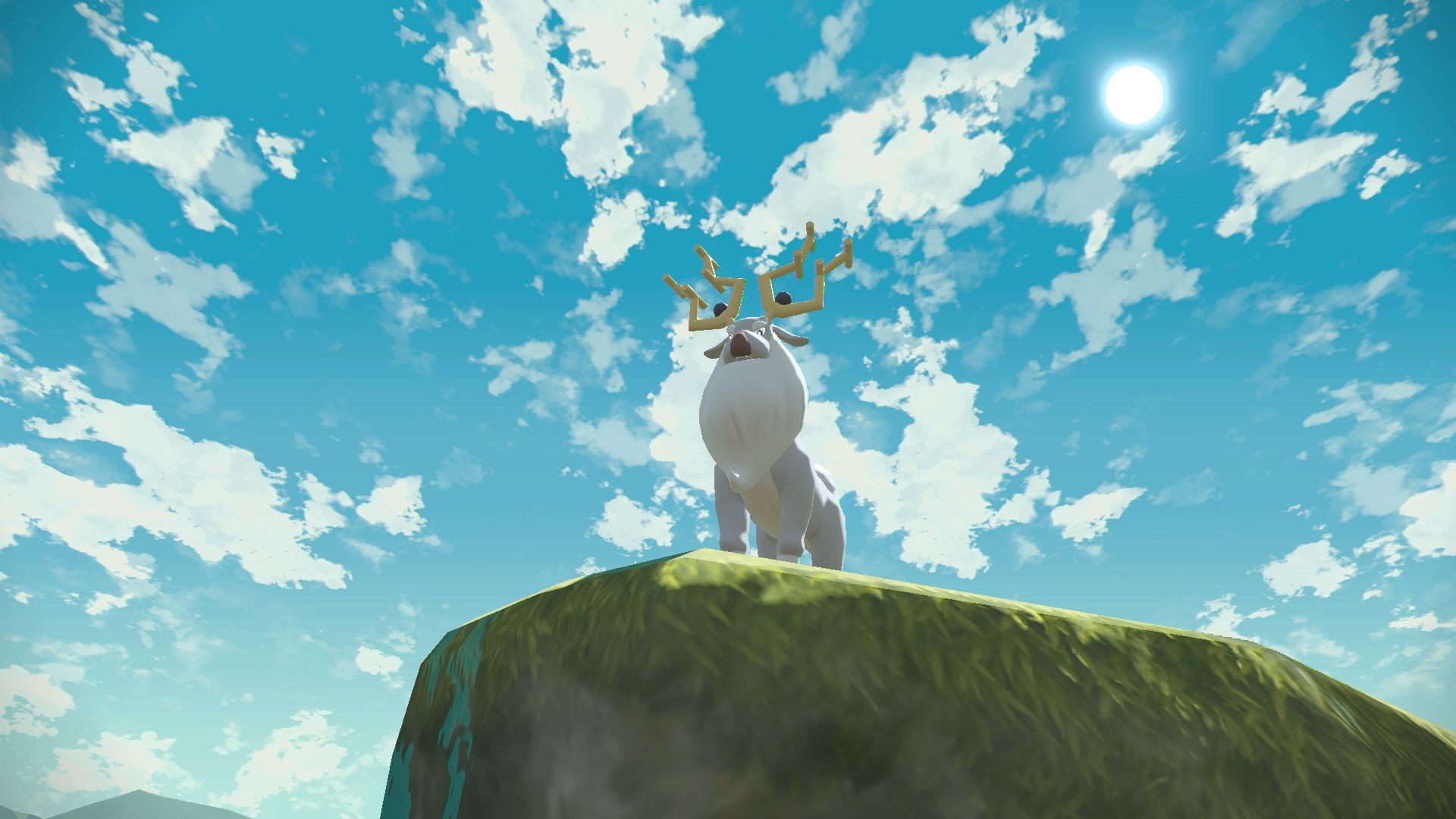 Legends pushed the franchise in a new direction that fans have been seeking for ages.
Joshua Gautreaux
This is one of those games that resonated with my life at just the perfect time. I was traveling by myself to Los Angeles, California in May 2022. I'm not one to seek out new experiences too often, and I'm even less inclined to do so by myself. But that's exactly the predicament I found myself in. My early-pandemic self decided to plan the trip over a year ahead in a moment of what I can only assume was wishful thinking. But I went through the typical motions of boarding my flight toward an atypical horizon. Fortunately, I was wise enough to pack my bag with the proper gear.
My Nintendo Switch and its dock were tucked in my carry-on luggage, allowing me to play Pokémon Legends: Arceus both on my flight and in my hotel room on the TV. By the time I landed in Burbank, I had progressed well enough to establish a comfortable rhythm. Playing this game felt as effortless as Pokémon games have come to be for established players. But it was clear even in these early moments that this was unlike any Pokémon I had ever played.
So, over the course of my five day vacation, I alternated between Legends in the early half of the day and sight-seeing in the afternoon/evening. By bringing a piece of home with me, I was able to find a way to make the unfamiliar more digestible. In that respect, it felt like my experience with Legends mirrored that of the circumstances I found myself in. By bridging together elements both familiar and unknown, an entirely new landscape of possibility opened up.
Legends pushed the franchise in a new direction that fans have been seeking for ages. Even better, it managed to do so in a way that didn't dismantle what came before, but instead by bringing to life what many people had already felt. The original series on the Game Boy Color left a lot to the imagination, and, just over a quarter-century later, this iteration managed to fill in those gaps.
While it left plenty of room to improve, Legends was just the first step in the Pokémon franchise living up to its full potential. And importantly, it did so in a respectful manner. It didn't push me into the deep end. It didn't trample on everything that I had come to expect and enjoy. It simply encouraged me. It reminded me that everything that's familiar to me now was once unfamiliar, and that, if I give myself the proper space, my world can grow just a little bit more at a time.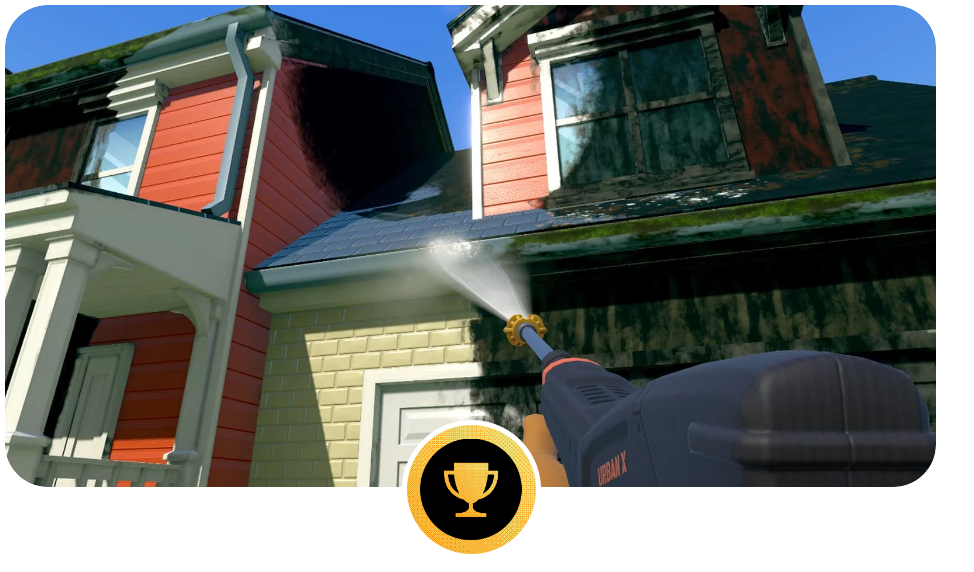 PowerWash Simulator
By FuturLab
Jamie Galea
PowerWash Simulator is a game where you're dropped into a level with only a power washer with a simple task before you: turn on your power washer and get cleaning. There are no collectibles, little to no story, or even fancy movement tech. There's just you, your power washer, and the level.
I dabbled with the game during its early access after hearing about it from some friends, but it wasn't until it hit 1.0 earlier this year that I really sunk my teeth into it, and I'm glad that I did.
Part of where I think the game succeeds is that it presents a nice balance between being a genuine simulation and enjoyment for its players. To further create this enjoyable experience is a bright and colourful art style and levels that become increasingly more innovative the more you play. From cleaning cars to houses shaped like boots to ancient ruins, there's always something new and novel to clean.
At the same time, the game is surprisingly relaxing. It's satisfying to slowly chip away at a level. What I'd do for weeks on end is boil a cup of tea, throw on some music or a podcast, dive into a level, and just start cleaning. There's no time limit or any actual pressure to get the job done quickly, creating this weirdly chill experience that, after some particularly stressful days, was much appreciated.
There's also a surprising amount of levels and content to sink your teeth into. If that's not enough, there's also an online co-op across both PC and console. It shouldn't be as fun as it is to cooperatively clean, but it is!
Don't let the name fool you. This isn't one of those ironic simulators, but an enjoyable game that lets players have all the fun with a power washer.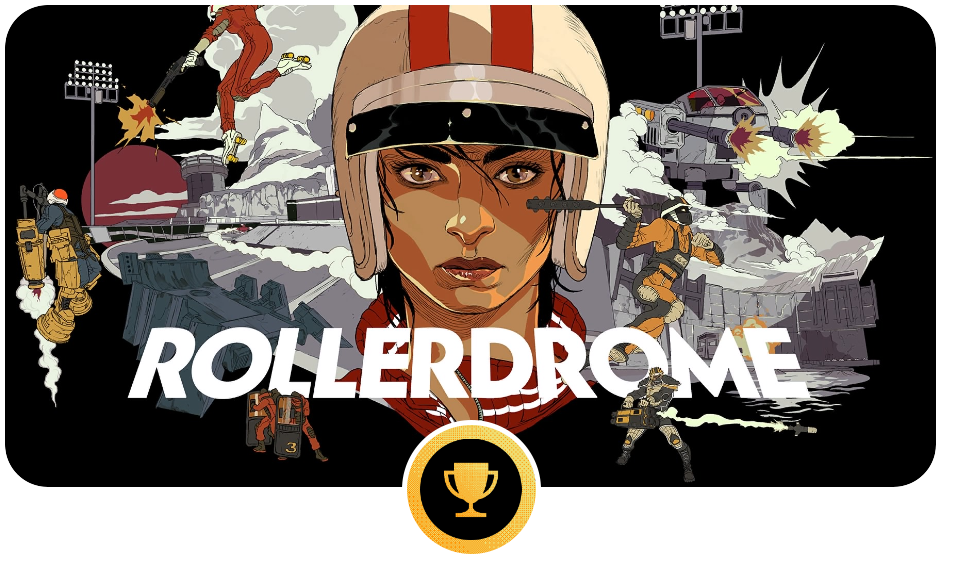 Rollerdrome
By Roll7
Paul K. Barnes
I had this game on my radar ever since the trailer premiered at PlayStation's State of Play. The cel-shaded graphics pulled me in right away and the gameplay looked phenomenal. I watched every teaser and behind-the-scenes video posted. I knew I was going to get it as soon as I could, and that's exactly what I did.
By combining rollerblading and third-person shooting, this game felt like something I had never experienced. It also took full advantage of the abilities of the PS5's DualSense controller, with audio cues and haptics. The game doesn't have any cutscenes but opts to tell the story through news clippings, radio segments, and conversations heard through doors, with the latter being especially unique from a sound design perspective. Last, the music in the game is a synth heavy soundtrack created by Electric Dragon that fits the action movie like pace of the game excellently.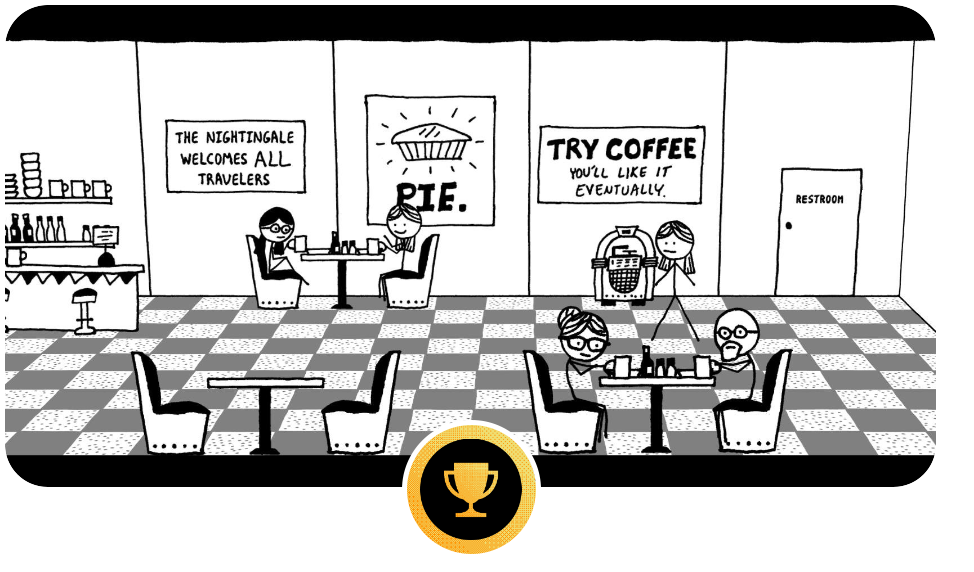 Shadows Over Loathing
Andrew Johnston
Shadows Over Loathing does so many things right, all I can do is list them off. Firstly, there is a horror plot that avoids being Yet-Another-Lovecraft-Knockoff. It has missions and side-plots that are actually interesting and impactful. It has an aesthetic that incorporates little touches (i.e. the main character's eyes adjusting to changes in light) that aren't even universal among AAA games. Even though I complained about them, the puzzles are actually a pleasant addition that gives the player an option to avoid protracted fights.
This was not a game I was expecting (I found out about its existence through Bandcamp, of all places) and was really such a fun surprise. Highly recommended.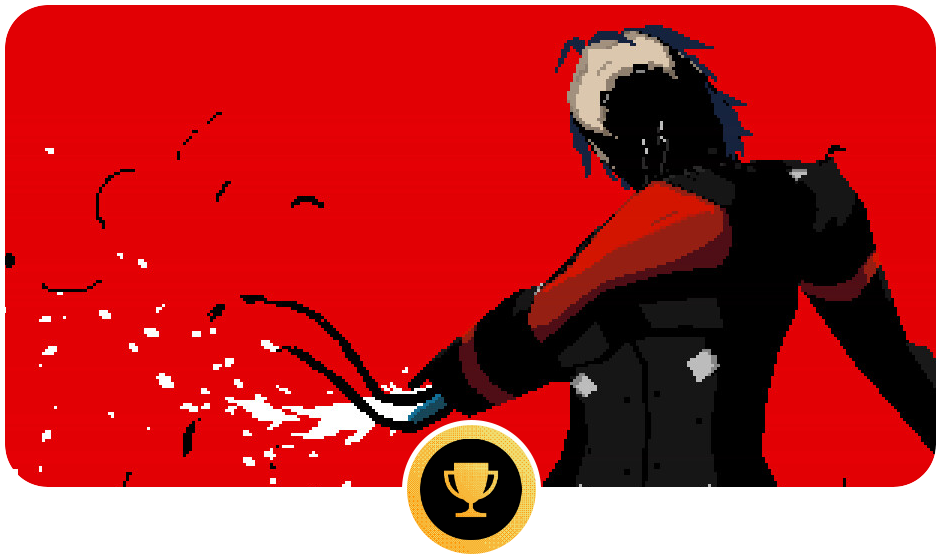 Signalis
By rose-engine
Antony Terence
Signalis proudly bears the survival horror moniker and the homages of the excellent titles before it. Developers Yuri Stern and Barbara Wittmann offer little context at the start, asking you to pilot a lonely android aboard a crashed spaceship. After a puzzle that makes apparent both Signalis' survival horror ambitions and its deliberate lack of an expansive inventory system, you find yourself descending into a facility nested within a hostile planet. While the inventory limit pushes you to backtrack often, it's a fault I brushed aside as a curious newcomer to the survival horror genre.
In Signalis, a fascist regime names you an "Elster," a robot replica of a human being lost to time. Each Replika unit you meet has needs and specific uses born from human minds they know nothing about. They have likes, dislikes, things that can control them. As you progress, you piece together the shared history of yourself, your missing companion, and your oppressors.
The facility drowns in suspense, obeying neither space nor time as its secrets are uncovered with flashbacks and scattered diary notes. The unearthly shrieks of the diseased Replikas that hobble toward you become yet another mystery to solve. Signalis' nonlinear narrative asks you to separate fact from fiction, past from precedence. Haunting quotes from Lovecraft like "things have learned to walk that ought to crawl" made me shudder as I watched forbidden knowledge corrupt once-functional power hierarchies.
Signalis asks you to plot, ponder, and persevere across oddly shaped puzzle pieces that don't seem to fit. It lures you with the promise of a magical tape that could tie every loose end up, until it doesn't. The credits roll but there's more. Click past the dead android in the menu and you'll descend into the madness once more, compelled to make sense of it all. The beautiful pixel aesthetic echoes titles of the original PlayStation as you head from one doorway to the next, worried that a writhing mass of corrupted Replika limbs could return to life.
With a barrage of systemic injustices rampaging our society today, it's no surprise that Signalis builds themes of deranged fascism and fractured identities into its haunting corridors. Art and most forms of expression are banned here, with the barest minimum of self-expression granted only because it helps Replikas do their assigned jobs. This crushes everything into unwavering uniformity, resulting in the decaying cycle that plagues the Replikas of Signalis. This cycle of grief is one our lovers grapple with, one that made me rethink whether I had preserved my own grief while protecting the identity of those who hammered it into my being.
I will not spoil how the game reconciles the fates of its inhabitants but I will say this: few games have had this sort of impact on my mind. Signalis succeeds with questions, not answers. Resident writer Brandon R. Chinn's beautiful review mentions "a hope here that feels earned only when you are wreathed by complete misery" and Signalis delivers on that premise.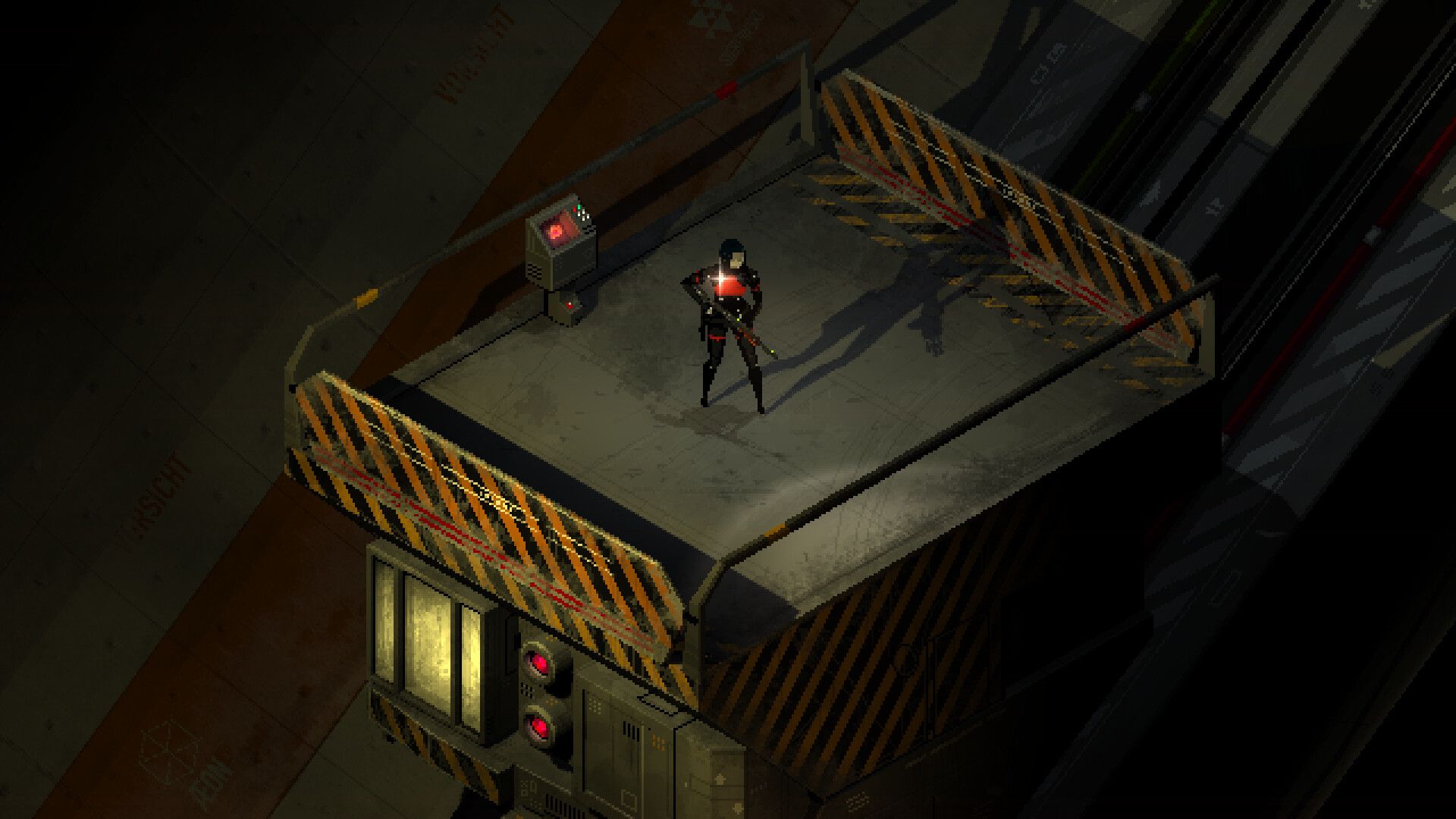 I left Signalis with nerves thoroughly frayed; something no other horror game this year has managed to do so successfully in such a short amount of time.
Brandon R. Chinn
Signalis is one of those indie titles that feels as though developers rose-engine pulled it out of a wormhole. It's a melancholy and brutal survival horror game that balances psychological horror, imperialist critique, humanism, and love together into an experience that defines what's possible in this medium.
It's messy in a way that only the best art is messy, and tells a story of grief, misery, and failure that's driven by curiosity. Though it presents itself as something stark, a game made of grafted blacks and reds and steely blues, it's as unsettling as staring too obsessively into a painting. Plus, it's deliciously grotesque, unnerving, and bleak.
Gemma Driscoll
Signalis was another surprise for me, a game I stumbled across while on a reprieve from doom scrolling. Insert a clever line about the doom to come here.
It's hard to talk about the story without spoiling important details, but suffice to say a dark and scary bunker is in no way improved with the addition of killer robots or existential dread. Signalis instilled a healthy sense of fear in me very early, dare I say, in the first 10 minutes. At that point, all it had done was show me a menu, a cryo-pod and a set of very heavy doors; but the tension was palpable.
The old school PS1 era-evoking graphics, combined with some haunting sound design, creates an environment so unpleasant to walk through that you can't help but be on high alert at all times. You are given weapons to defend yourself, though in classic survival fashion ammo is scarce. Not only that, but downed enemies can reanimate to cause havoc the next time you make the mistake of thinking the hallways were safe to walk through again.
It's not above using classic jump scares to snap the band of tension when it needs to, like when enemies register you in their space and come running. But Signlis goes about using those staples carefully and with restraint, which allows the stellar worldbuilding to take centre stage as you unravel the mystery that surrounds our sometimes unreliable protagonist. The fragmented storytelling may not be everyone's cup of tea, but I really enjoyed the sense of unease it brought as the mind filled in gaps and weaved the frayed edges of these narrative threads.
Despite a few bumps in the road, namely a distinct lack of inventory space, I left Signalis with nerves thoroughly frayed; something no other horror game this year has managed to do so successfully in such a short amount of time. If you have a day free and no neighbours to issue noise complaints, I thoroughly recommend giving it a go yourself!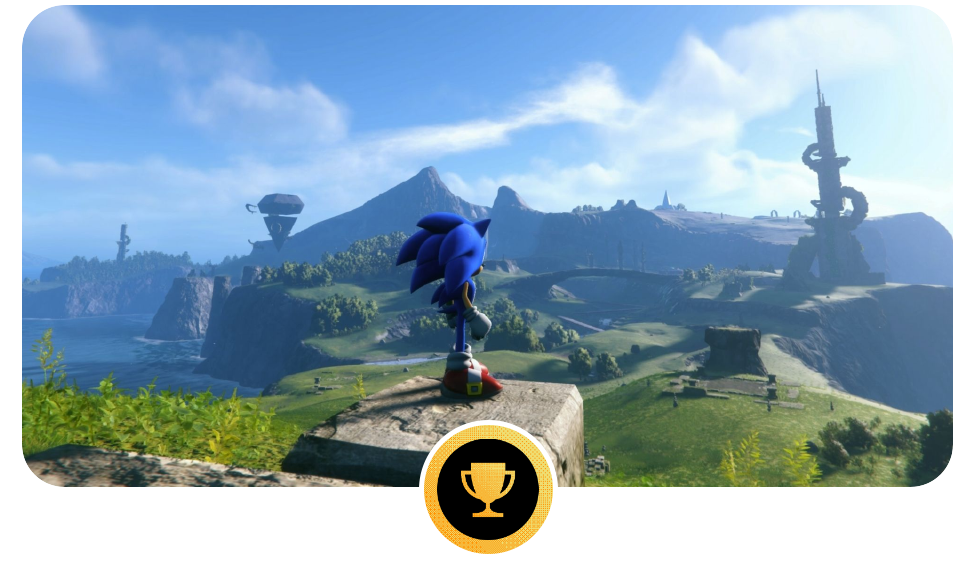 Sonic Frontiers
By Sonic Team
Alex Anyfantis
As the years progress, my gaming experiences become more and more difficult to separate from one another. Genres get smashed together as they borrow elements from one another in their desperate attempt to stand out, with the lines getting more blurred out with every passing day. This is exactly what made me appreciate Sonic Frontiers so much! It felt like a pure action/platformer that didn't muddy its focus by incorporating too many other elements.
I hadn't owned a Sonic game since, well, ever. The last time I actually played a game starring the blue blur must've been back in the '90s on the Game Gear. Yet it felt as if not a single day had passed in terms of how Sonic moved, attacked his enemies, and jumped all over the place while you desperately try to keep up with him. I enjoyed the freedom and open space. This game gives you every opportunity to run with Sonic, which is something that we could only dream about when we were kids. I tried to make use of every single button prompt that appeared on my screen and when it worked for me — which was most of the time — it just felt so cool! As Sonic's level grew, so did my adaptability to his speed, which meant greater reaction speed on my part to all those button prompts and the attacks he had at his disposal. I felt unstoppable.
The other thing I adored were the platform stages, a sweet nudge to earlier eras that tried to get you to go as fast as you could to reach the time limit. I obsessed over them. There were even a few that I could zoom past in less than 30 seconds and the satisfaction felt after the fact is hard to put into words.
This game literally puts you in Sonic's shoes and I'm so glad that after all these years of failed attempts, there's finally a title that does justice to the blue hedgehog.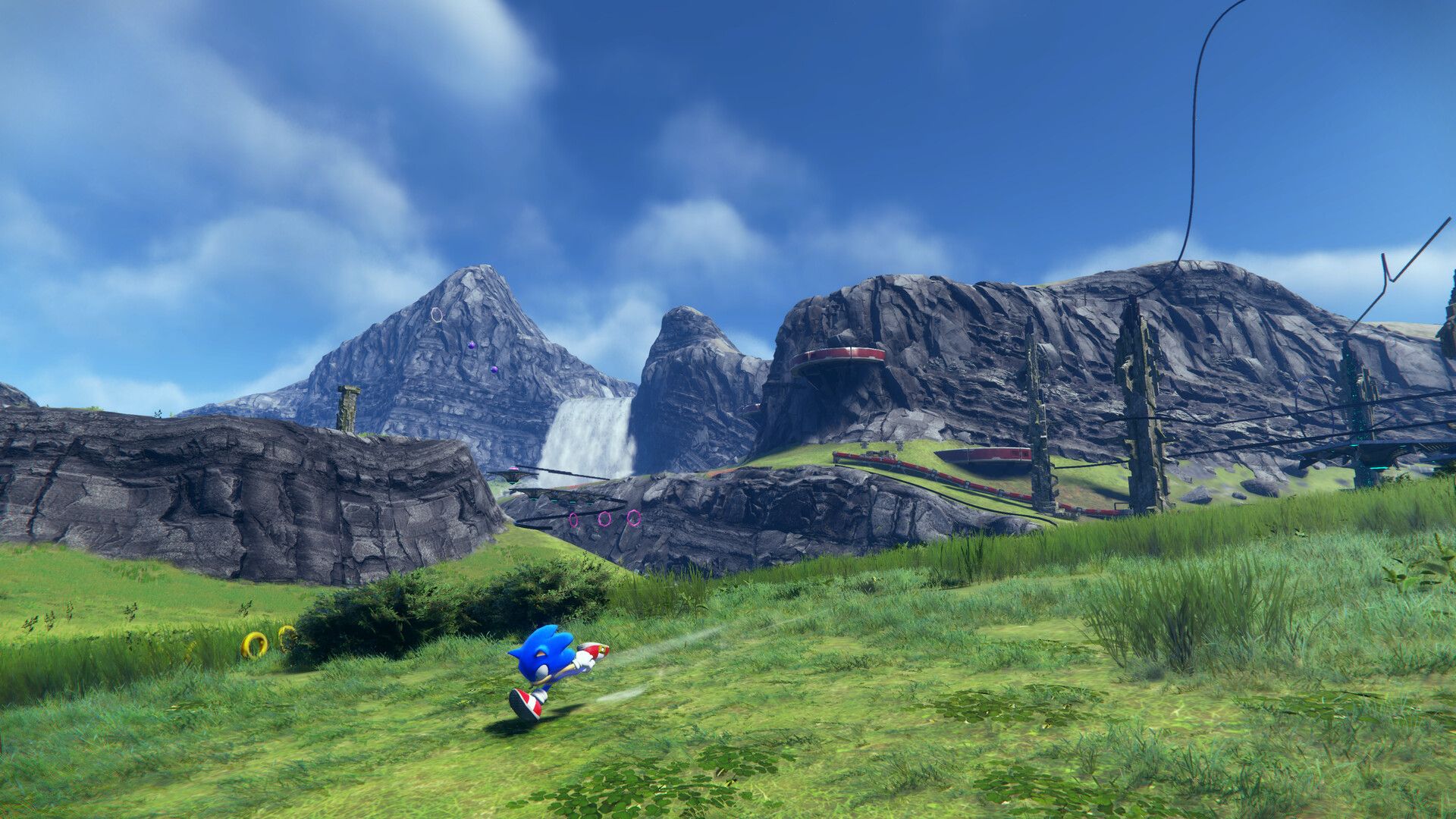 Frontiers is clean; it celebrates movement and looks back on the famous hedgehog's old stories all while building something genuinely new.
Guilherme Alves
Although I like most Sonic games due to their sheer craziness and sense of speed, it's good to see the Sonic Team experiment with a wider range of concepts. In doing so, they have created a game that is appealing for completely different reasons.
Frontiers is clean; it celebrates movement and looks back on the famous hedgehog's old stories all while building something genuinely new. There's a cohesiveness to the vision behind this game; the themes are clear, there's a confident aesthetic, and the throwback elements feel self-reflective without leaning exclusively on nostalgia for the sake of it. The characters in this game are more well-rounded, too, which is reflected in their more expansive conversations, and the game's explorations of absence and loss. Everything is so well-conceived that I didn't experience any dissonance with anthropomorphic animals discussing love and death.
Ian Flynn has been writing Sonic comics for more than a decade now, and his passion for the franchise is on full display here. His way of handling Sonic and friends in-game is both heart-warming and impressive: he made them talk like humans, and that made me feel as though my favorite childhood character has finally grown up with me.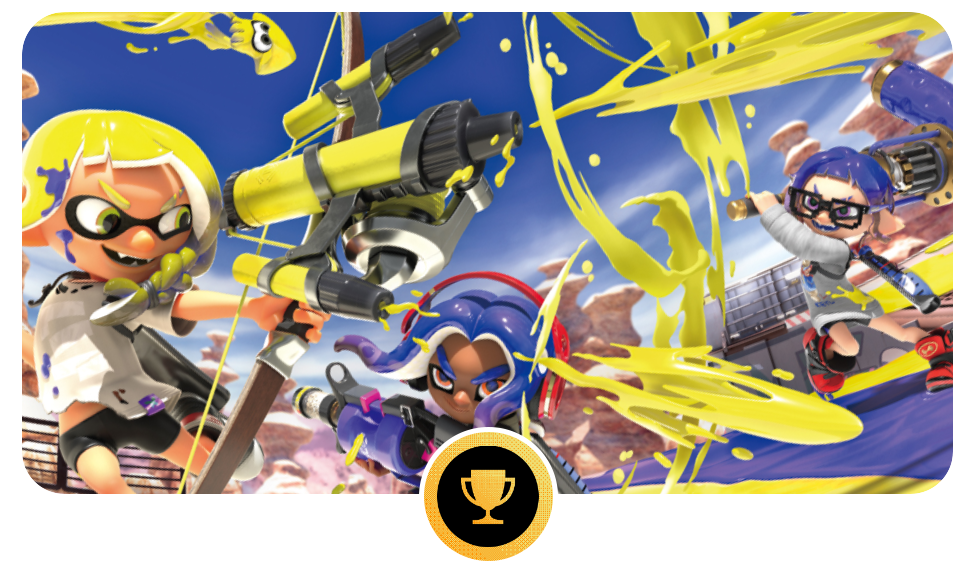 Splatoon 3
By Nintendo EPD
James Burns
Nintendo is often accused of merely iterating on many of its most famous franchises. And while I'd argue this is often not the case (for example, the main line Super Mario games couldn't be more different from one another), Splatoon 3 is clearly more about evolution than revolution.
And sometimes, that's all you need. Splatoon's core premise remains astonishingly unique: it's a third-person-shooter where your goal is to cover the stage with more ink than the opposing team within the time limit. The fact that you can dive into and swim through your team's ink is the icing on an already-delicious cake. It not only feels great on a mechanical level, but it opens up a wide array of clever, out-of-the-box tactical options.
Splatoon 3 contains everything that made the first two games great; I mean that quite literally, too. Nintendo have cumulatively added to Splatoon over the years, and Splatoon 3 is absolutely the most content and feature-packed version of the franchise. Splatoon 3 is also the best version due to a number of UX enhancements that have substantially improved the overall flow of the game (including the ability to practice with various weapons in a training dojo while you wait to connect to a match).
Oh, and Splatoon 3 features the series' most robust, innovative, and extensive single-player campaign. That's really saying something, considering how fantastic the Splatoon 2 Octo Expansion was.
If you've never played a Splatoon game, I urge you not to miss out on Splatoon 3. I would argue that it's Nintendo's best new franchise in many years; it's every bit as good as Mario, Zelda, Metroid, and others. Splatoon 3 should be in every self-respecting Switch owner's library.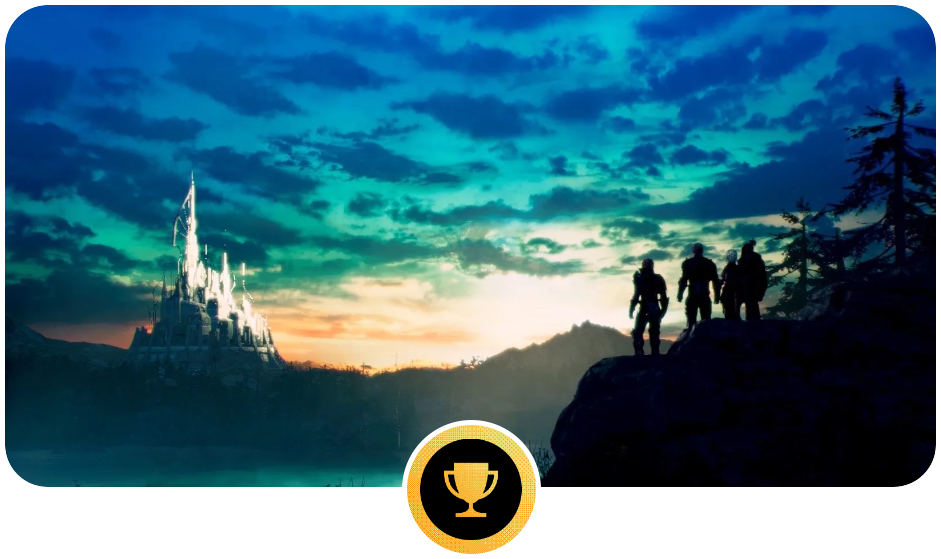 Stranger of Paradise: Final Fantasy Origin
By Team Ninja
Guilherme Alves
Starting as something that is not clearly a parody nor an homage, Stranger of Paradise is actually both. However, it ends up as an actual celebration not only of the Final Fantasy brand but also the concept of the Hero itself (whether through JRPGs or any kind of game). It's a smart commentary about duty and how the world unfolds behind us as much as it does in front of us.
Juggling kitsch aesthetics, crazy dialogue, and a story that pulls its punches until the very end to make it all worthwhile, Stranger of Paradise is much cleverer than it looks. It consistently plays with the public's perception of itself, sometimes almost mutating as you are playing it, all while slowly but surely revealing its cards.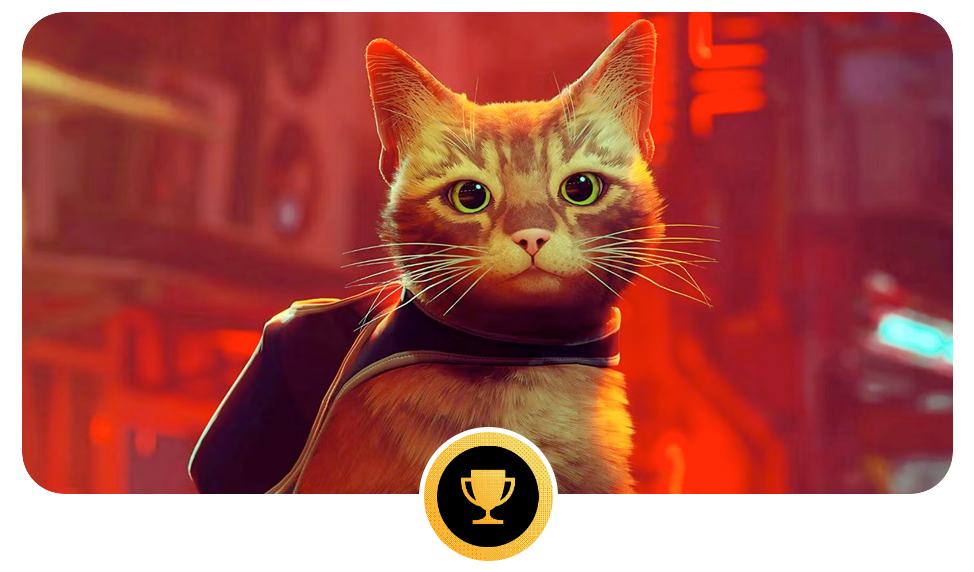 Stray
Jared McCarty
When BlueTwelve studios dropped the initial trailer for Stray back in 2020, they had set themselves up for success. Just by virtue of their player character being a fully controllable cat, Stray earned the wonderfully simplistic moniker of "the cat game." There was something about the way that adorable little orange fur ball padded its way through a neon-flooded dystopian cyberpunk city observing a society of robots go about their daily business that stuck with people. After a few delays, in July 2022, we finally got to see what this precious kitty's adventure would be about.
First impressions are everything, and Stray leaves an exceptional first impression. Despite having no dialogue, the intro connects the player with the eponymous cat through visual queues, body language, empathy, and enchanting meows and mews. It establishes who the player cat is, what their connection to the other cats in their clowder is, and how devastating and cruel this world you find yourself in can be. From there, the little orange cat is thrust into an adventure to reconnect with its friends and escape the inescapable city. With the help of B-12 (a small sentient robot companion) the player will travel through this mysterious world through the eyes of the small cat, and unravel the mysteries of what happened to this city, as well as humanity itself.
Breathtaking visuals, smooth gameplay, an interesting setting, and a unique premise set Stray apart from many other big name games this year. It isn't a game for everyone, as some of the set pieces and action sequences work far better than others, but the novelty of just being a cat and exploring this strange and enigmatic world stays throughout the run time. I found myself running through Stray multiple times, searching for clues pertaining to the story and Easter eggs for the game itself, just wanting to spend more time looking at the gorgeous imagery and depressing - if not surprisingly quaint - dystopia I found myself in. What can I say? Unsurprisingly, playing a game as a cat that allows you to knock things off of shelves and scratch carpets is just good old-fashioned fun, and Stray deserves all the attention it received this year.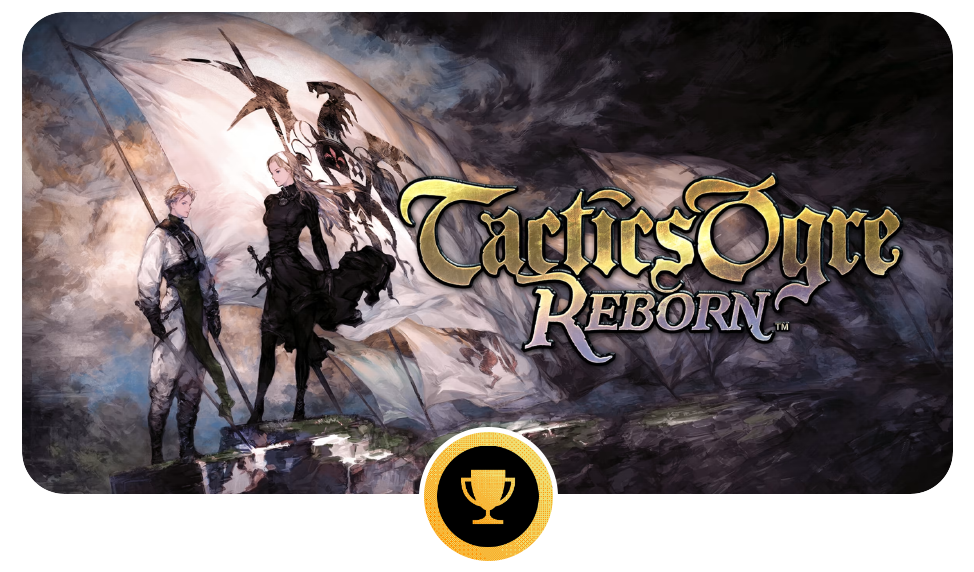 Tactics Ogre Reborn
By Square Enix
Vítor M. Costa
Tactics Ogre Reborn is not only a 2022 release but also the third version of a game that has been revised since 1995. The goal was to make its complex gameplay both challenging and balanced, one obsession of its creator, Yasumi Matsuno. Not only did this version achieve this, it improved the immersion of its impressively mature storytelling with voice acting and some audio-visual revisions.
Tactics Ogre Reborn is a "classic" in the strictest sense of the term, as it was not only profoundly influential on the TRPG genre, it remains perhaps the best of that genre. Besides its flexible systems, and sophisticated and elegant level design, TOR has very detailed pixel art for its scenarios and illustrations and a political plot that gives due weight to the player's decisions and addresses issues of ethnicity inspired by real conflicts, such as war crimes in Syria, Azerbaijan and Armenia, the Yugoslav wars, and the Rwandan genocide.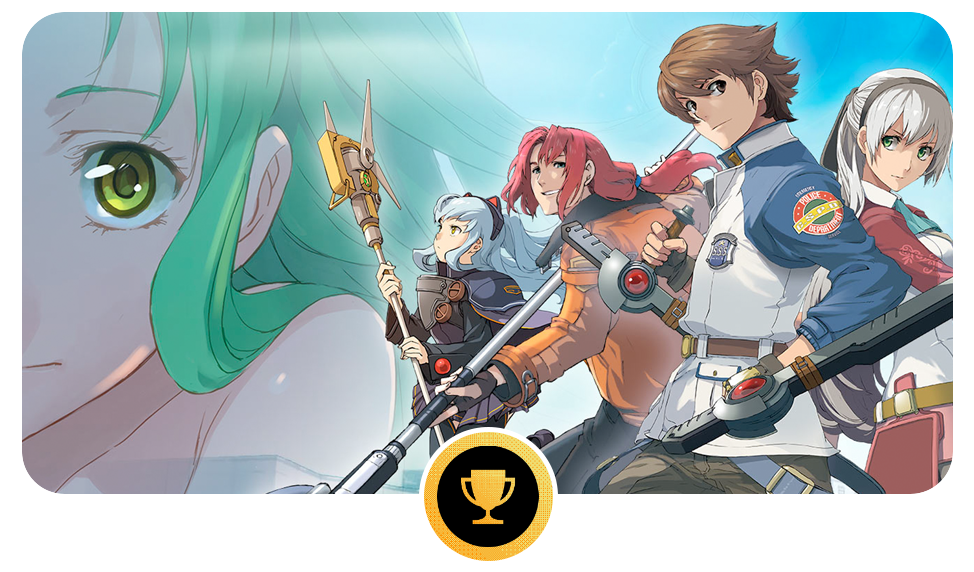 The Legend of Heroes: Trails From Zero
By Nihon Falcom
Paul Lombardo
What do you get when you cross a team of passionate fans who are desperate to localize an underrated JRPG series' most beloved duology to the west and developers who are struggling to bring their games overseas? A match made in heaven. Trails From Zero likely wouldn't have made it to the west if it weren't for the Geofront team who painstakingly translated two massive JRPGs and allowed NIS America to adopt their localization of the game for an official western release.
Trails From Zero is set in the independent city-state known as Crossbell. Thriving in its technological developments, Crossbell has become an economic powerhouse. The state thrives in its wealth - yet the celebration of its success is met with salivating lips. Crossbell has been diminished to a ripe piece of land, ready for annexation from the two massive countries to its east and west: the Erebonian Empire and the Republic of Calvard.
You play Lloyd Bannings, a rookie detective with a burning passion for the independent state of Crossbell. Lloyd is assigned to the Special Support Section, a joke of a squadron that is nothing more than a pseudo-PR team created to win over the citizens of Crossbell that severely distrust the police. With a lack of direction, the Special Support Section is able to utilize its position to fight back against the corruption of Crossbell and defend its beloved city.
Crossbell State is an absolute gem of a setting for a JRPG. Much like Final Fantasy XV, The Legend of Heroes blends fantasy magic with contemporary sci-fi, crafting a world where "orbal computers" and the "orbal net" are technologies that are being developed while witches, dragons, and demons run amok. Crossbell itself is as wide as it is deep, with tons of districts to explore and an underground "GeoFront" dungeon to traverse. Lest I forgot about the music, let it be known that Falcom Sound Team jdk makes some of my favorite tracks gaming.
As a JRPG, Trails From Zero does an excellent job with its stellar gameplay mechanics. "Arts" make up what would be considered magic and "Crafts" are powerful abilities tied to CP, which can be obtained as a battle rages on. Beyond combat, what's really special about The Legend of Heroes, and especially Trails From Zero, is how cleverly interconnected the series is to its previous games.
Trails From Zero takes place in an entirely different nation than its predecessor, Trails in the Sky, but extremely important characters from the series previous entries play pivotal roles in Trails From Zero. Later on, this becomes more apparent, and eventually, you'll begin to realize that The Legend of Heroes is really the Marvel Cinematic Universe of JRPGs. If you love JRPGs, please give Trails a try and show it some support for the incredible team behind its release.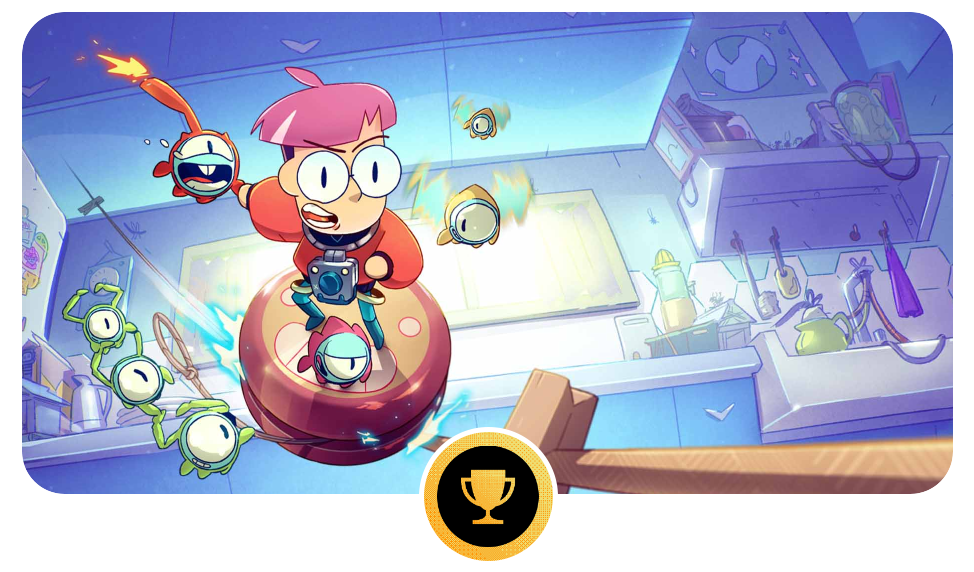 Tinykin
By Splashteam
Bobby Jack
There's one comment I hear repeatedly about Tinykin: "if Nintendo had made it, it would be a genuine GOTY contender". With gameplay that's one part Paper Mario, a little bit Mario Odyssey, and a smidgen of Pikmin, Tinykin appears to borrow from some of the very best recent first-party releases. Yet this game is strong enough to stand on its own merit, something to view alongside those titans rather than be dismissed as an imitator.
Start playing Tinykin and you'll soon notice some obvious departures from its influences. There's no combat, little in the way of upgrades, and even the charming creatures that share the game's name are less significant than you might imagine. Tinykin is primarily an exploration platformer, with a handful of puzzling thrown in. In these terms, it might sound like there's a risk of the game falling short as a playable experience, but Tinykin triumphs in some very meaningful ways.
First, the game's setting — an enlarged household in which you, the player, are merely bug-sized — adds an enormous sense of scale to the proceedings. With such a diminutive viewpoint, even mundane objects like a chair or a plant offer a world of exploratory possibility. In Tinykin's world, there is always something around the corner, the game's main collectible — tiny balls of pollen — guiding you in and out of every nook and cranny. Its mechanics are also practically flawless, which makes wandering around a joy in itself. Whether your movement style of choice is hovering with your bubble pack, ascending and descending the many unlockable ropes, sliding around on your soap-board, or repurposing some of your Tinykin as a ladder, you're bound to enjoy the experience.
Tinykin makes the most of its tiny world, taking advantage of the setting to introduce an extensive cast of creepy crawlies. They use parts of the household and its everyday objects in imaginative ways to build their own society, complete with complex interactions and relationships. The many side-quests introduce you to these characters, and you'll have to think like a bug to truly understand some of their dilemmas, so you can lend a helping hand. Some of these challenges inventively use classic 90s objects to reinforce the concept that Milo, the game's protagonist, has travelled back to some earlier version of planet Earth. Whether it's trying to make a CD play or using a polaroid camera to photograph a 'terrifying monster', these missions are a great excuse to inject some welcome humour to proceedings.
Perfect for a lazy weekend or a sunny holiday, Tinykin won't tax you too much unless you're a completionist, determined to hunt down every bit of pollen. If you're looking for unadulterated escapism, in a world that's familiar-yet-novel, with mechanics that make exploration a delight, not an ordeal, then Tinykin is very much for you.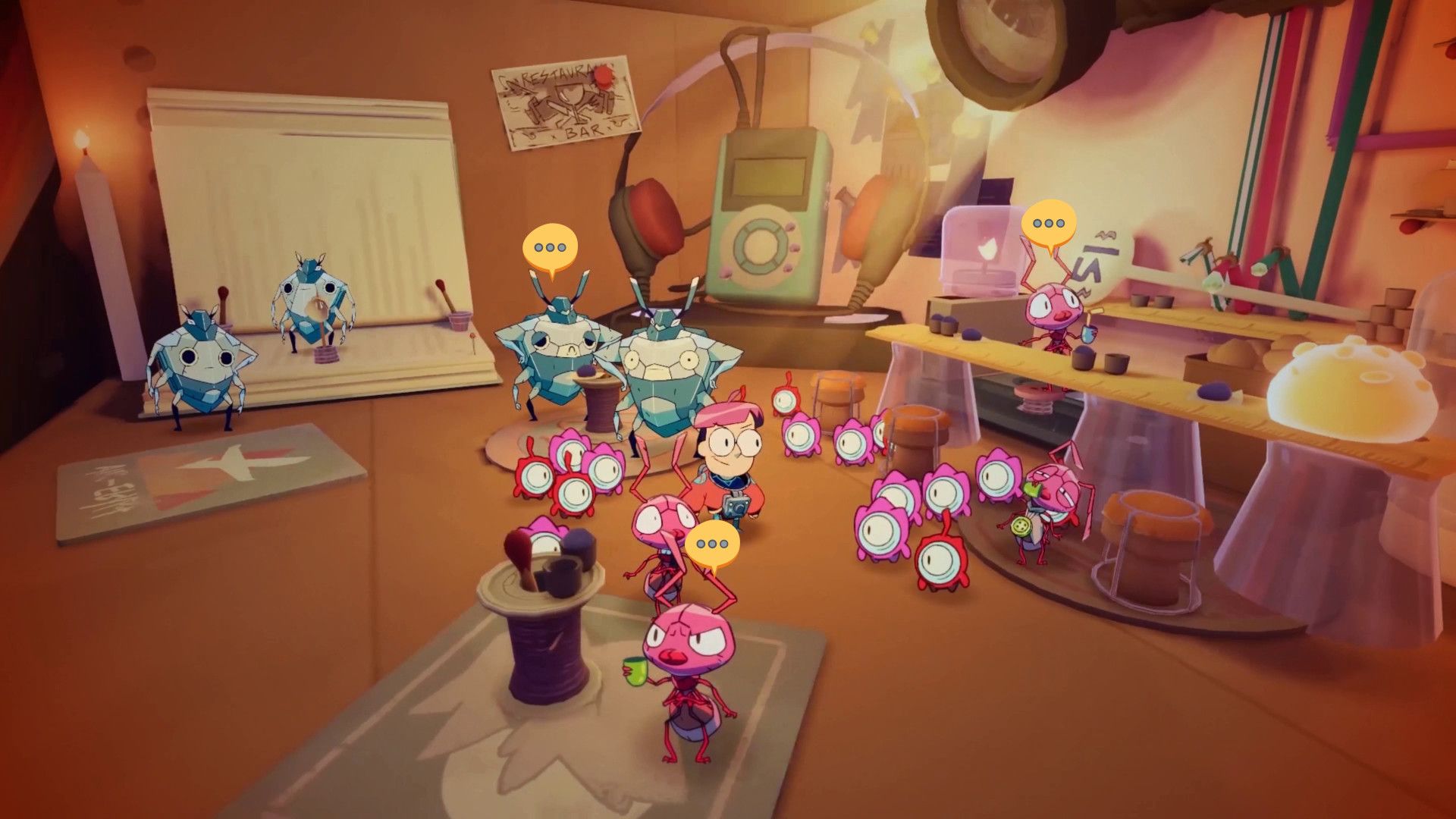 Tinykin is just such a joy to play, and that joy was infectious.
Lucas Di Quinzio
Gaming is largely a solo pursuit for me. That's largely because of the kinds of games that I play. My wife, who doesn't really play video games but isn't averse to them, does sometimes look on when I use the TV to play games. She doesn't care for first-person shooters or other violent action games. She was thoroughly sick of the sight of my Elden Ring mage with his weird two-headed helmet and blue magic bolts. Tinykin was a game that caught her eye, for very much the same reason it caught my eye. It has a bright, Paper Mario-esque art style, as your tiny 2D character from another planet explores an exaggerated version of a human home, with dozens of even smaller Pikin-like Tinykin following behind.
It's all very cute and very charming, even down to its gameplay — which sees you use your Tinykins to pick up and move items, create ladders, make electrical currents and more. Your goal is to help an insect-like alien species and search for household items that together will create a ship to take you home. But it's got more than charm on its side (though that would be enough on its own) — it's also a fantastic 3D platformer. Each large level, one for every main room in a house, is packed with nooks and crannies to explore (and find collectables if you're so inclined), with plenty of verticality to them. You can use a bar of soap to skate around and use ziplines and can create a bubble to glide, and it's such a joy to move around.
In fact, Tinykin is just such a joy to play, and that joy was infectious. My wife took an active interest in the game, and even asked me to hand over the controller. Her turn was short-lived, but that Tinykin's charm was great enough to create an impromptu sharing of my usually solitary hobby, speaking volumes of the quality of this game.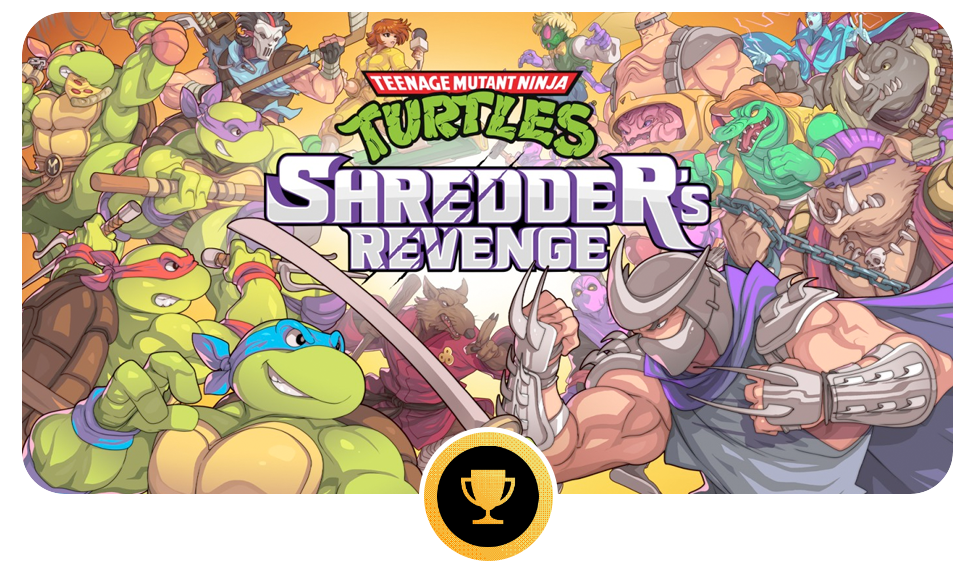 TMNT: Shredder's Revenge
Audi Sorlie
If Final Vendetta is the game that brings the brawler to its new heights, TMNT Shredder's Revenge is the brawler that brings the party back to the house. 2022 became unofficially the year of the shell as us TMNT fans were blessed with not just one, but two incredible gaming products based on the timeless franchise as Digital Eclipse led the way with their excellent Cowabunga Collection setting the stage for an all new shellfest as Tribute Games and DotEmu announced that their new arcade style beat-em-up would soon to follow.
Without over-analyzing the phenomenon that is the Teenage Mutant Ninja Turtles, it is important to at least acknowledge that the core values of the TMNT, the family bonds, the brotherly nature, and the clear lines between good and evil is what has led the franchise to survive for decades and now generations of fans. It is easy to dismiss the primary clad colored reptiles as mere cheesefests and power fantasies with ninja weaponry, but underneath the surface of those elements lies a true heart. This is especially important to understand why the classic TMNT games, those who grew up with them, are so beloved. It is the sense of camaraderie, of a brotherly bond in co-op that has led those games to survive so well not just in memories but also in age as friendly banter and alliance never truly die out.
Shredder's Revenge is a return to just that, the perfect celebration of the TMNT both as a gaming icon and pop culture, with vibrant incredible graphics and an emphasis on co-op, either local or online, that has brought people not just back to the Ninja Turtles but also video games themselves. Time and time again, the stories can be seen from impressions and feedback for the game that old friends have gotten back together to take on the Foot Clan, as cheerfully at 43 years old as they did at 13 years old. The family bond that binds the turtles also binds us as friends and family as we play. The superb blend of juggling action, absolutely incredible music courtesy of Tee Lopes and a gameplay loop which invites returning to the game again and again like a true arcade classic, no other game this year has provided the excitement and thrill that TMNT Shredder's Revenge did.
There are more graphically impressive, technically astounding games released in 2022 for sure, but the pure sense of joy of sitting on a couch with friends yet again hollering and smiling ear to ear with no other worries on our minds? Absolutely priceless, dudes.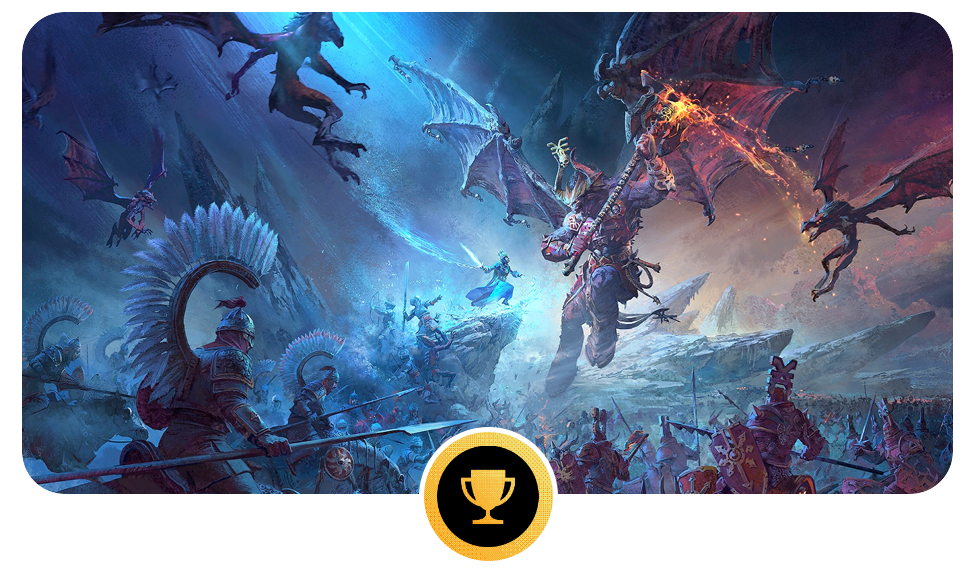 Total War: Warhammer 3
Antony Terence
The soul of a dying god. That's the bag of carrots that lets Total War: Warhammer 3 pit dozens of factions against each other in a desperate power struggle. The tutorial mission alone left me in pieces, with corruption and betrayal giving rise to a demon of my making. This demon proceeds to lead one of the many playable races of Warhammer 3, letting you shape stories as you deem fit. In Total War: Warhammer 3, weapons aren't always pointy. Diplomacy unlocks just as many doors as a lock pick.
For my first playthrough, I armed myself with seduction and corruption as the right hand of Slaanesh, the Dark God of Pleasure. From weak units that deal bonus damage from behind to cults that spread your religion of excess, this faction had plenty of tricks underneath scarves of silk. Each of the game's playable factions had its own tools and approaches to dealing with unfriendly neighbors. These mixed along with my tactics (or lack thereof) in exciting ways.
I refused the friendly advances of blood god Khorne, only for a forsaken regiment of theirs to tear my cities apart. Luring the nearby Norse axemen to my cause was merely a stick in a bog of impossible odds. Sitting amidst the ruins of an empire, I had all but given hope until a lone hero arrived. A sorceress returned from a sea voyage with enough treasure to fight back. Sixty hours in, I grinned at the thought that this was merely the end of the beginning.
Games let you dangle across impossible plot threads from the comfort of your seat. It's a sense of freedom I took advantage of as a Slaanesh lieutenant. And this was just one faction. Excellent animations and creature designs deliver exciting real-time battles that will leave strategy fans drowning in content. Total War's glorious scale of inter-faction rivalries takes on a whole new dimension in the Warhammer universe, offering plenty of risks and little wins worth exploring.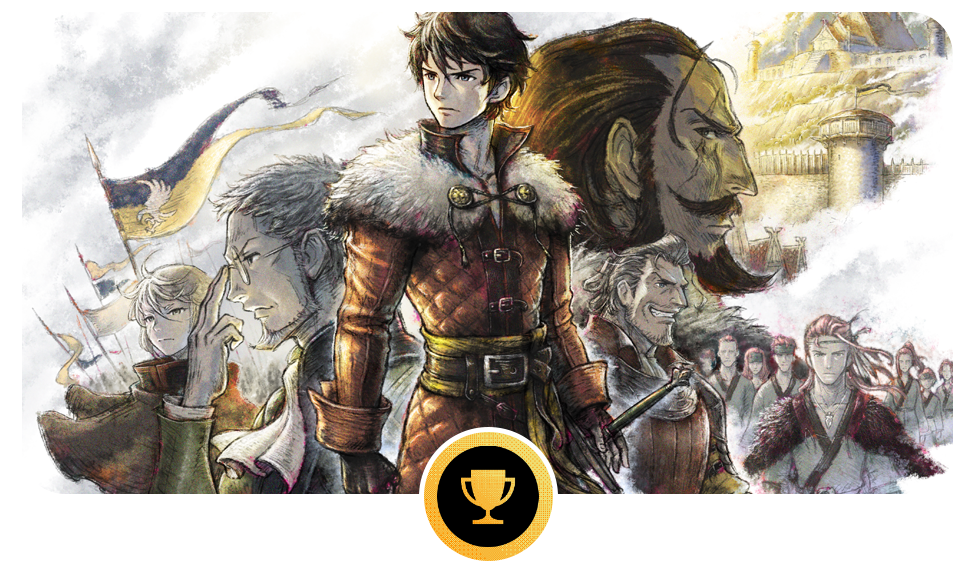 Triangle Strategy
By Square Enix, Artdink
Paul Lombardo
As I wrote back in 2020, Octopath Traveler is a loving homage to 16-Bit JRPG classics. Think Final Fantasy and Dragon Quest. The same team behind Octopath Traveler once again made a homage - this time to tactical RPGs like XCOM and Fire Emblem. Triangle Strategy (bear with me on the silly name here) is another exceptional JRPG delivered by Square Enix.
Harboring a similar art style to Octopath Traveler, Triangle Strategy looks and plays wonderfully. The story is set within Norzelia, a land of three kingdoms struggling for power after the Saltiron Wars. With a plot reminiscent of Game of Thrones, Triangle Strategy follows a diverging storyline that is truly - and I say truly because this claim is often overstated - shaped by your choices. The choice-and-consequence here in Triangle Strategy is outstanding, leading to four vastly different endings, and much of its effectiveness is catalyzed by the exceptional Scales of Conviction system.
The Scales of Conviction essentially boils down to a voting system that results in different developments within the story. What makes the Scales interesting is how it isn't as simple as choosing what you want to do - if your protagonist, Serenoa, cannot sway his companions in the direction of the decision you favor, the choice may be made for you.
Each character in your group holding their own convictions makes them that much more interesting. It's something I feel you only see in some of the best roleplaying games as it forces you to butt heads with companions you've come to love. On top of that, challenging your companion's convictions and spending the time to convince them of whatever choice you wish to make makes for a truly unique choice-and-consequence system that can be as challenging as it can be rewarding.
This positive sentiment goes for the combat as well, which is full of well-cooked environments to battle in. It's got the typical bells and whistles of your tactics games, sure, but Triangle Strategy also has a branching leveling system that is diverse enough to warrant calling it "buildable." With a beautiful HD-2D art style, a powerful story, and challenging gameplay mechanics, Triangle Strategy stood to be one of my favorite releases of 2022.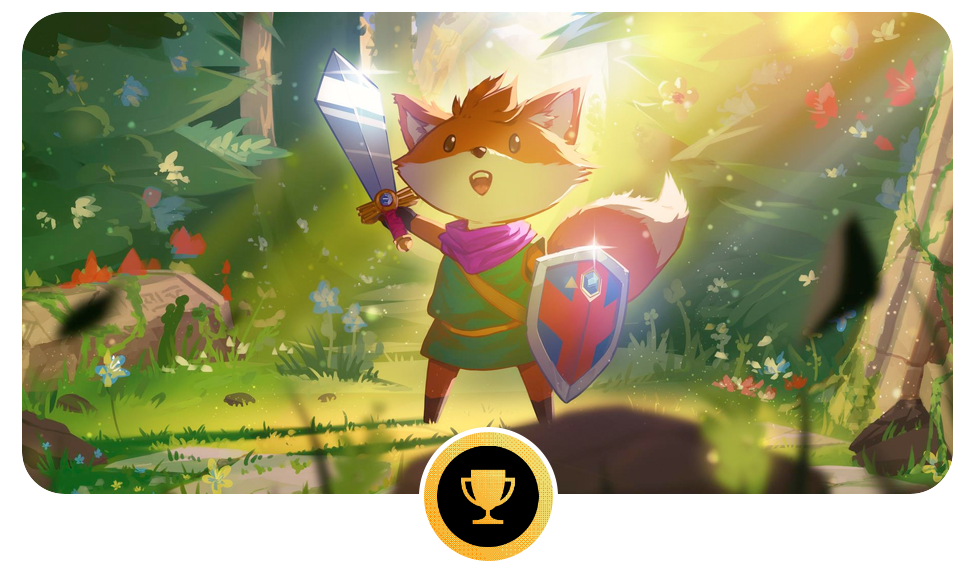 Tunic
By Tunic Team
Gemma Driscoll
What can I say about the adorable isometric world of Tunic that hasn't been said already? The comparisons to The Legend of Zelda, both in aesthetics and combat are easy enough to make but Tunic stands wholly on its own two feet, all the while swinging swords and various explosives around with a childlike glee that lulls one into a false sense of comfort before the rug is viciously pulled out from under you. Tunic pulls no punches and expects you to follow suit as you juggle quick dodges with precise slashes of your blade and special weapons.
Healing and saving your progress at fire-lit shrines respawns downed enemies, creating this ongoing struggle between wanting to power ahead and risk it for the biscuit or playing it safe while creating more work for yourself. Putting it all together leaves us with an exhilarating experience that makes every hard earned victory feeling like an accomplishment to be celebrated. I can always appreciate a game that lovingly kicks me in the face a few times to teach the value of patience and strategic thinking.
Tunic is deliberately vague about… well, just about everything! Harkens back to the older games it draws its inspiration from, Tunic provides very little in concrete information for players to go on, instead relying on your own curiosity and puzzle solving to put meaning to its fictional language and the environmental details around you. One of my favourite parts of my whole playthrough, in fact, was deciphering the details of the gorgeously designed instruction guide.
For whatever headaches those loving kicks to the face may have left me with, Tunic was easily one of my highlights of the year. Did I know where I was going at all times? Absolutely not. But did I have a good time getting there anyway? You bet I did!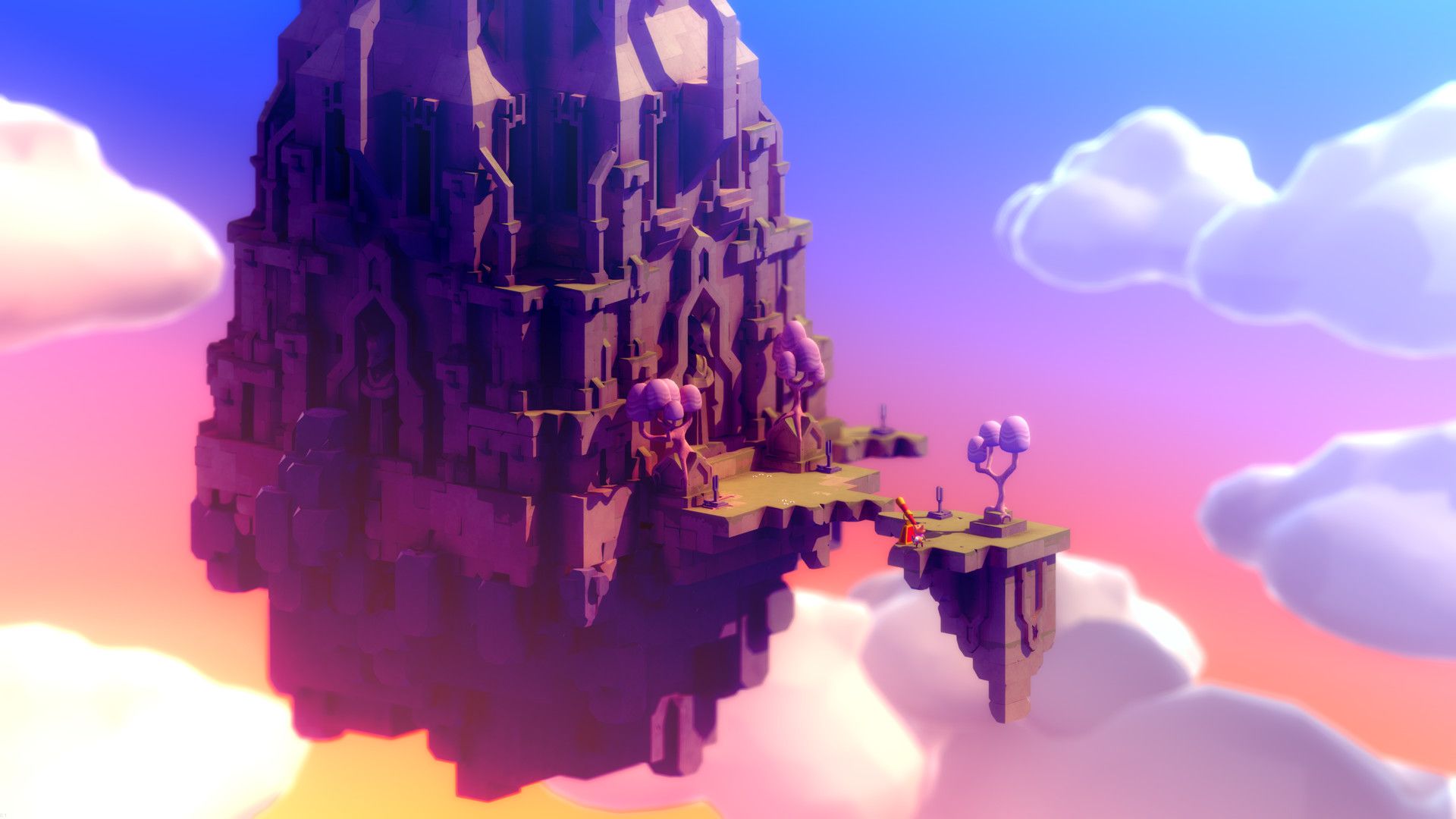 It's a celebration of a bygone era of games that were enhanced by thoughtful documentation and not just driven by one-screen "do this next" prompts and map markers.
Peer Schneider
As a gamer in his 50s, I am constantly reminded that my reflexes aren't what they used to be. I start a game like Returnal and marvel at how "metroidy" it feels. I'm having fun soaking in the atmosphere. I'm starting to sweat when I'm low on health. And I think: "this game has its hooks in me." Then a few days later, I'm frustrated and on a path to getting bored. I was a kid when arcade games made you play the same stages over and over — and I can safely say that I've grown out of it. Roguelikes lose me when a significant part of the experience is to be punished for a bad dodge, choice of route, or just plain old bad luck. I don't mind messing up and having to retry a battle. I do mind messing up and having to, essentially, retry the game. To quote Roger Murtaugh: "I'm too old for this shit."
When I first started Tunic, I thought: "this looks and smells like Zelda" — but there was also this nagging suspicion that the game would toy with my feelings, go overboard on difficulty, and take away my accomplishments with every death. But… it didn't. It's a tough game, but it celebrates what I loved about classic games instead of going Rogue. In a tidal wave of roguelikes, Tunic stood out to challenge and surprise.
I don't want to get too far into what ultimately made me pick Tunic as one of my favorite games of 2022. But I'll tell you this: when I was young, I bought my games in stores and read the manual on the way home. There was something ritualistic about it. Tunic's experience is centered around a classic game manual, but one written in a foreign language. As you play, the manual evolves with you. Like the passcodes scribbled in the back of a tattered '90s booklet, Tunic feels more personal and interesting the more you play. When you finally piece it all together, it's clear why Tunic's not just a Zelda clone. It's a celebration of a bygone era of games that were enhanced by thoughtful documentation and not just driven by one-screen "do this next" prompts and map markers. A true gem.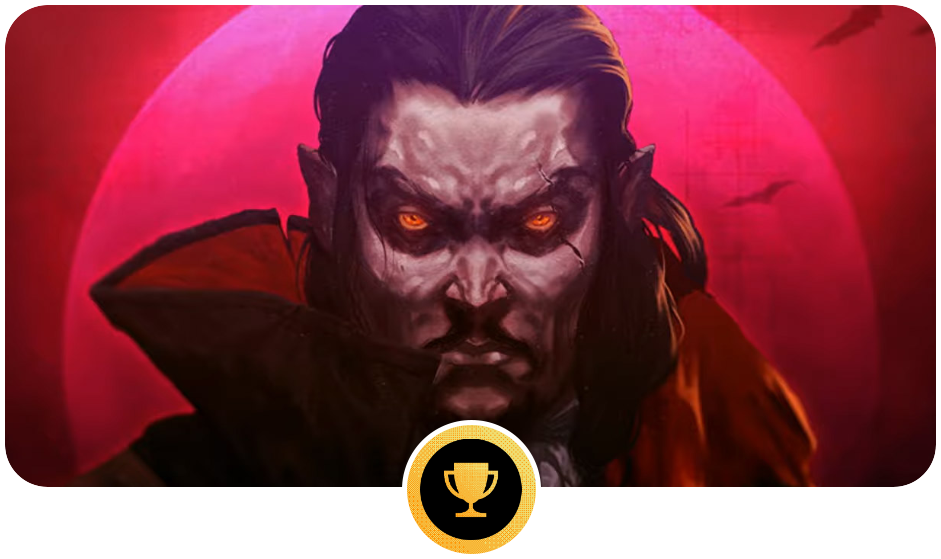 Vampire Survivors
By Luca Galante
Jessica Mullane
Arguably one of the most hyped indie games this year, Vampire Survivors is a comically Italian roguelike that manages by entirely restricting the controls to basic movement (besides picking your boons), and forming this concept into a highly addictive experience. I've gotten more gameplay out of a game that cost me $4, created using Castlevania assets, than I have with many $70 AAA releases this year, and enthusiasm for this game is already sparking clones.
Vampire Survivors has little story depth, but it succeeds in its utter simplicity, some well-placed Italian puns, and direct nods to its inspiration with its "floor chicken" health replenisher. As of December 15th, Vampire Survivors expanded with an additional DLC entitled Legacy of the Moonspell and clever Twitch integration, allowing viewers control of a run, making it a favorite with streamers. Comparisons to the "rush" and addictive nature have been noted by many from the gratification of quick leveling up and cleverly used sounds and visual effects that I've only really associated with slot machines. This made sense when I found out that the creator, Luca Galante, has experience in the gambling world as a former software developer for machine play.
Vampire Survivors is perfect when you need a fun distraction that isn't intensively time-consuming, and the dopamine hit of completing a thirty-minute run. With some thought into your choices, your character will turn into a near invincible screen eraser through correct equipment upgrading and well-thought-out builds.
Gemma Driscoll
The 2D pixel-art roguelike Vampire Survivors was a late edition to my game of the year nominations for 2022. Like really late. As in, right before I submitted my selections, late. The realization came to me at 3am (all good realizations do) as I was hunched over my desk trolling the wiki on one monitor while my lone survivor was set upon by giant automata on the other. "I bloody love this game!" I said, right before Death appeared from stage left and feasted upon my character's mortal bones. The sentiment remains the same, though.
Vampire Survivors is a game almost impossible to spoil because the experience is so subjective to the player. My friends were describing secret paths I had no idea about 20 hours in, while I could rant about the effectiveness of certain weapon combos over others that they hadn't considered at nearly 40. So little direction is given to you outside of 'survive' that every crumb of lore, new weapon or unlocked character feels like a gift from on high, guiding you further and further down the rabbit hole.
As much of a stress reliever and it is a stress inducer, what Vampire Survivors might lack in flashy graphics, it more than makes up for with an insanely compelling gameplay loop, fantastic audio design and some stellar 'oh no what is that and why is it doing it?' moments.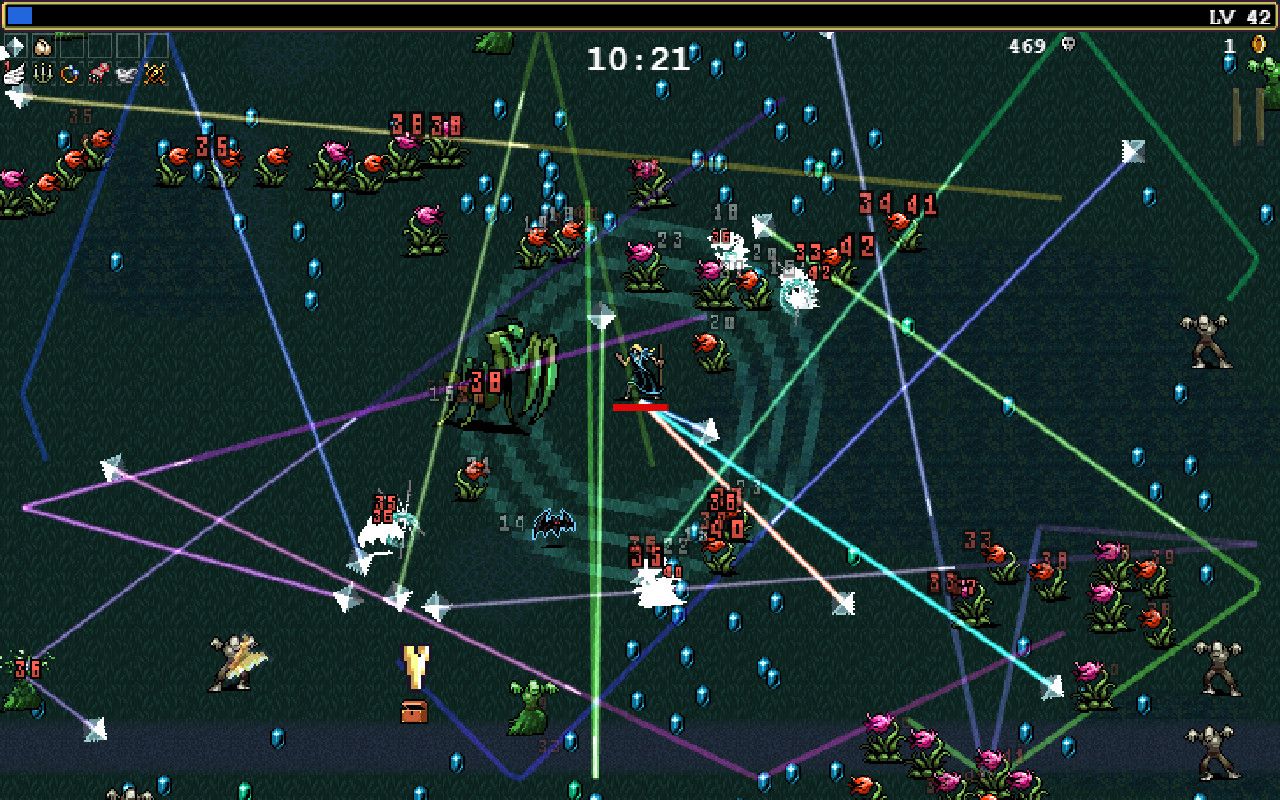 There's nothing quite like Vampire Survivors, and it's going to be fascinating to see where this fledging genre goes from here.
Jamie Galea
When a friend of mine recommended Vampire Survivors earlier this year, I had a lot of doubts. Here's this game in early access that doesn't have an impressive look, and also super cheap? I figured why not give it a go, and in the worst case, I didn't exactly waste a tonne of money.
Several months and its 1.0 release later, it's a sure-fire contender for my game of the year. It's one game I kept going back to throughout the year, thanks to a constant stream of updates and many things to unlock.
At its core, I could describe Vampire Survivors as a reverse bullet hell roguelike. The goal is to survive for 30 minutes at a time while constantly levelling up and gaining new abilities. If the ever-increasing waves of enemies won't get you, every few minutes a strong opponent or wave will test your build. If you've been building your character right, towards the end of the run, you will spew more projectiles than a Cave shooter boss. It's ridiculous, but incredibly satisfying.
Just like a good roguelike, there's always a reason for one more run. Part of the genius of the game is tying almost all the unlocks to Steam Achievements, finally giving reason to invest heavily in unlocking everything you can. This aspect became so popular that practically every update to the game would include more achievements, so there'd always be something to unlock.
On top of all that, Vampire Survivors is a game that affected the wider community, inspiring a heap of imitators that try their own thing. My personal favourite is Holocure, a fangame that takes the base of Vampire Survivors, turns it into a dual stick shooter, with all of its characters Vtubers from Hololive.
I could go on, but given how affordable the game is, its current availability on Xbox Game Pass, or that it recently released on mobile phones as a completely free download, there's no reason to not give it a shot. There's nothing quite like Vampire Survivors, and it's going to be fascinating to see where this fledging genre goes from here.
Lucas Di Quinzio
What do you call Vampire Survivors? Reverse bullet hell? Bullet heaven? Survival action roguelike? Its Steam page calls it a "gothic horror casual game with rogue-lite elements." Its Wikipedia page calls it a roguelike shoot 'em up. While I rarely care about what genre a game fits into, it's important for Vampire Survivors because, in the space of a year, it has launched a genre.
This is an impressive feat for what started out as a small, cheap game with stock artwork that made it look like a Castlevania knock-off. And no, it was not the first game like this — the game's developer Luca Galante (AKA poncle) has stated that a mobile game called Magic Survival inspired him — but it's the one that has kicked off a trend. There's a good reason for this; Vampire Survivors is a fantastic video game. Just pure dopamine as they barrage you with dozens, then hundreds of enemies that you can mow down with your increasingly spectacular auto-firing weapons.
As you reach the back end of a 30-minute run, the screen is literally full of enemies that vanish in a split second after being hit, only to be replaced (and then some). If you build your character well enough over the course of a run, you can almost take your hands off the keyboard and watch the enemies die by the thousand. It's a simple yet astonishing piece of game design, supplemented by constant updates by the developer.
Over the course of the year, a heap of new characters, levels and weapons have been added, along with new mechanics, new music, and less legally actionable graphics. Vampire Survivors is gaming in its purest form, turned up to eleven.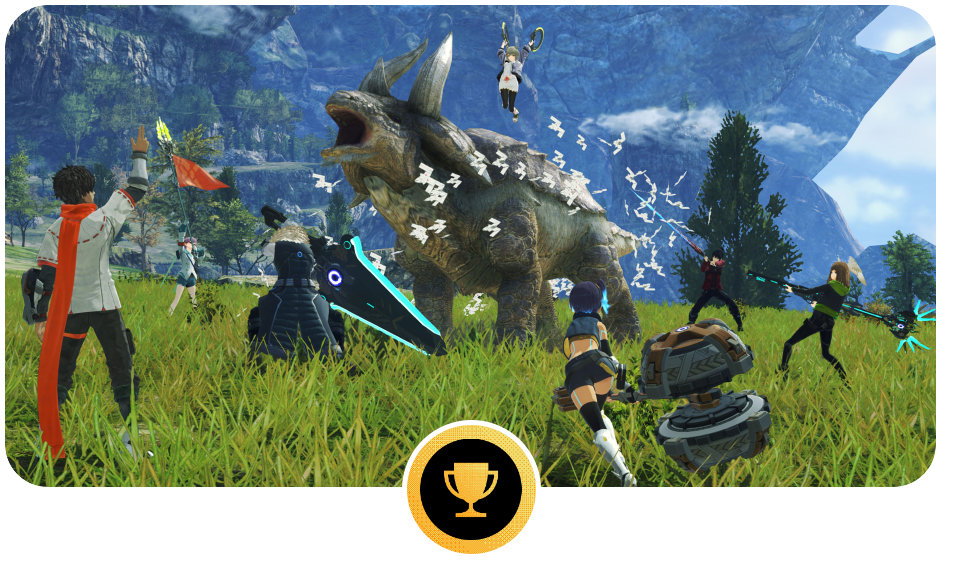 Xenoblade Chronicles 3
Guilherme Alves
An amalgamation of everything Xeno: bleak, namedropping Nietzsche here and there, but also full of hope, humor, and extremely gnostic. I always feel that JRPGs are able to handle gnosticism because of their structure and the Japanese fascination with the concept, but Xenoblade Chronicles 3 is probably the clearest example of that ever since Xenogears.
We have it all here: consciousness expanding after the contact with an orphic egg, the discovery of sexuality, ego-stricken demiurges feeding off human suffering, the eternal recurrence, and all of it wrapped up in a crazy battle system with six people yelling at the same time. I'm a firm believer that all great classic narratives prepared us for death, and it's increasingly clear that all great modern narratives are preparing us for boredom. Xenoblade Chronicles 3 is the most fun a game about boredom I can imagine.
Comments
Sign in or become a SUPERJUMP member to join the conversation.