Atari 50: The Anniversary Celebration Review
Celebrating fifty years of Atari in playable museum form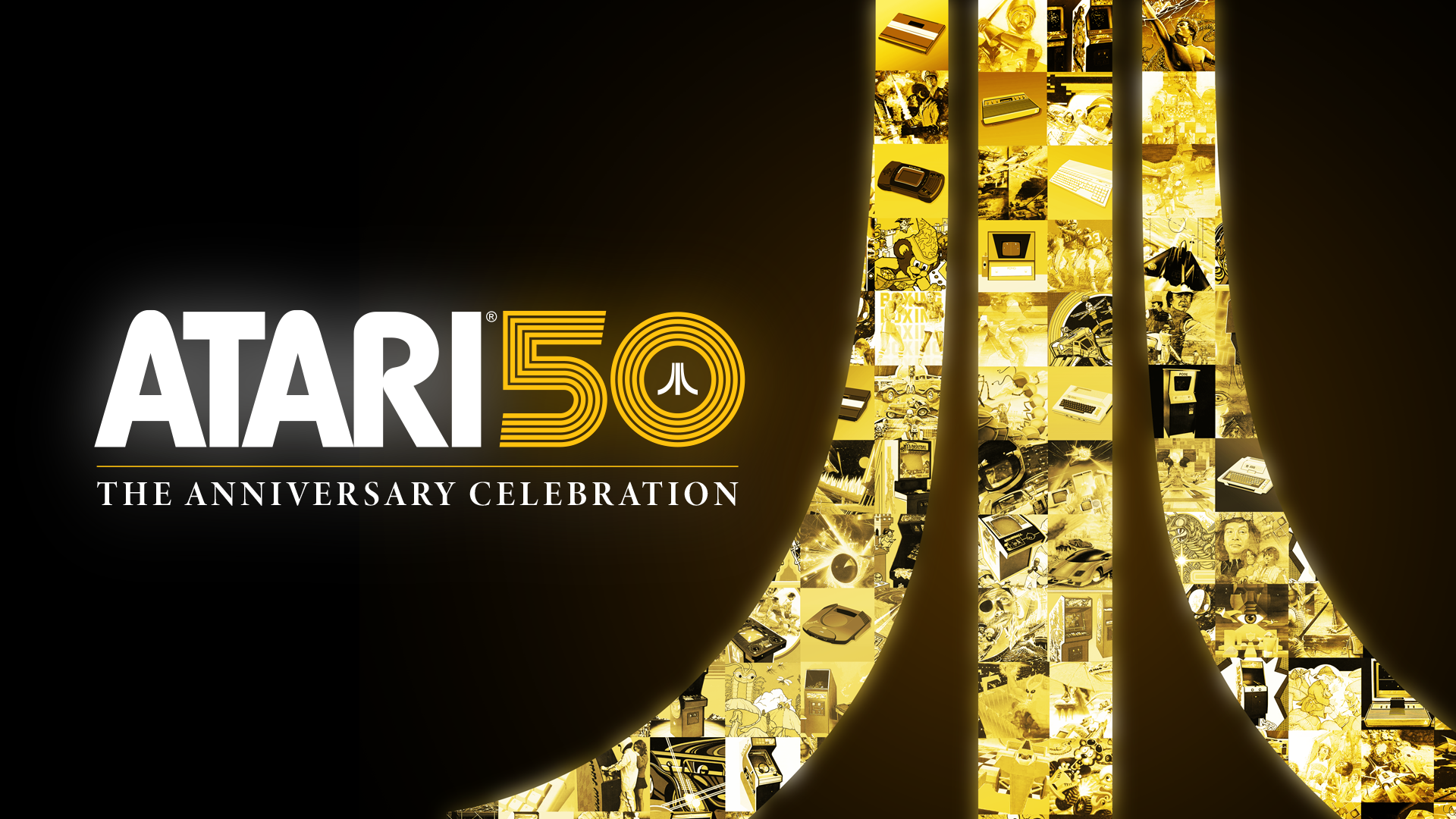 One of my favorite places to visit (in real life) is the American Classic Arcade Museum. It's fitting, then, that Atari has chosen the virtual museum format for Atari 50: The Anniversary Celebration. This compilation showcases more than 90 playable games from Atari's 50-year-long history in gaming: from the iconic 2600, through arcade releases, and even later hardware like the ill-fated Jaguar console. While Atari 50 is available across most platforms, I experienced it on PC via Steam.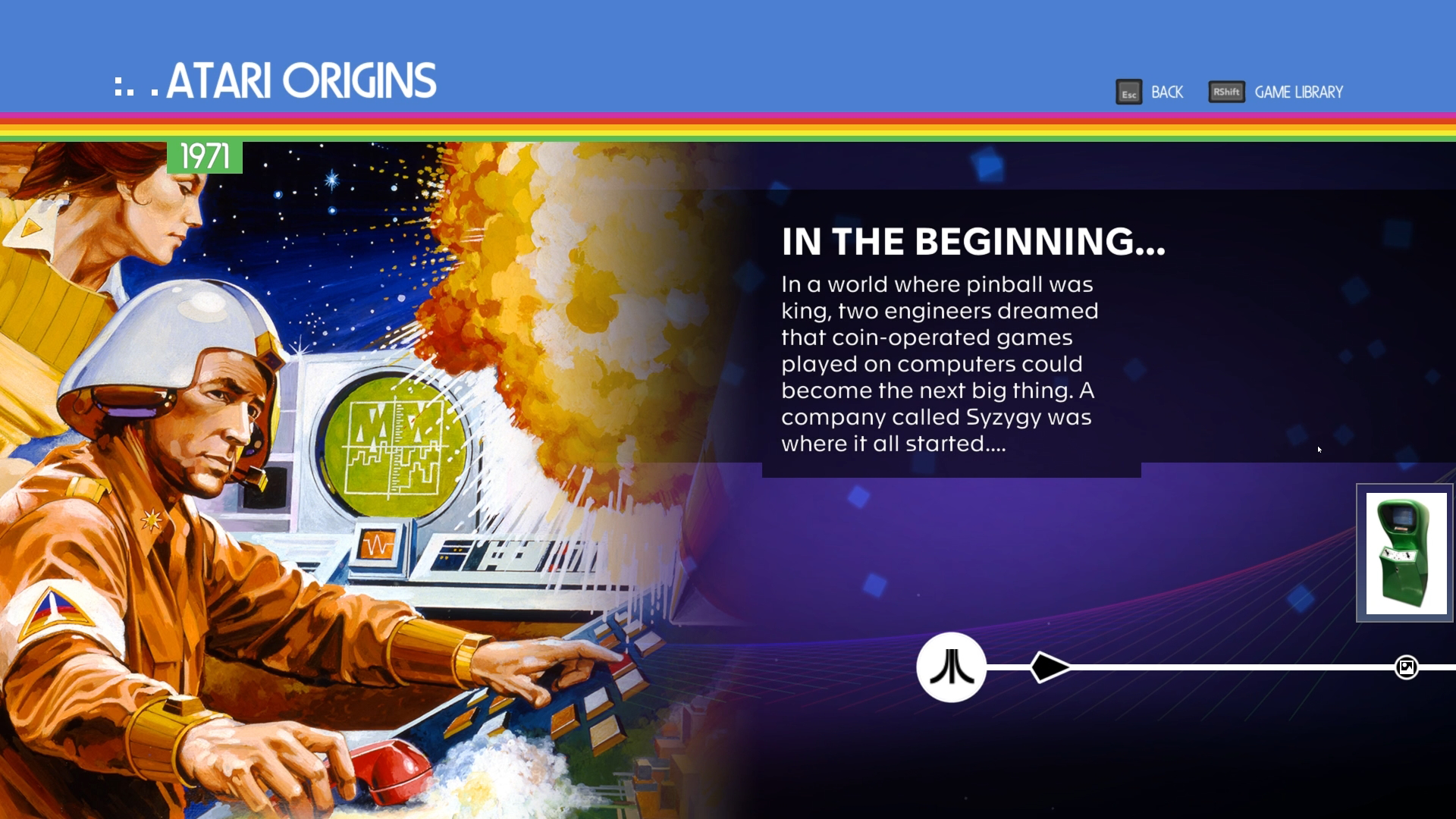 Developer Digital Eclipse has built the experience around a tour of Atari's history, one that aims to be the definitive showcase of the company's work. You'll follow a timeline with playable games, memorabilia, print advertising, video interviews with many of the major creative minds behind Atari (like its co-founder Nolan Bushnell - who also happens to be the creator of Pong), and examples of how it impacted writers like Ernest Cline of Ready Player One fame.
Atari 50 felt like a comfortable and engaging experience; this is coming from a person with strong interest in arcade history and the preservation of games and gaming media. This is probably the most comprehensive collection I have played, with the amount of content beyond the actual gameplay really setting it apart from other compilations. This is a fully immersive journey, one that clearly bears the evidence of Digital Eclipse's care and attention to detail.
The only real disappointment for me comes down to licensing. Major Atari titles released by third-parties - like Donkey Kong and Pac-Man - aren't playable here. It's understandable why this might be the case; perhaps it would have been prohibitively expensive, even if it were possible. These games are referenced through interviews with the people responsible for porting them to the Atari 2600 (namely, Garry Kitchen and Tod Frye). Then there are games like Pitfall (the subject of my brother's world record attempt, complete with photos once bound for magazine submission), that really deserve mention but are painfully absent. It would be unfair to blame Digital Eclipse for this, given the many hurdles involved with licensing. Within the context of the games they could showcase, Digital Eclipse have produced arguably the most seamless and well-executed historical gaming collection available. And while what's on offer here are ports of timeless games, some (six, to be exact) have been selected for a modern facelift; they have been designated Atari Reimagined.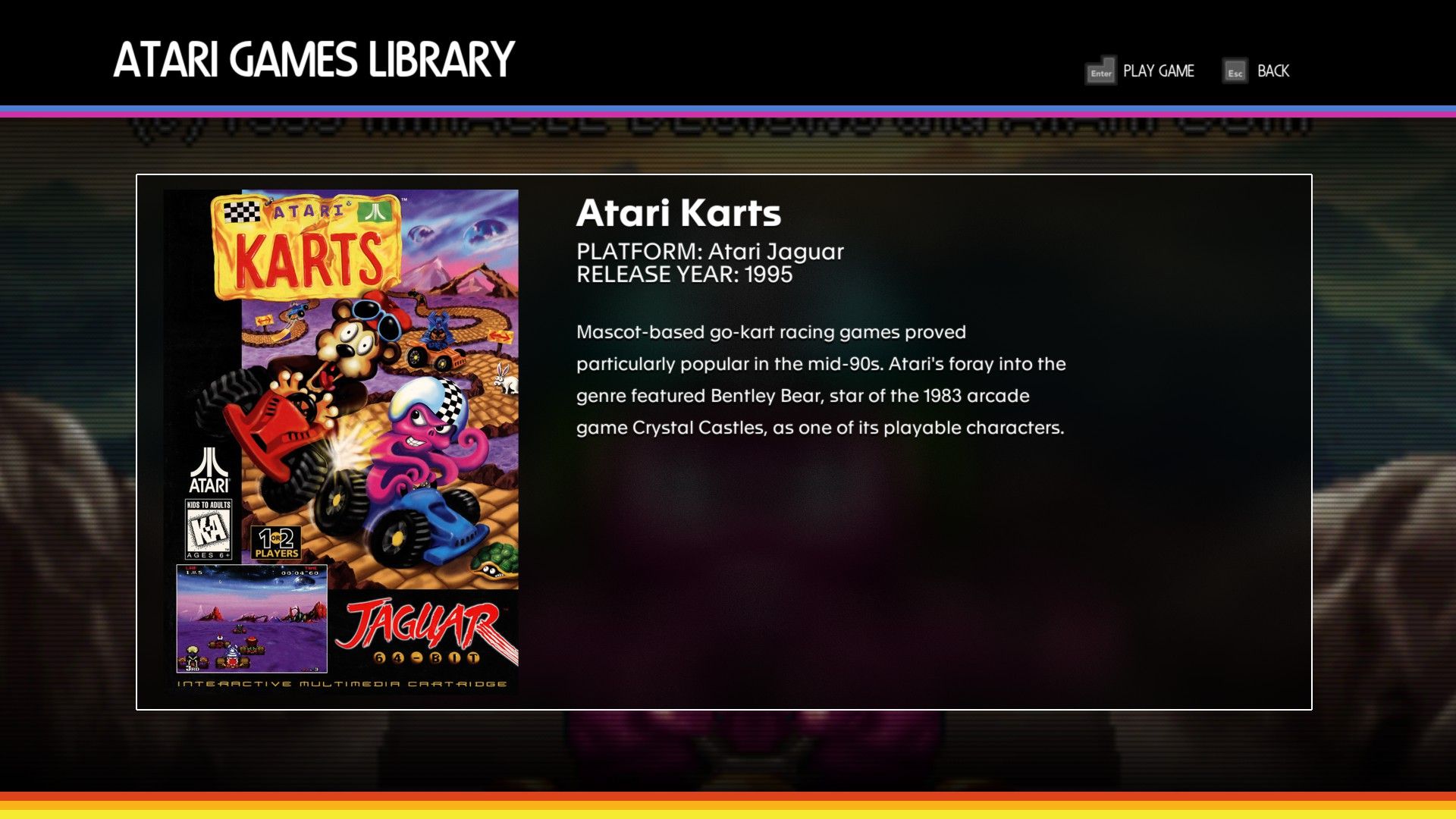 It's not a bad thing that the urge to remaster everything here has been largely resisted. Take a game like Atari Karts, an obvious Mario Kart rip-off that was released in December 1995 for the Jaguar. It's a shoddy, clunky experience. But what's important here is that Atari and Digital Eclipse didn't try to hide this fact; you get to experience a game in a context where its creators were fighting to stay relevant during the time of the Super Nintendo Entertainment System and Sega Mega Drive/Genesis. Even better, truly honest opinions and even criticism of the company by the developers aren't being censored here. As you experience this collection, you might gain some new perspective on the struggles and various considerations Atari was balancing at a time of massive change in the industry. We learn, for example, about the difficult questions associated with console cycles (do we soup up existing hardware, or dare to take the plunge with an entirely new machine?)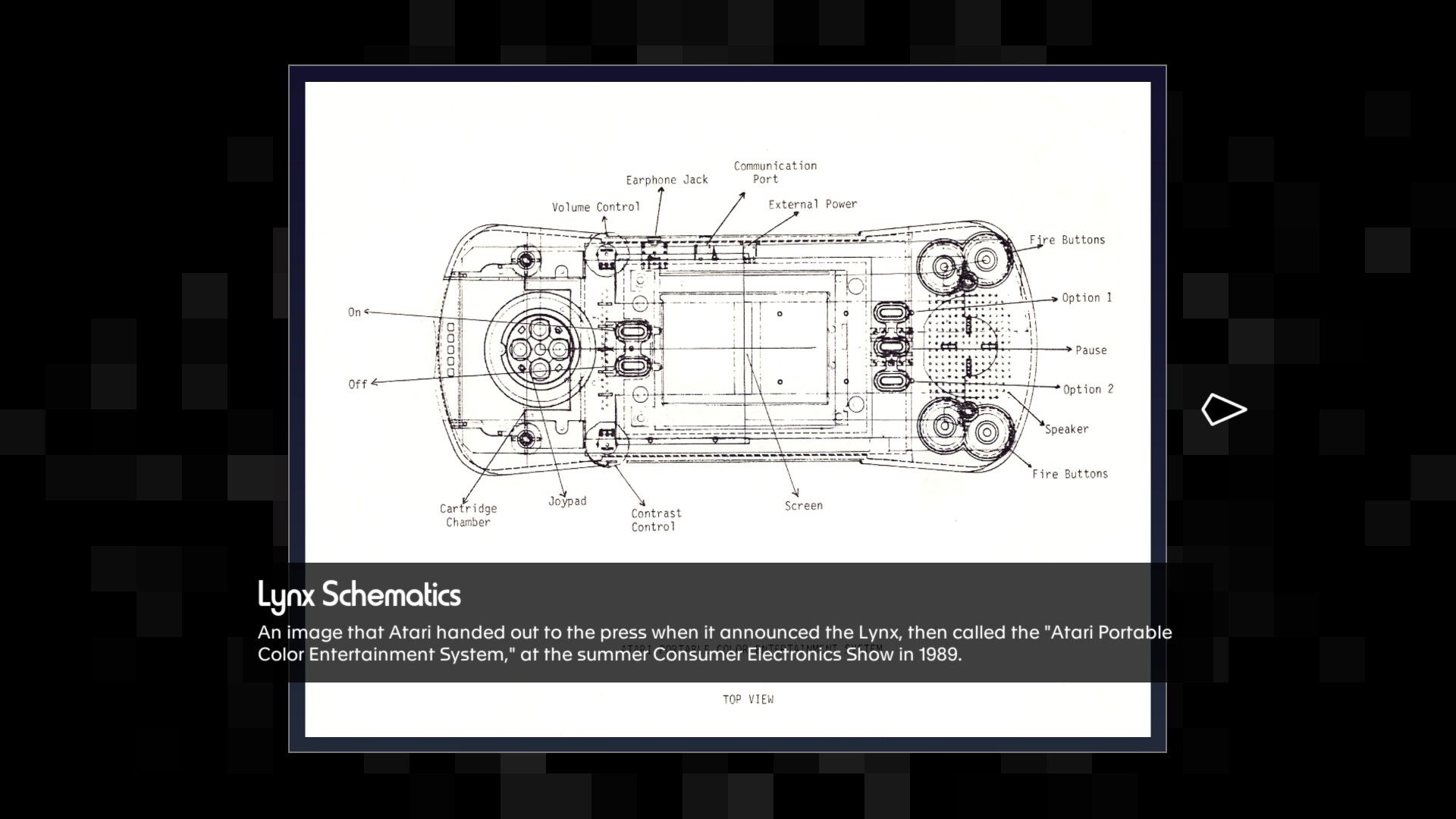 Atari faced major competition through the '80s and '90s, especially as new competitors began to eat away at their market share (particularly companies like Nintendo, Sega, and Intellivision). It's sometimes forgotten, too, that Atari weren't just an arcade and console maker: they also entered the primitive world of gaming PCs with the Atari 400 and 800 machines. But of course, there was no safe space for expansion, as entering the PC gaming market also meant going up against companies like Apple, IBM, and the various European and Japanese computer manufacturers. Atari even tried their hand at the then-novel handheld gaming market with the highly technically impressive Lynx, a console that featured a vivid color LCD screen. In fact, the Lynx seems to be one of the most sadly missed consoles from the perspective of Atari developers. Many of these systems have been lost to time, so it's great to see them given their due alongside more ubiquitous platforms like the 2600.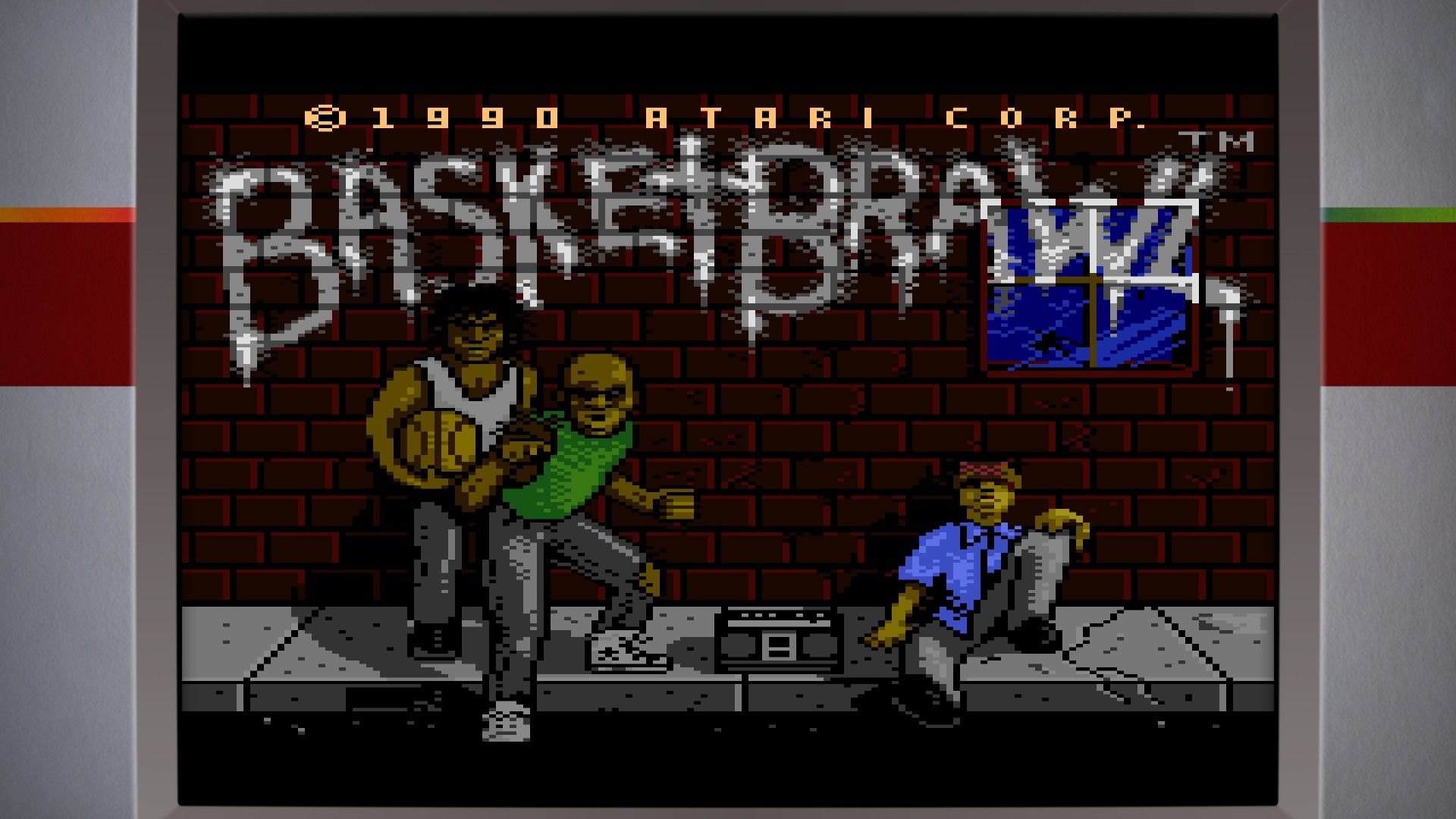 Speaking of the Lynx, I don't own one myself, but one of the more bizarre games I played in this collection was BasketBrawl, a side-scrolling beat 'em up and basketball game. No, it doesn't play well, but it's a funny and innovative concept and I got to experience it thanks to Atari 50. If you're a retro gaming fan - especially if you have an interest in games preservation, and you don't mind playing the odd clunker - this is absolutely a worthwhile collection for your library.
So, where does the Atari journey end? Optimistically, it turns out, with a focus on what the company is doing today and its plans for the future. I was excited to see the topic of homebrewing as one of the final videos; it indicates the company still has a sense of what gamers are into, and they're embracing it. I don't think many of the current console manufacturers would openly praise the innovation displayed by today's hobbyists, but Atari seems to get it, and that sets them apart.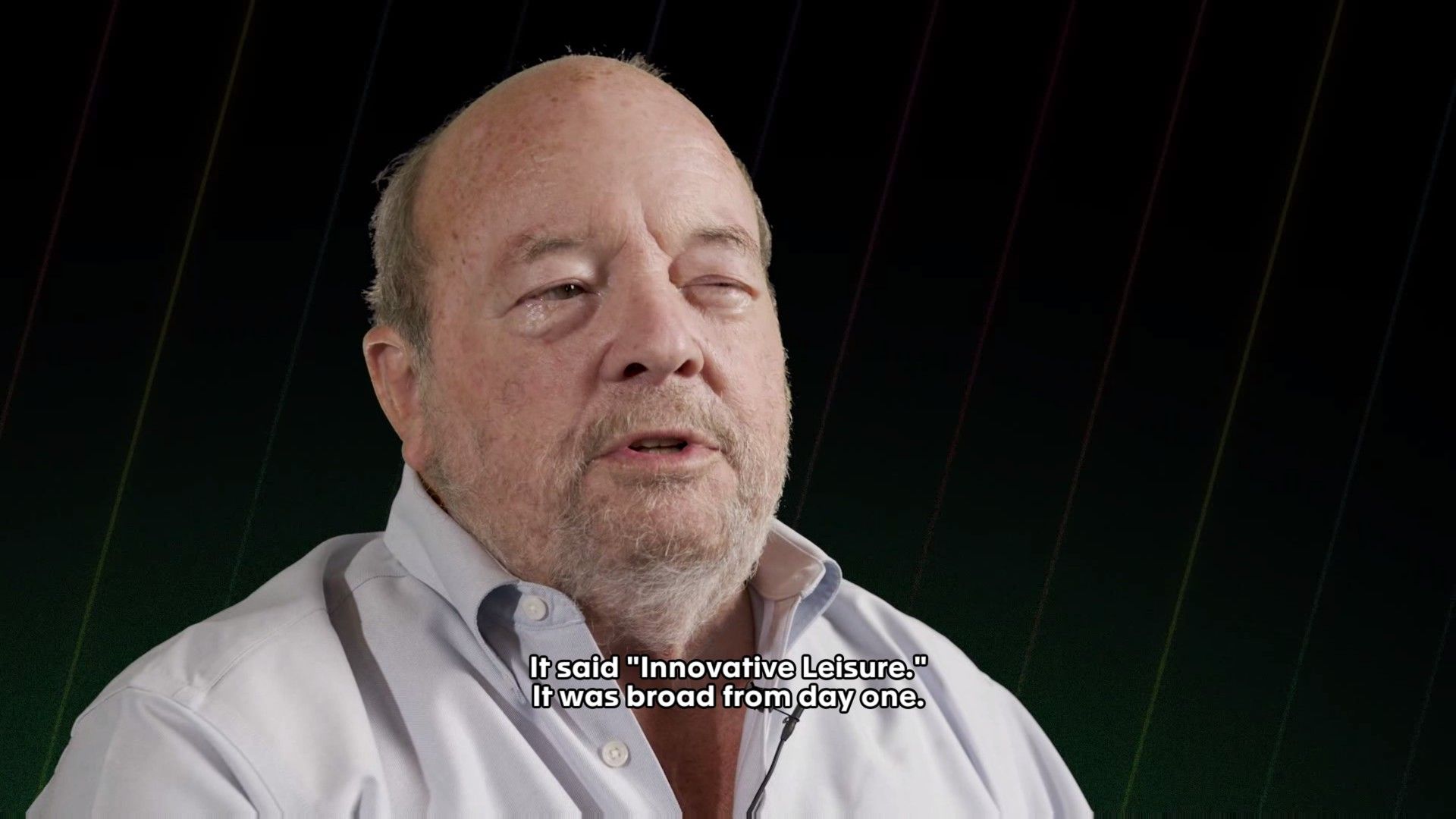 Comments
Sign in or become a SUPERJUMP member to join the conversation.