Boredom by Design: The Friends of Ringo Ishikawa
Do games need to be "fun" to be good?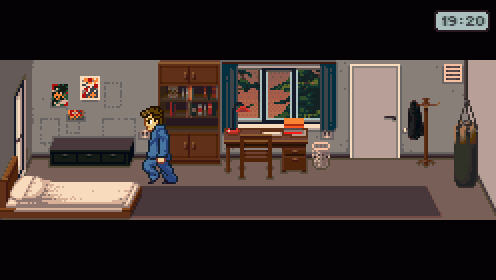 The gameplay in The Friends of Ringo Ishikawa is rote; even in its short playtime you'll feel you've exhausted all it has to offer. This, miraculously, works in the games favor.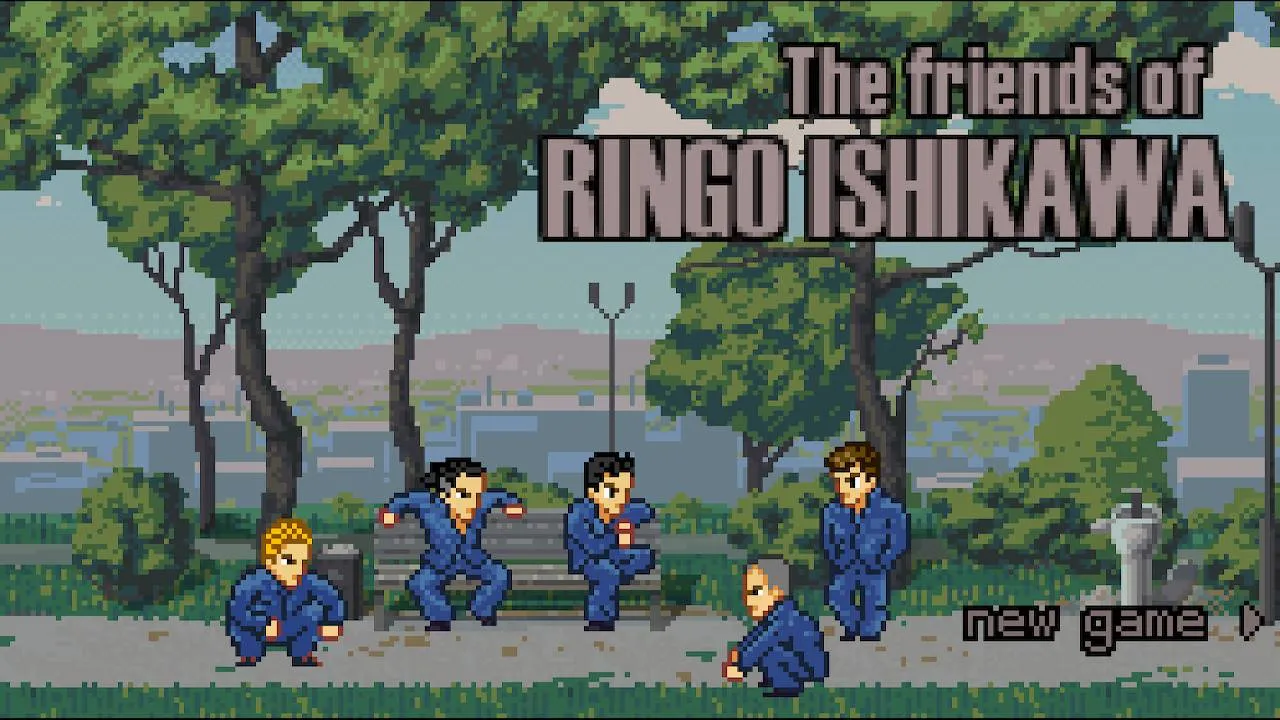 Both the narrative and the gameplay loop in this 2018 indie are indicative of the ennui and hopelessness felt by its protagonist, Ringo. Ringo is the pompadour'd leader of his school's gang, a youth with a rough exterior glazing through his last year of high school. One of the first, and few, things the game explains is how to enter 'delinquent mode', during which Ringo shoves his hands in his pockets and shrugs his shoulders, walking more slowly than normal. This mode not only increases the uncaring coolness of its protagonist, but works as a mechanic that shows other gangs that you are up for a brawl. Much of the game relies on ambiance-centric design choices such as this, prioritizing style and setting a mood at every turn.
Other than getting in the occasional scrap, much of the game is spent on trivial tasks meant to either raise your grades or score some extra cash. Such activities include going to school, reading novels, working a part-time job, and shooting pool. You can save up your hard earned cash to buy items such as cigarettes, food, a television, or a gold-chain that doesn't seem to have any cosmetic or practical use. All of the activities are enjoyable in-and-of-themselves, especially due to the impeccable lo-fi soundtrack, but quickly blend together into a sense of unchanging tedium.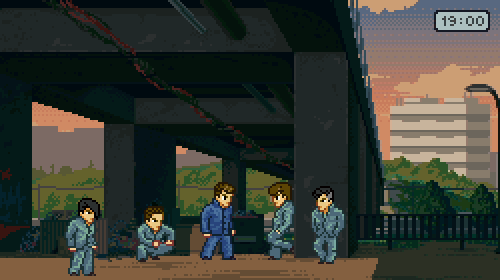 The Moscow-based developer, Yeo, took great pains to make these tasks and the setting work together to create a cohesive, existentialist atmosphere. Despite such a lovingly crafted world, Ringo is consistently unamused by it all. Whether beating up rival gangs or reading classic Russian literature, his uncaring attitude persists. The mentors in Ringo's life, such as his school principal and ex-karate coach, all encourage him to continue his pursuits for the sake of his future. Regardless of the players decision to study chemistry or to train at the boxing gym, the game never lets you capitalize on your talents in any progressional way. In fact, Ringo grows frustrated with his mentors for thinking that the only thing that matters is progress and believes that life should have intrinsic value separate from success. While he makes a good point, as a player it can feel like your hard work trying to help Ringo never really pays off. Nevertheless, in his casual apathy, Ringo continues letting opportunity pass him by.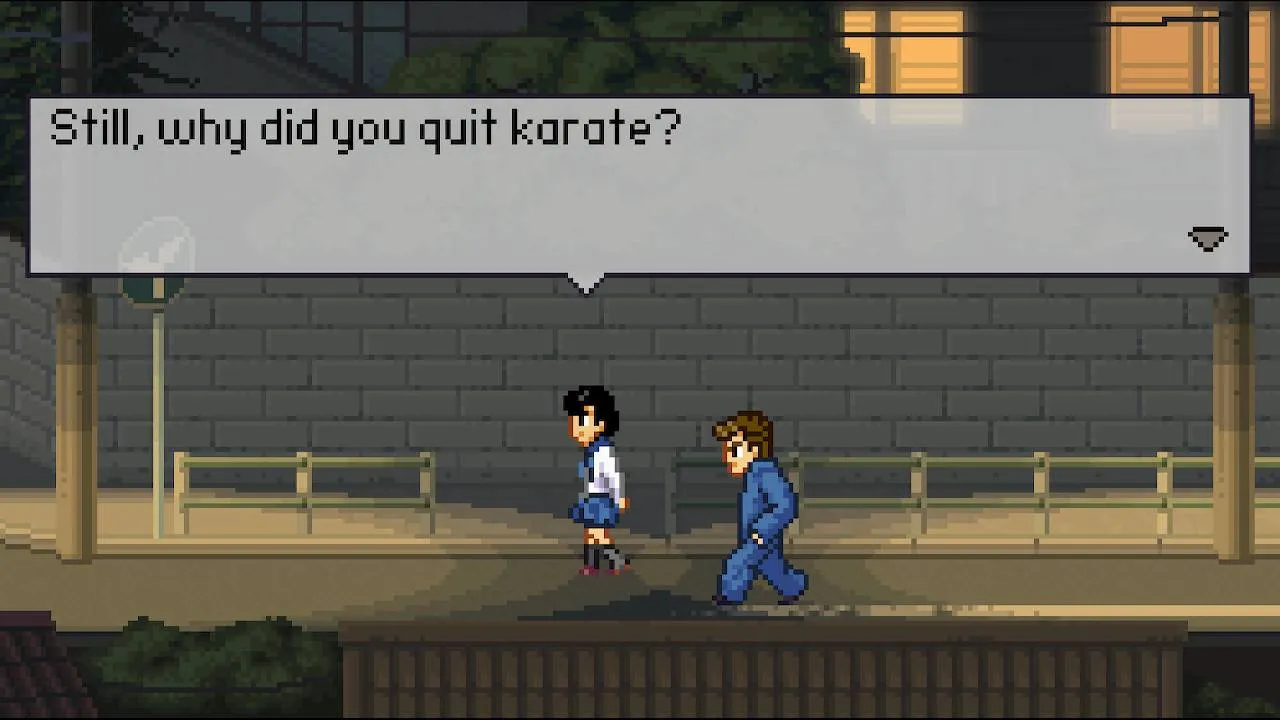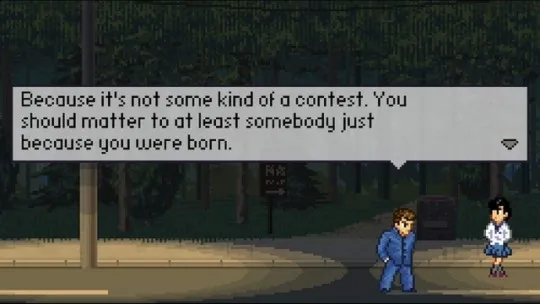 The gameplay loop's tedium of going to class, training, or getting into brawls mirrors Ringo's attitude, with the daily tasks presented to the player slowly becoming repetitive and stale. As such, the player adopts a Ringo-like mentality of simply going through the motions while waiting for some sense of purpose to sweep them away. The thing is, it never does.
In the mere six hours that it took me to finish the game I had learned every move from the boxing gym, finished every book from the library, watched every film from the video store, yet had almost nothing to show for it. I achieved A's on each weekly exam, yet my academic career was still a dead end. In the last few in-game days presented, I found myself wondering what the point of running from location to location, grinding for cash and a shot at a scholarship even was if I didn't obtain any tangible success. Of course, I wasn't the only one feeling this way — so was Ringo. One by one our friends had all abandoned us to their various hobbies and vices, leaving us alone to light up another cigarette as we tossed rocks into the lake.
---
When I first started playing, my partner asked me if the game was "fun". I couldn't necessarily say that it was, at least not in the traditional, gamelike sense, but that didn't mean that I wasn't enjoying it. The best films aren't typically ones that aim to please and entertain you at every turn, but rather those that are adhere to their own aims, whether they be dour or thrilling, faithfully. While some have criticized The Friends of Ringo Ishikawa for its lack of content, I believe that the monontiny if its gameplay only increases the impact of its narrative. Perhaps developer Yeo wanted us to exhaust the small town presented to us and for the novelty of discovery to wear thin, just as it has for Ringo at the tail-end of his youth.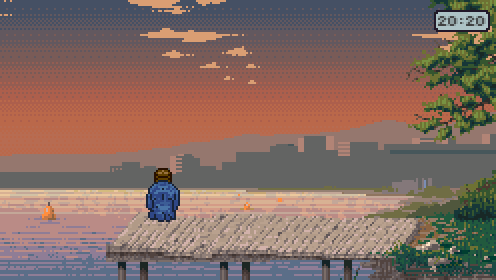 Comments
Sign in or become a SUPERJUMP member to join the conversation.