Bringing The Sims 4 to Life One Brush Stroke at a Time
Exploring the artistic journey of Maxis' Concept Artist Nina Modaffari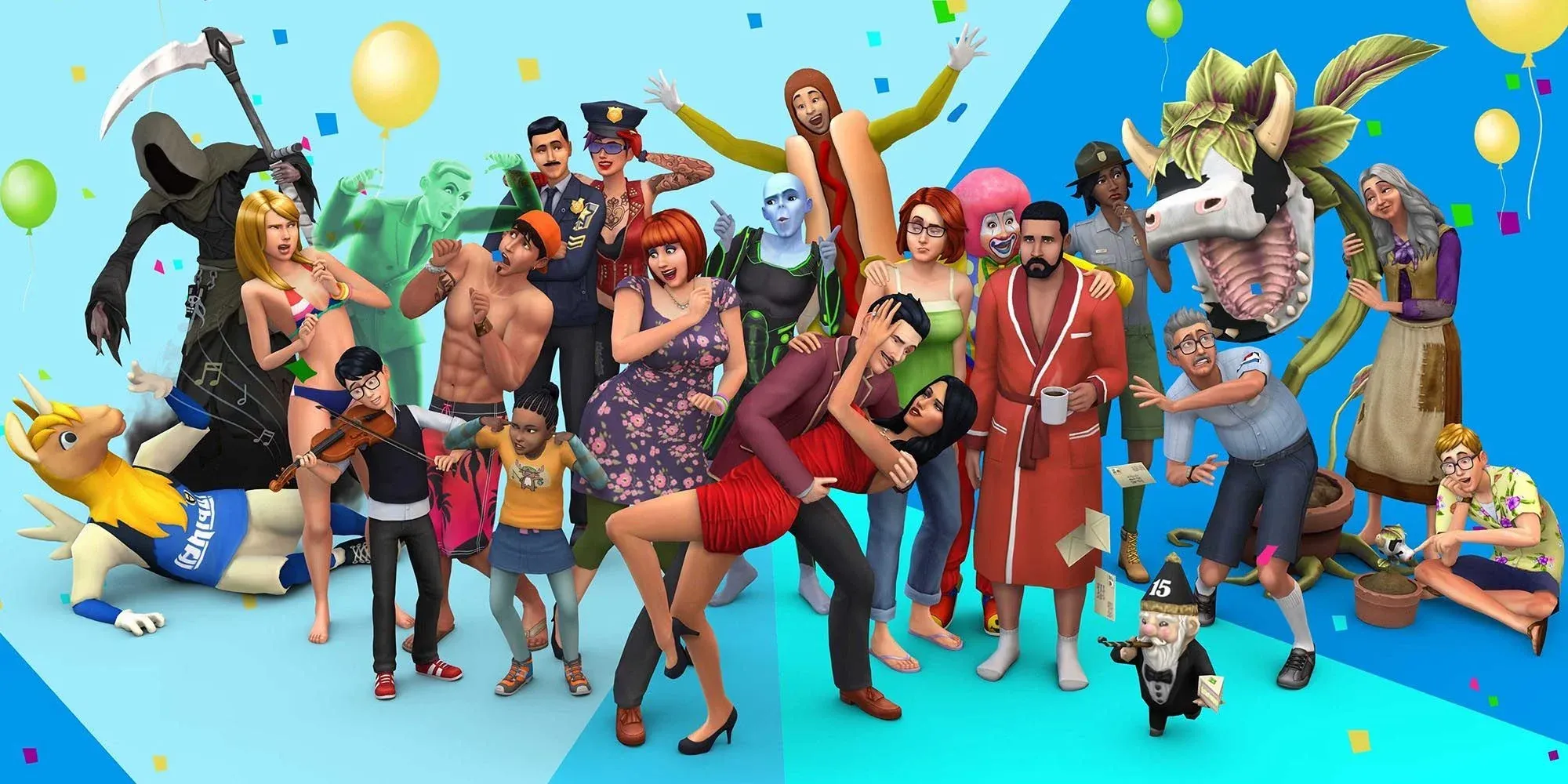 I still remember sitting behind the family computer in the early 2000s and popping in my scratched CD of The Sims. That quiet joy in losing yourself in different stories and characters has left me with pleasant childhood memories. Even now I can hear the piano chords when you switch to Building Mode. In this world, I could infinitely create (thanks to the Motherlode cheat), embrace my inner interior designer, and remove all the ladders from the pool!
The Sims grew and expanded throughout the years, promising people of all ages the chance to be creative and interact with the community they helped put together. Each time I load up the game, it feels like I'm returning home.
I'm that ten-year-old sitting behind that archaic computer once more, where my only worry is matching the wallpaper with the furniture and fretting over that sour conversation that took place with another Sim. The Sims franchise holds a special place in the memories of so many.
During the pandemic, I returned to it for comfort and a chance to breathe. I felt absolutely spoiled with all that Sims 4 provides: fresh adventures, new building materials, items, characters, incredible music, pets, and a variety of breathtaking locations to pick from. Before you know it, hours have passed by and whatever worry I had is long gone. That's the magic behind The Sims. That magic is only possible thanks to the creative minds, developers, and artists behind it.
One artist that helped bring Sims 4 and its expansions to life is Nina Modaffari, a Maxis concept artist. She shares her journey as a concept artist in the gaming industry and her work behind Sims 4, her designs bringing brightness in this troubling year.
SUPERJUMP: Most of us were kids and teenagers when The Sims game came out in 2000. For me, I have a lot of fond memories of growing up with the game and getting lost in that freedom of being able to create. What was your first experience with The Sims?
Nina: My first experience with The Sims was playing the original SimCity on my old family computer. Eventually, I finally convinced my parents to let me get The Sims, and after that, it sealed my love for the franchise. Like all kids, I spent a solid amount of time in the original game placing rugs too close to fireplaces or creating endless labyrinths the likes of which the Sims would never escape.
I think it was the expansion 'Makin' Magic' that got me interested in the game's art. I remember seeing nothing else like it and being so impressed by the creativity of it all. I had so many ideas for what I would add to the game myself back then and it's really funny to look back and be like — 'well I'm here!'
SUPERJUMP: Now you're part of that Sims' magic! What is your role in the development of Sims 4?
Nina: I am a concept artist! My job is to help bring ideas to life. I do anything from Create-a-Sim (CAS) outfits, objects, hair, environments, and sometimes even concepting out VFX.
SUPERJUMP: How would you describe your art style? Is there a specific artist or style of art that inspires you?
Nina: My style is very stylized, sometimes leaning towards 'cartoony'. I love pushing shape language and creating memorable silhouettes with my characters. I prefer bright and colorful pieces and a good dose of rimlight for fun. The Sims really vibed with my style because the design is focused on readability and pushing certain aspects from realistic to stylized to create iconic designs.
Some of my favorite artists are Cory Loftis, Claire Hummel, Paul Richards and Alexandria Neonakis, but there are so many more it'd be impossible to name them all.
SUPERJUMP: Are there any specific expansion packs or features that you absolutely adore in Sims 4?
Nina: I'm a bit biased and have to say Eco Lifestyle is one of my favorites! I was so lucky to be the Create-a-Sim concept lead for that pack, so I got to work on the pack from the beginning to the very end. The theme of the pack is living one with nature and helping rebuild this neighborhood, and the outfits were a lot of upcycled stuff mixed in with some urban Japanese fashion and a healthy dose of 'hiker chic'. I'd never worked on something so unique before, and I really think that it came out amazing.
SUPERJUMP: So what's a typical day on the job as a concept artist at Maxis like?
Nina: I usually start off the day with a morning meeting to talk with my art lead and other artists on the same pack and check-in for what we will do that day. We also take this time to get feedback from the art director or work together to solve difficult design questions.
The rest of the day is usually dedicated to drawing, occasionally taking breaks to stretch (which is very important for artists) until our 'dailies' meeting, where all the concept team shows what they're doing for the day. It's making sure everyone is on the right track and also to see what great work everyone else is doing. I usually wrap up the day around 7 pm and get ready for dinner — it's hungry work!
SUPERJUMP: As one of The Sims 4 concept artists, what is your most important artist tool?
Nina: I'd say the ability to always want to learn more is the most important tool you can have. Going in with an open mind and realizing that you do not, in fact, know everything, and be willing to take feedback from your fellow artists is vital. On The Sims, we work with a wide array of diverse cultures, and it is important to reach out and ask other people for help if you're not getting something. Knowing that there's always more for you to learn is a lesson that I learned quickly — and I'm honestly glad I did.
SUPERJUMP: Were you always interested in being an artist in the game industry?
Nina: Absolutely. From the time I first played video games, I remember wanting to be a part of the industry. My parents had asked me if I wanted to do concept art for movies or cartoons, but I was determined to do artwork for games. I think it's because of the interactivity of the medium. It's really awesome to see people creating characters with assets that I designed.
SUPERJUMP: I've been excitedly watching you and your art grow over these past years! Could you share with everyone your journey in the concept art field?
Nina: I started out by playing games, like many others! I remember distinctly getting art books and flipping through the pages, and it just clicked with me. I went, yep, that's what I want to do, I want to create cool monsters and characters that people will recognize and love.
I went to Laguna College of Art and Design and graduated with a Bachelors in Game Art. After that, I got an internship at Disney Interactive for almost a year and got to work on some really amazing projects — it was basically my foot in the door in the industry and my first taste for what production art is really like. After my internship ended, things got tricky.
The concept art field is highly competitive and sometimes it felt like there weren't many opportunities. I ended up spending two years doing contract art for companies like Bandai Namco, Hi-Rez Studios, and more. I worked at a small indie development studio for about a year before finally applying for The Sims 4 team and getting an interview! I was so excited and the day I got a call back with the offer, I screamed for joy. It was the second-best day of my life — after my wedding!
SUPERJUMP: In terms of artistic design, which games or projects (that you've either played and/or worked on) have left a memorable impression on you?
Nina: I think I've learned something from every game I worked on, but also every game I've played. Obviously, The Sims, for one, opened up my mind to wanting to design outfits and unique architecture, but also the freedom to create and never stop creating had a huge effect on me as an artist. I think a game that had a huge impression on me was Dishonored, because of the amazing character and environmental design. Everything in that game looked like an oil painting, and the creative decisions were absolutely fantastic.
SUPERJUMP: Is there a specific type of design that you enjoy doing the most? Character design? Prop? Environments?
Nina: I'd definitely say designing outfits is one of my favorite things to do! I love being able to render different materials (silk vs satin, leather vs chiffon) and also adding small details like seams or buttons to bring the entire piece together. Creating the color variations can be challenging and fun as well because you're trying to stick to the color palette of the pack's theme but also create a variety of designs that look different enough while still being cohesive.
SUPERJUMP: When you're not drawing, what do you enjoy doing in your pastime?
Nina: My off-hours are usually spent with my wife and two cats! I love playing video games, baking, and embroidery. I also have a really large collection of plants that I like to tend to on my weekends, rearranging and taking care of them. I also really enjoy tabletop roleplay games because it's a way for me to express my creativity without actually having to draw.
SUPERJUMP: What advice would you give to aspiring artists who want to enter the concept art field?
Nina: Have confidence in yourself. Seriously, it can be daunting entering this field, but if you have the spark in your heart to create and be a part of something, don't let rejection get you down. I still have over two-hundred rejection emails in my inbox that are reminders of where I came from and how hard I worked to get here. Sometimes all it takes is one email to the right person at the right time to get a response back.
Success isn't linear, and sometimes there will be bumps along the road. As long as you get back up and start again, you will achieve any goal you set your mind to!
SUPERJUMP: Thank you, Nina, for sharing your journey! Your work in The Sims 4 has brought incredible joy to the lives of many. A special thank you to EA and the Maxis Studio for sharing The Sims magic with us today. Can't wait to see what comes next!
Comments
Sign in or become a SUPERJUMP member to join the conversation.