Where is Xur Today? (July 15-19) Destiny 2: Location and Powerful Items
This week Xur brings with him an excellent Exotic helmet to prepare for Arc 3.0, among other powerful items.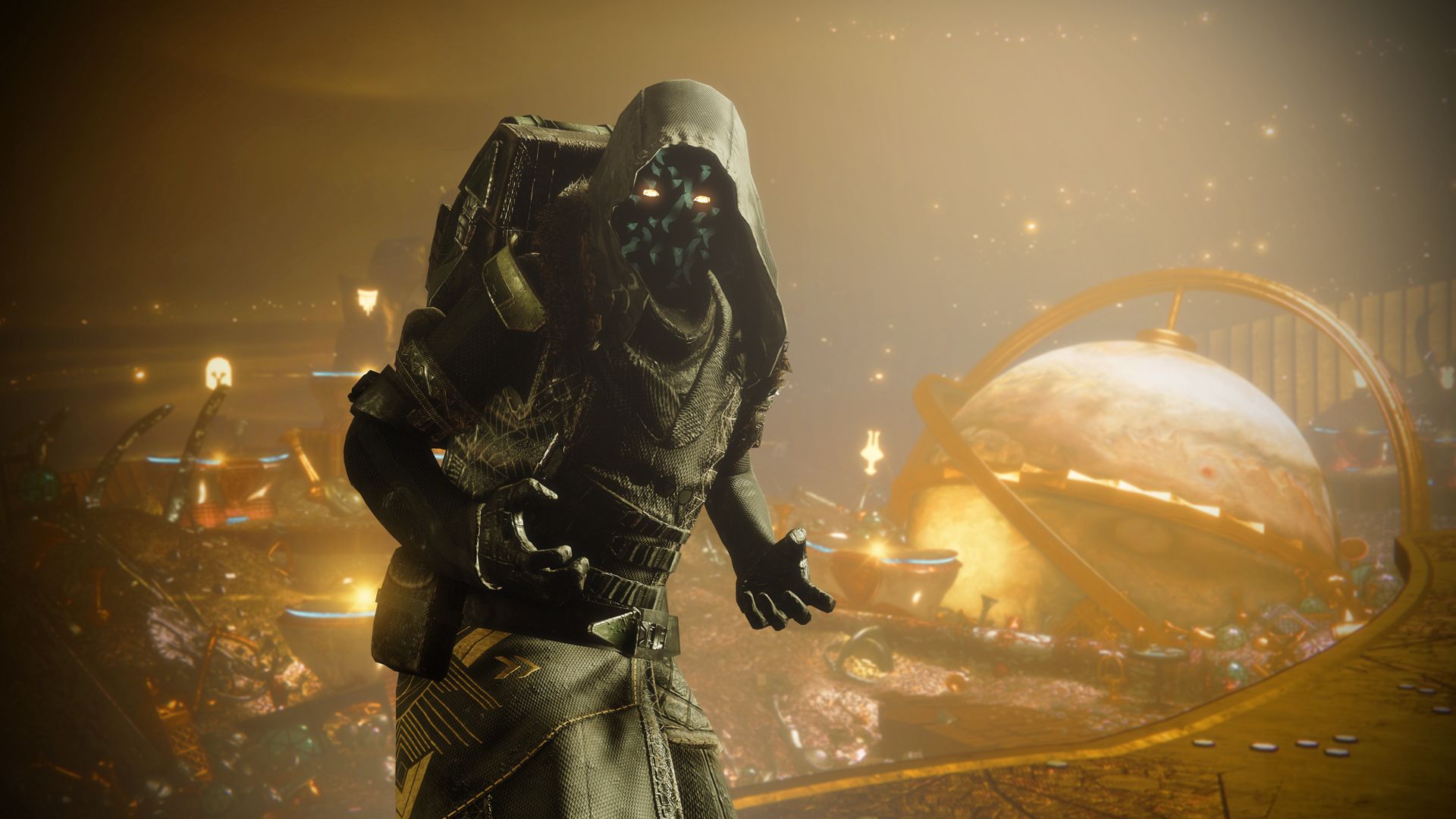 Xûr, Destiny 2's mysterious weekly item vendor, has returned once again with powerful wares from the Nine. Each weekend Xûr brings an array of Exotic weapons, armour, and Legendary gear to an undisclosed location in the solar system. With Iron Banner taking place this week and the Solstice event set to begin next week, there may be some valuable items you want to pick up. For Warlocks, in particular, Xûr has generously stocked a god-roll item for when the Arc 3.0 update rolls out next Season.
Here's where to find Xûr and what he has to sell for July 15-19.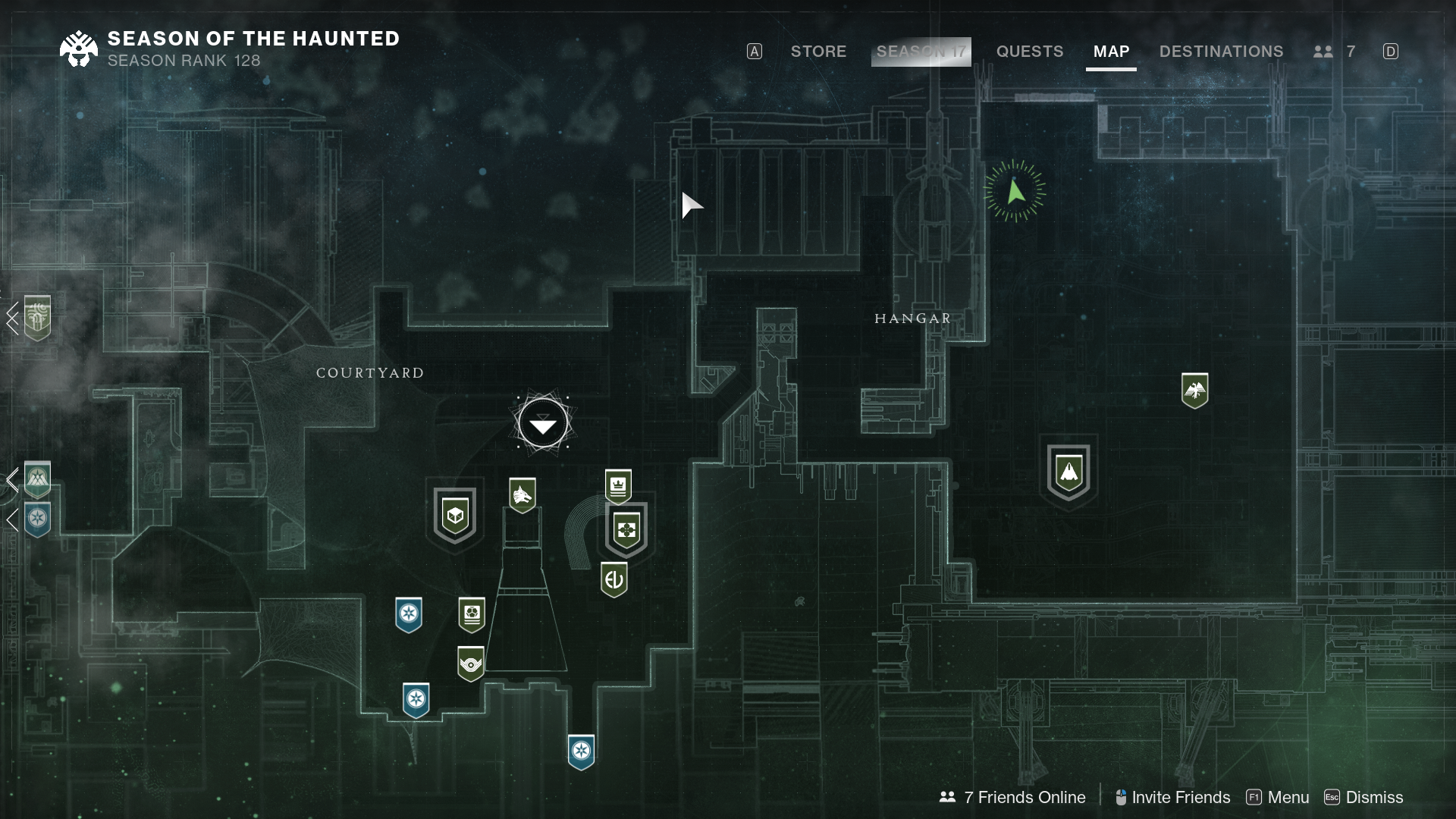 Where is Xûr Today?
This weekend, Xûr is located in The Tower, in the large Hangar area.
To find Xûr, first travel to the Courtyard transmat location. Upon spawning in, travel across the small bridge immediately to your left. Follow the path down two flights of stairs until you reach the Hangar. From here, keep to the left, heading north until you see a staircase leading to a metal catwalk where you'll see the mysterious Xûr peddling his wares.
Xûr returns every Friday at daily reset (6pm BST/ 7pm CEST/ 10am PT /1pm ET) and remains until the same time on Monday. His exact location is always a mystery when he first arrives, as he is not listed on the map. However, there are a set number of locations he can be, including the Tower Hangar, the Watcher's Grave on Nessus, and the Winding Cove in the EDZ.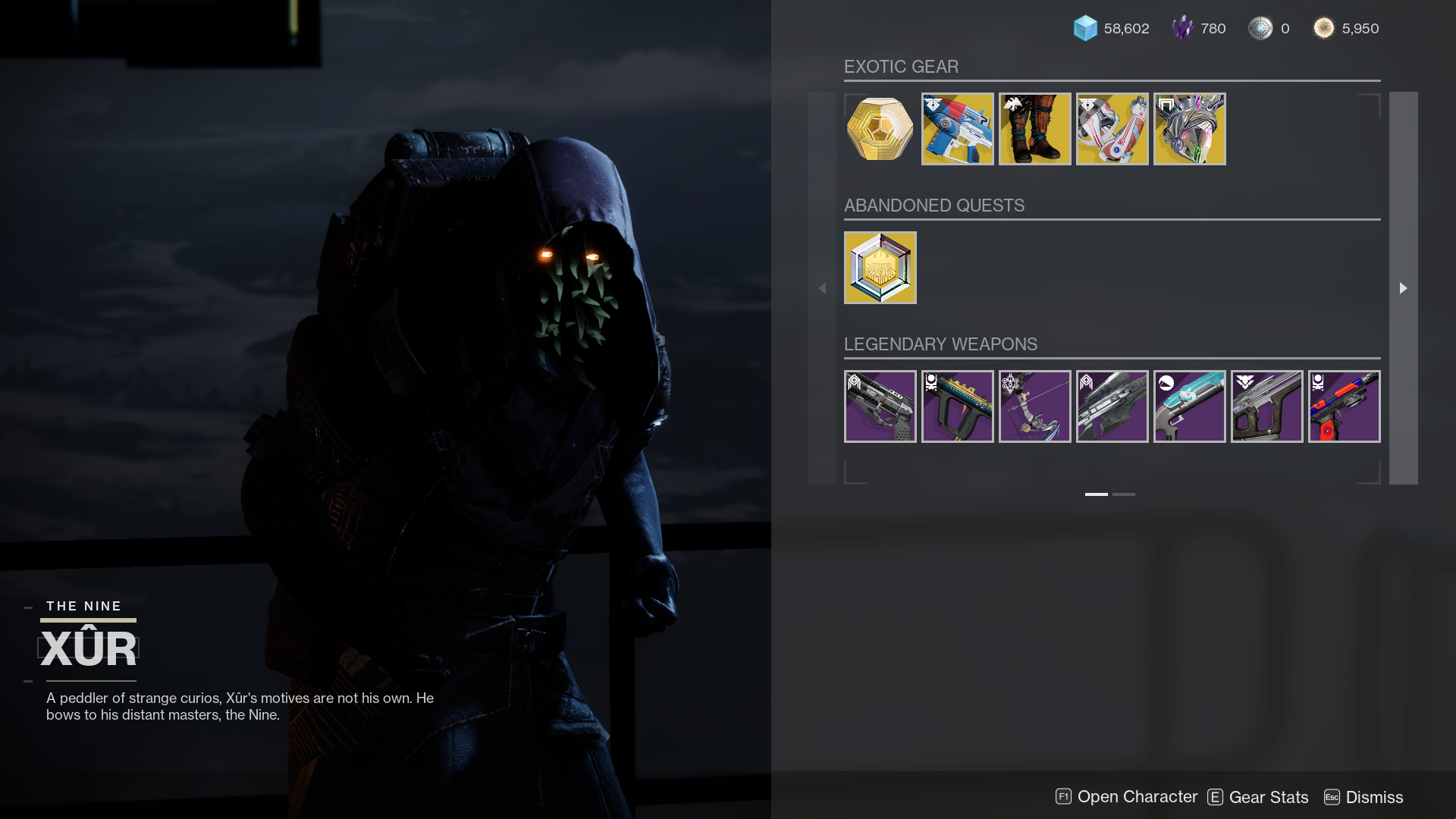 What is Xûr Selling Today?
This week Xûr has brought with him a god-roll Warlock Exotic, especially helpful with Arc 3.0 on the way, and several other high-stat pieces. Here's Xûr's stock:
Exotic Engram (97 Legendary Shards)
SUROS Regime - Exotic Auto Rifle (29 Legendary Shards)
Exotic Perks
SUROS Legacy: The bottom half of each magazine deals bonus damage and has a chance to return health on kill.
Spinning Up: Holding down the trigger increases rate of fire/Dual Speed Receiver: When aiming down sights, weapon rate of fire slows while weapon damage increases.
The Bombardiers - Exotic Hunter Leg Armour (23 Legendary Shards)
Exotic Perk
Parting Gift: Dodging leaves behind an explosive that detonates after a short delay, damaging targets around it and creating a secondary effect based on your subclass energy type.
17 Mobility
12 Resilience
2 Recovery
2 Discipline
23 Intellect
7 Strength
Total: 63
Ashen Wake - Exotic Titan Gauntlets (23 Legendary Shards)
Exotic Perk
Bring the Heat: Fusion Grenades now explode on impact and gain increased throw speed. Final blows with Fusion Grenades grant grenade energy.
10 Mobility
13 Resilience
9 Recovery
19 Discipline
2 Intellect
10 Strength
Total: 63
Crown of Tempests - Exotic Warlock Helmet (23 Legendary Shards)
Exotic Perk
Conduction Tines: Arc ability kills increase the recharge rate of your Arc abilities and extend the duration of Stormtrance.
3 Mobility
30 Resilience
3 Recovery
16 Discipline
2 Intellect
16 Strength
Total: 70
Hunters and Titans didn't have the best luck this week with fairly low stat rolls on mediocre Exotics. However, both Exotics can be good fun with the new Solar 3.0 subclass reworks for each class.
Luckily, Warlocks have been graced with perhaps the greatest stat roll for Crown of Tempests that you could ask for, coming in at 70 stat points overall, a whopping 30 of which are in Resilience. Do not miss this helmet! With the Arc 3.0 update next Season, Arc is finally getting upgraded to the new system, complete with Aspects and Fragments, and so this Arc-themed Exotic is surely going to be a strong choice.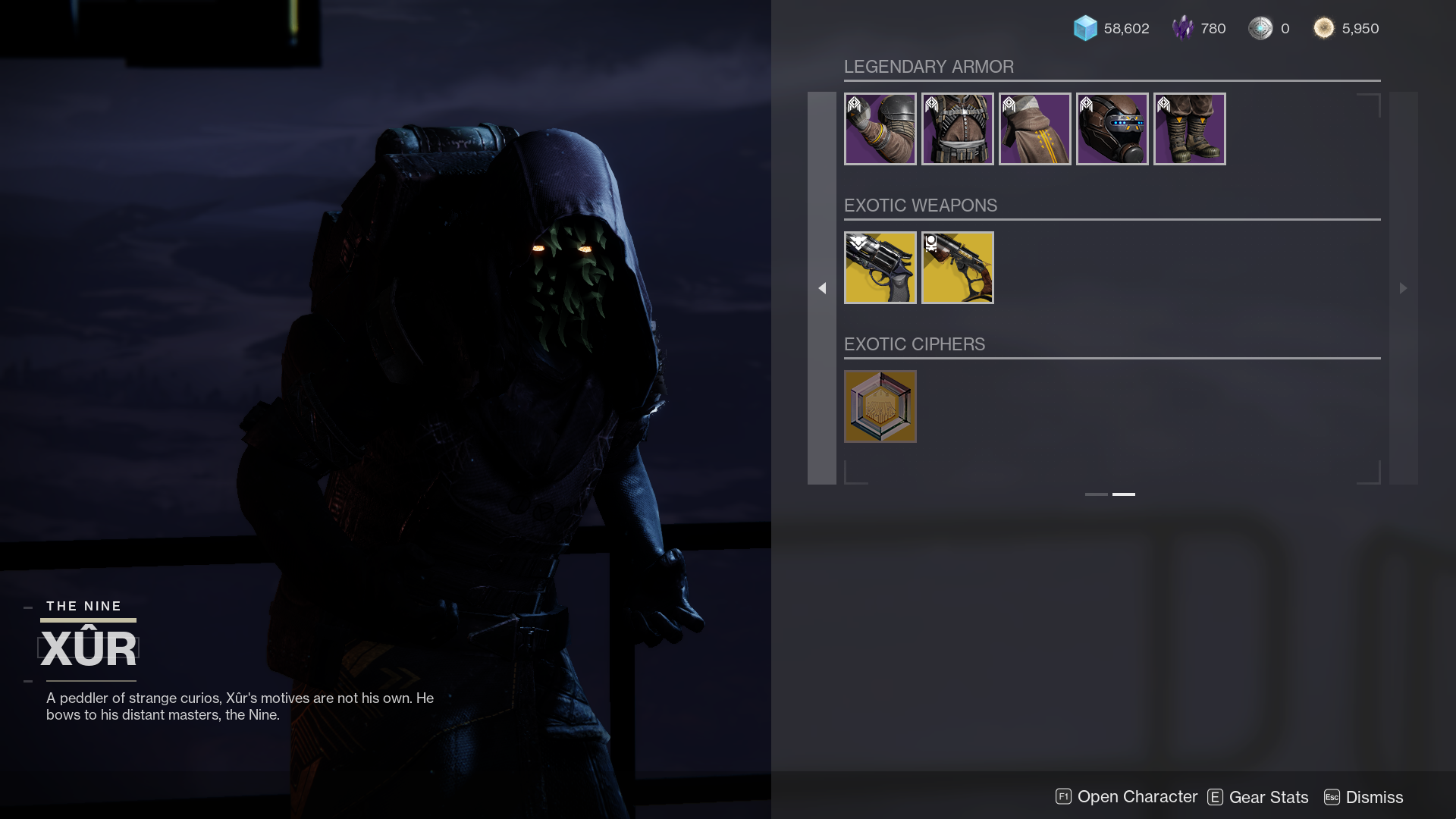 Weekly Hawkmoon and Dead Man's Tale
Since Season of the Risen and The Witch Queen, Xûr has also stocked a random roll of both Hawkmoon and Dead Man's Tale, two powerful Exotic weapons that were previously available through seasonal content and a challenging Exotic quest respectively.
Hawkmoon - Exotic Hand Cannon, Kinetic (125,000 Glimmer, 200 Legendary Shards, Exotic Cipher, Ascendant Shard)
Exotic Perk
Paracausal Shot: Final blows and precision hits with Hawkmoon grant stacks of Paracausal Charge. The final round in the magazine deals bonus damage based on the number of stacks. Stowing Hawkmoon on the final round removes this bonus.
Extended Barrel
Alloy Magazine
Rangefinder
Heavy Grip
Dead Man's Tale - Exotic Scout Rifle, Kinetic (125,000 Glimmer, 200 Legendary Shards, Exotic Cipher, Ascendant Shard)
Exotic Perk
Cranial Spike: Chaining precision hits grants bonus damage and quickens reload speed.
Corkscrew Rifling
Accurized Rounds
Moving Target
Composite Stock
While Hawkmoon has low handling, the perk combination of Heavy Grip and Rangefinder is definitely worth picking up for a PvP roll.
Legendary Inventory
Since Season of the Lost, Xûr also sells a collection of old armour and weapons that are typically from prior seasons and therefore can be hard to obtain. If you want to add to your gear collection or acquire an old armour set to add it to your transmog collection, then definitely check these out. Each item here costs 1,000 Glimmer and 50 Legendary Shards each:
Seventh Seraph Officer Revolver - Kinetic sidearm
Extraordinary Rendition - Kinetic submachine gun
Wolftone Draw - Arc bow
Distant Tumulus - Solar sniper rifle
First In, Last Out - Arc shotgun
Corsair's Wrath - Solar linear fusion rifle
The Keening - Arc sidearm
Seventh Seraph armour set
As for gear rolls, Titans have a good roll on Seventh Seraph chest armour with high Recovery and Strength while maintaining an average Resilience stat. Hunters have high 65 stat roll Seventh Seraph gauntlets, although the stat distribution is fairly weak with very low Resilience.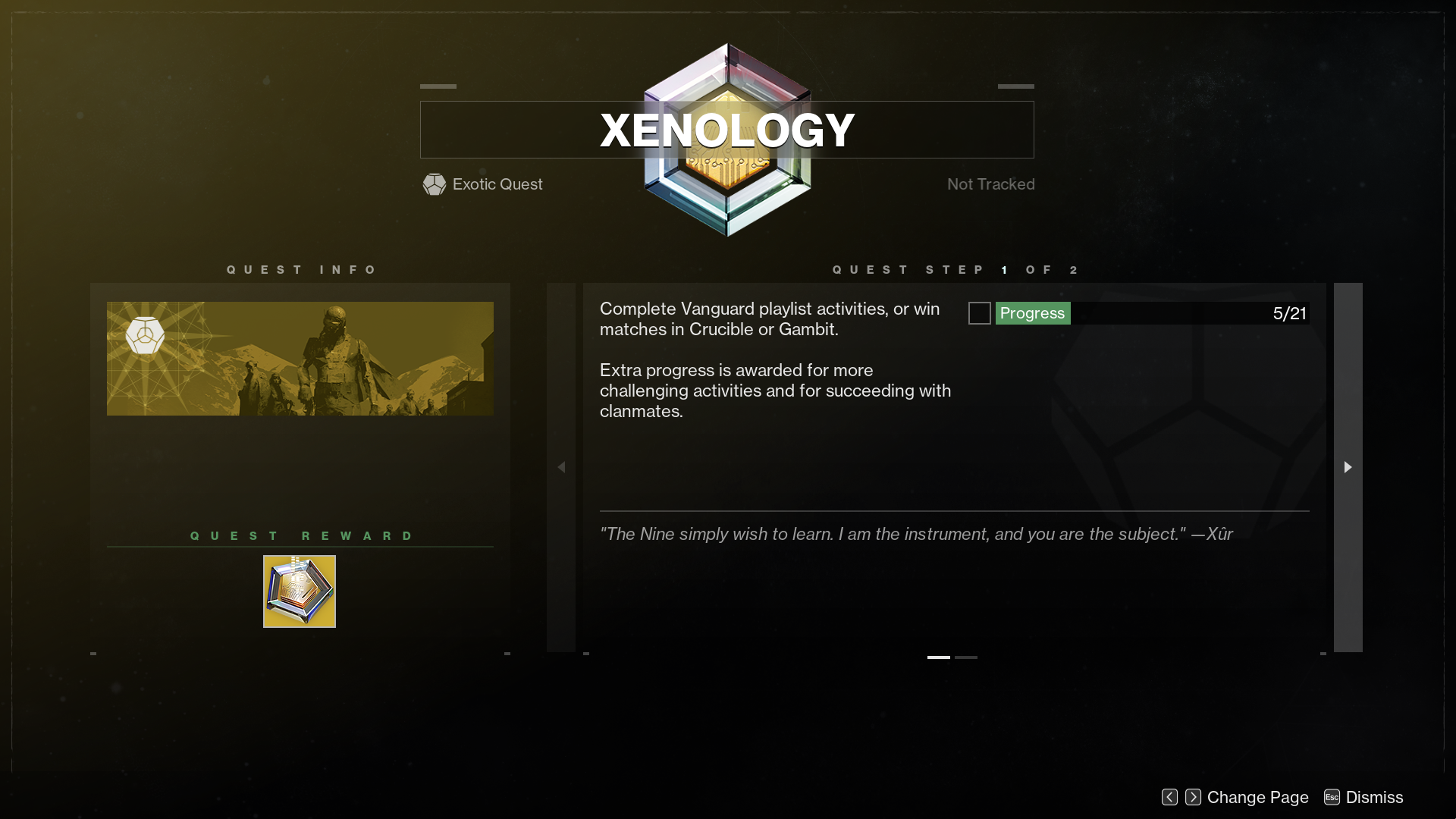 Exotic Cipher Quest
Introduced in the Beyond Light expansion, each week Xûr also offers players a quest, named 'Xenology', to acquire an Exotic Cipher. These rare items allow players to buy old Exotics from previous DLCs and seasons through the Monument to Lost Light kiosk located in The Tower by the Vaults.
This quest simply tasks you with playing 21 ritual activities in Destiny 2 - Vanguard Ops, Crucible, and Gambit. Complete the quest to earn one Exotic Cipher. Do note, you may only complete this quest once per week and that you can only carry one Exotic cipher at any given time.
Comments
Sign in or become a SUPERJUMP member to join the conversation.