Final Vendetta Review - Breaking Things for Fun
The 2D-brawler renaissance continues with this beautiful, fun-to-play jaunt through London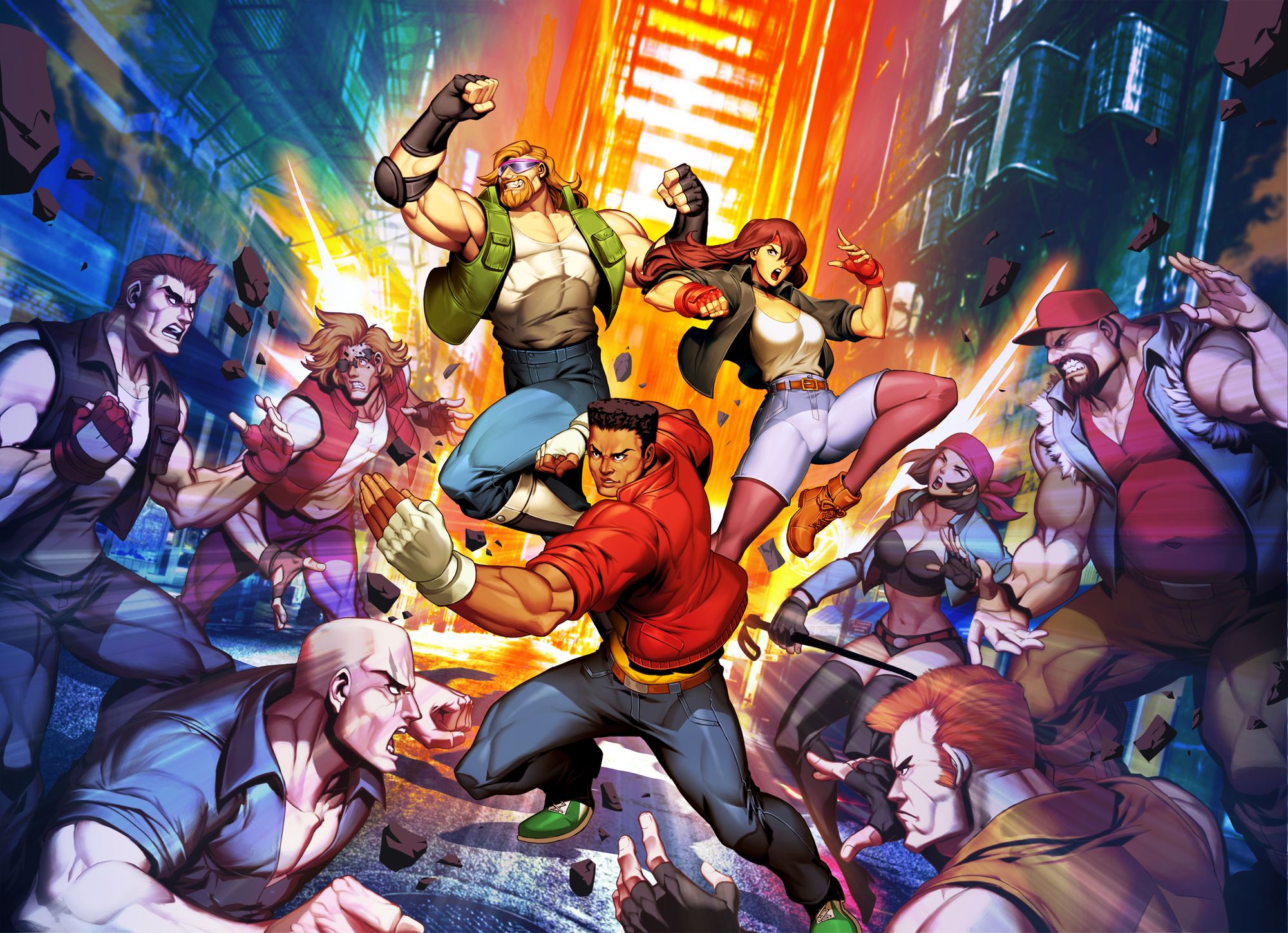 The 2D beat 'em up genre is having somewhat of a renaissance lately. 2020 brought us the long-awaited (and controversial) Paprium for Mega Drive, and a new sequel in the long-neglected (and loved) Streets of Rage franchise with Dotemu's Streets of Rage 4. Fast forward to 2022, and once again we have two brand-new heavy-weight beat 'em ups to feast on, like a rotisserie chicken straight off the floor — releasing just a day apart, no less.
Teenage Mutant Ninja Turtles: Shredder's Revenge looks to be an incredible experience from the experienced team at Dotemu; but it's the brand new IP from Bitmap Bureau, Final Vendetta, that has caught my attention in particular. Most well-known for their stonking 2D arena shooter Xeno Crisis, which was released on seemingly every platform known to man, their new game comes with a lot of expectations attached. So does it live up to the hype?
Loading up the game for the first time, I was hit by a wave of nostalgia. This might seem odd for a brand new IP, but the 16-bit scrolling pixel art and funky beats of the opening menu evoke the original Streets of Rage titles so heavily. Unlike the recent fourth game, which went for a clean and modern cartoon take (complete with thick black lines around the crisp HD sprites), Final Vendetta wears its pixels with pride. This looks every bit the Mega Drive game it hopes to elicit, and this is no bad thing. It's very much pixel art for the modern age, with stunning attention to detail in both the characters and the backgrounds.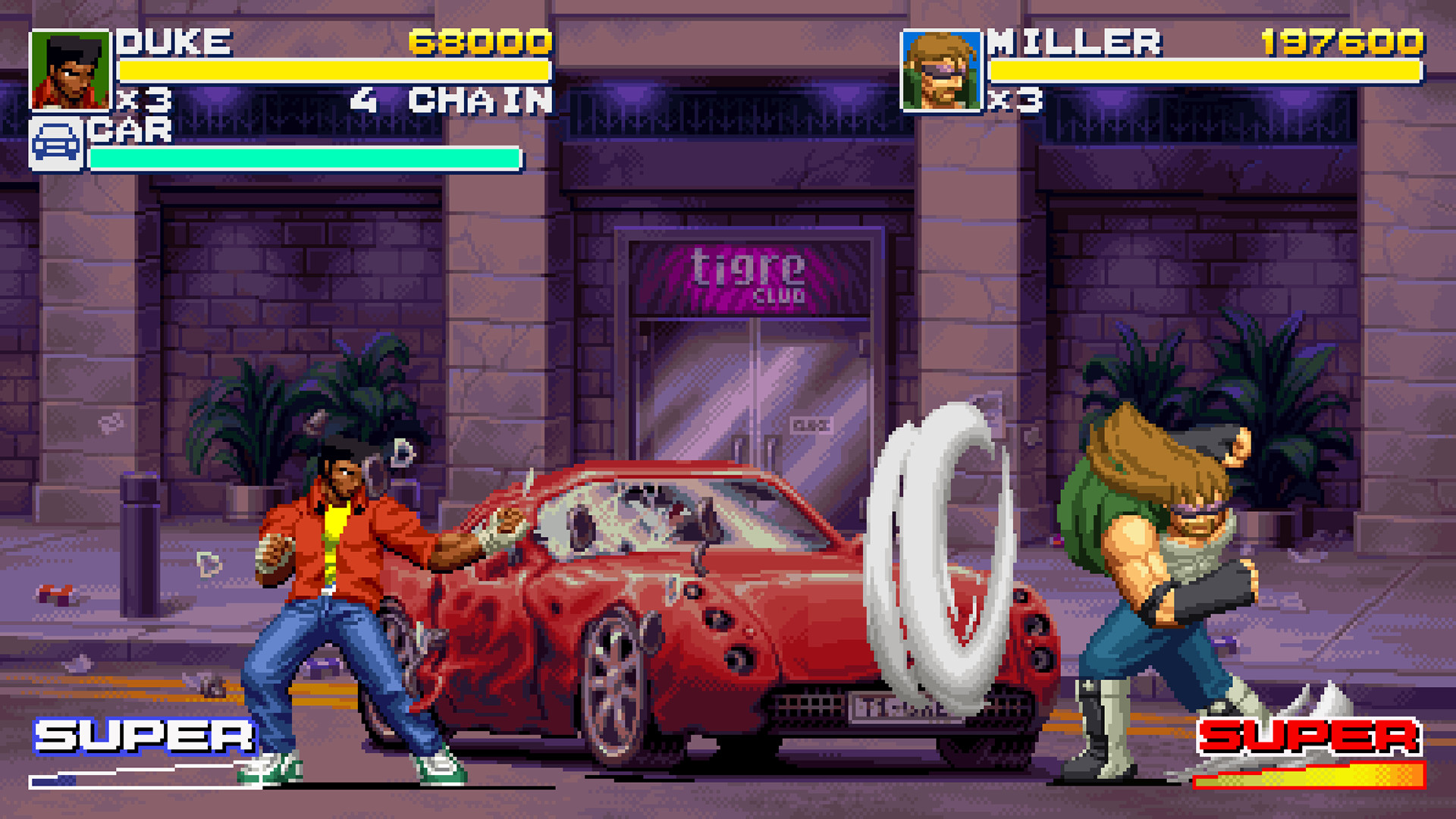 This carries over to the animations too, which are certainly a cut above what you'd find in a game from a quarter of a century ago. There's a beautiful fluidity to each of the three playable characters, even tank Miller T. Williams, with strikes and grabs connecting and resolving well. Duke Sancho feels lightning fast to play, and thankfully his animations don't suffer as a result of his speed. The enemies, too, are fluid and varied, with pleasing designs. This is a well-rounded experience — I can't fault the gameplay at all. It just FEELS right.
The story, as barebones as it is in these kinds of games, sees the third playable character Claire Sparks team up with her aforementioned buddies in an effort to save her sister, who has been kidnapped (of course). This leads them on a journey through London – which is a frankly brilliant setting for a game like this – brawling their way through hordes of enemies as well as end-of-stage bosses.
The bosses are varied, each providing their own challenge that gets more difficult as you progress. I won't spoil them here, because they can be genuinely fun and interesting. My favourites were those at the end of Club Tigre, a purple-tinged nightclub filled with familiar-looking martial arts posters, and Manor Grounds, the final area, with a suitably bonkers final encounter.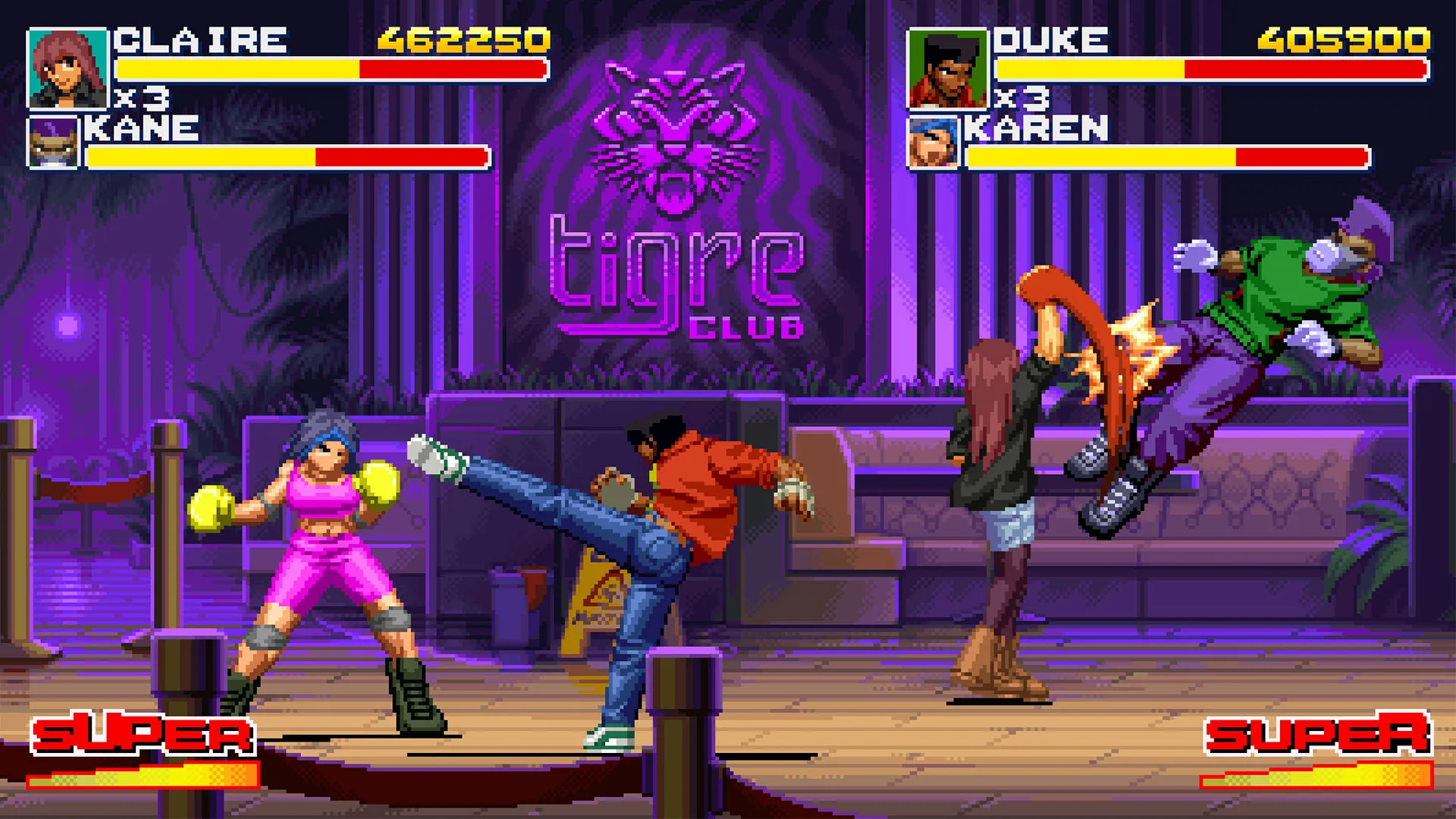 The levels themselves are a thing to behold, filled with interesting detail. The opening level sees you fighting through a London street, with old red telephone boxes in your way, ready to be pummelled to bits. This leads to a brilliant excursion on the Underground, filled with dirty tile, graffiti, and tube maps. Everything feels wonderfully British, down to the accents, the exit signs above doors, and the layout of the tube train you end up rampaging through.
It wouldn't be right to end this review without touching on the audio. The sound effects and voices are all top-notch, but the real star of the show here is the '90s-tinged dance and techno soundtrack, featuring exclusive tracks from Utah Saints and Featurecast. Yes, UTAH SAINTS! I was absolutely blown away by the music here, and it left me wishing I had the excellent-looking Super Limited Edition from publisher Numskull Games.
Yes, this game is available both physically and digitally, and I can't do anything but recommend it. This is the most fun I've had with a beat 'em up for some time. Bitmap Bureau has absolutely nailed the brief here, bringing the nostalgia in waves, but with modern sensibilities. There are numerous difficulties and game modes on offer here to extend the fun, alongside two-player co-op.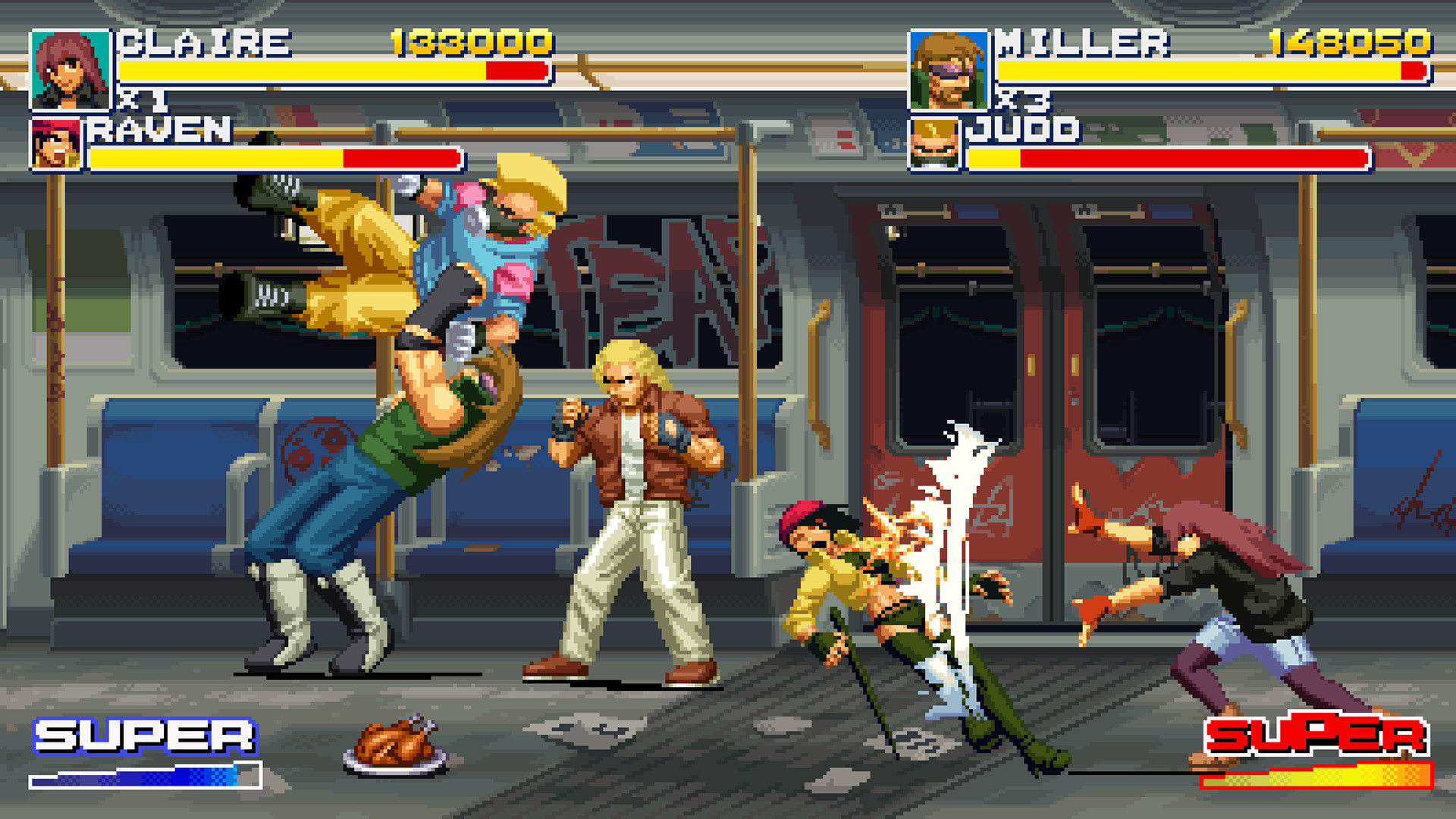 I tried Final Vendetta on both the PlayStation 5 and the Switch and can say with confidence that they're both excellent versions. So no matter which platform you pick it up for, you're in for a smashing time. Get it, smashing? Cos you smash things. And I'm British.
I'll see myself out.
Comments
Sign in or become a SUPERJUMP member to join the conversation.