Heretic's Fork: Roguelite Tower-Defense Game Becomes a Decent Deckbuilding Work Shift
Keep sinners from escaping and get your shift together to make rent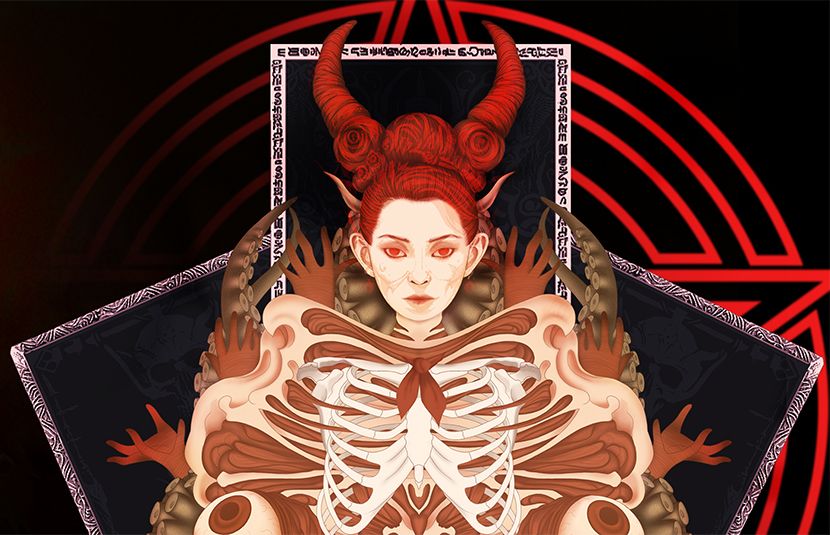 As Hell's latest manager in Heretic's Fork, I started off as an intern responsible for keeping sinners from escaping Hell's nine circles. That might sound like an impossibly complex task but a state-of-the-art computer system automates it into a convenient tower-defense game. With cards for its towers and evil Clippy guiding you through a trickle of the game's systems, it's one hell of an onboarding experience for players new to the tower defense, deck builder, and rogue-lite genres.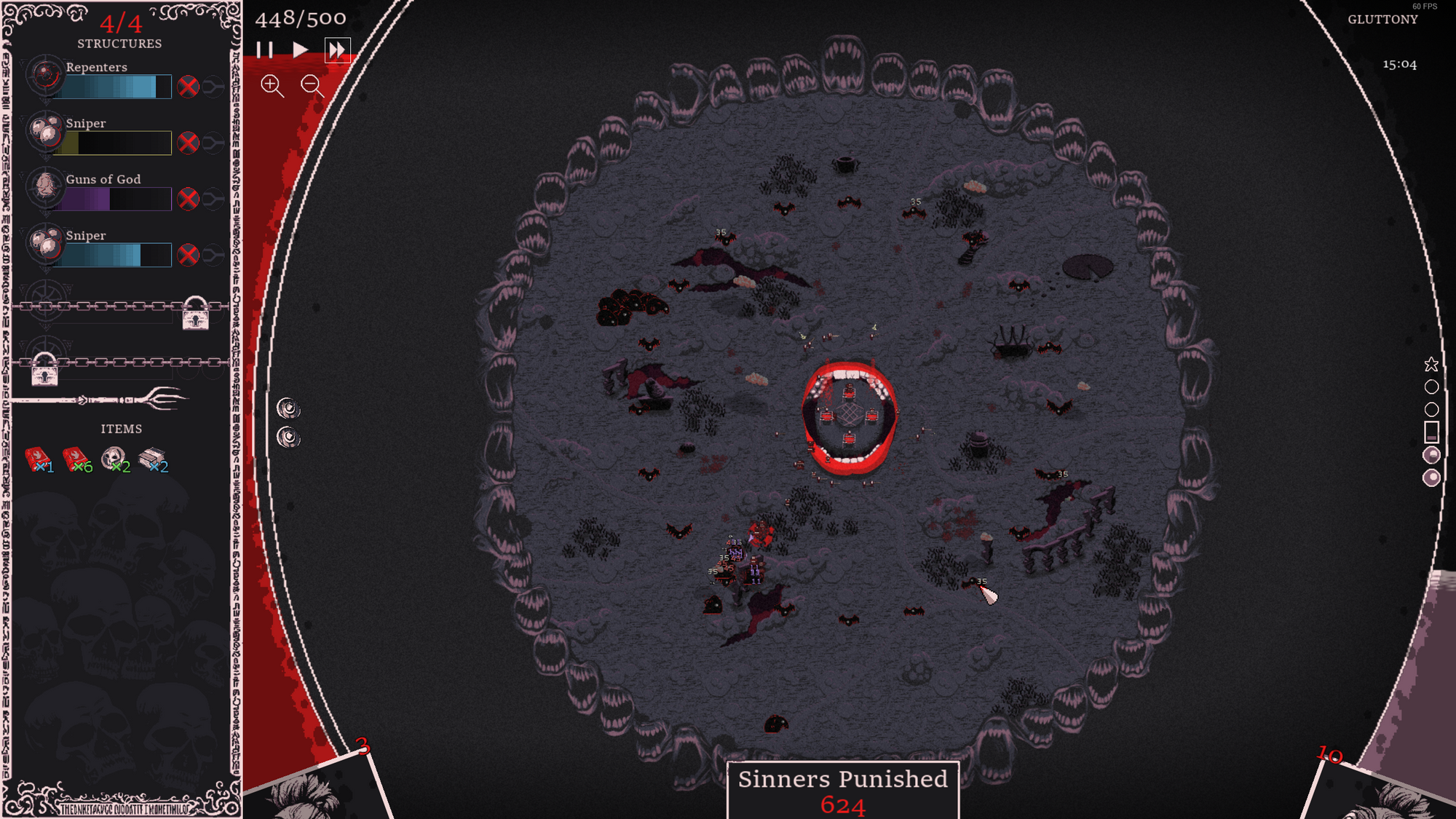 Your main offensive options are split into towers and garrisons. The former spew projectiles of all shapes across the map while different garrisons send out minions at timed intervals. Getting cards of a higher rarity lets you upgrade your defenses. A nifty mid-run crafting system lets you pair two cards of the same rarity and pick one from three upgraded cards. A speed-up option makes the game a snappy affair, with waves of increasingly powerful monsters attempting to escape.
As you clear enemies, a bar on the right fills up to start a new turn. This is when you get to place new cards, upgrade existing ones, or craft new ones. Towers and garrisons can deal Hellfire, Holy, or Unholy damage. Some cards increase the impact of certain types of damage, meaning that my entire strategy could shift based on a glorious card landing in my hand. Outside maximizing my DPS (damage-per-second), there's not a lot of strategy to Heretic's Fork. Once you play your cards, all you have to do is watch. While you have active powers, those can be automated too.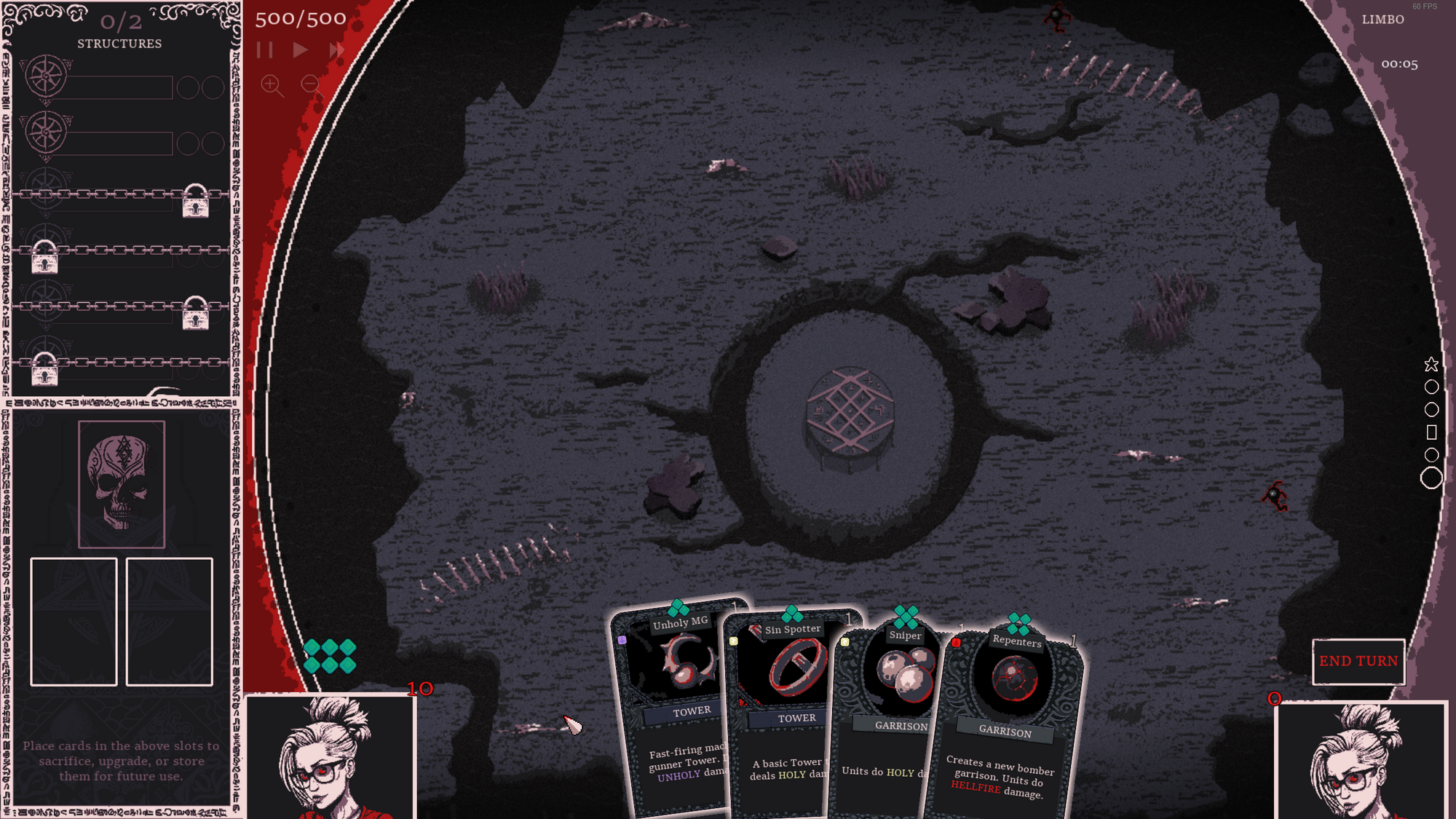 Clear one of Hell's nine circles and you'll get to pick from three fat buffs that influence anything from health regeneration to tower or garrison damage. This gives you a nice power spike to compete with the new enemies in the next circle. Fail to keep them away from the portal and each sinner whittles down your health until you're booted back to the main menu. I haven't made it through all nine circles but I expect some ridiculous enemy designs lurking about near the endgame.
While you start as a lowly intern, the next character opens up the game with perks and improvements. Getting new characters and cards costs money, earned from "one more round." Unlocking new towers and garrisons made the game's first circle a breeze and opened up my offensive options. The addictive rogue-lite loop is undead and thriving in Heretic's Fork.
Heretic's Fork does an incredible job of immersing you into this chaotic hellscape with a knockout soundtrack from Occams Laser, Gates of Chaos, and Metalhonic. Its pixel art and sprites do a great job of keeping you engaged while delivering critical information at a glance. I found myself picking random tracks from the in-game playlist to spice up subsequent runs.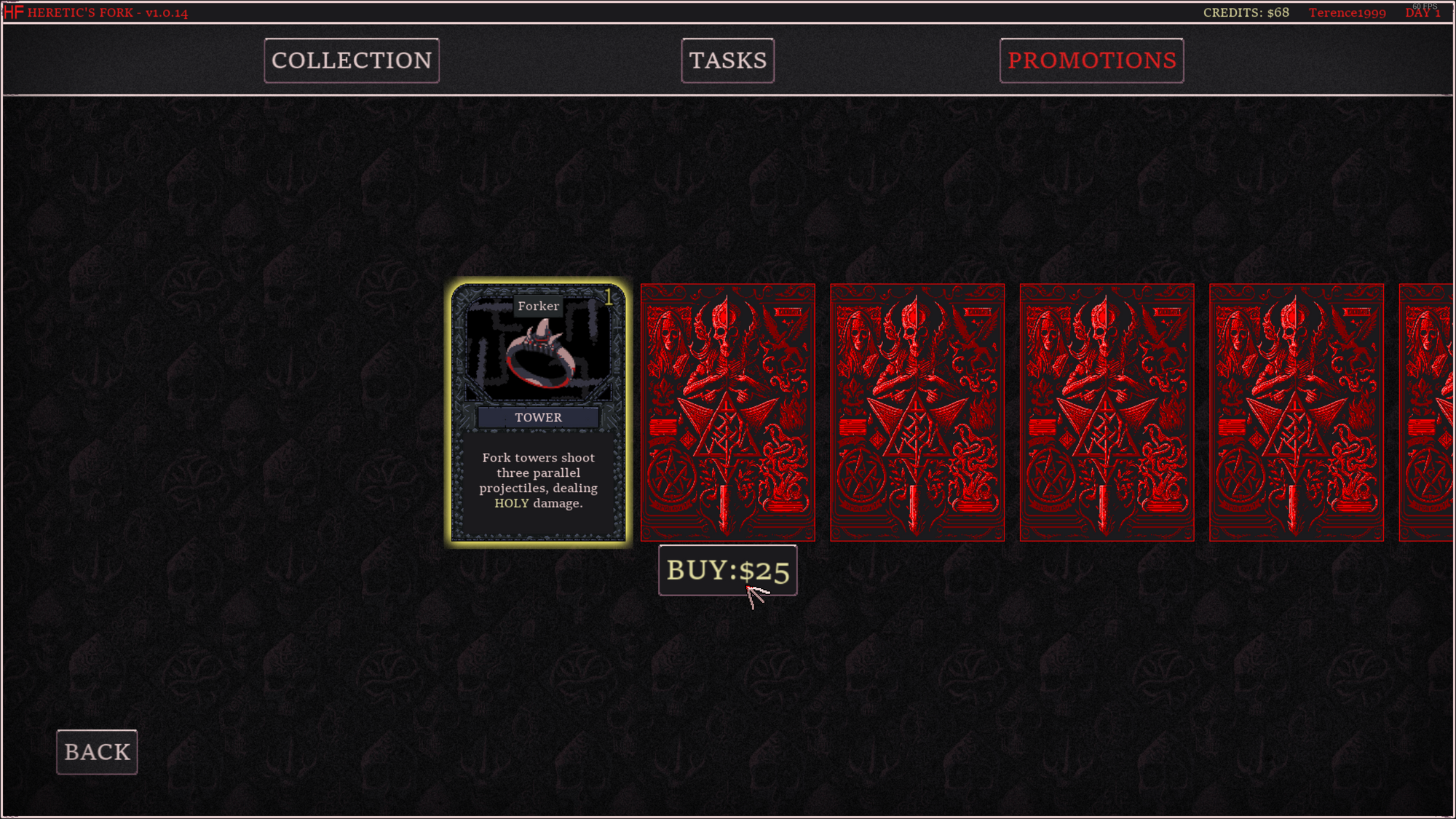 While it doesn't have a strong narrative component, the game sells its setting well. Launching each run from a computer with office spam and random messages will feel familiar for anyone who has experienced a boring desk job. With so many things going for it, Heretic's Fork presents players with incredible value at $10. I've still got plenty of wild tower and garrison combos to explore. With the corporate Hell motif ringing truer than ever, it's a great time to dig into this roguelite's deck of cards.
Comments
Sign in or become a SUPERJUMP member to join the conversation.