MetaReview - Tactics Ogre: Reborn
Comparing and analyzing several game reviews on Tactics Ogre: Reborn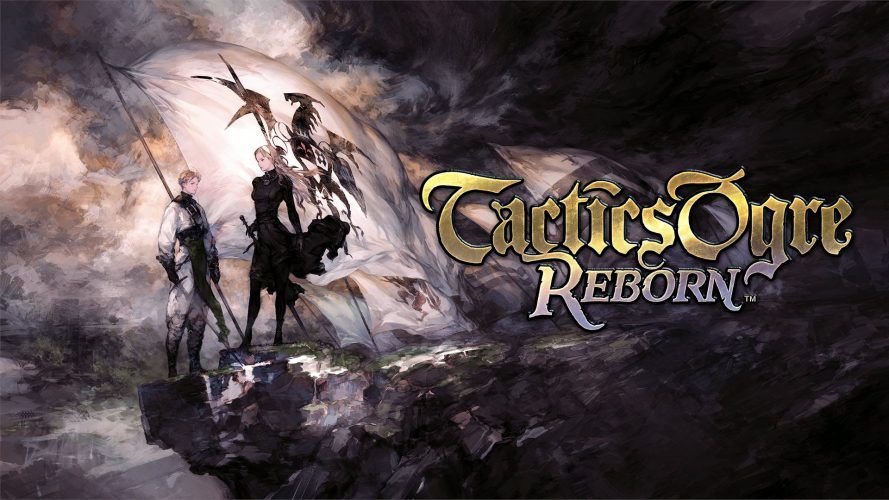 If a game review is an analysis of the execution of a game design proposal from one perspective, we can have a broader view if we compare several game reviews. This approach had and continues to contribute to the history of video game reception and to players and game designers, providing a more perspectivist view of the science and art of video games. So, if you're looking for a synthesis of different critical views on a certain game, you're in the right place.
The premise is the same that motivated the creation of aggregators such as MetaCritic and OpenCritic, but these sites face limitations with quantitative comparisons. On the other hand, we believe that numbers say less than words. This leads us to MetaReview, a "comparative video game review". Here, you will find qualitative comparisons between reviews to understand how people interpreted and received the game from different points of view at its time of release.
This proposal is complementary to that of my Comparative Criticism series. While Comparative Criticism is an analysis of a work in comparison with another, a Meta-Review is a comparison between reviews or a "review of reviews", a synthesis and analysis of the critical reception of a video game.
Our method is simple and ensures diversity and proportionality. Based on Open Critic, we selected 4 to 10 reviews in the following divisions of this site: Mighty, Strong, Fair, Weak, and non-numeric reviews. Depending on the number of reviews in each of these divisions, we can have one to three selected reviews. The second rule is that at least 25% of selected reviews need to be non-English in order to be globally inclusive. The third and final rule is that at least 25% of the reviews need to include critics from smaller independent sites, in addition to non-top critics (top critic = ☆).
Today, we aim to metareview Tactics Ogre: Reborn, a remaster of the Tactics Ogre remake (PSP), based on the 1995 classic Tactics Ogre: Let Us Cling Together (SNES), written and directed by Yasumi Matsuno. We selected the reviews listed below: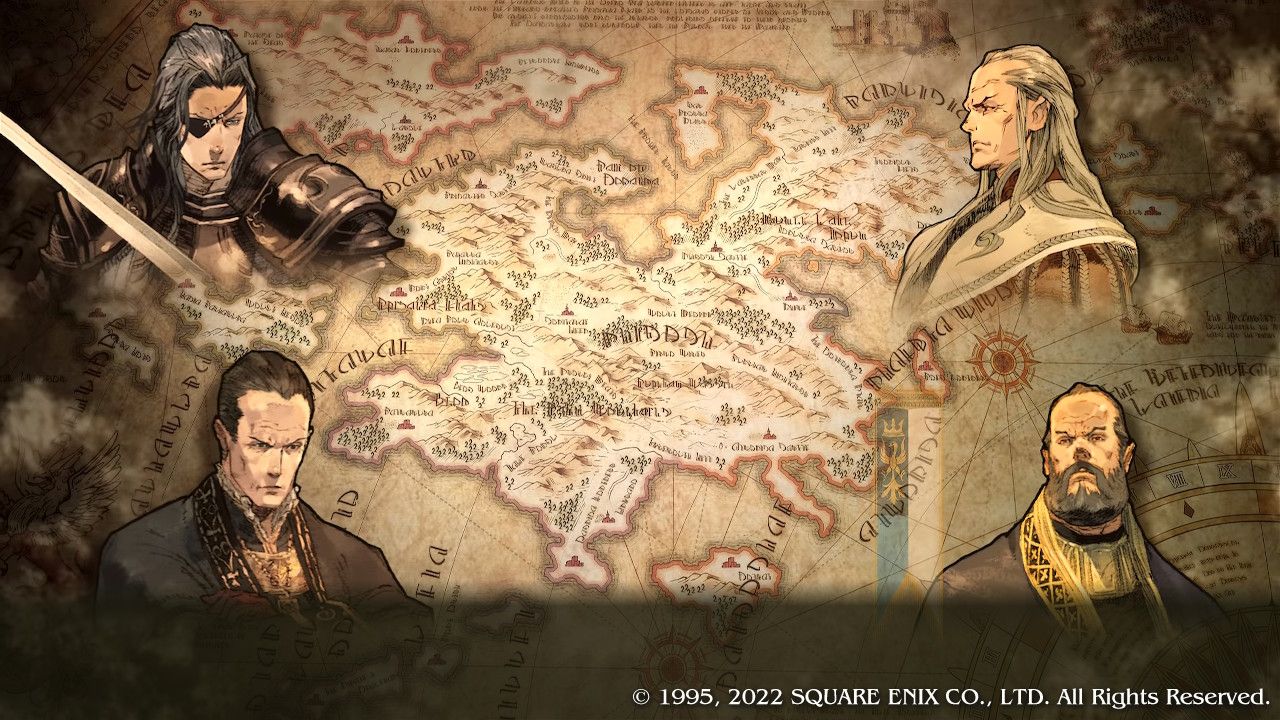 Narrative Criticism Counterpoints
Written by Yasumi Matsuno, Tactics Ogre: Reborn's narrative design is non-linear and political, tackling moral dilemmas and ethnic persecution during civil war in a serious fantasy with three ethnic groups: the Bakram, the Galgastani, and the Walister. Critics had a positive perception of the plot themes, writing, and voice acting, but had mixed impressions of the execution of non-linearity and the use of characters in the political narrative.
The story of Tactics Ogre takes place in the kingdom of Valeria, where two noble families – the Galgastani and the Bakram – are fighting for control of power. The protagonist, Denam Pavel, is a young man who joins the resistance against the Bakram rule. Throughout the game, Denam and his companions take part in tactical battles, make decisions that affect the plot, and explore the political and social relationships of the world of Tactics Ogre.
"Matsuno is arguably an even more talented and influential writer than he is a designer. Despite their fantasy settings, his games tend to be grounded, humanist works that lay out intricate maps of political intrigue — which, loaded with filigree naming and fanciful jargon, can seem dry and hard to follow at first. But they unfold into something personal, heartfelt, and engaged with the real world. Tactics Ogre is no different."
— Oli Welsh (☆Polygon)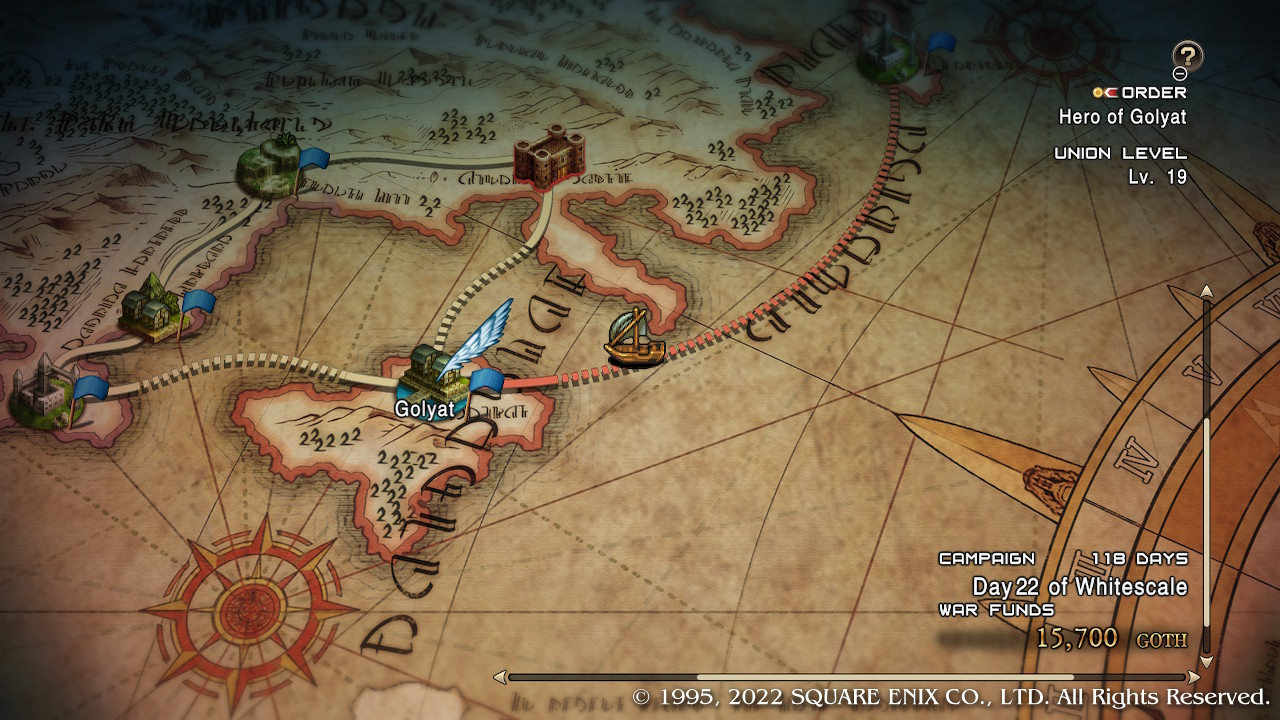 There is a broad consensus among critics that this game's plot has a consistent and dark mood, economical and very well-written dialogues, and a realistic and tragic political approach addressing important thematic topics such as political manipulation and ethnic prejudices. These factors are largely due to Matsuno's inspirations from actual conflicts of the 20th century, such as the fall of the Berlin Wall and war crimes in Syria, Azerbaijan, and Armenia, the Yugoslav wars, and the Rwandan genocide.
Sam Wachter praised this aspect of the narrative, highlighting how the game always puts the player in front of difficult decisions from a moral and political point of view. I, Vitor Costa, added that the level design intelligently articulated the non-linearity of the narrative, allowing the player to choose different battles to face.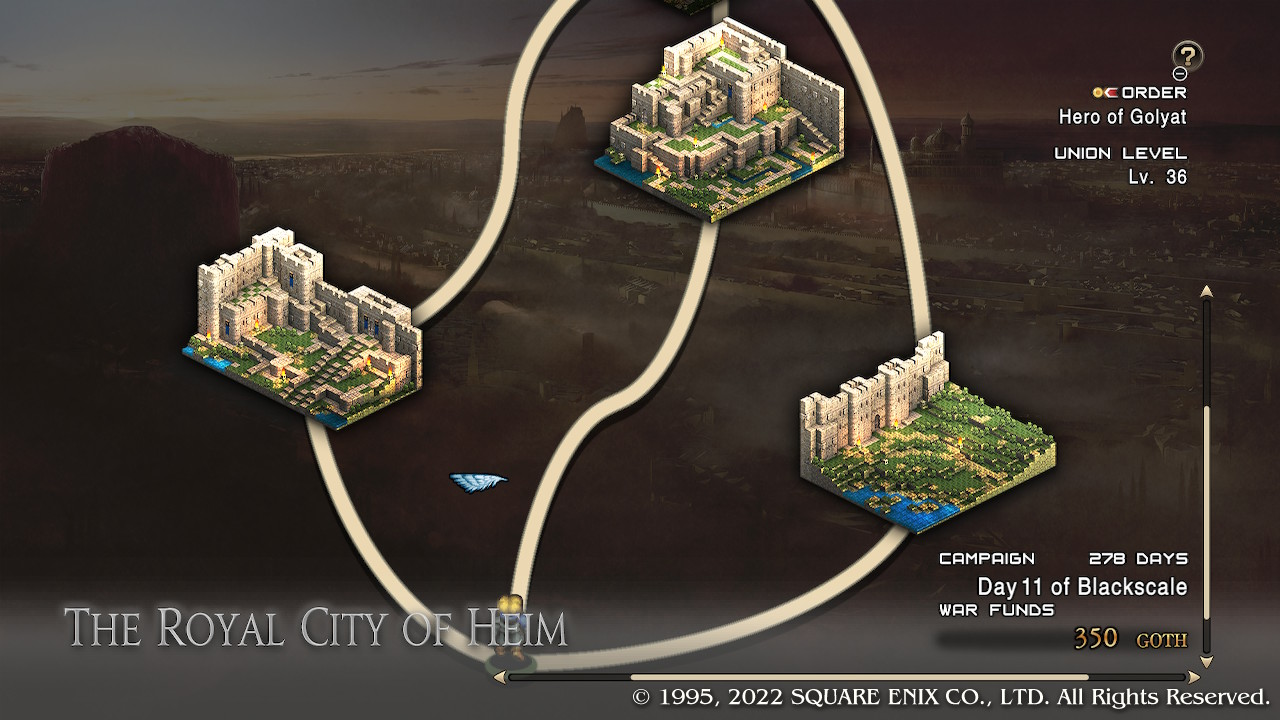 However, David Rodríguez found it problematic that "side-mission opportunities can be missed entirely should a character die before their moment to shine". In addition, some characters lacked their own convictions but could change radically according to the player's decisions. Vyce, for example, will inevitably turn against Denam, no matter what he decides at the end of Chapter I.
"In fact, Tactics Ogre is quite deceptive in how some characters can be recruited, and it is easy to kill such a character when the game is stingy about clueing players into whether they are recruitable or not. This is where a guide definitely comes in handy, but anyone playing the game blind will have trouble figuring out the more finicky character recruitments."
— Sam Wachter (RPGamer)
Another topic that was widely praised by critics was localization (mainly in English), but also for new languages (French, Spanish, German, Chinese, and Korean), although localization for Portuguese and Italian was lacking.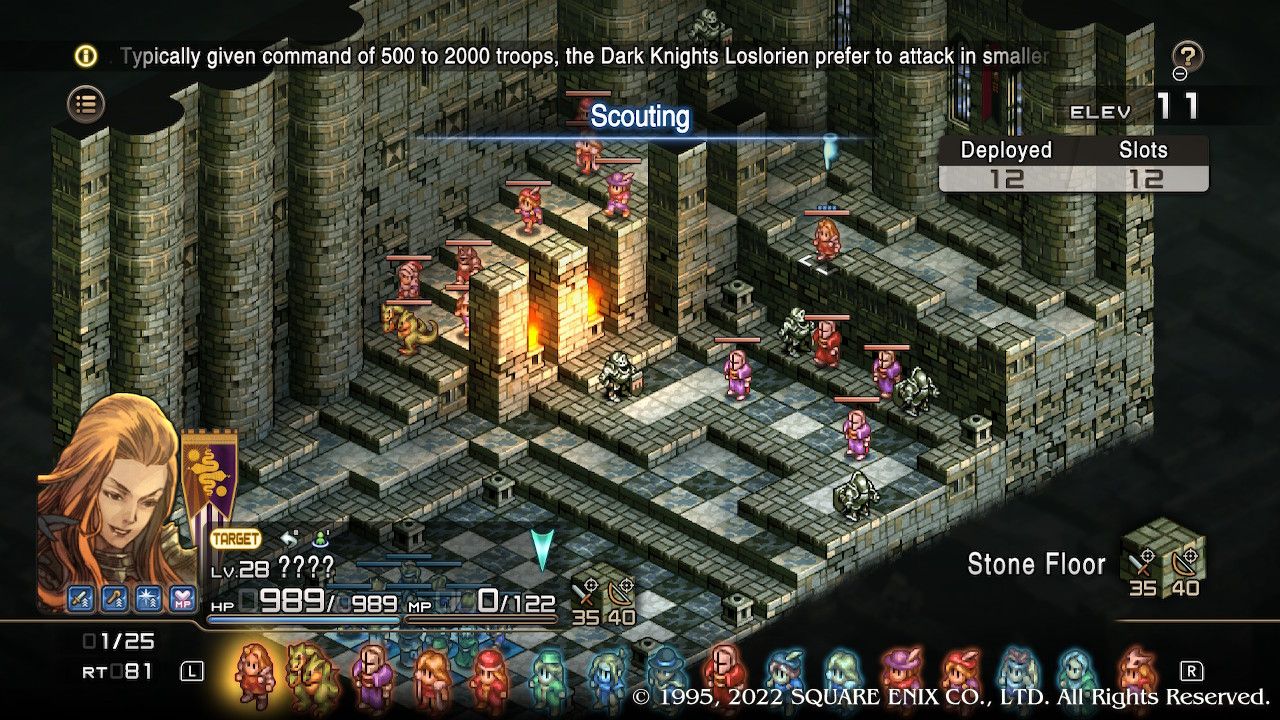 Gameplay Experiences
As for the gameplay, there was broad agreement that this is a complex and sophisticated tactical RPG in both mechanics and level design, with lots of main and optional content and that has had many quality of life improvements (such as allowing to change the game speed) and rebalances for newcomers and veterans alike. Many also praised the end of random encounters, the new interface design, and new systems such as temporary buff cards during battles.
Some authors, such as myself and Mitch Vogel, drew comparisons with other TRPG series, such as Fire Emblem and Disgaea, and highlighted that Tactics Ogre does not have elements of other genres, such as social simulation, but in contrast is much more complex on the battlefield (for example, in the way it develops the verticality of its scenarios).
"With the better part of two dozen classes and sub-classes (along with beasts) to have under your battalion's belt. The possibility of different party makeup and skills is vast. For this alone, Tactics Ogre: Reborn still remains one of the absolute best games to get stuck into the granular levelling and speccing you so desire."
— Charlie Kelly (☆Checkpoint Gaming)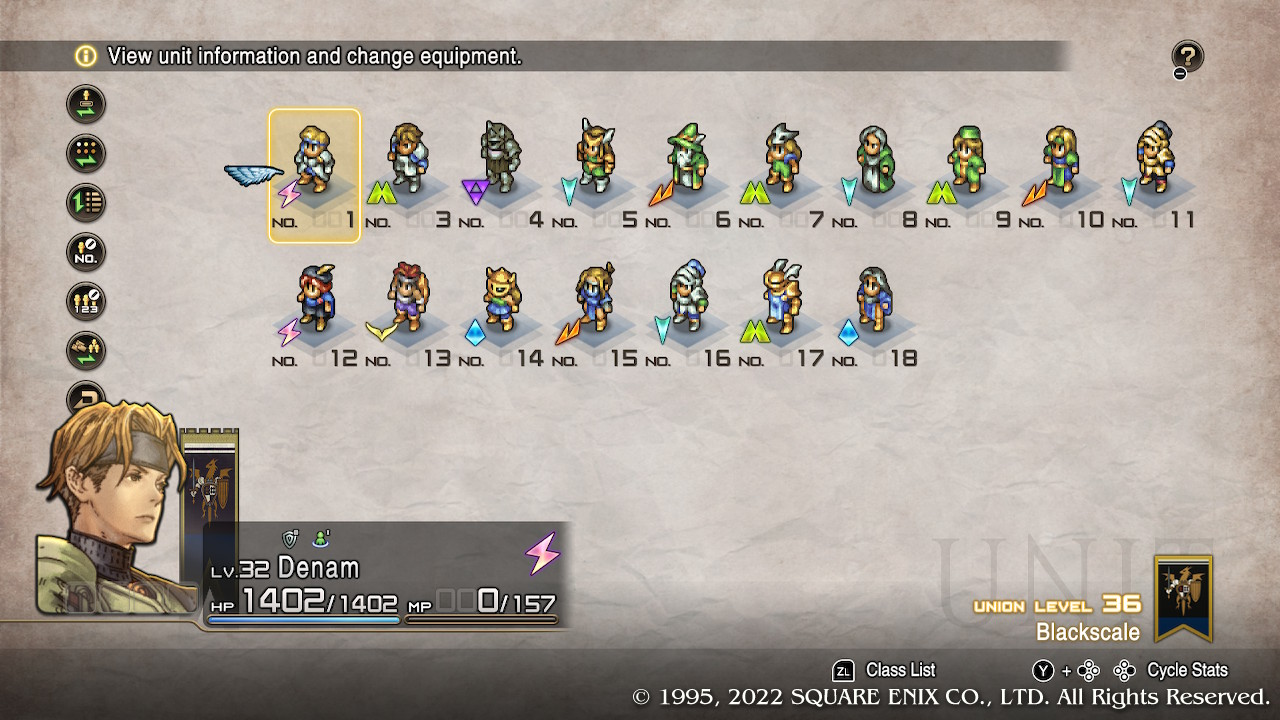 However, several critics saw problems with two aspects of the game design: the difficulty and the lack of objective variety. I expected both types of criticism in my review and contradicted them mainly with an interview by Minagawa (art director). Minagawa commented on the influence of chess on the design of this game so that it focused every battle on defeating a general and involved logical reasoning for each scenario being specific and challenging in line with the narrative drama. However, the difficulty can frustrate TRPG newbies, and the final boss is perhaps harder than it needs to be.
The most controversial design change was the introduction of a maximum level for each part of the narrative (Union Level). Developers did this to force the player's logical thinking within each level design without being able to beat them to brute force, but some critics felt that this imposed too steep a difficulty.
"[...] the Union Level feels like an unfair handicap. With this mechanic, your party is given a max level cap until they progress the story further, which can make some of the harder battles feel unnecessarily difficult when you aren't able to grind a bit ahead of time to level your characters further. Still, even this strictly imposed ceiling is softened a bit given that any experience gained on a maxed-out party is converted into a consumable resource that you can later dole out yourself."
— Mitch Vogel (☆Nintendo Life)
"The majority of the battles simply require that players defeat the leader or all enemies. There is little to mix things up, such as potentially defending a character, while recruiting characters is often challenging if they are the leader of that specific battle."
— Sam Wachter (RPGamer)
"And in the event that you have already been able to experiment with the franchise or you wish to enjoy a somewhat more differentiated proposal, Tactics Ogre: Reborn may be too conventional compared to what Square Enix has seen within the SRPGs released in 2022."
— David Rodríguez (☆Hobby Consolas)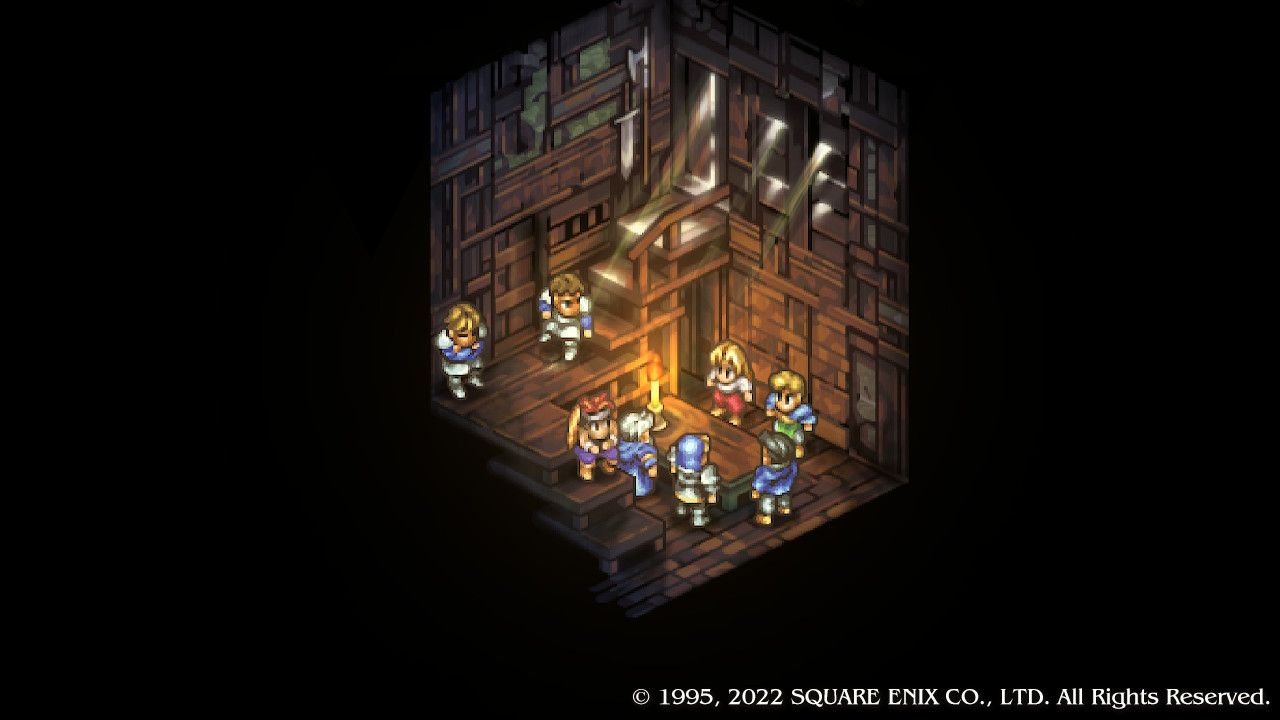 Audiovisual Design From Multiple Perspectives
Visually, Tactics Ogre: Reborn presents beautiful illustrations and a clear technical improvement over its previous PSP version, and in my review, I argued how the game's pixel art is in some respects even more detailed and charming than HD-2D games such as Triangle Strategy. That is a debatable topic, with some critics having argued specific points that would actually benefit from an HD-2D version.
"As the producer, Hiroaki Kato, explained, I also believe that the remastering, instead of an HD-2D remake, for example, was the best option to preserve the isometry and detailed pixel art of the game. For the benefit of art and gameplay, there are three zoom levels and three camera angles (two top-down and one isometric view), making the board experience more practical and comfortable."
— Vítor M. Costa (Nintendo Blast)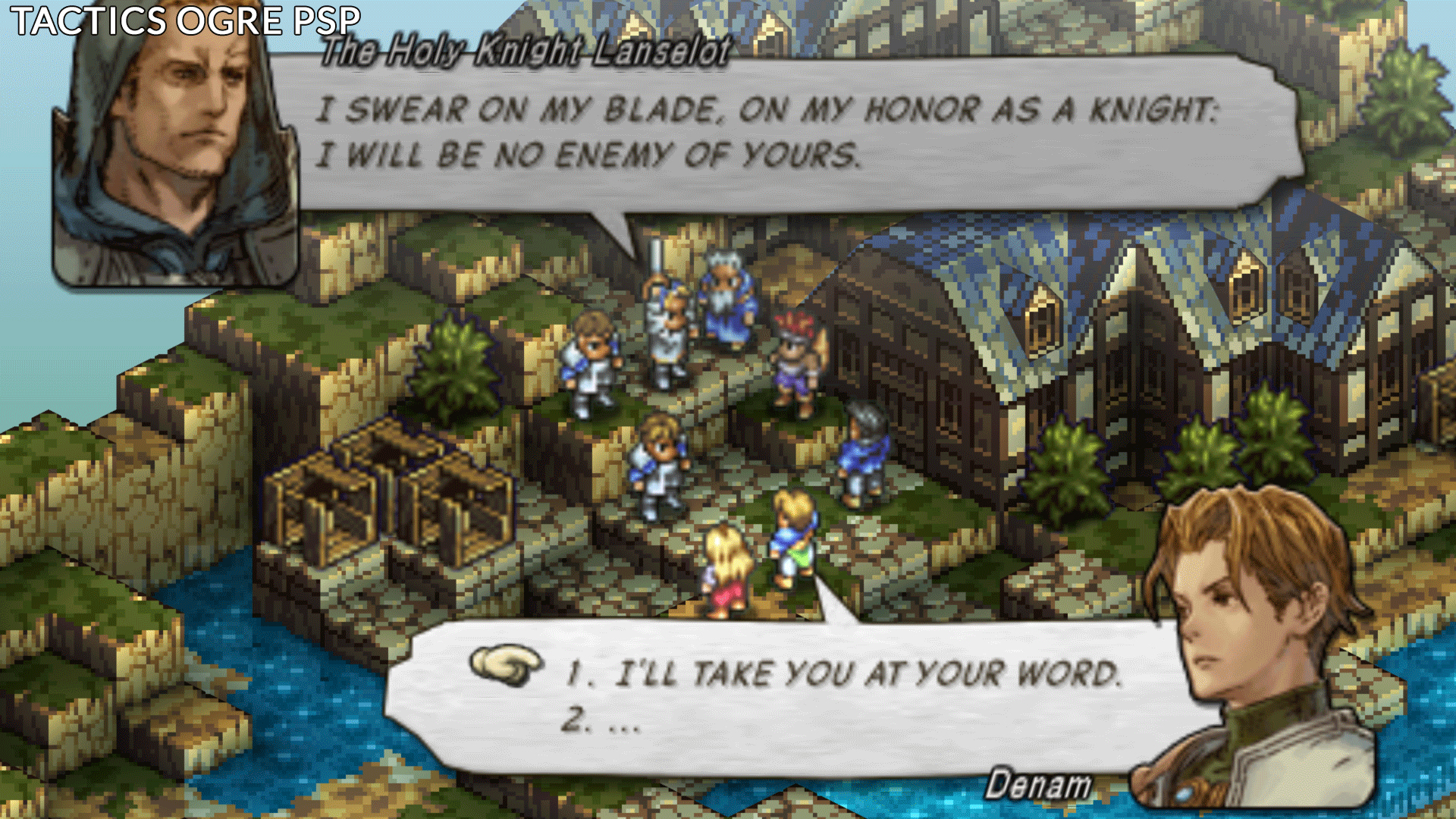 "As for its graphical presentation, Tactics Ogre: Reborn is rather disappointing, especially when compared to Square's ongoing usage of HD-2D. The spritework here is fine, but it employs that gross pixel smoothing filter that modern game companies love to use with their re-releases of older games. Most sprites thus have weirdly shaped curves and colors that tend to run together like water was spilled on a painting. Meanwhile, the maps have some nice-looking tilesets and environmental details, but it doesn't take long before you start noticing just how much assets are being reused. Tactics Ogre's visuals are at least passable, then, but after seeing how Square's gorgeous new rendition of Live A Live looked just a few months ago, it's hard to feel like Tactics Ogre didn't get shafted here."
— Mitch Vogel (☆Nintendo Life)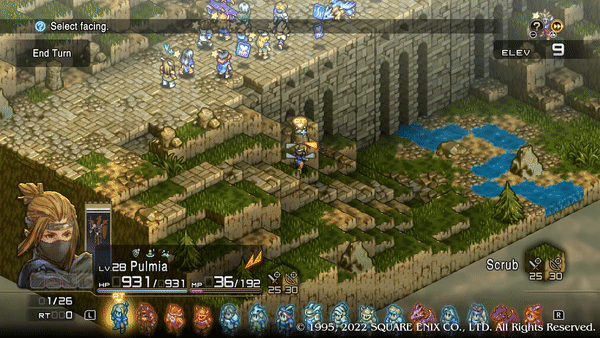 Finally, Tactics Ogre: Reborn received a soundtrack with an orchestral version and some new arrangements by the same composers, Hitoshi Sakimoto and Masaharu Iwata. The latter, it is worth noting, considers his compositions for this game to be his favorite work in his career. The OST tracks were widely praised for their variety and the way they capture the serious, dark, and military spirit of Yasumi Matsuno's narrative and gameplay proposal. On the other hand, there was a little criticism about some of the battle songs being repetitive.
"The pieces make good use of the orchestra, with an emphasis on wind instruments (mainly brass) and percussion with a marching rhythm, also xylophone, bass strings in the background and the harp in sadder moments.

The harmonies vary between major and minor keys, with feelings of dramatic encouragement, sadness and triumph. Iwata's compositions are more melodic and with rhythms well marked by the percussion, suitable for the tactical-military atmosphere of combat. Sakimoto's contribution, however, tends to be in more immersive and atmospheric music, pertinent to the drama and its dark setting of the Valerian Isles.

In both cases, the rhythmic speed is usually fast or at least moderate, with accelerations. Although some pieces have a repetitive loop, I liked the way the melodic themes are elegant, striking without being too cloying, and above all well built in intensity oscillations, rhythm changes and alternation between strings and wind instruments."
— Vítor M. Costa (Nintendo Blast)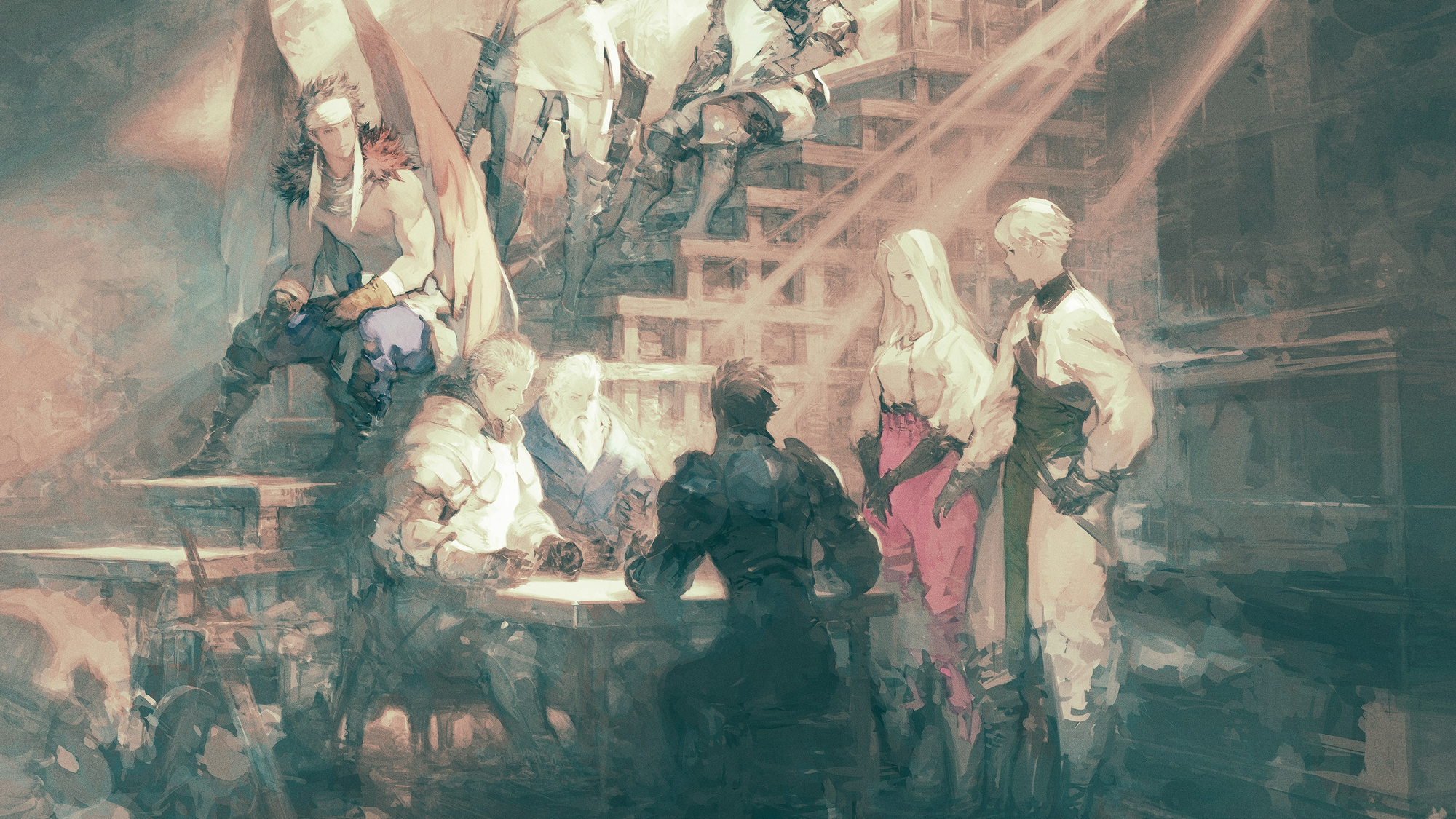 Consensus
Tactics Ogre: Reborn is one of the best strategy RPGs ever made and probably remains the best tactical RPG in the traditional sense, especially when you consider the amount of content, flexibility, refinement, and complexity of its level design. However, it lacks a varied gameplay that intersects with other game genres and can be very challenging for those who are not very familiar with TRPGs.
Tactics Ogre is the best-written game of the genre in terms of a political plot, having perhaps as its only worthy rival Final Fantasy Tactics, also written by Yasumi Matsuno. Plus, it is highly immersive with excellent voice acting and localization. There are only a few specific points in the narrative that divide opinions.
From an audiovisual point of view, it is also a gorgeous and coherent game, with well-polished orchestral music and beautiful illustrations and scenarios. However, from a contemporary perspective, there are some specific aspects that can make it look dated compared to modern games, even if it can rival these games in other aspects, such as the level of detail of its pixel art.
💡
Thank you for reading, and please look for my other SUPERJUMP work
here
Comments
Sign in or become a SUPERJUMP member to join the conversation.