Nintendo's Game & Watch Ignited a Design Transformation
Even decades later, Nintendo's Game & Watch reveals what is possible when applying a specific design philosophy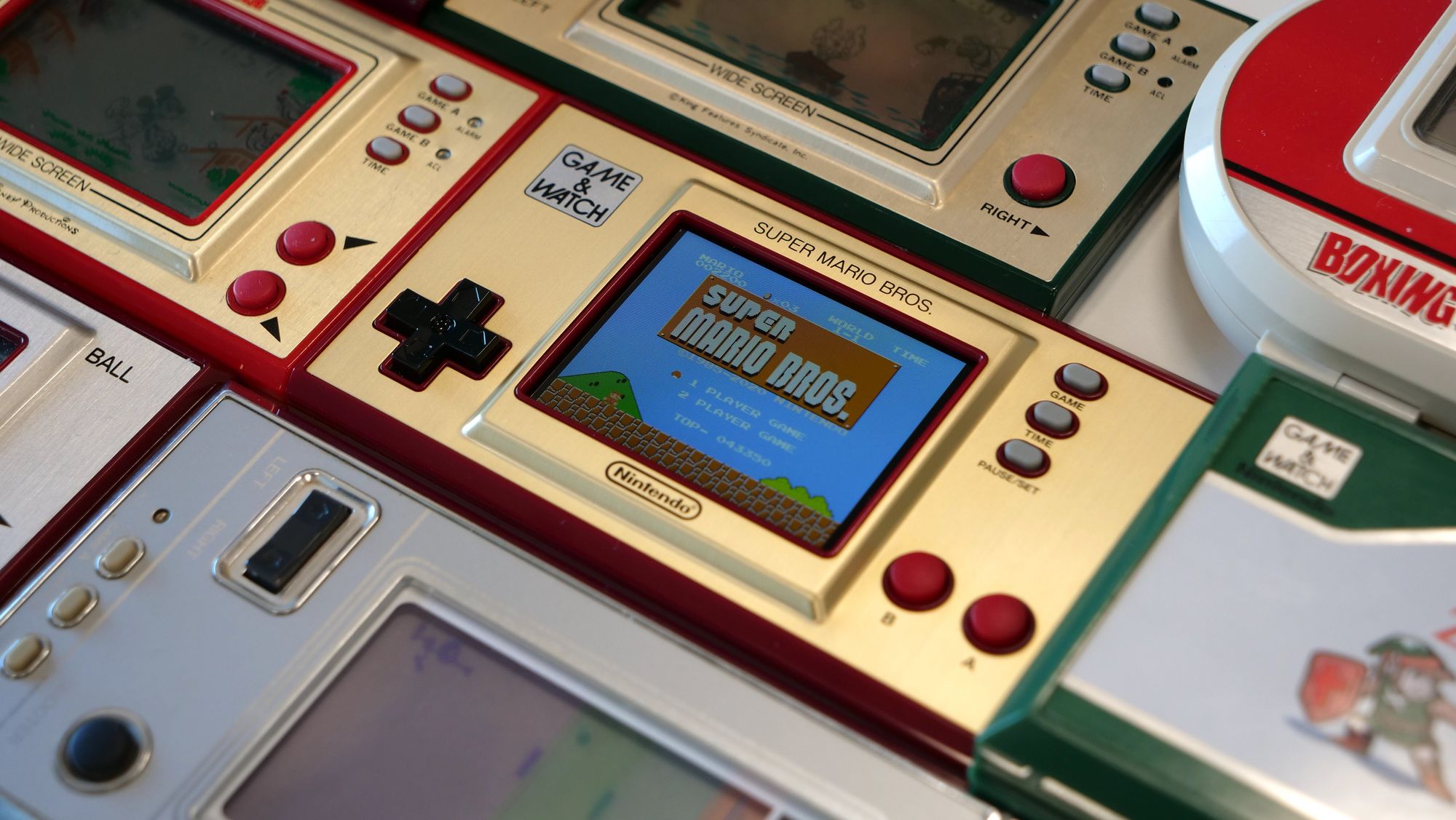 Nintendo had built its success on selling gaming cards (Hanafuda), but the entertainment world was changing in the post-World War II years. By the '60s, playing-card games weren't such a popular pastime, so the company pivoted to producing toys such as the Ultra Hand. They would make the choice to enter the realm of digital entertainment in the following decade, with major repercussions for the future of games.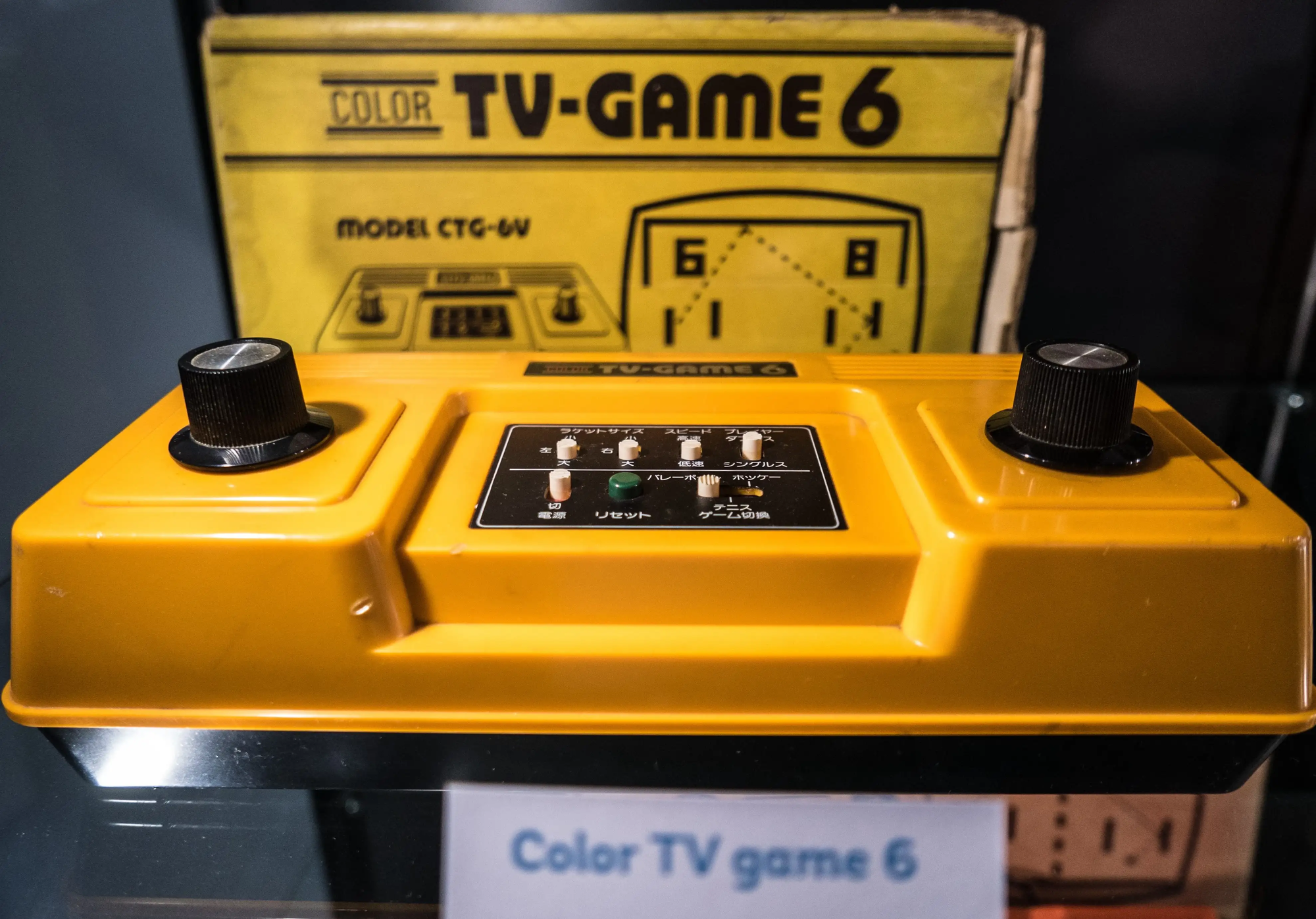 Entertainment for the traveler
The Color TV-Game series of consoles released in 1977, produced in partnership with Mitsubishi, would be a success for Nintendo in its local market. During this time period, advances in electronic calculator technology had also refined LCD screens, buttons, and processors. These factors might have been going through Gunpei Yokoi's mind while he commuted on a bullet train. The Nintendo department head said he saw something that inspired him (Alt 2020):
"I noticed this bored salaryman playing with his calculator. That's when it hit me: I oughtta make a tiny game for killing time."
When Yokoi chauffeured Hiroshi Yamauchi, the president of Nintendo, to a meeting, he took the chance to pitch his idea for a device to his captive audience. To his surprise, his boss would eventually allow him to launch the project.
Yokoi envisioned a handheld system as a way for office workers to game without being caught by their superiors, and so it was important to make it as sleek and thin as possible. A conventional control interface, such as a joystick or keyboard, would be too bulky, so a simple layout of buttons would be a part of the initial design.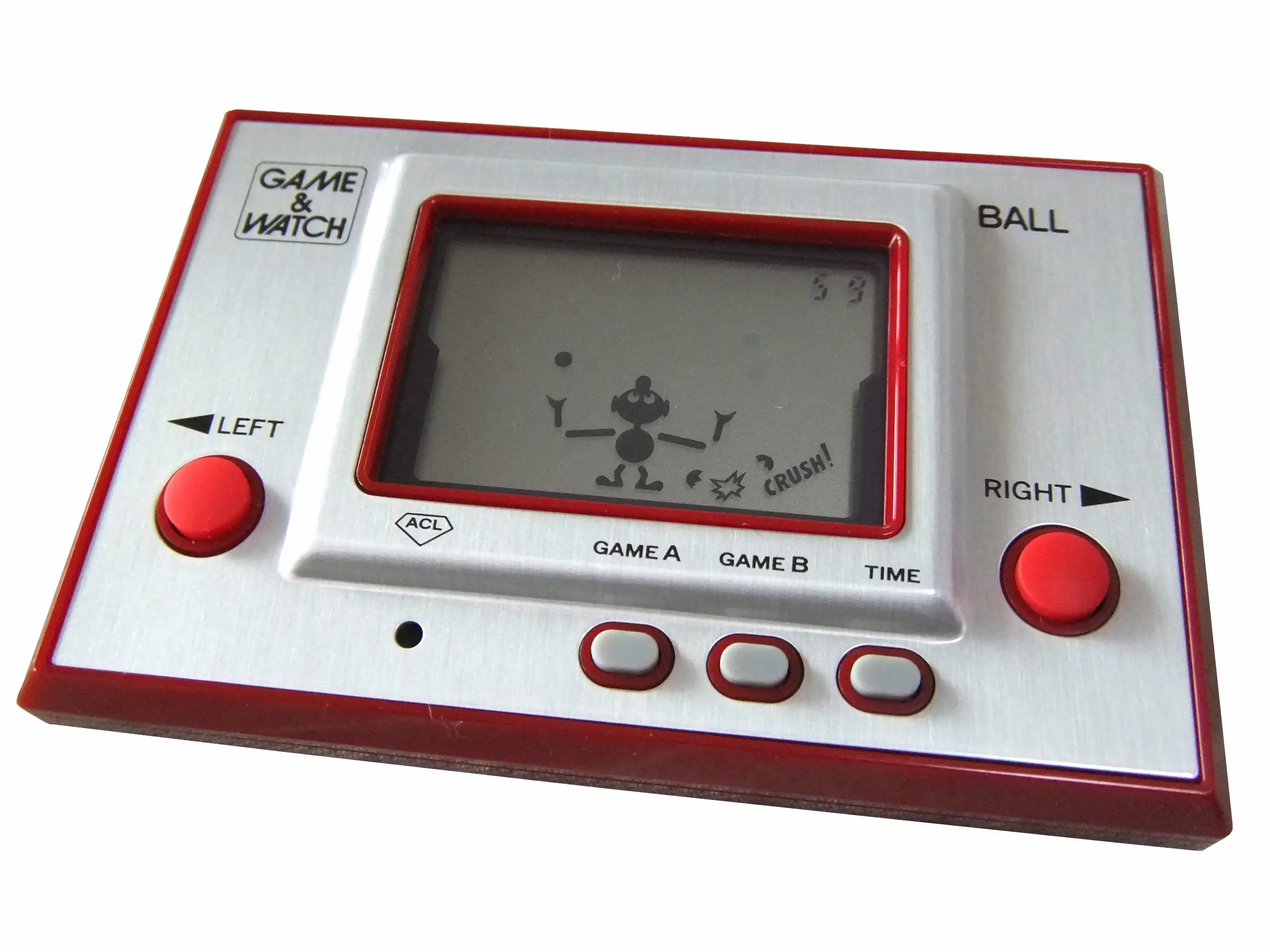 For the screen, the Nintendo team chose a segmented LCD display, which had already featured in wristwatches and calculators. Since it was cheap and widely available, the integration of this technology made development more straightforward. Certain Nintendo employees argued for including more advanced features, but Yokoi remained adamant that affordability was more important to the consumer.
A handheld gaming revolution
Nintendo released the first Game & Watch entry, Ball, on 28 April 1980. A major selling point of the system was that it came with a LCD clock, thus giving children access to a feature that might have otherwise been out of their reach. The inclusion of an alarm clock in 1981 would make it an even more attractive purchase for parents.
The Game & Watch was Nintendo's first global electronic gaming hit. Other companies handled the distribution in many countries: Ji21 in France, Mega in the USA, Futuretronics in Australia, and many more. Its greatest strength, its simplicity, was also its weakness, though: each variant could only play one in-built game. To get around this limitation, designers created a Game A and Game B for certain games, which changed the difficulty or created a multiplayer version.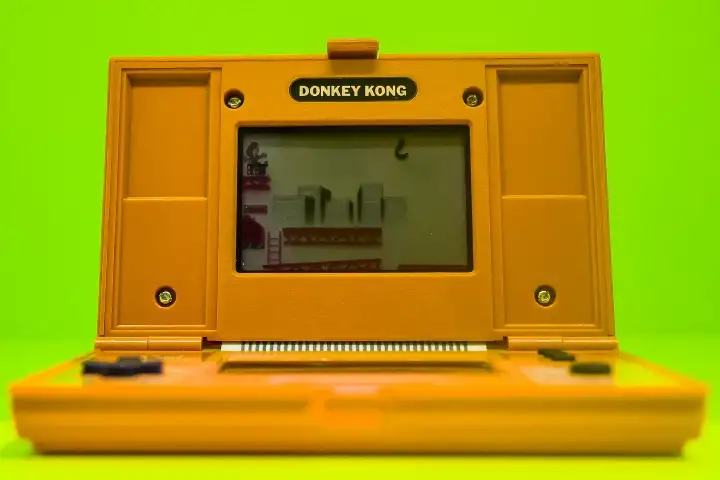 In 1982, the Game & Watch Multi Screen series kicked off with Oil Panic. That same year, the release of the Donkey Kong version introduced the radical direction pad control scheme. The cross-shaped D-pad made it easier to interact with a game.
Donkey Kong became the best-selling Game & Watch title up to that point, in part because of the new controls, but also because it was a faithful distillation of the arcade game into a handheld format. After the video game crash of 1983, the sales of the handheld system dipped, although Nintendo continued to support it. The Tabletop series (1983), Panorama series (1983), Supercolor series (1984), and Crystal Screen versions (1986) were efforts to breathe new life into the product range.
A respectful sunset
Even though the Famicom and NES stepped to the forefront in the mid-80s, the Game & Watch still filled a niche. Ultimately, it would be another Yokoi handheld — the Gameboy — that would take up the mantle. A 1989 Zelda Game & Watch, inspired by Zelda II: Adventure of Link, along with 1991's Mario the Juggler, would be the final two Game & Watch systems. The end had come eleven years after it all began.
Gunpei Yokoi continued to work at Nintendo until 1996. Afterward, he launched his own company, Koto Laboratories, which worked on Bandai's WonderSwan handheld gaming system. The genius designer's life would be cut short in 1997, two years before his newest project's release, when a car struck him on the Hokuriku Expressway after a road accident.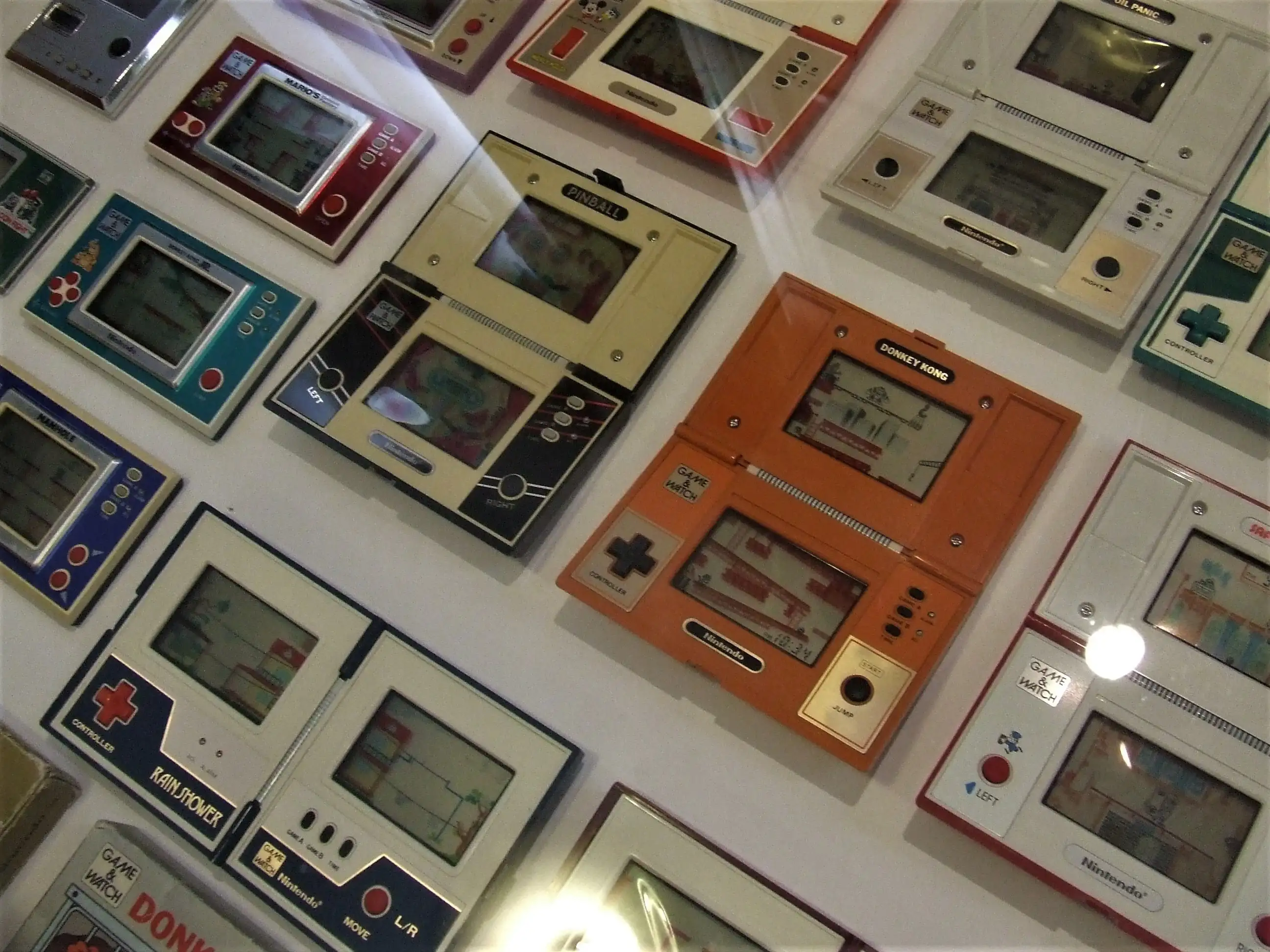 Nintendo's Game & Watch wasn't the first-ever handheld system, but it did a lot to popularize mobile gaming. Whereas contemporaries suffered from reliability issues or were expensive, the Nintendo system was cheaper, more robust, and user-friendly. This shift was due to Yokoi's "Lateral Thinking with Withered Technology": this philosophy meant using well-understood processes, such as calculator technology, that were incorporated to create an accessible product.
The continued use of proven technology would become a hallmark of Yokoi's and Nintendo's design philosophy. Repurposing technology from other sectors would feature in the company's future handhelds as well, with the Nintendo DS, for example, adopting the touchscreen and stylus of the ever-present business PDA. Instead of a risky leap into unknown technology, Nintendo transforms mundane objects into vital elements of its entertainment products. The Game & Watch was the first holistic introduction of this novel approach in the gaming space.
In 2020, Nintendo released a Game & Watch: Super Mario Bros to celebrate the 35th anniversary of the video game series. Nintendo's announcement of a Zelda Game and Watch at the 2021 E3 Nintendo Direct further revived interest in the tale of the classic platform. Decades after its release, appreciation of the Game & Watch's integral place in gaming history has led to a new generation of gamers being introduced to the handheld console.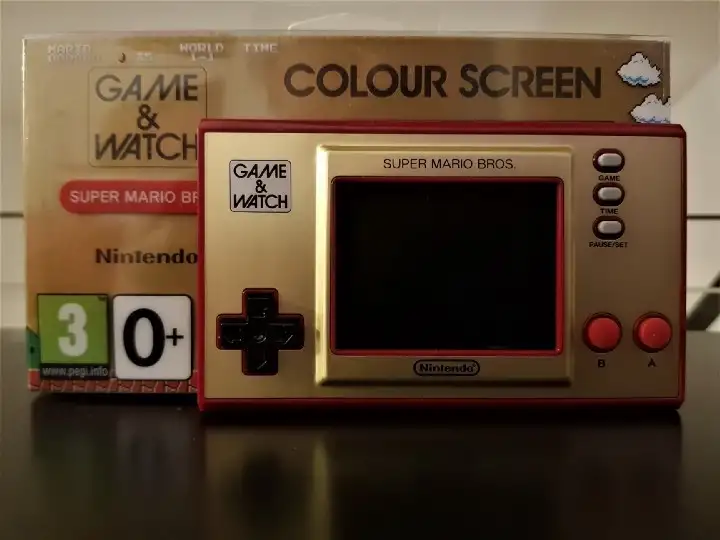 Comments
Sign in or become a SUPERJUMP member to join the conversation.