Revisiting 1996's Broken Sword: The Shadow of the Templars
Celebrating 25 years of a point-and-click classic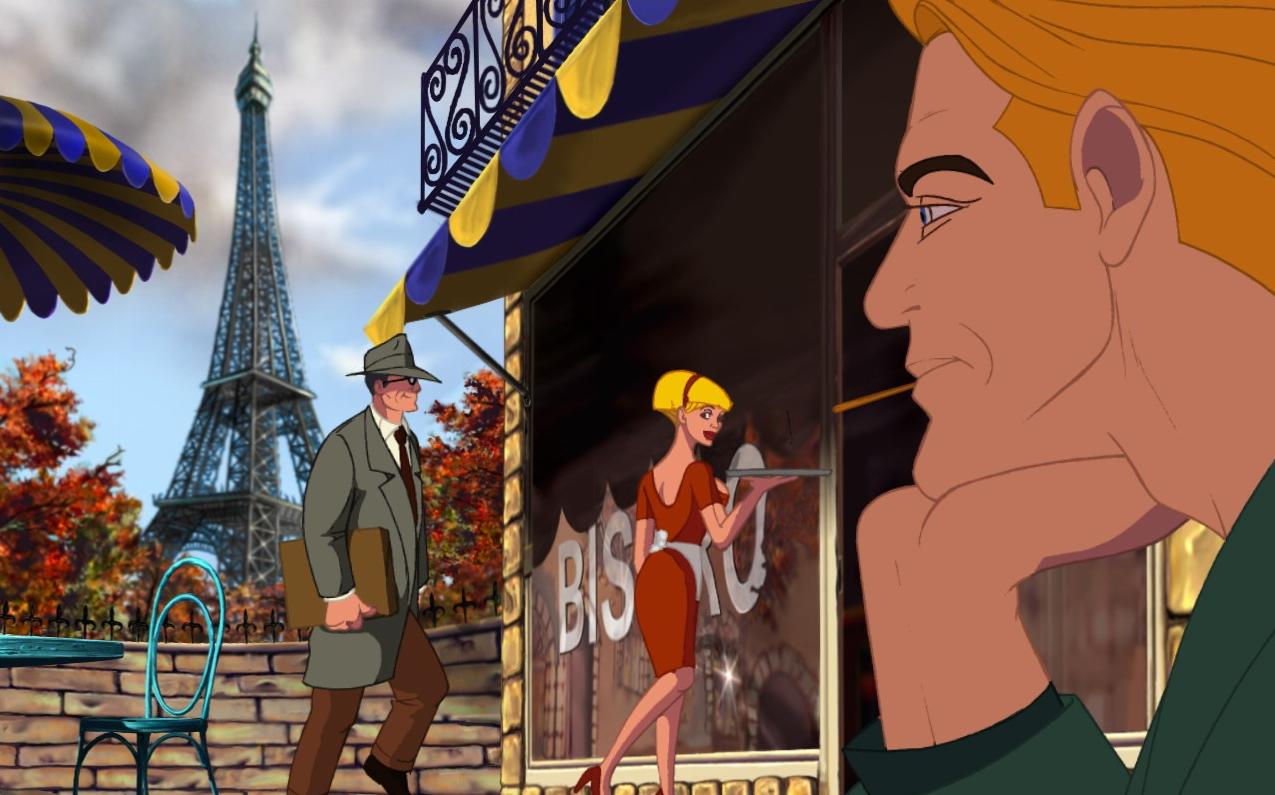 "Paris in the fall. The last months of the year and the end of the millennium. The city holds many memories for me, of cafes, of music, of love and of death."

As Broken Sword opens, protagonist George Stobbart narrates this now-iconic line with reflective melancholy to a black screen. The score, by the late, great Barrington Pheloung, quietly tiptoes in with foreboding dread. Then, an orchestral surge. Title cards appear, giving way to a panoramic shot of beautiful, autumnal Paris. The image lingers through the opening credits, setting the stage for adventures to come.
Enter George, an American tourist, sitting under an umbrella at a table outside a typical Parisian café. A young waitress sets down a coffee. George pushes back his blonde hair and smiles, inviting her to return the flirtation. As the waitress walks away, she offers a glance back over her shoulder, giving George hope she just may.
Suddenly, the waitress collides with a mysterious older gentleman, dressed in a long coat, a briefcase clutched in his hand. His warm eyes and a kindly nod forgive the waitress her clumsiness and the two retreat into the café. Deflated by what he perceives as a lost chance with the waitress, George bites down on a toothpick, his head slumping into his hands.
A flurry of multicoloured balloons intrudes out of nowhere, each adorned with a menacing face. George, unimpressed, pops a red balloon with his toothpick. As it bursts, a clown appears, squeezing a few flat, yet distinctly Parisian notes from an accordion.
George, spared barely a moment to register his disdain, watches as the clown slinks into the café. The older gentleman is sitting at the bar inside, his briefcase on a neighbouring stool. In a swift motion, the clown swipes the briefcase, replacing it with his accordion. The clown darts out of the café, briefcase in tow. A small light on the accordion begins to flash. It beeps with increasing urgency.
As the clown sprints past George into a nearby alley, an explosion erupts from inside the café. The blast shatters the windows and George is knocked out, his body thrown to the ground. Regaining consciousness soon after, George wakes to find himself under the umbrella, its canopy having shielded him from the blast.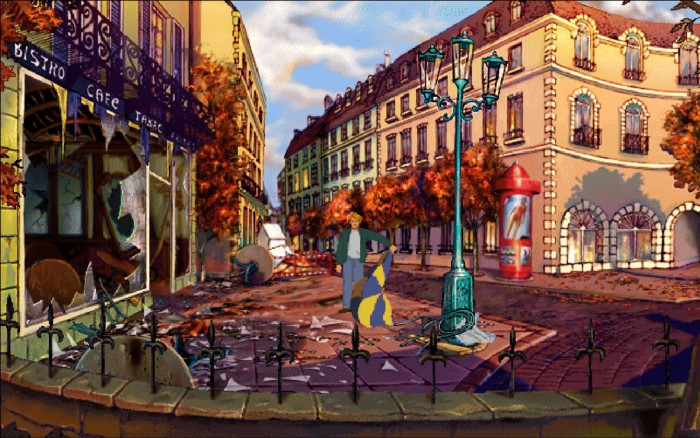 "As I picked myself up, all I could hear was the ceaseless drone of traffic. Life went on around me, but the explosion was to change my life forever."
It's a hell of an opening. As George, the player is now left to pursue the many questions it poses. Who was the mysterious older gentleman? What was in his briefcase? Who is the bomber and why were they dressed as a clown? Is George still expected to pay for the coffee?
George, voiced with a pitch-perfect blend of intelligence and spunk by Rolf Saxon, is tenacious, resourceful, and level-headed. His often dry sense of humour contrasts nicely with the more eccentric supporting cast which, as with any point and click adventure worth its salt, remains memorable to this day.
He'll meet a florist who believes herself psychic, a dimwitted gendarme George likens to a "constipated chicken", a hospital janitor with a little too much affection for his floor polisher, and even a man basting kebabs with a toilet brush.
Each brings a welcome sense of levity to an otherwise serious story and its in this balance that Broken Sword finds its signature tone.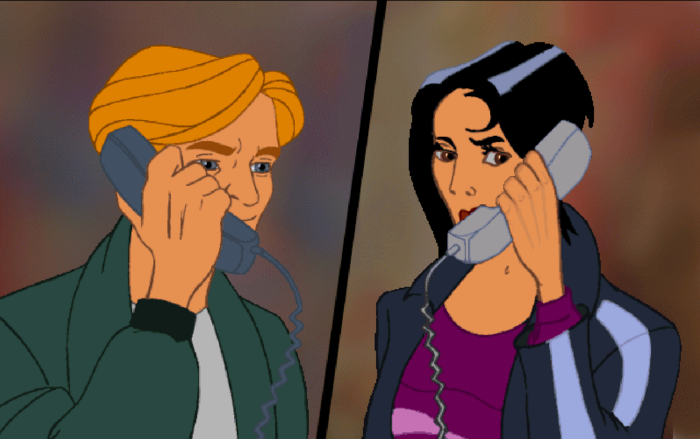 Shortly after the bombing, George encounters quick-witted local photojournalist Nicole 'Nico' Collard and they team up in pursuit of the clown killer. What begins as a cafe bombing soon gives way to a deep conspiracy stretching back hundreds of years, involving conflict between the Knights Templar and Order of Assassins.
In 1996, before Assassin's Creed, this conflict still felt like a fresh base on which to build a story and Broken Sword used it to wonderful effect. Though some liberties are taken in service of narrative, the game shows great reverence for history and clear enthusiasm for sharing it with the player.
As it unfolds, the story takes George to various locations across Paris and beyond. Among many others, you'll visit the local pub in a small Irish town, a quiet villa in rural Spain, a busy market in Syria and the ruins of a Scottish church.
These locations are brought to life in exquisite detail with gorgeous hand-drawn backgrounds and animation by talent from Sullivan Bluth Studios. Founded by ex-Disney animators in 1979, the studio produced hit films An American Tail, All Dogs Go to Heaven, and The Land Before Time.
The film-level quality of animation touches every aspect of Broken Sword, from full cutscenes to the countless individually crafted character animations found in gameplay. The sheer amount of these little actions, many of which the game will use only once, is even by modern standards, extremely impressive.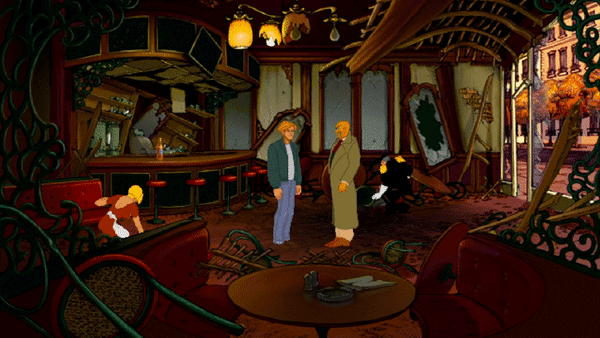 On the trail of the clown killer, George will need to tackle various conversation and inventory-based puzzles, the nature of which will be familiar to fans of this classic genre.
Scour environments for clues, gather items in George's seemingly bottomless pockets, and use them either on something else in the environment or as offerings to other characters. Solutions are mostly logical, though sometimes in a roundabout kind of way. As is typical, there are also a few that only seem logical after you've stumbled upon the solution by desperately trying anything and everything.
The release of Broken Sword in 1996 kick-started what would be come a treasured, long-running series, the most recent being 2013's Broken Sword 5: The Serpent's Curse. Each title is worth playing, but the original is something extra special.
Twenty-five years may be a long time in gaming, but with the accessible simplicity of its mechanics, high quality of writing, beautiful soundtrack, and striking visual design, Broken Sword is just as much worth your time now as it was in 1996.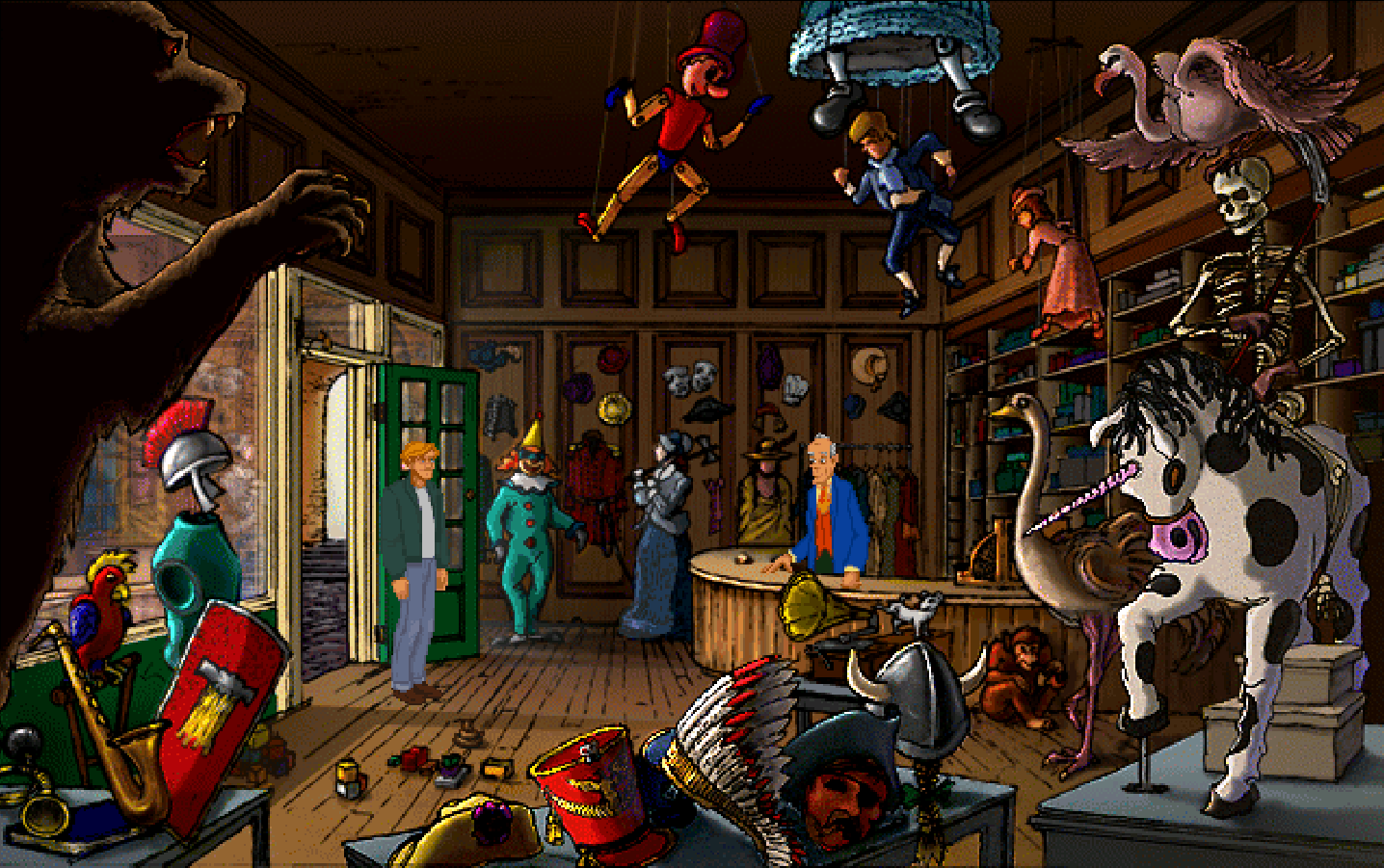 Broken Sword: The Shadow of the Templars: Director's Cut is available on PC and Mac via Steam and GOG.com. The original version is available as free DLC with the purchase of the Director's Cut, and I strongly recommend playing the original first.
Comments
Sign in or become a SUPERJUMP member to join the conversation.