Stardew Valley - On Crops and Randomness
Examining the concept of gameplay variety through luck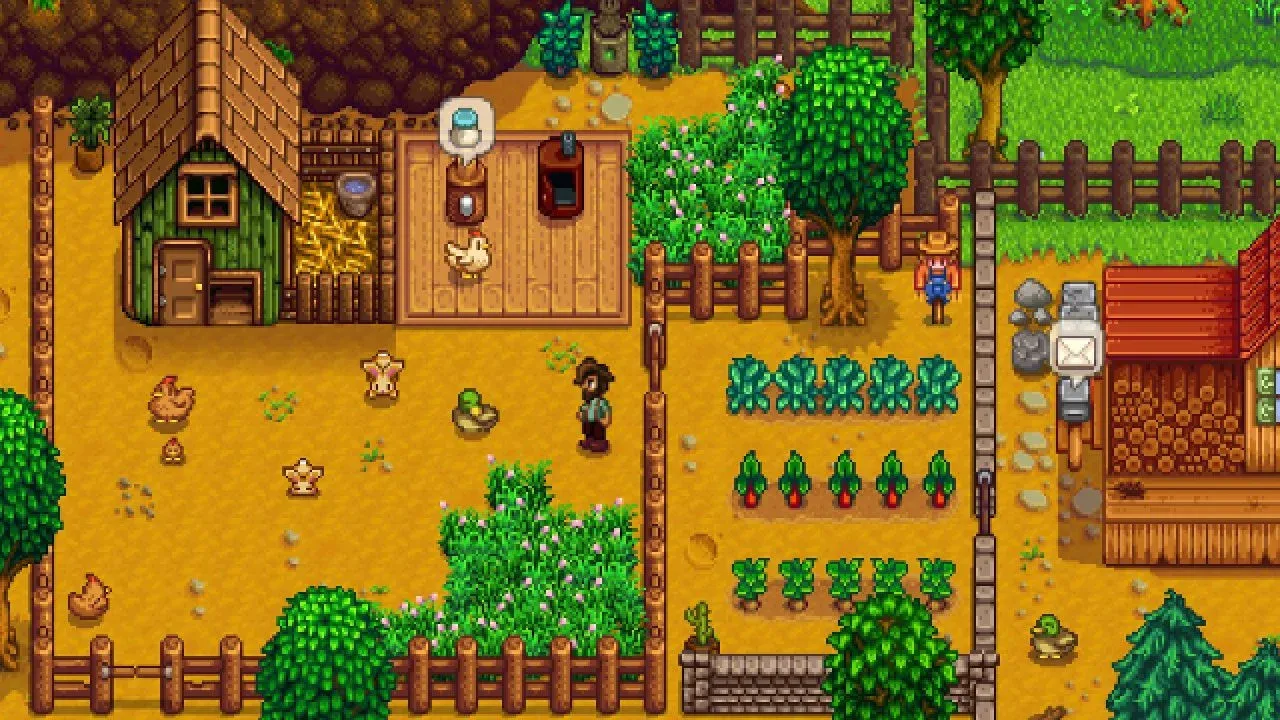 I am still a big fan of Stardew Valley, and even though I have been playing it since the game's release, I do not get tired of trying its different aspects, especially its in-game economy. While exploring the game's multiple options, I became aware of how much each of the distinct economic strategies is dependent on luck.
This article discusses three different strategies for Spring crops: Cauliflowers, Potatoes, and Rhubarb, and how their outcomes and randomness can enable a diverse range of methods.

Under ordinary circumstances, each crop harvested in Stardew Valley is priced depending on its quality, which is largely a result of random chance:  the crops have roughly 46% chance of being of regular quality, 33% of being silver quality, and about 20% of being gold quality. Those are values considering a player's farming level to be ten, which will be used throughout this text for simplicity.
Given these values in a field of 100 tiles, the income gathered per crop type with only these values and possibilities is as follows: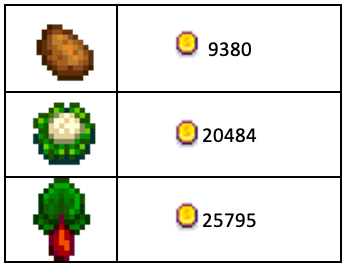 Yet, crops have different growth times. By the time a cauliflower can be harvested, you could have grown twice as many potatoes. However, doubling the earnings for potatoes would only get it to 18760g, which is still below the other two competitors.
That's when another economy mechanic comes into play: Potatoes have a 20% chance of yielding one extra potato when harvested. The corrected income, now taking those two factors into account, goes as follows: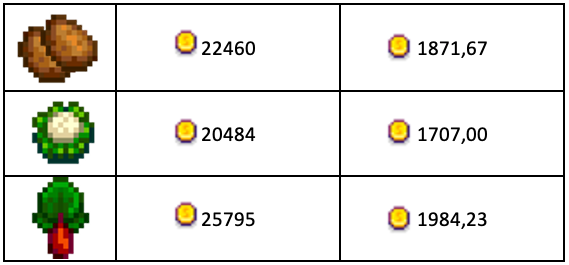 With that in mind, potatoes can potentially be more profitable than cauliflower. Testing the numbers even further, if the extra potato mechanic was up to 37% (instead of 20%), it could earn you about 25860 gold - 65 gold more than rhubarbs.
Although it sounds a bit like a stretch, according to its wiki page, this mechanic can yield an average of 25% more potatoes, while it can also be doubled depending on the Daily Luck. Moreover, this calculi considers the exact quality percentages presented earlier, which are also bound to the luck factor and other variables.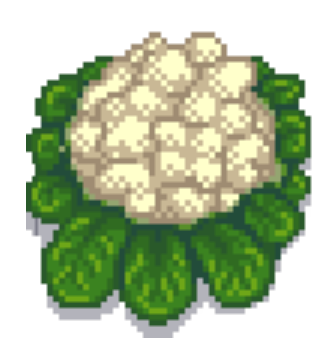 On the other hand, cauliflowers, as well as melons and pumpkins, can spawn Giant Crops: every 3x3 adjacent fully grown cauliflowers can be transformed into a giant crop that yields from 15 to 21 cauliflower, based on luck.
At the start of every in-game day, every possible combination of 3x3 grown cauliflowers (including overlaps) has a 1% chance of transforming into a giant crop. As a player, you can opt not to harvest mature cauliflowers and wait for a giant crop.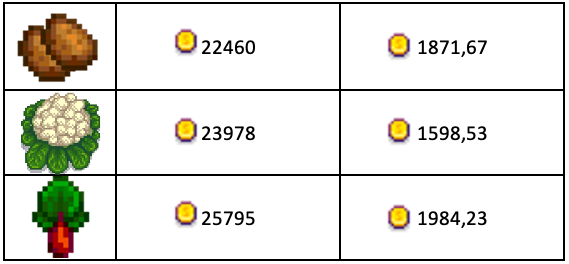 Two giant crops are enough to outperform potatoes, but they still fall short behind rhubarb assuming one giant crop yields 18 extra cauliflowers (the average from 15 to 21).
If you leave your cauliflowers alone, they can still generate more giant crops. Getting the third one will outperform the other two crops by earning a total of 25866g. However, taking into account the amount of gold per day for each one of these strategies, the time used to bet on giant crops might quickly undermine its gains. It is a risk and reward scenario.
So far, rhubarbs have been absent in the discussion since they do not have any specific mechanics on their own and are only available once the Calico Desert is unlocked. Thus, it is not an early game option and can come into your prospects when other mechanics are at the player's disposal, for instance, Preserves Jars and Kegs.

Crops can be stored in preserve jars and kegs to be transformed into jams, pickles, wines, and juices. The process takes a few in-game days and maximizes the profit from the original crops. Nonetheless, the formula for these processes assumes the input used is always of regular quality.
The following formulae are used for all three crops since they are vegetables.
Preserves Jars: Transforms one vegetable into pickles by multiplying their regular value by two and adding 50g.
Keg: Transforms one vegetable into juice by multiplying its regular value by 2.25.
Given this information, the table below shows the results, based on the previously presented values, for using preserves jars and kegs: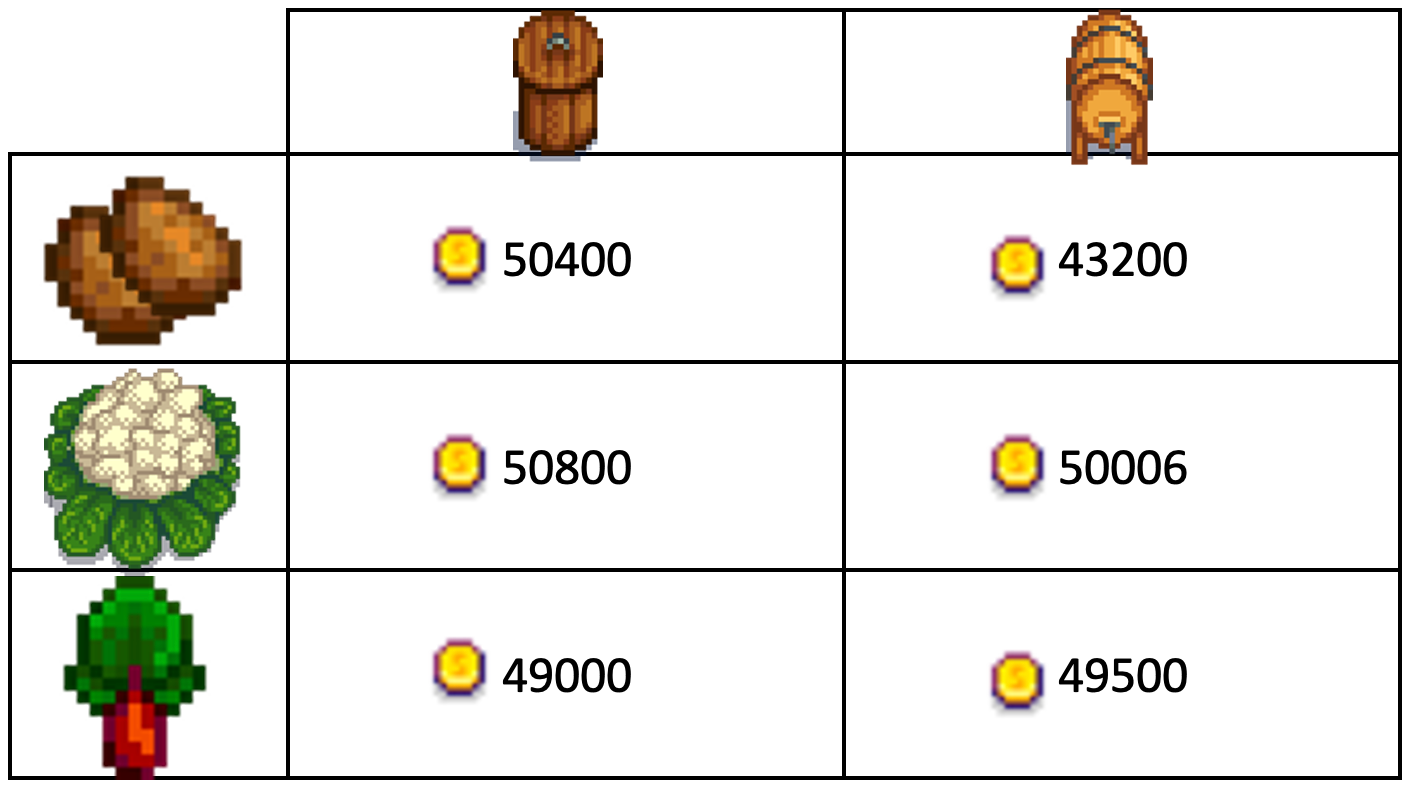 Assuming three giant cauliflower crops, the cauliflower wins in both scenarios, with a higher margin when using preserves jars. However, notice that potatoes on the preserves jar are more profitable than cauliflower juice made on kegs. Even though both formulae are significantly similar, this scenario illustrates how vastly different the results it yields can be.
Furthermore, it is worth mentioning that these results require an average of 100 preserves jars or kegs, which can be quite a challenge in collecting the resources needed. Moreover, you are likely to have more of one of the two, which can be a significant point for your decision-making when picking which crops to grow and which resources to gather.
On top of that, the fact that both preserves jars and kegs ignore the crop quality can compose more complex strategies. A player can decide on only producing pickles and juice for regular quality crops while directly selling silver and gold quality ones. Such an alternative shows that it is possible not to take luck as a passive expectation and more as an active part of your production process.

Another fact ignored in the analysis so far is the possibility of using different fertilizers to alter the behavior of the crops. Quality fertilizers can improve the chances of higher-quality crops, while speed fertilizers can cut down the growth time allowing for more harvests within the same season.
On the other hand, fertilizers cost money and resources to be made, which are factors to be considered while deciding on a planting strategy. As a matter of fact, so far, we also left the cost of buying seeds out of the discussion.
The tables below show the results by subtracting the seed cost from the profits and assuming a lucky scenario (matching the previous values presented) and an unlucky scenario (in which no extra yield is gained from luck). For the sake of comparison, the highest profits per category are marked in yellow.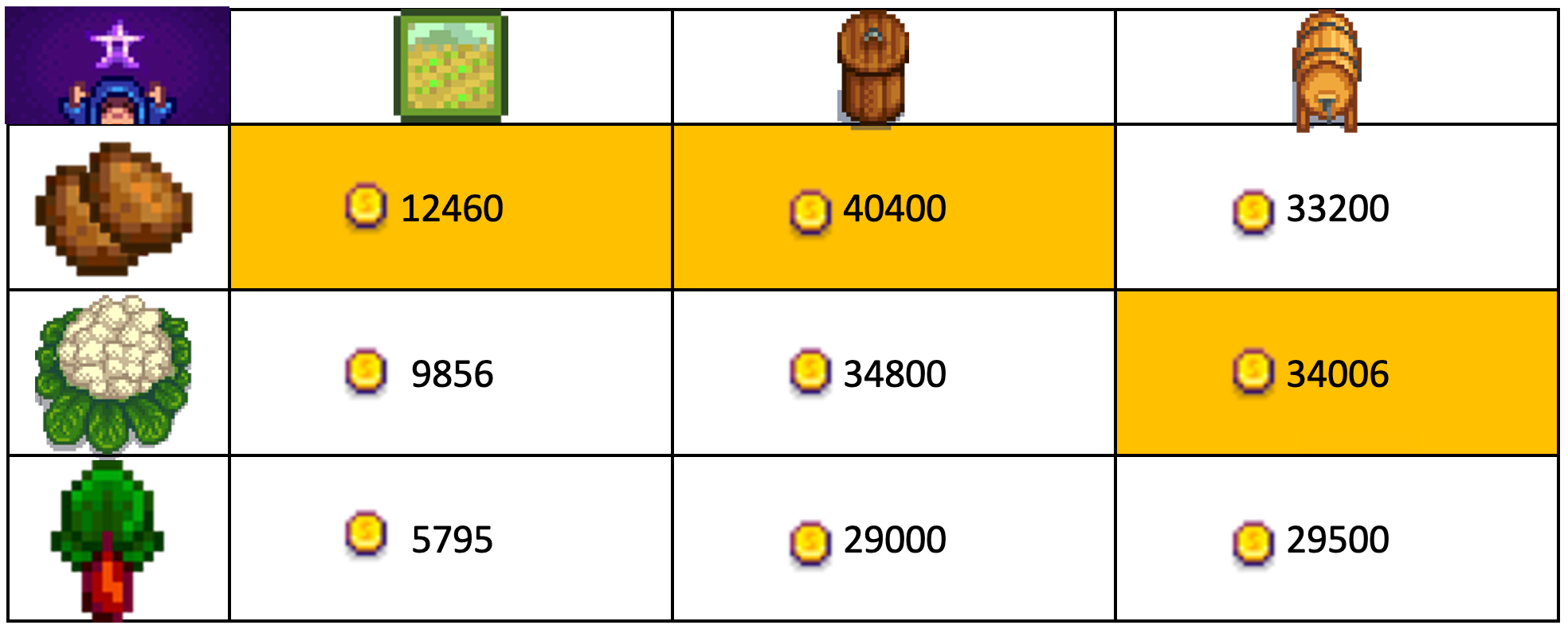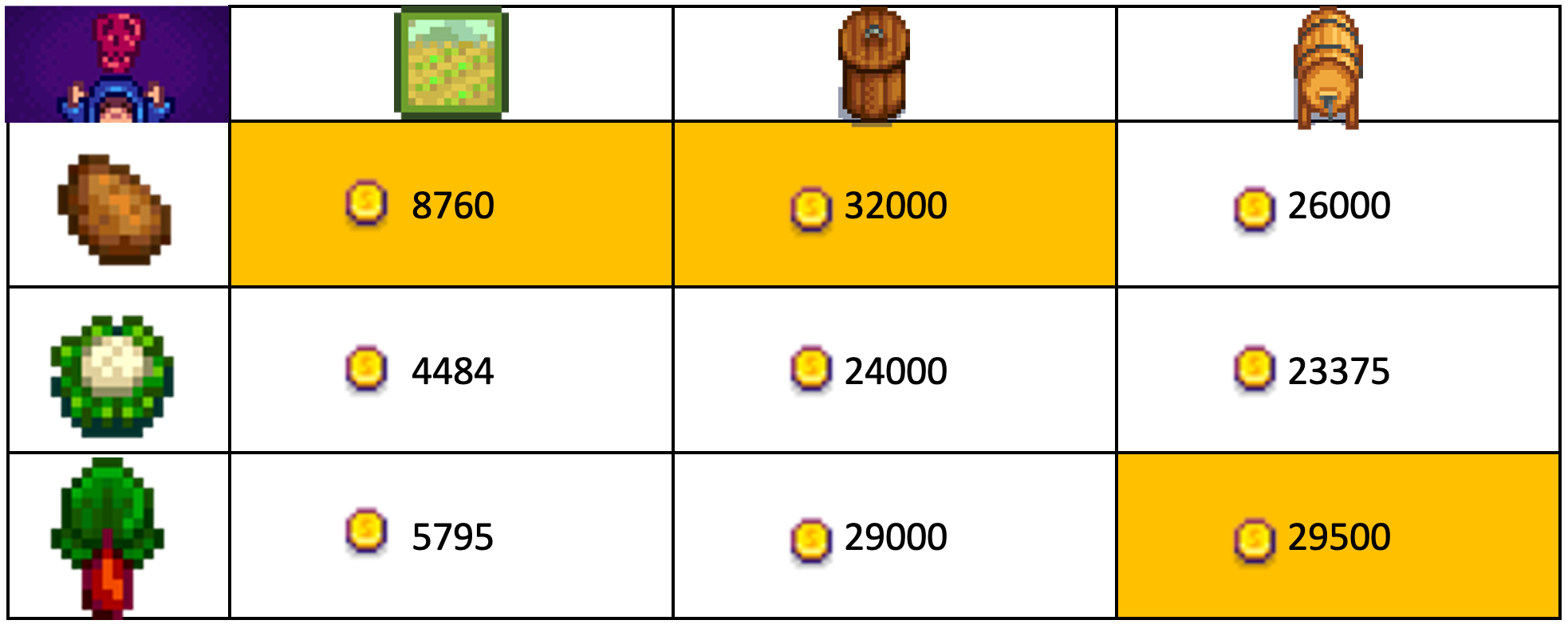 Interestingly, for the lucky scenarios, potatoes and cauliflowers show the highest profits for farming and preserves jars and kegs. In the unlucky scenarios, potatoes still achieve a higher profit for regular farming and preserves jars, but rhubarbs take the prize for kegs.
While, at a glance, rhubarb could be considered the best option due to its high selling price, the analysis so far shows a different story. They are, however, low maintenance and require no lucky chance. Moreover, sprinklers, fertilizers, and plenty of kegs might be available when the player unlocks rhubarbs.
All three crops are valid, given the luck and strategy used. And that's not all. Those were three of the 12 regular crops available during Stardew Valley's Spring Season. If you also consider techniques involving wild seeds and foraging, there are just too many possible viable ways to play the game. Moreover, this analysis aimed solely at the selling aspect while there are many other facets in the game, such as befriending (and dating) villagers and completing the community center.

As a contrasting point, many RPGs and Strategy games use randomness as a fundamental aspect of some of their mechanics for the sake of balance. A critical hit chance or a stealing mechanic, for instance. Randomness adds a risk and reward attribute and lets otherwise overpowered mechanics walk side-by-side with others that are more stable and reliable. That is pretty much the case for many competitive games, and that is a great game design strategy.
Those factors are often overanalyzed to create "perfect builds" and "how to maximize your stats" guides. Studies on how to beat other players and reach high ranks among peers. That is not really the case for Stardew Valley since the competitive aspect is simply not present. The randomness and possibilities are there to allow for a friendlier experience. For Yoba's sake, you can even ignore all this math, plant whatever you want in a chaotic farm mess, and have loads of fun. As said before, no one will have the right to say, "you are doing it wrong."
As no one is competing, the game emphasizes a sense of cooperation and acceptance through its dialogues and mechanics. Since you do not need to "win," you can safely try different options and even define what it means to achieve victory in the game: Is it to buy the 10 million gold Golden Clock? Is it to share the experience with friends braving through the Skull Mine? Or is it to enjoy having a beautiful farm that is not even profitable? The choice is yours and, interesting enough, all options are valid.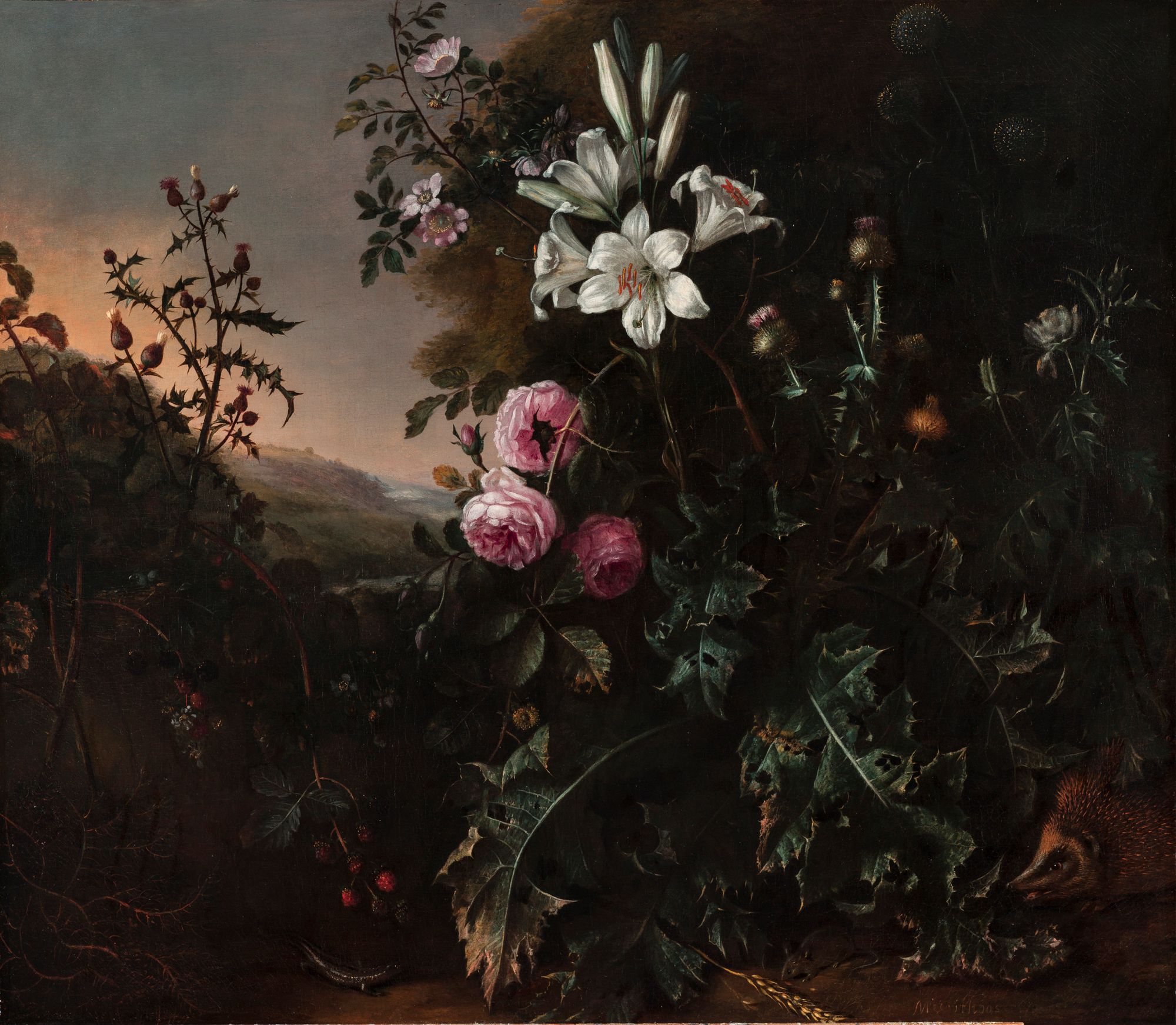 Thanks for reading 😊. You can join me here if you want to know more about me and my work.
Comments
Sign in or become a SUPERJUMP member to join the conversation.