Cassette Beasts Is the Indie Pokemon Alternative You've Been Waiting For
Gotta record 'em all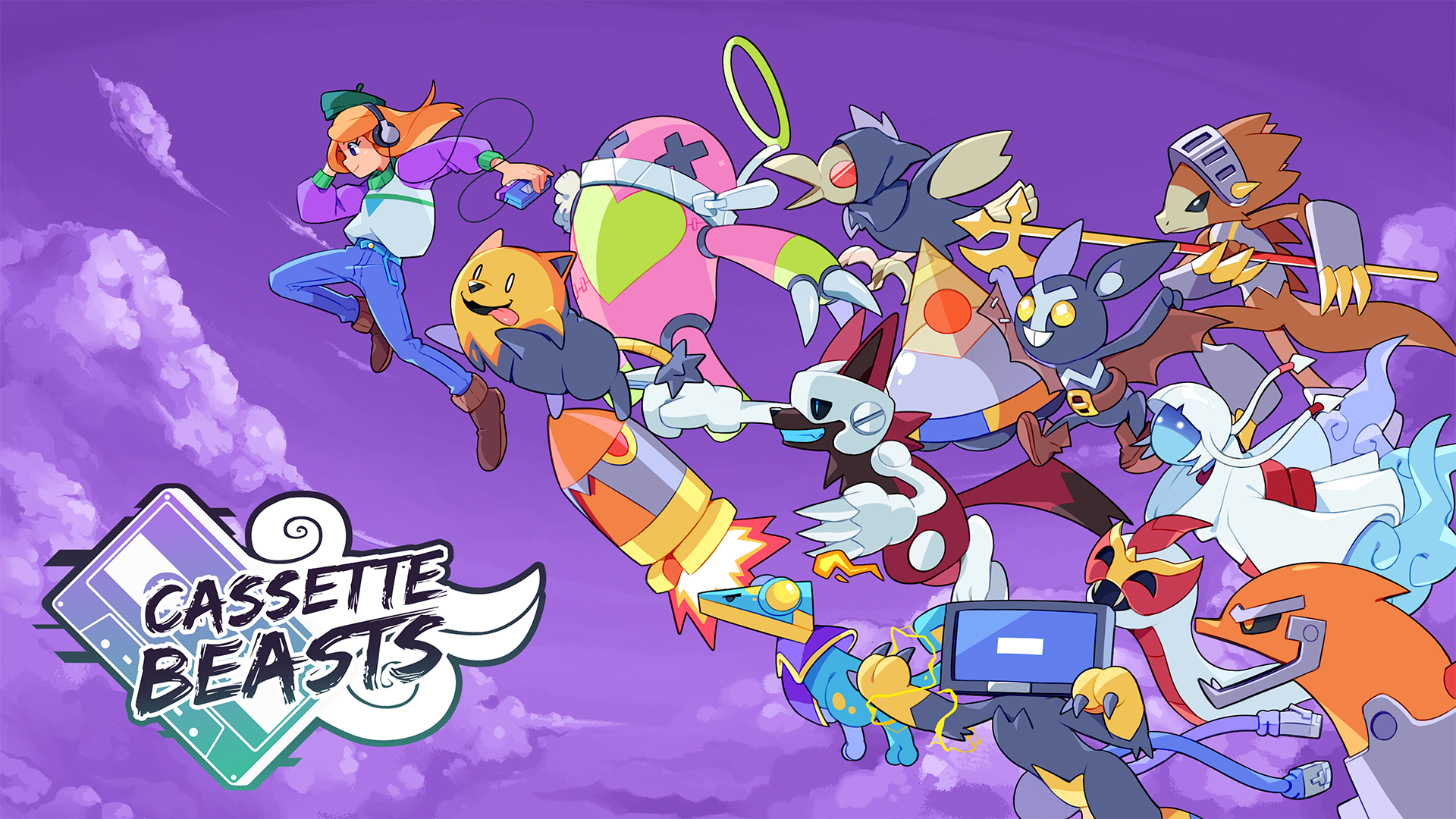 I think that there's a fair bit of pressure on any game developer releasing a Pokemon-like game. Not so much because there are expectations for it to compete with the centrepiece game from the biggest multimedia franchise on the planet. But rather, there is a subset of Pokémon fans, those who have been playing Pokémon since they were kids and are growing discontent with the series, who really want a newcomer to break through and shake up the whole monster-catching scene. Essentially, many people are manifesting a Pokémon killer, or at least a high-quality alternative that scratches the same itch as Pokémon without the frustrations.
I'm not immune from this. When I took part in a Steam Next Fest round-up last year, I chose to look at Cassette Beasts, a Pokemon-like game from UK developers Bytten Studio that is now out on PC and coming to Xbox and Switch on 25th May, and I quietly wanted it to be the one. A game I could point to when there is the near-inevitable Pokemon Black and White remake and say 'Hey, play this instead, it's got everything you want in a Pokémon game.'
And, well, they've only gone and bloody done it.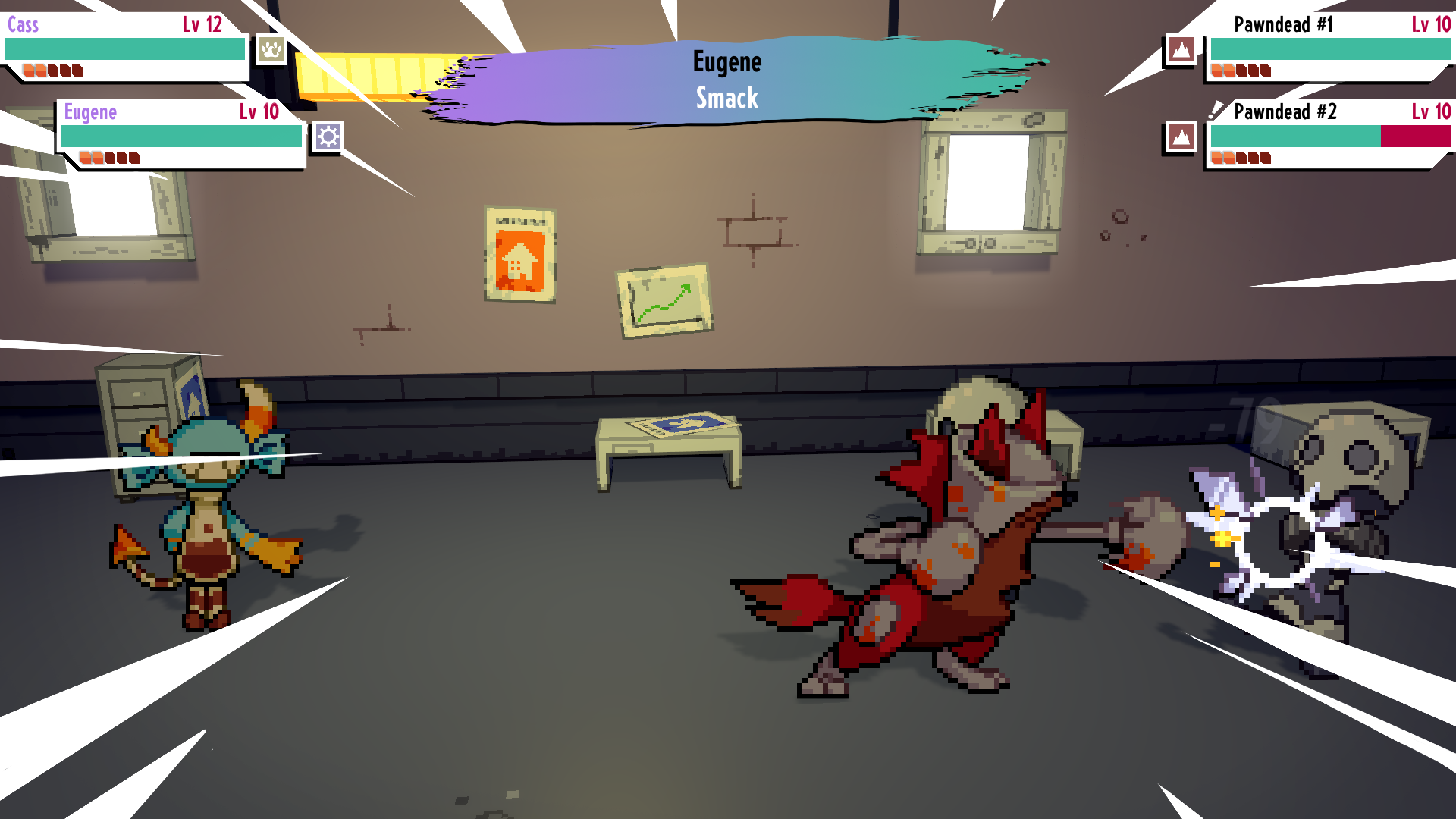 How has Bytten Studio pulled this off? Well, Cassette Beasts is full of twists on the standard Pokémon mechanics and tropes while having a clear identity of its own. Take the intro to the game for example. Your character arrives in a new city where nearly everyone's lives revolve around monster companions. But you're not a kid moving to a new town with your mum; you have mysteriously washed up on the shore of New Wirral. Every inhabitant of the town arrived the same way, and there is no known way of leaving. What you do have is a special cassette player that's given to you almost straight away by the first of your companions along your journey. With this cassette player, you can record the monsters you encounter and become them when you fight. This is a great concept because it sidesteps the whole 'is this like dogfighting?' question that has always been in the back of many Pokémon fans' minds.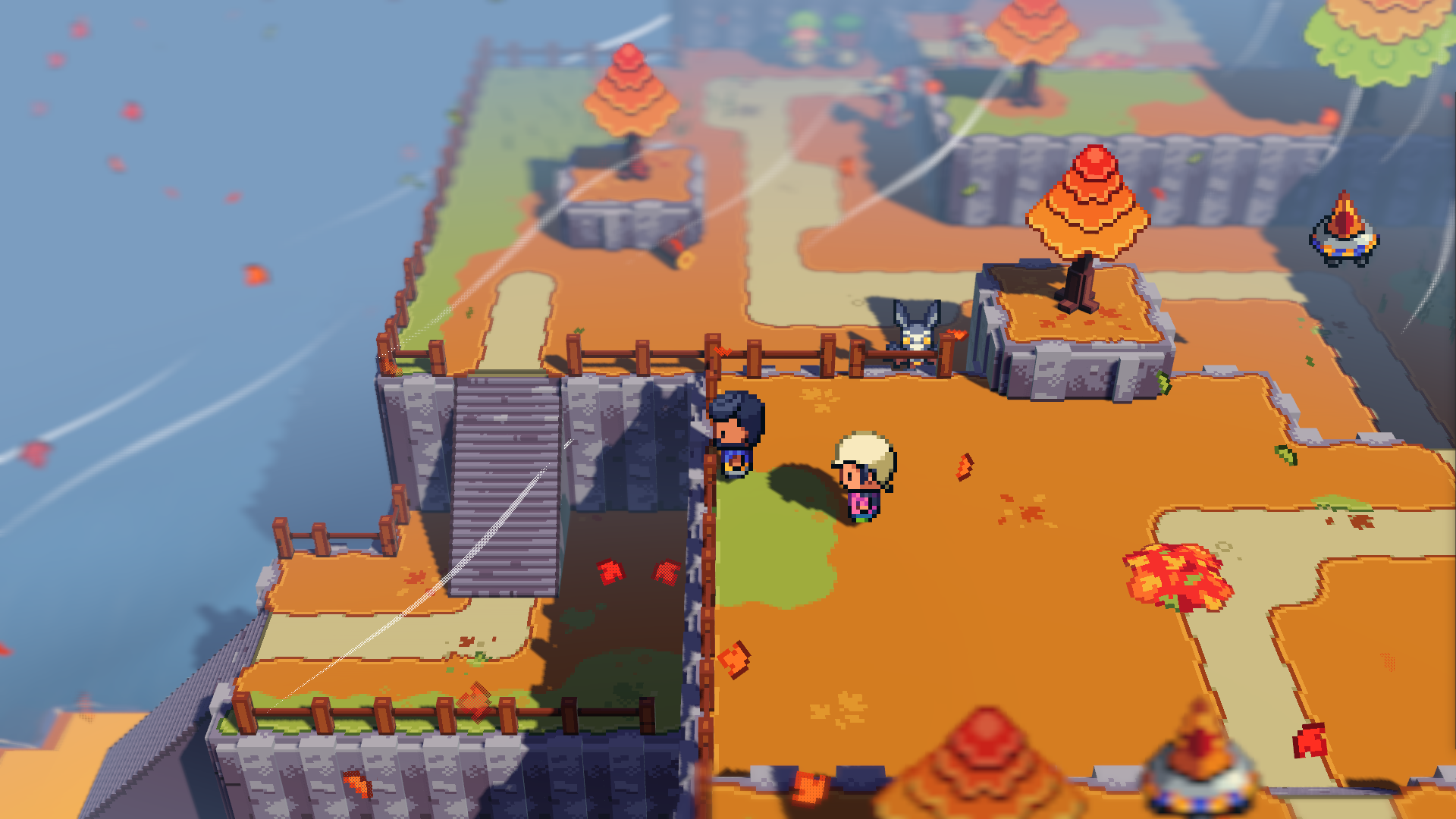 Shortly after being introduced to the people of Harbourtown, which will serve as a hub of sorts, you are free to explore the small but dense open world of New Wirral. You largely have free rein to explore, but are partly gated by movement abilities that you gain by recording specific beasts (a neat improvement of Pokémon's HMs). Your main quest is to find out if there is a way to leave New Wirral, which is quickly found to be related to the mysteriously abandoned train stations that appear throughout the island. You also have a couple of secondary quests that will be more familiar to Pokémon fans. The first is to find and defeat 12 rangers who use varying types of beasts and tactics. Second, you must fend off the villains of New Wirral, who at first seem like vampires but are actually something different (though just as nasty) – opportunistic real estate agents and landlords.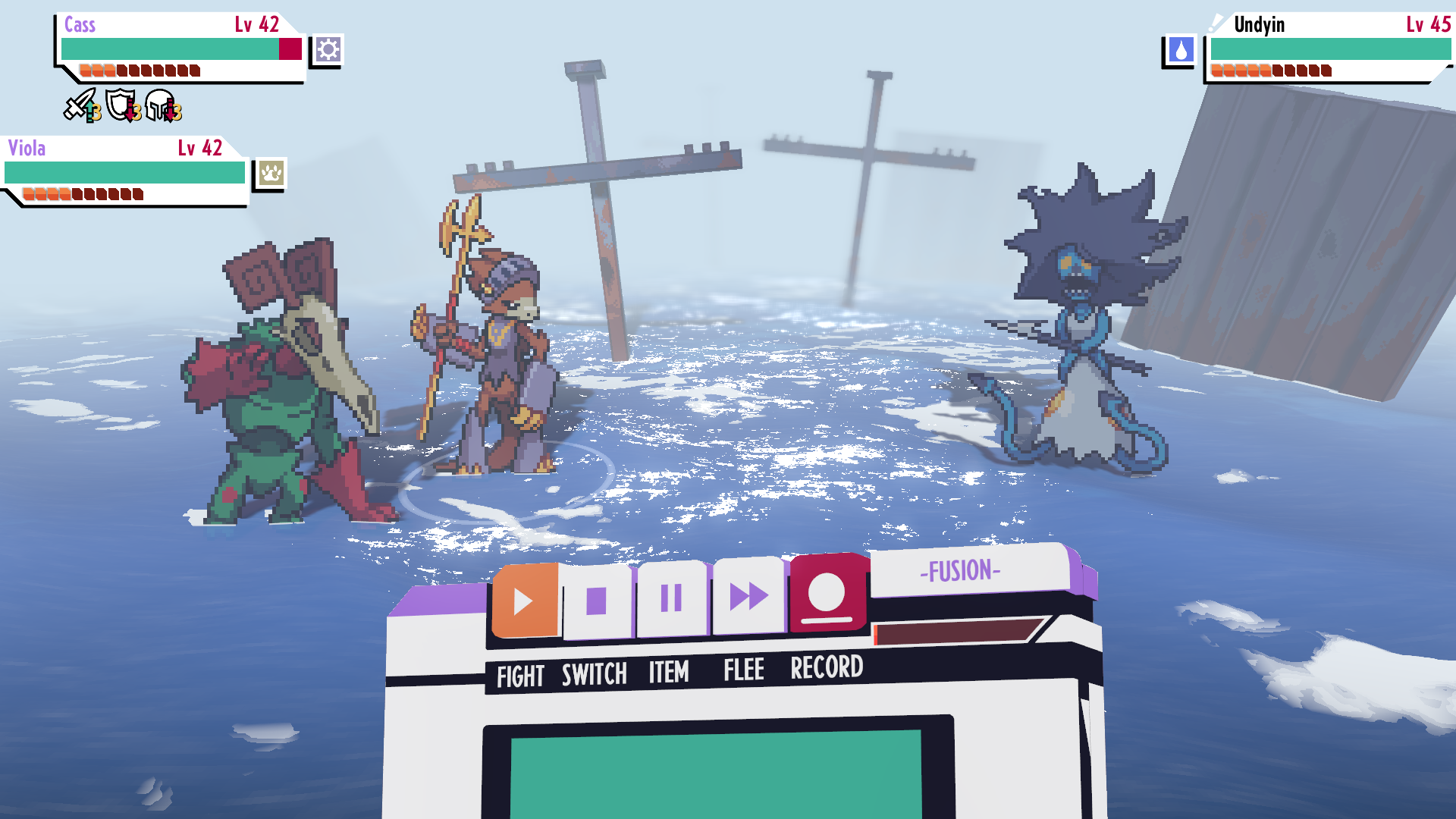 So that's the set-up, but what of the real meat of the game:  the battles and the little guys duking it out? Well, the battle system is familiar yet different. It's generally 2 vs 2 battle, with you and your companion fighting together (there's couch co-op available, but I haven't tried it). Rather than the PP system of Pokémon, each move other than the most basic of attacks requires a certain number of action points, which gradually build up at a rate of two per turn. This results in a different flow to the battles, as you build up to bigger attacks before slowing down a little.
The beast types are similar to Pokémon, as there are elemental types like water, fire, plant, ice and lightning, and types that differ such as glass, plastic, and astral. There are advantages and disadvantages to each type but instead of dealing more or less damage, there's an effect that occurs. For example, a fire attack will melt a metal type, giving it the burn status, while hitting a water type with fire will give it healing steam, or hitting an air type will create an updraft that creates an air wall (the equivalent of Pokémon's substitute).
It's a fair bit to keep track of, but it's logical so even if you aren't sure you should have a fair enough idea to get through. Then there's the fusion system, a feature straight out of Pokémon fan games. A gauge builds as you take hits, and when it fills up you can fuse your two beasts together, which creates a unique-looking beast that hits twice as hard. It's a fun gimmick on par with any of Pokémon's recent efforts, such as Mega Evolutions and Dynamaxing, and not having it available every battle means that it doesn't lose its novelty so quickly.
It all combines to make a quality battle system, with enough depth to match the upper end of Pokémon duels, and the AP system means that you will need to engage with support moves and debuffs more than you might in the average trek to the Elite Four. Doubly so when you reach the boss fights of the game – mysterious Archangels that inhabit the train stations and take on a bit of a creepypasta style in presentation, each having a long buildup to a devastating attack.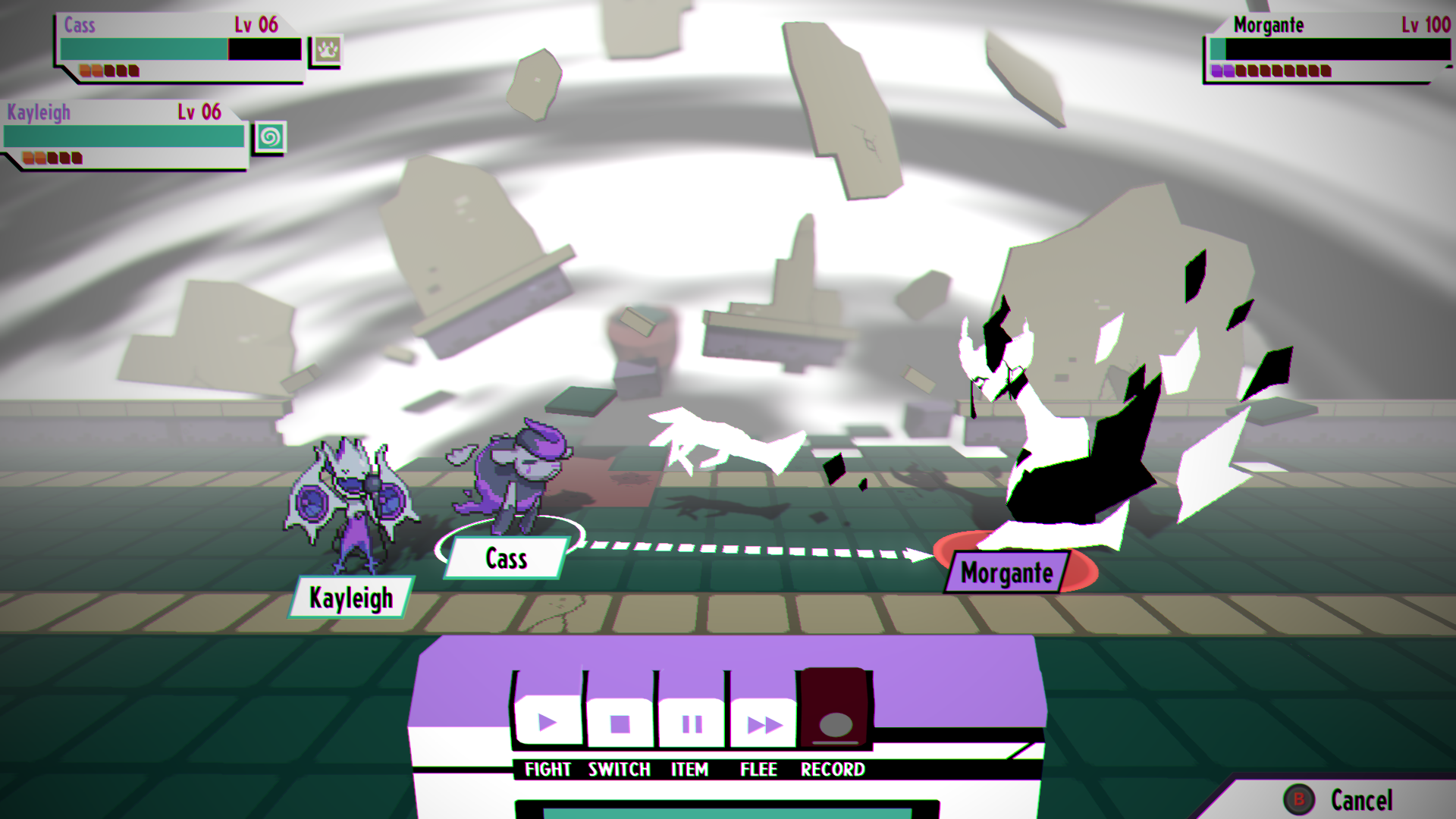 In an article I wrote about Pokémon Scarlet and Violet, I discussed the strong designs of the new generation of Pocket Monsters, and how the series' increasing battalion of memorable little guys elevates it above their competitors. So for me, it's important that a monster-collecting game has an impressive array of little dudes. And I'm glad to say Cassette Beasts nails it in this regard. There's a clear and cohesive design on display – the beasts are bright and really pop when you meet them for the first time.
There are often two inspirations at play for a beast, which come together in a punny name. Take the two beasts used as mascots for the series, for example: first is Pombomb, (an explosive, fire-type Pomeranian) that remasters (i.e. evolves) into the flight goggle-wearing Spitzfyre. Second is Trafficrab, a crab mixed with a traffic cone, that remasters into Lobstacle (lobster and roadside barrier) or Weevilite (weevil and traffic light) depending on whether you invest in defence or attack. A favourite of mine is a cocktail waiter genie called Djinn Entonic. I hope they took the afternoon off after thinking of that pun.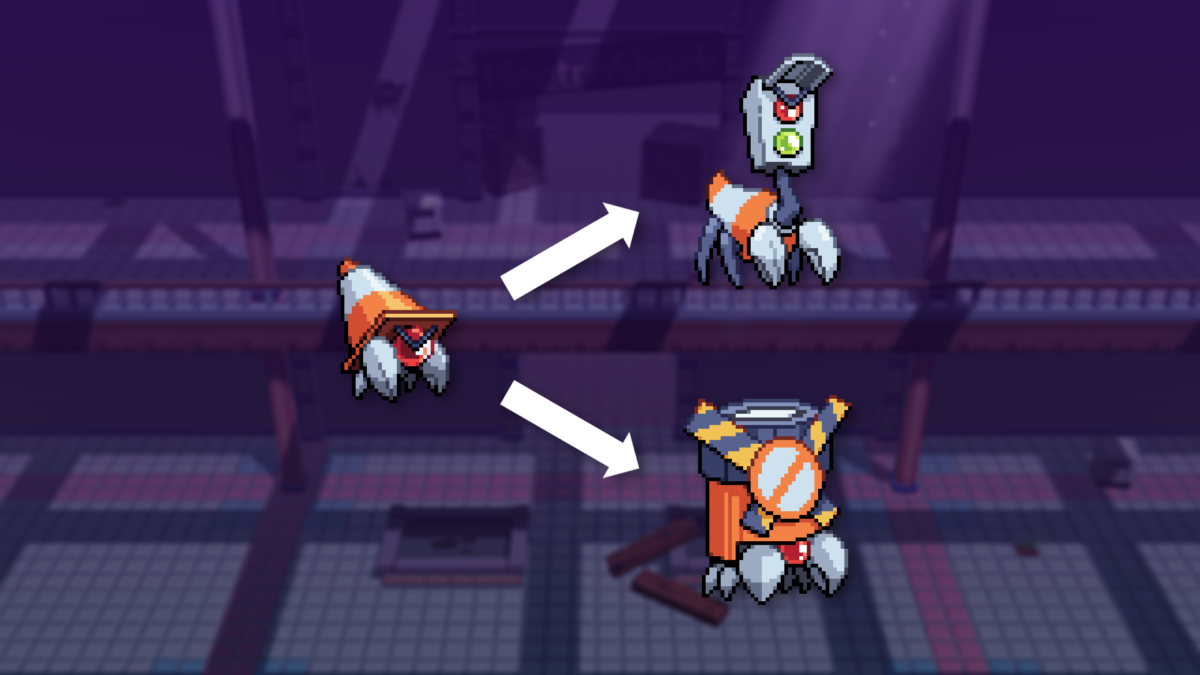 One last aspect of the game that I want to touch on is the clever levelling system. There are two kinds of levelling up in Cassette Beasts – the player character and their companions level up, and that level decides the base stats of every beast they transform into. Meanwhile, the beasts level up by gaining up to five stars on their tapes. Each star gains the beast a new move (these are called stickers and are very easy to mix and match, which makes forming strategic move sets quite simple). Once they hit five stars, you can remaster them if they are able to. This means that a new beast you own isn't under-leveled when you record it – it's just missing some moves, and can easily catch up by being in your party or giving it some stickers.
This system allowed for much more experimentation over the course of my playthrough, which I greatly appreciated. There's also a Persona-style social link system, in which you level up relationships with companions by adventuring with them and completing their own side-quests. There's really quite a lot crammed into this game. There's post-game stuff there, too, which I've barely scratched, and difficulty modifiers, too.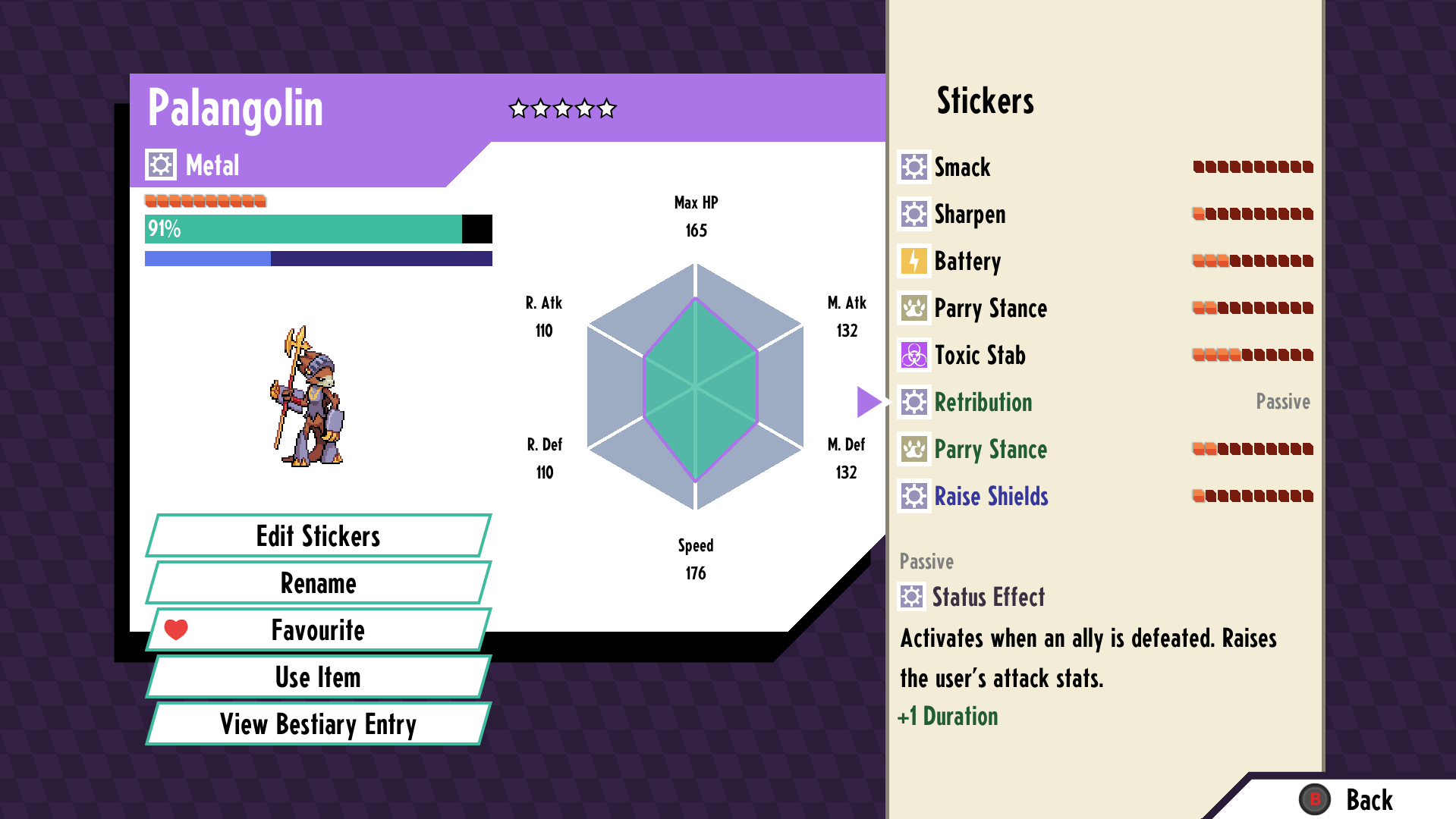 To sum it all up: this is the indie Pokémon alternative that you, the grown-up, disillusioned Pokémon fan, have been waiting for. If you've wanted to do some monster collecting but don't want to engage with Pokémon, this is the game for you. The only note I'd give for prospective players is that the game's performance on PC is far better than it is on console, which could certainly be better.
Comments
Sign in or become a SUPERJUMP member to join the conversation.