Convening in Seattle - Reviewing PAX West 2022
A post-Covid return to gaming conventions
With the easing of COVID restrictions comes a return to in-person gaming conventions such as the beloved PAX shows. PAX West took place from September 2nd through the 5th in Seattle, and we were there for (almost) all of it. Keep reading for all the details!
Friday's Couch Concert
I started the PAX festivities from my living room on Friday night. Unfortunately, I could not make Friday's session physically, but I couldn't miss one of my favorite video game music performers, the Triforce Quartet, so I tuned in to Twitch TV. With two violins, a cello, and a viola, this group of strings plays the most beautiful Zelda and Final Fantasy music you've ever heard. Truthfully their music brings tears to my eyes. They've put together an emotional ballad paying tribute to Undertale, titled 'Undertale: Boss Medley.' And much like their 'Final Fantasy Boss Medley', you're sure to get chills as you relive the emotional tension of these battles.
A Saturday Filled with Swag, Meandering, and Killer Queen
Saturday morning I landed in Seattle to a light drizzle, but it didn't dampen my mood. The PAX Covid health pass and badge registration operated quickly and efficiently thanks to the blue shirt Enforcers who enthusiastically directed the flow of bodies.
Saturday was shoulder-to-shoulder packed, and I was thankful for the mandatory mask requirements. I know from previous conventions that certain merchandise sells out fast, so the first thing I did was make my way to Limited Run Games and Fangamer.
Forget locating anything, because I wasn't searching, I let the crowds consume me, swallowed by flashing lights and booming music as I floated around from booth to booth like a lazy river. I stopped at Goat Simulator 3 by Coffee Stain Studio, Salt and Sacrifice by Ska Studios, and WrestleQuest by Skybound Games to name just a few games for which I'm very excited. I made a high pitch squeal as I admired a Final Fantasy X Lulu cosplayer, a Lord of the Rings Nazgul, and Rani from Elden Ring.
Time for panels! I'm always overzealous when it comes to scheduling panels, so I looked at my list of eight or nine, and quickly narrowed it down to… one. The panels were across from the expo hall at a Sheraton, and my panel of choice was The Neruodivergent Gamer: Perspectives on Inclusion and Design. But it was completely FULL! Okay… so in thirty minutes another panel was right next door, and now I'd be plenty early.
Panel: The New (and Old) Realities: Getting into the Gaming Industry
The New (and Old) Realities: Getting into the Gaming Industry was now my attended panel. Although some key points seemed like common sense, they needed to be stated to a predominantly younger audience and I enjoyed the discussion. The guest speakers included Rich Well [CXO, ModSquad, Inc], Rick Heaton [YellowPike Media], Jenesee Grey [Good Shepherd Entertainment], and Jennifer Nichol [Microsoft XBox]. I really enjoyed this as they spoke candidly about the gaming industry and highlighted some not so easy to swallow truths.
A few bullet points:
Apply to places you know; as in you've played their games and have done basic research into a company
Know someone in the industry
Network through Linkdn or Twitter and have a positive online presence
Contribute to the community; through mods, fan art, writing etc…
Follow up interviews, use personalized cover letters and write a thank you letter
Virtual Reality Meetup at Jupiter
Saturday evening was spent at Jupiter Bar where I met up with my friend Jasmine who is a virtual reality content creator for a channel called VR with Jasmine. She has created a positive and educational space promoting the quickly evolving world of virtual reality. We had an engaging conversation alongside VR podcasters, content creators, and VR game devs about the future of VR and if Apple's new VR would bring VR mainstream before Meta. The conclusion was ultimately undecided: they have the tech, but will they develop the games?
Now Jupiter Bar is no ordinary bar. The space seems unassuming until you make your way to the back area, where you'll discover a sprawling arcade filled with pinball, racing, and fighting games. The wall art is spectacular and I found myself admiring it as I searched for my favorites. I found my resting place at Killer Queen (5 vs. 5 arcade game that I adore) and watched matches as I jumped into hive battles myself.
Sunday Panels, Indie Showcase, and Gameplay
Panel: Parenting a Gamer: Fostering Healthy Gaming Relationships
I squeezed in two panels on Sunday. First up, Parenting a Gamer: Fostering Healthy Gaming Relationships hosted by Ash Brandin [Teacher, EdS, BVSD]. I adored this panel, Ash was an expert in the field and you could tell how much experience and passion they had. This really touched on my love of psychology and gaming, and I could relate to many points in my own childhood.
Understanding the stigma and bias surrounding gaming as a scapegoat for gun violence and behavioral problems
Scarcity creates a preoccupancy mindset around games; counter this by accepting they are important to your child and create a routine around games rather than a reward only if all other activities are completed
Games help children (and us!) learn through intrinsic motivation and self-determination theory
Know what motivates your child; some children like to socialize with friends, while others may thrive on structure, building, or customization when it comes to picking games
Emotional outbursts are usually not about the game; all feelings are okay, all behaviors are not okay
I really appreciate Ash and found myself nodding in agreement with every point. I wish more parents understood the educational and critical thinking benefits that gaming can provide to their children, and the "games are bad" mindset that many parents have is due to not having played themselves or understanding the medium.
Seattle Indies Expo
Around noon I swung by Seattle Indies Expo for a look at developing games. This is a nonprofit organization built around fostering accessible and inclusive space for game development which has regular meetups. If you can ever go to one of these events, I highly recommend it because you can play the game as the devs talk to you and take notes. It's essentially live alpha and beta testing, and they are excited and grateful to show off their work.
Time to Play!
With the crowd thinning, I rallied and decided it was time to actually play some games. First up, I played a top-down puzzle game with an old-school aesthetic called Akurra as the developer Jason Newman chatted alongside me. It was fun to see his reaction as I solved puzzles and smile enthusiastically about his game. Having a love for retro games, I'll definitely give this Kickstarter-backed game a chance on Steam when it releases in winter.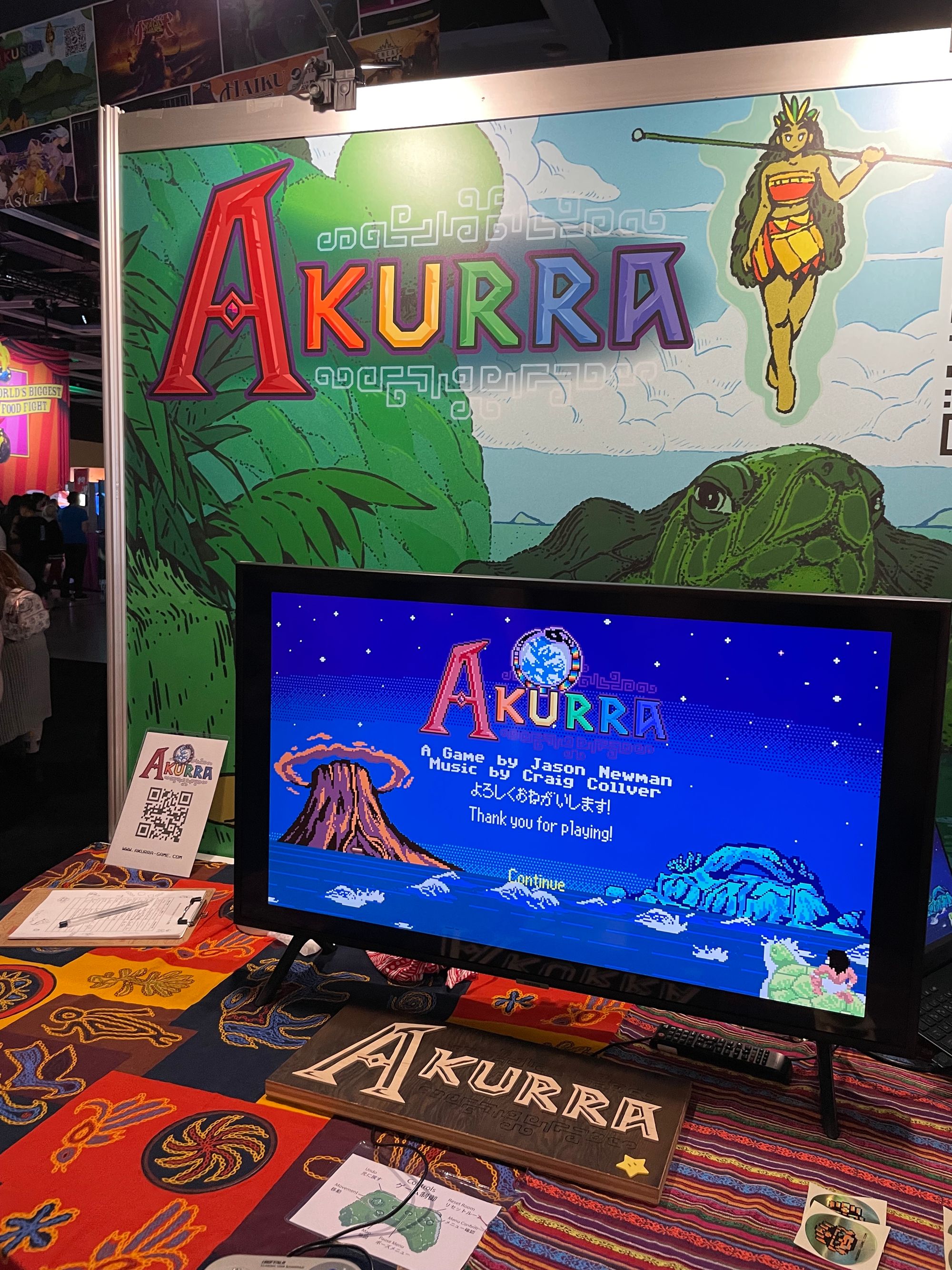 Finji holds a dear place in my heart with titles like Chicory, Night in the Woods, and Tunic. And I cannot believe their newest release I Was a Teenage Exocolonist escaped my radar. This is a must-play for any sci-fi fan. A simulation game with multiple different endings, you live a life on an alien planet as you transform from child to adult.
Tameless was the last game I spent considerable time with, a rogue-lite that combines swords and potion-mixing as you hack your way through mines and caves. Schell, the main character, is imprisoned by humans and must fight her way to freedom. I had fun mixing different potion elements, dealing status effects and AOE, and inflicting environmental damage before dashing away. The game didn't feel as smooth as say, Hades, but with a release in 2023, I'm confident it will be a strong contender amongst other rogue-lites.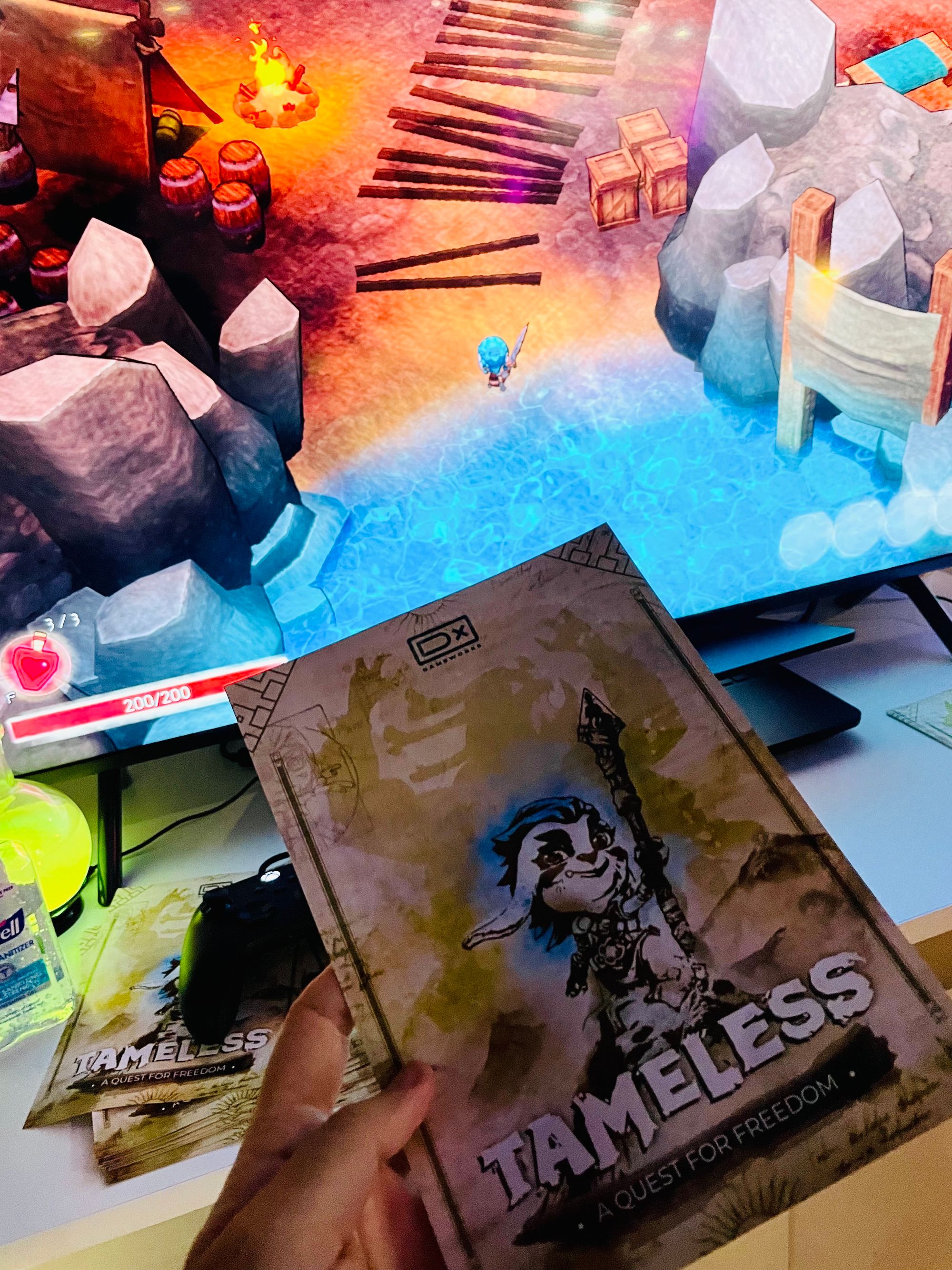 My Fond Relationship With Wrestling
Panel: The History of Wresting & Gaming
Wresting in the late '80s and early '90s was a staple in my home. I remember the theatrics and piledrivers and would often ask my dad, 'Do you think that it's real?' To which he always replied, 'It's definitely real'. The cheers and boos would be in the background during dinner as I became familiar with names like Rey Mysterio, Sting, Ric Flair, Undertaker, and Randy Savage to name a few. But I never truly grasped the stories and drama, which is why WrestleQuest is my most anticipated game.
So when I saw this panel I knew I had to attend. The Mega Cat Studios founders [James Deighhan and Zack Manko] tagged teamed with Jeff Jarrett [Wrestling Legend] and Patrick Hickey [Gaming Historian] to discuss the best wrestling game on every console.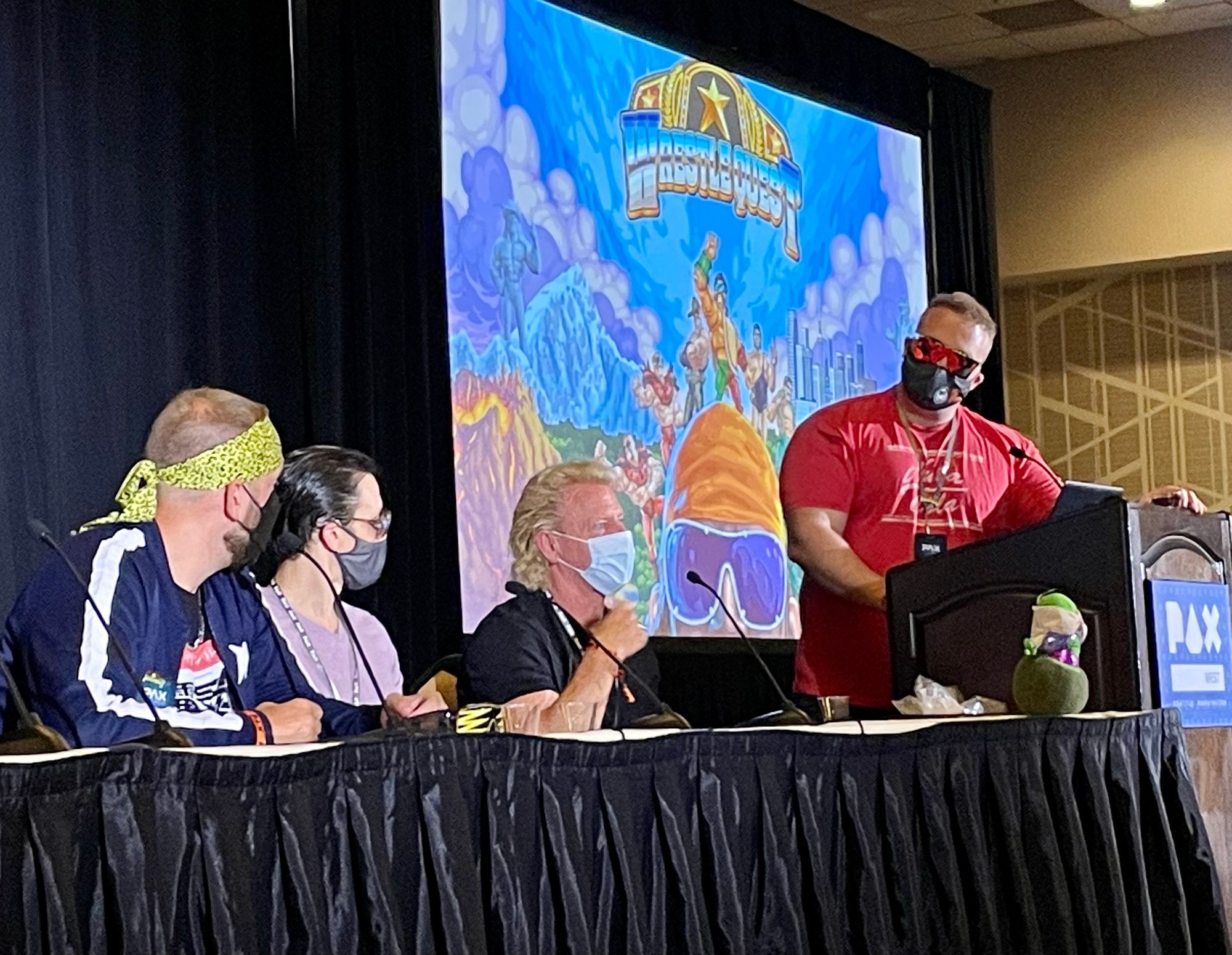 I had no idea that there were hundreds of wrestling games with revenues amounting to about two billion dollars since their inception. WrestleQuest is a no -brainer when it comes to guaranteed success, as all of us millennials relive the excitement of the ring and the behind-the-scenes stories in this RPG adventure. The panel had no shortage of interesting discussion and nostalgia.
---
What a fun and exhausting weekend. You can imagine how much my feet and brain hurt after packing that into two days! Thanks so much, PAX 2022!
Comments
Sign in or become a SUPERJUMP member to join the conversation.