PlayStation 5 consoles are continuing to filter through the gaming population as we speak. This PlayStation might be the first that some gamers own. Whether it's your first — or simply your latest — there's no question that the PlayStation brand has a remarkable pedigree. Let's take a step back and look at Sony's home console history, its impacts, and some of the greatest experiences it continues to offer to its players.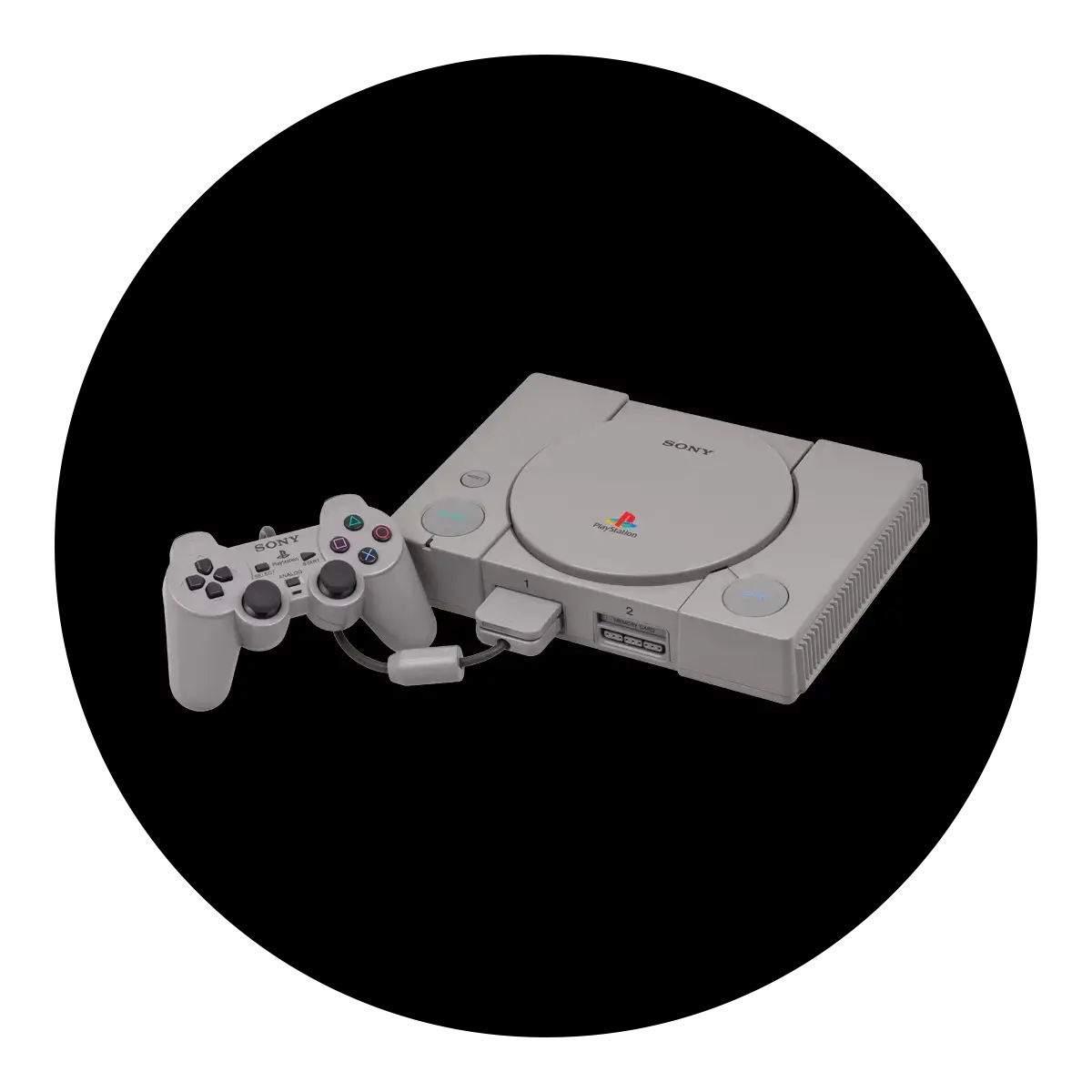 PlayStation
It was back in the middle of the '90s when Sony, an electronics manufacturer mostly known for its TVs, radios, and cell phones at the time, decided to dip their toes into the video games industry. Sony was spurred by the success of the two key players in the field at the time, Nintendo and Sega. Their initial idea wasn't to create a console of their own but to co-develop a machine alongside one of the two. However, both their efforts fell flat, with Nintendo opting to join with Dutch manufacturer Philips at the last minute and Sega rejecting Sony's approach because of their lack of experience in the field.
From the basis of the work they had already done on the console with Nintendo, which would utilize the storage capacities of CD-ROMs, Sony proceeded with its development. They made agreements with several third-party developers, such as Namco and Konami, in order to have a strong line-up of games to go along with the launch of their new console. And at the first-ever Electronic Entertainment Expo (E3) back in 1995, Sony revealed what would be their original home console, the PlayStation.
The PlayStation launched in Japan in December 1994 and in the US in September 1995. Its sales exceeded even the greatest of expectations, with queues of players lining up outside stores and retailers running out of stock daily. Its subsequent release to Europe and Australia only enhanced its success, shattering the competition and ensuring that Sony would now be one of the key players in the industry. It's worth pointing out that the PlayStation outsold its chief competitor, the Sega Saturn, by more than three to one within the first year of launch.
One of the main reasons behind the PlayStation's commercial success was its brilliant marketing campaign and a price point of $100 less than Saturn ($299). Sony also owed much credit to its strong library of launch titles, with games such as Ridge Racer, Wipeout, and Tekken. After a while, more and more third-party developers would turn their backs on Nintendo and Sega and move toward Sony. This move made sense due to the popularity of this new machine and its technical capabilities, the greater storage capacity of the CD-ROM giving them more options for the creation of their games.
Some of the most well-known titles and franchises to come out of the original PlayStation's library are the Crash Bandicoot series, Final Fantasy, Metal Gear Solid, Tekken, Tomb Raider, Resident Evil, Command & Conquer, Dragon Quest, Gran Turismo, Grand Theft Auto, Mortal Kombat, Persona, Tom Clancy's Rainbow Six, Silent Hill, and Street Fighter. Sony also kicked off the now-eponymous trend of yearly releases for a broad range of sports titles, such as FIFA, NBA Live, Madden, Formula One, and others, most of which were published by Electronic Arts (EA).
Among the many franchises that found success on the PlayStation, there were some titles that stood out more than others. Final Fantasy VII is perhaps the greatest example, helping the console to sell even greater numbers worldwide and creating a legacy for future players. It is difficult to overstate the importance of that game to the PlayStation's legend, as its flashy marketing combined with graphics that were once unimaginable in a video game, turned legions of kids (and adults) into gamers and RPG lovers for the first time.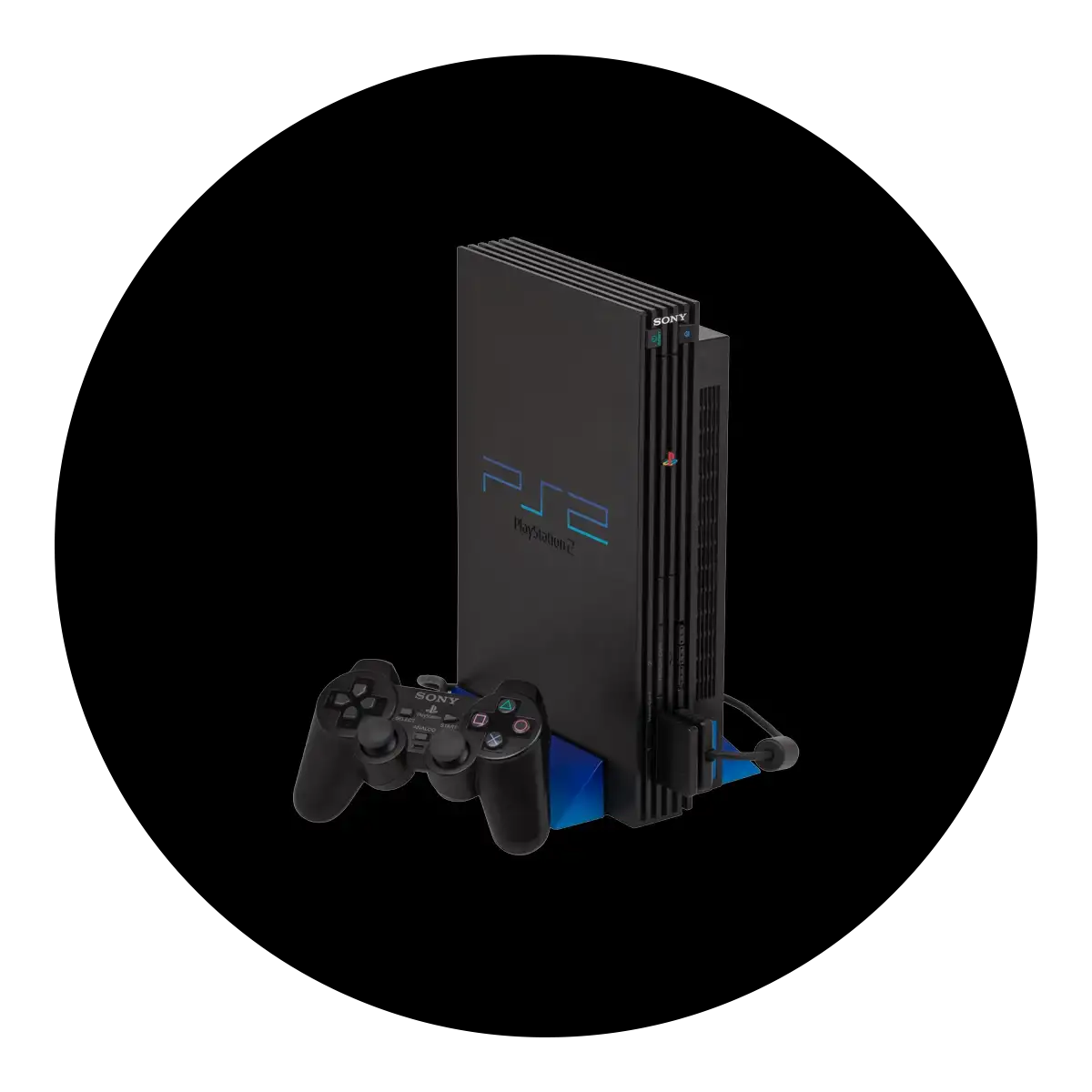 PlayStation 2
Hot on the heels of its dramatic entry into the home gaming console market, Sony began developing its successor. As early as 1997, the rumor mill was running wild about a new machine that could also play DVDs and connect to the Internet. These are two capabilities that seem quite primitive to us now, but back then they seemed like a page out of a sci-fi novel. Yet it wasn't too long until Sony would confirm the rumor; at the Tokyo Game Show of 1999, they showed the world the PlayStation 2 and announced it would come out a few months later.
Having already created a strong fan base for their brand name, which was largely due to the many great gaming experiences the original PlayStation offered, Sony launched the PS2 in 2000. Within days, sales figures for the console had passed into the millions of units, as many players ran into empty store shelves and resorted to dishing out thousands of dollars through online purchases in order to find one.
Sony wanted the PlayStation 2 to provide greater experiences for players through sequels and fresh titles for all of their most beloved franchises. They also ensured that the original PlayStation collection would be available to gamers by making the PS2 backward compatible. Additionally, they created memory cards (save file holders) with greater storage capacity to accommodate the larger and more complex games their studios were churning out. Another reason for the success of the PS2 was the fact that it doubled as a DVD player, reaching out to a wider audience.
To cap it all off, it was rather cheap compared to its opposition, the Microsoft Xbox, the Nintendo GameCube, and the Sega Dreamcast. The success of the PS2 was so great that it forced Sega to discontinue its console and remove itself from the market entirely. It's worth pointing out that still today, the PS2 remains the best-selling console with over 155 million pieces sold, a number that seems unimaginable even by today's standards.
Most of the well-known franchises that had begun on the original PlayStation continued on the PS2, with the addition of others that would leave their own mark in the years to come. Kingdom Hearts, God Of War, Jak & Daxter, Ratchet & Clank, Guitar Hero, Star Wars: Battlefront, and Devil May Cry are just a few of the examples of series that began long and fruitful runs on the PS2. The most successful title on the console was GTA: San Andreas, which sold 17.33 million copies, followed by Gran Tourismo 3: A-Spec, which was bought by 14.89 million players.
PlayStation 3
Sony's seventh-generation console, which entered development in 2001, had a great legacy to follow and large shoes to fill but was also up against stronger opposition. Microsoft followed up its successful first console with the stronger and faster Xbox 360, while Nintendo remained a powerful competitor in the market with the highly innovative Wii.
Announced at E3 2005, the PlayStation 3 was met with skepticism due to its large price compared to its predecessor ($599), but also the fact that it launched in two editions, one with a 20 GB storage capacity and one with 60 GB. The 20GB version was not only possessing of less storage, it was also lacking the HDMI port, flash drive reader, and Wi-Fi Internet connectivity that was included with the 60GB version. As if that wasn't enough to fill customers' minds with doubt, Sony pushed the console's initial launch date in Europe a few months back due to a shortage of manufacturing materials.
The first PS3 models could read all of the PS2 and PS1 discs and play the games, just as PS2 had done. Sony would release a 'Slim' version of the console less than three years later, however, which removed that capability and made it the first of Sony's consoles to not offer backward compatibility. This decision received strong criticism at the time and foreshadowed Sony's move away from any kind of prior-generation compatibility with the PS4.
The PS3 moved on from DVDs to the larger storage capacity and technical capabilities of the Blu-Ray discs, allowing developers even greater space to create their worlds and tell their stories. Additionally, it was the first Sony console to have a wireless controller (Sixaxis) and the first to use the Internet in order to create an environment that allowed players to set flagstones along their own in-game journeys through the acquisition of Trophies. This functionality came from the fledgling PlayStation Network, which also gave players the option to purchase games digitally and store them on their console's hard drive through the PlayStation Store, a move that wasn't too popular initially but has gained more and more followers in recent years. Furthermore, it offered a subscription service dubbed PlayStation Plus that gave players online storage capabilities for their game-save files and two free games each month.
Even though the PS3 didn't sell anywhere near as well as its predecessor (less than 88 million units worldwide as of March 31st, 2017), it did offer players some incredible experiences and became a home for some of Sony's greatest franchises. It also expanded Sony's line-up of exclusive titles, giving it an edge over both Microsoft and, to some extent, Nintendo as well.
Most notable among the long list of the PlayStation 3's exclusive titles were the Uncharted series (which spanned a trilogy during the PS3's lifecycle) and The Last of Us, both developed by Naughty Dog. Another strong new entry would be Red Dead Redemption, which was created by the GTA series developers Rockstar Games. Alongside those, there were several other great titles to be released on the PS3, such as Metal Gear Solid IV: Guns Of The Patriots, Killzone 2, Infamous, Demon's Souls, Batman: Arkham Asylum, Call Of Duty 4: Modern Warfare, Assassin's Creed, Devil May Cry 4, and Resident Evil 5. In total, the PS3 has an impressive lineup of over 1000 titles.
The best selling PS3 games were Grand Theft Auto V with over 21.3 million copies, Gran Tourismo 5 with over 11.94 million copies, and The Last Of Us, which sold approximately 7 million copies.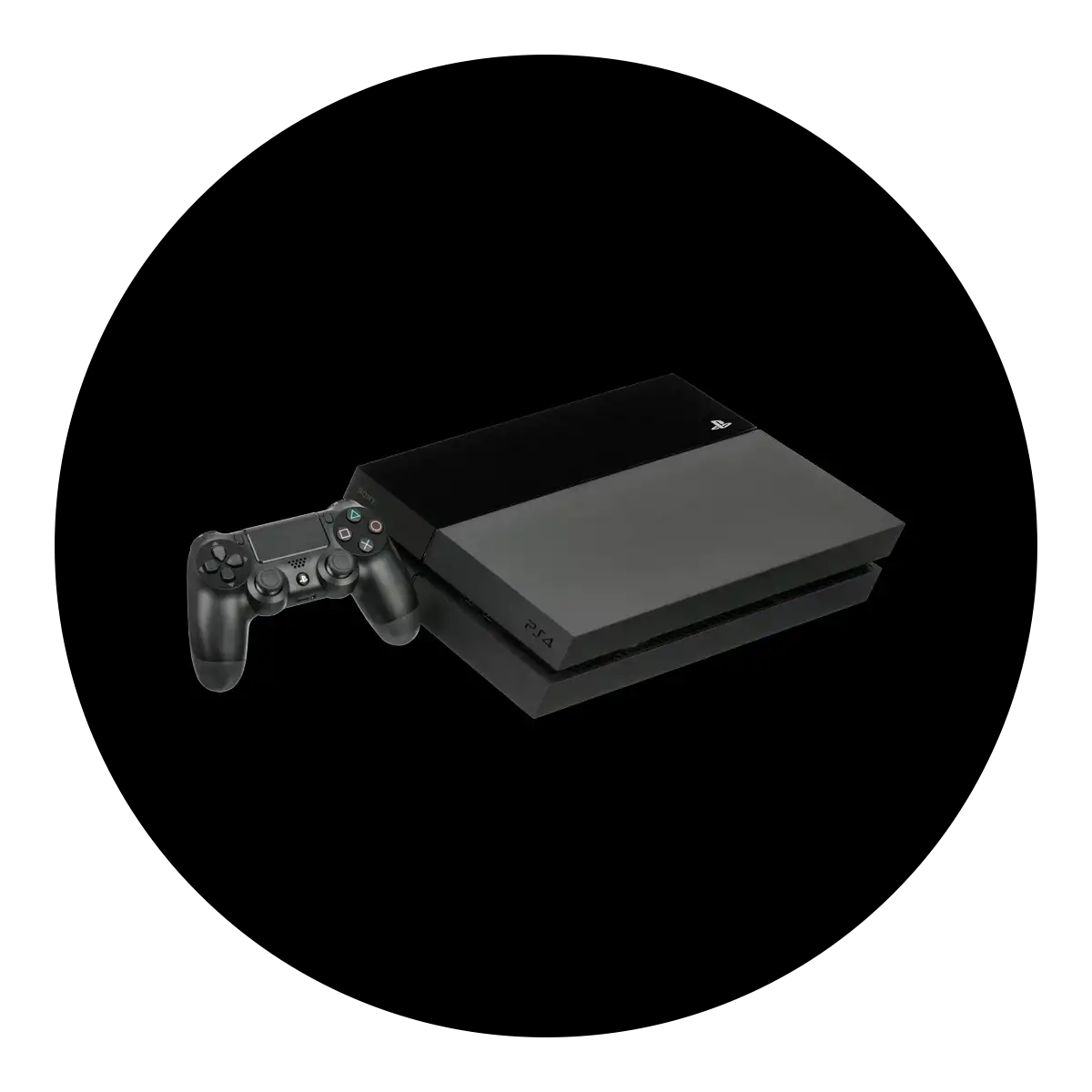 PlayStation 4
During what we can only describe as a rather lackluster lifecycle for the PS3, Sony worked behind the scenes on what would be their next and most powerful console to date. Critics and consumers had universally criticized Sony for the massive selling price of the PS3, as well as the difficulty in developing for the convoluted custom architecture they had utilized. This time, however, they were willing to put all the lessons learned in those trying days to good use in order to create a machine that would give developers greater creative freedom and bring players from around the world closer together.
PlayStation 4 entered development in 2008, with Sony sending out kits to all of its main developers four years later in order to get their input and better understand what it is they wanted from this new console so that they could make their games better and more efficiently. The PS4 was announced at a Sony event dubbed "Future Of PlayStation" that took place in February 2013, keeping the design of the machine itself a secret until that year's E3. The new console released on 15 November in the US and Canada, and on 29 November in the rest of the world.
The build-up for the release of this new console made it obvious that it would be extremely well received by the public. People queued outside of stores for hours and online retailers were already out of stock days (or even weeks) before launch. By the end of the year, the PS4 had crushed its main competitor (Microsoft's Xbox One), outselling it almost three to one. The main reasons behind its success were, of course, the online capabilities, the impressive lineup of launch titles of the console, and Sony's incredibly smart and targeted marketing campaign. At E3 2016, they announced they would sell the PS4 at a bargain price of $399, which compared favorably to the Xbox's heftier $499 price point. Sony also took aim at Microsoft's game-sharing limit and focus on non-gaming aspects of the console, such as the integration of cable TV and voice control for basic tasks. Microsoft's stumbles in their early strategy instantly made PS4 the number-one choice for most players.
The PS4 featured a greater range of options for players to interact with one another, such as the ability to create social groups based on their interests and events, as well as the ability to form parties and play together while communicating via headset. Additionally, the new controller (DualShock 4) featured a "Share" button that players could use in order to publish their achievements or images of their in-game adventures on their social media accounts (although eventually the option to share them on Facebook was removed). Players could also live-stream their games or watch other players from around the world play their favorite titles and leave comments or likes.
Apart from already-known and well-established franchises, the PS4 became a breeding ground for many up-and-coming independent studios (indies) to show off their work. Many games created by small teams became great hits for the console, such as Celeste, Hellblade: Senua's Sacrifice, A Plague Tale: Innocence, and Dead Cells, among many others.
What the PS4 is most well-known and highly regarded for, though, is the incredible gaming experiences it offered to players through stunning visuals and emotion-provoking soundtracks. These games have pushed the industry forward in a way that no one ever thought possible and with the launch of the PS4 Pro, which offered up to 4K resolution a few years later, the line between reality and gaming blurred even further.
Some of these titles include: God Of War (a reboot taking the series in a radical new direction), The Last Of Us Part II, Uncharted 4: A Thief's End, Horizon Zero Dawn, Final Fantasy VII Remake, Red Dead Redemption 2, Spider-Man, Detroit Become Human, Control, Assassin's Creed: Odyssey, Ghost Of Tsushima, Kingdom Hearts III, Dragon Age Inquisition, The Witcher III: Wild Hunt, The Elder Scrolls V: Skyrim, Dishonored, Days Gone, Nier: Automata, The Last Guardian, Metal Gear Solid V: The Phantom Pain, and many, many more.
The PS4 continued the "trend" started by its predecessor of not being backward compatible, yet it more than made up for it with the re-release of several of its most popular games either through simple remasters (Shadow of the Colossus, Final Fantasy XII: The Zodiac Age) or via complete remakes (Resident Evil 1–3, Final Fantasy VII). Additionally, a service dubbed PlayStation Now was offered to players for a small fee that gave them the option to stream PS3 titles from the cloud and download many others on the PS4.
Sony's latest console more than made up for the mistakes of the PS3, becoming their second-highest-selling machine after the PS2, with over 113 million as of August 2020. And, considering support for the PS4 has remained strong since the release of the PS5 and shows on the earliest beginnings of flagging support, it could even go above and beyond the 120 million mark, leaving a powerful legacy for the PS5.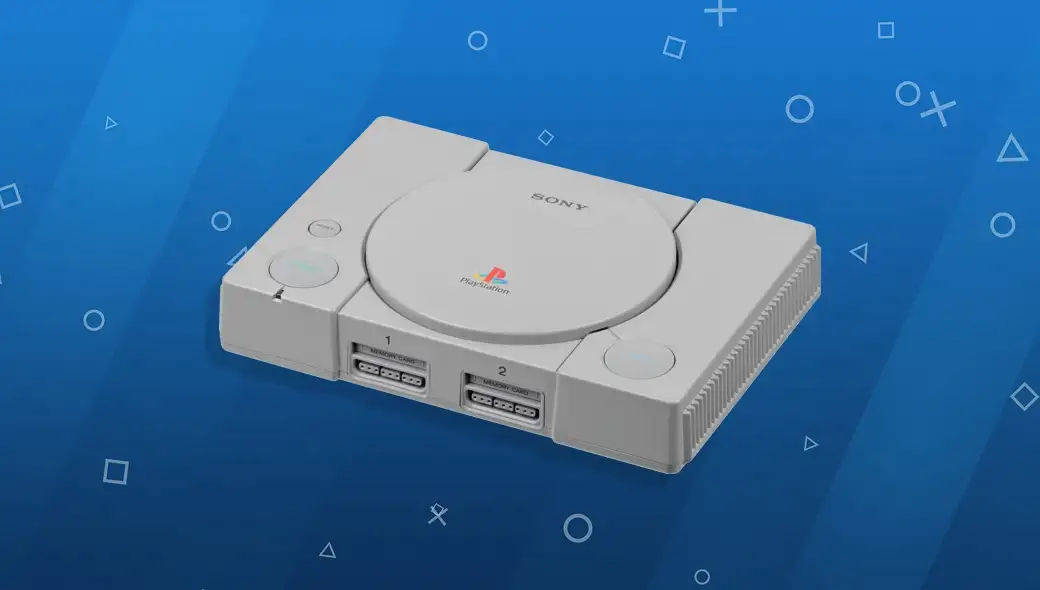 There you have it! That's all you need to know about the history of PlayStation as we begin to see the true wonders of the PlayStation 5. Whether the latest console generation will exceed expectations, like the PS2, or be considered average like the PS3, one thing remains certain: we all have plenty of great gaming experiences to look forward to.
Comments
Sign in or become a SUPERJUMP member to join the conversation.