On the Radar: Volume 1
The best upcoming games that you need to keep an eye on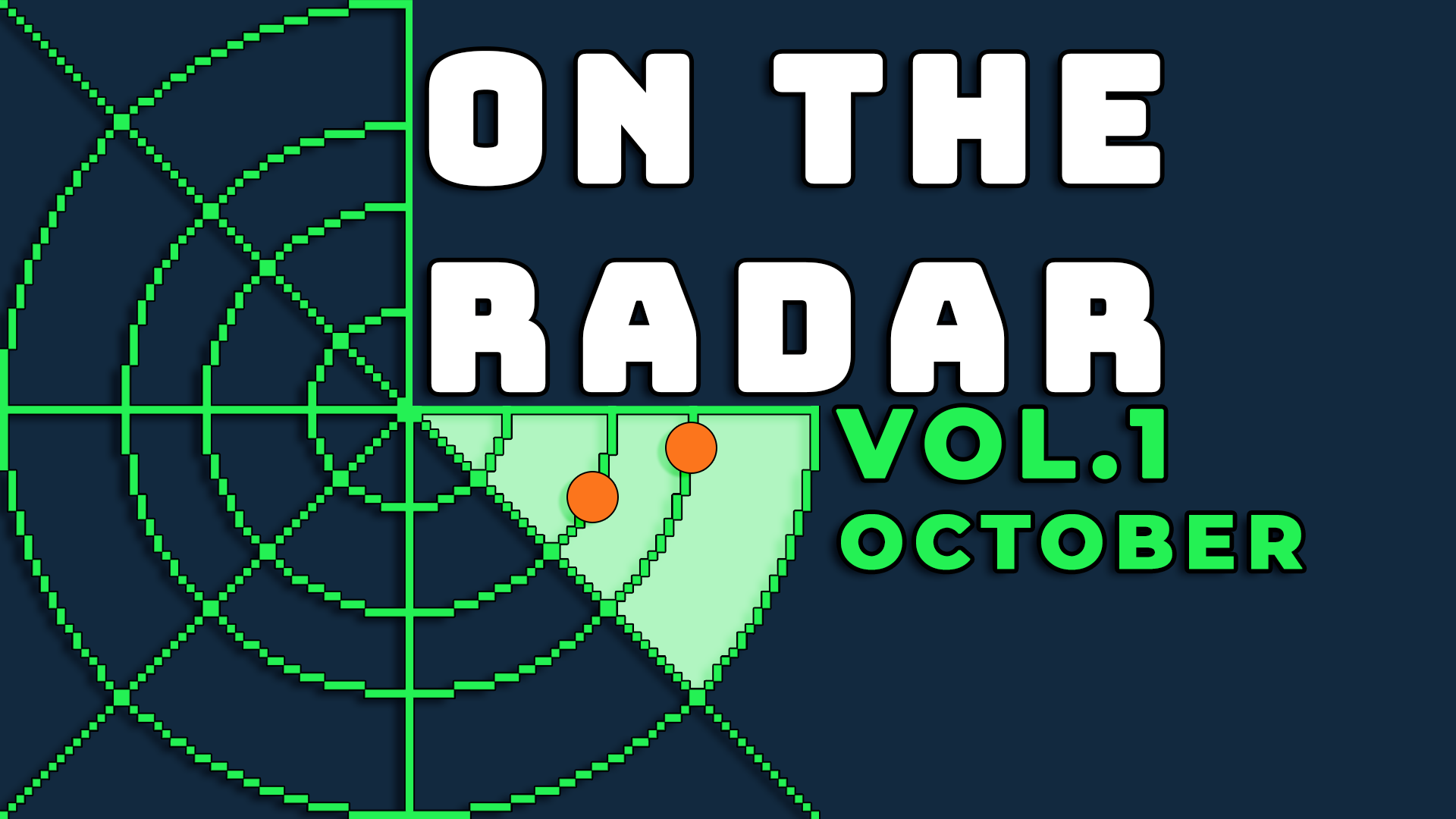 Do you ever find yourself thinking 'Hmm, there are no games coming out'? Well, snap out of it! There are hundreds of games coming out every week, many of which unfortunately go completely under the radar. Luckily, here at SUPERJUMP we pride ourselves on highlighting the best games out there, no matter how big or small they may be, and that's why we've started On the Radar!
On the Radar is a monthly series in which my fellow writers on SUPERJUMP pick an upcoming game they're excited about and explain why you should be excited too! Next time you're dwelling on the supposed lack of games, tune in to On the Radar to find your next favourite game.
This month we've got a spiritual successor to The Elder Scrolls II: Daggerfall, an unexpected adventure between Mario and raving Rabbids, a mind-bending mystery in a follow-up to the critically-acclaimed Oxenfree, and much, much more.
- Rory
Mario + Rabbids: Sparks of Hope (October 20th, 2022)
Josh Gautreaux
I realize that anyone who hasn't tried the first entry in this series – Mario + Rabbids: Kingdom Battle – may be highly skeptical; the Rabbids have a fraught reputation among many gamers. I was never especially fond of them but felt no ire toward them either. Try to keep an open mind…
It's no secret that Nintendo is fairly protective of their flagship intellectual property. Thus, I figure they probably did not hand Mario and friends over to Ubisoft lightly. With this in mind, I was willing to give the first game a shot, going in without any specific expectations. I was shocked to find that it was not only an okay game but a good one.
Kingdom Battle is a highly streamlined turn-based tactical combat game. While the gameplay is simplified relative to titles such as XCOM, it still manages to be both engaging and dynamic. The cover system is consistent, where information is clearly telegraphed to the player such that partial and full cover always grant 50% and 100% protection from direct projectiles, respectively, provided you haven't been flanked. Movement in the game also feels both more dynamic and enjoyable. You can often chain together moves between characters by having one of them boost the other into the air, giving them more varied tactical considerations. There was also a customizable levelling system in the game, where you could select new abilities for each character to best suit your preferences as you progress.
Then there's the matter of the Rabbids themselves. Many understandably find the original Rabbids irritating and immature. And make no mistake, the Rabbids in this game still rely on their signature slapstick humour. But surprisingly, they never felt overbearing or wore out their welcome as the game went on. The Rabbids provided an entertaining, light-hearted contrast to the standard Mario franchise characters, while also offering different tactical utility than their counterparts.
Kingdom Battle was a rock-solid game overall. While it provided enough of a challenge to maintain players' interest regardless of age, there was a ceiling to the difficulty. That said, with the upcoming title, it would be perfectly acceptable if Ubisoft decided to release another game with minor refinements to the original. But based on the information available about the next installment, it looks like the sequel is poised to go above and beyond the achievements of its predecessor.
Mario + Rabbids: Sparks of Hope is reported to feature several key twists on their existing formula. Perhaps the most notable change in the sequel is a shift in the movement system from grid style to free movement. I'll have to see it in action to fully appreciate the change, but if Ubisoft manages to pull this one off, I think it has the potential to shake up the tactical gameplay considerably. Combat has also been tweaked in a number of ways; one such example is how the newly introduced Sparks can imbue your heroes' attacks with elemental damage. It seems like a simplification of the status effects from the previous game, but perhaps it will play better with the more flexible combat navigation and present engaging new decisions for the player.
Perhaps most jarring of all the changes is the fact that the Rabbids now talk. That's right, full dialogue! If you needed any evidence that the Rabbids of today are no longer the ones you remember, this is about as far as any measure could have gone. I'm interested to see if this is addressed as a plot point or if they simply run with it matter-of-factly.
Sparks of Hope is making deliberate efforts to innovate on its existing formula. With so many changes to the gameplay, there's always the chance that it doesn't quite stick the landing. I appreciate Ubisoft's attempts to push gameplay in new directions (especially since some of their own major franchises are often, shall we say, rote).
Age of Empires 4: Season Three (October 25th, 2022)
Antony Terence
For over two decades and counting, Age of Empires has inspired countless strategy games; few can match its delightful mix of history and counter-based combat. Age of Empires 2 placed RTS games on the radar of millions, meaning the developers over at Relic Entertainment had a legacy to uphold. Last year, Age of Empires 4 launched to great expectations and greater ambitions. With eight civilizations, each offering unique playstyles and units that spoke different languages across the ages, Relic's latest labour of love met critics and fans with patience and the determination to do better.
Through its pre-release technical test and public previews, I witnessed the teams at Relic keep up with AoE 4's ever-shifting meta. The relentless bug-fixing and quality-of-life improvements paired with the dedication to strengthening weak playstyles, instead of debuffing effective ones, gives Age of Empires 4 an impressive level of polish. While fans still clamor for more changes, I can say with confidence that this franchise is in the right hands. And with Season Three upon us, there's no better time to don some armour and head into Age of Empires 4.
Besides the usual bug fixing and feature additions, Season Three brings about a massive naval rework and two new civilizations. The Malians and Ottoman civilizations inject some much-needed variety into the game's existing meta. With both civilisations having a strong focus on trading and economy, they force the other civilizations to account for their new strengths. They also bring in new mechanics like poison arrows, instant stealth, and free military unit production.
But it's the naval rework in particular that piqued my interest. Bringing the classic rock-paper-scissor counter system over to ships has made naval battles far more enjoyable. Instead of an unbalanced mess that pushed me away from water maps, Season Three finally sets things right. Ship warfare is finally tense and engaging.
All in all, Season Three is a strong addition to a game that keeps getting better with time. And yes, it's on Game Pass…
Oxenfree II: Lost Signals (2022)
Nathan Kelly
There really is nothing like getting to experience a brand-new Night School Studio adventure game for the first time. My first time playing Oxenfree introduced me to their unique brand of storytelling that continued to evolve in their follow-up game, Afterparty.
Oxenfree offers a unique brand of atmospheric horror that ties itself to its gameplay. I think the most terrifying part of Oxenfree is that if you don't make up your mind about a response within a certain time limit, the moment passes, and you are left in an awkward spot in the conversation. My one problem with the first Oxenfree was that every dialog option ultimately led to a small number of outcomes. While there was a lot of conversation to explore, it meant that the charm of exploring new endings lost its robustness after you've sided with every character.
This system got expanded upon in excellent ways in Afterparty. That game lost some of what made Oxenfree so special by ditching a dedicated cast to offer a story that played out episodically. This change was the right move for the type of story that they were telling, and what we got was a strong tale about friendship and the destructive and constructive properties of partying a little too hard.
These two games make a great impetus for Night School Studio's newest adventure title, set in the same universe featuring a new villain and new protagonists, which serves as a spiritual sequel to Oxenfree. Oxenfree II: Lost Signal follows Riley, returning to her hometown to study the strange portals that we were introduced to in the first game. Oxenfree II looks to follow closely in the footsteps of Night School Studio's previous work, and I have no doubt that we will see significant improvements to the formula that they've established in both gameplay and story.
My favourite part of the previous titles was the strong bonds that were forged between the two stars throughout each outing, and I expect more of the same from the new game. Oxenfree had many great scenes of Lovecraftian-style cosmic horror and I hope that the sequel gives us a lot more to dig our teeth into as Night School Studio expands upon the supernatural workings of their budding universe.
Unfortunately, Oxenfree II: Lost Signals was recently announced to have been delayed into a 2023 release window. Regardless, I'm really excited about the long-awaited Oxenfree sequel. I hope that the developers find success in partnering with Netflix to publish the title because I am hooked on their style of conversational storytelling, and I have no doubt that playing the latest adventure will leave me hungry for more.
SEASON: A Letter to the Future (Q1 2023)
Paul K. Barnes
Video games rooted in peaceful activities either pull people in or push them away. It's a niche genre but, as I've gotten older, I've learned to appreciate them more and more. SEASON: A Letter to the Future is an upcoming game from developer Scavenger Studios that's rooted in bike riding, photography, and recording the sounds of nature. And it's got an enthralling minimalist art style that makes you feel like you're doing all this while inside a beautiful painting.
SEASON: A Letter to the Future is a game that entered my radar when the gameplay trailer was shown at PlayStation's State of Play showcase earlier this year. I was immediately pulled in by its enchanting art style and the fact its protagonist is a black woman. The music featured in the trailer was just as contemplative and peaceful as the visuals on the screen and I already felt myself being transported to the game's mysterious world. I look forward to diving into a game based on observation, relaxation, and conversations rooted in reality while still having a very understated fantasy element running through it. And, for someone who identifies as a semi-devout completionist, I can only imagine how much there is to do to fill the protagonist's journal. Plus, with a game based on the importance of the surrounding environment, I anticipate it will take full advantage of the PS5's DualSense controller, which has already shown to be more than capable of simulating wind, rain, and the traversal of various types of surfaces.
Like all great indie games, SEASON: A Letter to the Future is centred around feedback from the community of those who can't wait to play it. And with that comes transparency and honesty from the developers too. The game was originally planned to release in Autumn 2022 but has been pushed back to Q1 of 2023.
In a letter posted on their social media they wrote:
"We want to ensure that we are able to push for quality without it affecting the wellbeing of our team. SEASON has always been a labour of love for the team and this additional time will let us polish and refine the game to make it the special experience we set out for it to be."
This was reassuring and only served to further bolster my anticipation for the game.
I think people should put this game on their radar because of how peaceful it looks. Taking a break from the intense strategizing and high-octane combat found in many games is something I think all gamers can benefit from, and SEASON looks to be an excellent outlet for just that. I look forward to more behind-the-scenes information from the developers at Scavenger Studios so I can appreciate the hard work that went into this beautiful game even more. This is one that will not only be immersive visually but mentally and emotionally arresting too.
Sea of Stars (2023)
James Burns
The Messenger, by Sabotage Studio, was released to critical acclaim in 2018. It was a love letter to numerous classics - particularly Shinobi - and was widely regarded as one of the greatest indie games of the year. I think one of the most notable aspects of The Messenger is the way in which the development team clearly understood the genres they were referencing. Not only did they recognise what made those genres so great in the first place, they arguably delivered an experience that was oftentimes tighter and more cohesive than its inspirations.
Given this, it's no surprise that many folks are eagerly awaiting Sea of Stars, a new Chrono Trigger-inspired RPG due for release in 2023.
Sabotage Studio has been coy about revealing story details early. All we know for certain is that Sea of Stars incorporates "dozens" of original characters, with multiple story arcs that place emphasis on adventure and friendship (as well as plenty of twists and turns; I don't know about you, but I love surprise revelations in my RPGs).
While there's likely plenty to talk about in terms of gameplay, I must emphasise the unbelievably gorgeous audio-visual presentation on display here. On one level, it's no surprise that Sea of Stars is beautiful - after all, The Messenger is gorgeous too. But Sea of Stars is on a whole other level. Its sprite-based world is dripping with vibrant colour and whimsical animation. It even features a remarkable real-time lighting system, which gives the game's retro aesthetic a degree of richness and vivacity that classic 16-bit RPGs could only dream of producing. Check out the game's website and play with the real-time lighting system yourself; it's so cool.
At this stage, there's no specific release date for Sea of Stars, except for a vague "2023" release window. Honestly, though, I'm not fussed; I want Sabotage Studio to take as much time as they need to buff their latest creation up to a fine polish. And from the regular trailer/footage drops we see every couple of months, it looks like they're doing just that.
The Wayward Realms (Release TBD)
Karl Otty
The Wayward Realms is the next Elder Scrolls game. But it's not Elder Scrolls 6. It's more like an… Elder Scrolls 3? No, no, not Morrowind. It's more along the lines of…
Well, maybe it's easier to just start at the beginning.
Before Todd Howard and his glorious brown jacket carried The Elder Scrolls series into the public limelight with Morrowind, Oblivion, and Skyrim, the series saw modest success in the '90s computer RPG scene. In a trailblazing push led by a much more quaint Bethesda Studios, The Elder Scrolls: Arena and The Elder Scrolls II: Daggerfall pushed the boundaries of the stalwart computer RPG genre with expansive worlds, immersive role-playing elements, and a focus on non-linear gameplay design.
I've written before on SUPERJUMP about how the early Elder Scrolls games differ dramatically from the series' later, more well-known entries. The Cliffs Notes version is that Arena and Daggerfall offered a focus on fantasy life-sim elements, such as taking out loans, buying ships, and changing seasons. All of that was crucial for lending immersion to a world that was otherwise procedurally generated and, as a result, a little barren and repetitive. Morrowind would later set the precedent for future entries by trading the almost endless scale for a smaller, yet more bespoke and handcrafted map that focused on carefully designed stories and adventures, whilst also dropping a lot of the more 'hardcore' role-playing elements present in previous entries.
If you're here, you're a gamer and I don't need to tell you how well that worked out for the quality of Bethesda's games going forward. But it did mean that Daggerfall never got a true sequel. This is the gap OnceLost Games promises to fill. The team comprises several old-guard TES developers: Vijay Lakshman (Arena's Lead Designer), Julian Lefay (a Lead Programmer for both early TES games), and Ted Peterson (perhaps the biggest name here, having been a major contributor to Arena and Lead Designer on Daggerfall). Peterson was a huge contributor to the lore of the series overall. He's estimated to have written over 150,000 words for the series and, if you have played any Elder Scrolls game for any amount of time, you're likely to have come across one of the many, many in-game books penned by him. Countless iconic aspects of the lore, from the realms of Oblivion to the mad-god Sheogorath, can be attributed to Peterson.
With this team on board, OnceLost Games are promising to build a modern, fully 3D successor to the design philosophy of Daggerfall in the Unreal Engine. They aim to bring back the realistically scaled world of Daggerfall but with today's vastly more advanced procedural generation tools. Progress is currently slow but steady, and the company recently began uploading developer logs to their YouTube channel so you can watch the progress in real-time.
Alas, it's likely to be a long time before The Wayward Realms is ready. The game is in the early stages of development and not even the vaguest release window has been provided yet. In the meantime, you can get an idea of what the game might be like by exploring Daggerfall Unity, the fan-made recreation of Daggerfall in the Unity engine. There is currently a flourishing mod scene, working on fixing Daggerfall's weak spots (like its barren, procedurally generated world) and enhancing what it already excelled at, like making those taverns even cosier. GOG even offers a version of the game which is pre-configured with many of Daggerfall Unity's most popular mods. Bethesda made Daggerfall free a long time ago, so you have no excuse to not dip your toes in and find out exactly why the promises of The Wayward Realms make me so giddy.
---
Those were our most anticipated games, but what are yours? What games do you have on your radar that others should too? Let us know in the comments!
Comments
Sign in or become a SUPERJUMP member to join the conversation.